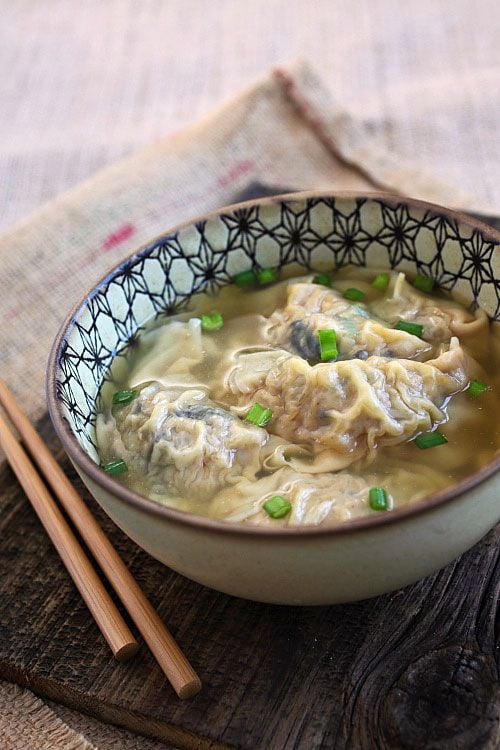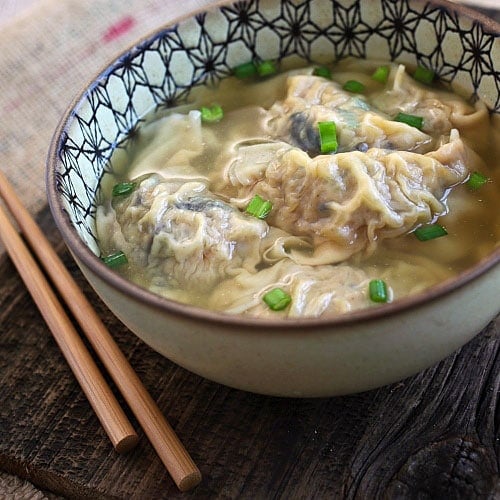 Pork Dumpling Soup
Pork Dumpling Soup – juicy and yummy pork dumplings in a hearty chicken soup, the most comforting soups ever and you can make it at home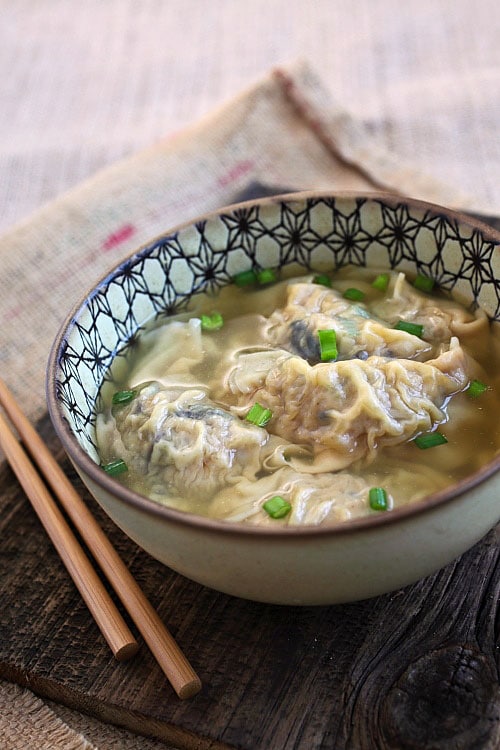 A traditional Chinese New Year meal is incomplete without dumplings and a dish of nourishing and soothing Chinese soup, hence I've combined the best of both worlds into this pork dumpling soup. This dish is a Cantonese delicacy and the dumplings are called Siu Kow in Cantonese, or literally "water dumplings."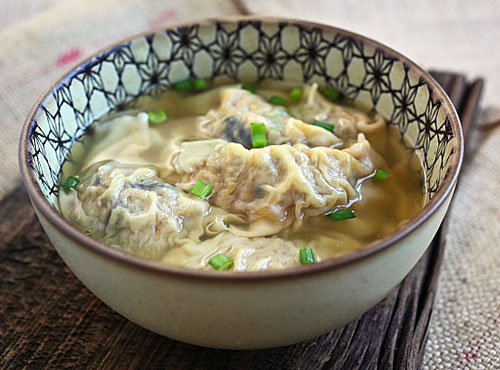 Pork Dumpling Soup
Makes 12-20 dumplings or serves 4-6 as part of a multicourse meal
Ingredients:
20 Siu Kow or wonton wrappers
4 cups (1 liter) water
Chopped Scallions Filling:
1 small wood ear mushroom
6 oz (175 g) ground pork
4 oz (100 g) shelled and deveined raw shrimp, cut into small pieces
2 peeled fresh or canned water chestnuts, minced
1 tablespoon finely chopped green onion (scallion)
Seasonings
1 1/2 teaspoons oil
1 teaspoon Chinese rice wine (Shaoxing) or sherry
1/2 teaspoon sesame oil
3/4 teaspoon chicken bouillon powder
1/2 teaspoon fish sauce
1/2 teaspoon salt
3 dashes white pepper
Soup
1 3/4 cups (425 ml) Homemade Chicken Stock (page 00) or 1 can (14-oz/400-g) store-bought chicken broth
1 cup (250 ml) water
3 dashes white pepper
Salt, to taste
Garnishing
1 green onion (scallion), trimmed and cut into small rounds
Method:
1. Soak the wood ear mushroom with warm water for about 15 minutes. Cut it into thin strips.
2. Make the filling by combining the wood ear mushroom and all the Fillings and Seasonings ingredients together. Chill the filling in the refrigerator for 30 minutes.
3. To assemble the water dumplings, place a piece of the wrapper on your palm and spoon about 1 tablespoon filling onto the wrapper. Do not overfill. Dip your index finger into a small bowl of water and circle around the outer edges of the dumpling wrapper. Fold the dumpling over and finish by pressing the edges with your thumb and index finger to ensure that the dumpling is sealed tightly and there is no leakage. Repeat for the remaining wrappers and filling. Place the dumplings on a floured surface or baking sheet. Cover them with a damp kitchen towel to prevent drying.
4. Bring the water to a boil in a pot. Gently transfer the wrapped water dumplings into the boiling water and boil until they float to the top, about 2-3 minutes. You may have to boil the dumplings in more than 1 batch, according to the size of your pot.
5. Remove the water dumplings with a slotted spoon, drain the excess water, and cover them to prevent drying.
6. Bring to boil the chicken broth and water in another pot. Add the white pepper and salt to taste.
7. Transfer 3-4 water dumplings into a soup bowl, add some of the soup into the bowl, garnish with some chopped green onion and serve immediately.
Cook's Note:
There are different sizes of Siu Kow or wonton wrappers in the market. Use 1 teaspoon of the Filling if the wrappers are smaller, which yields more dumplings.
Most-Pinned Recipes
Ginger Garlic Baked Chicken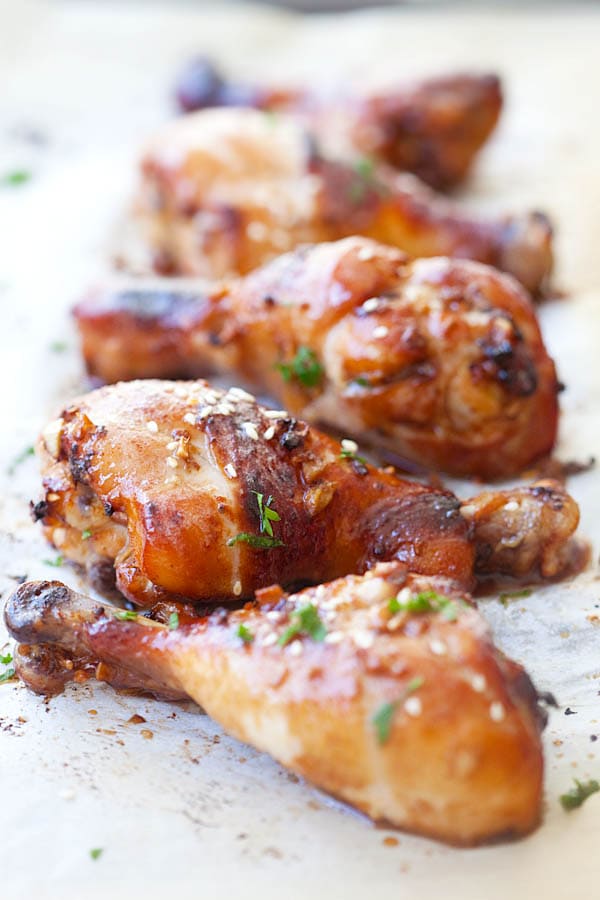 Crab Rangoon (Cream Cheese Wontons)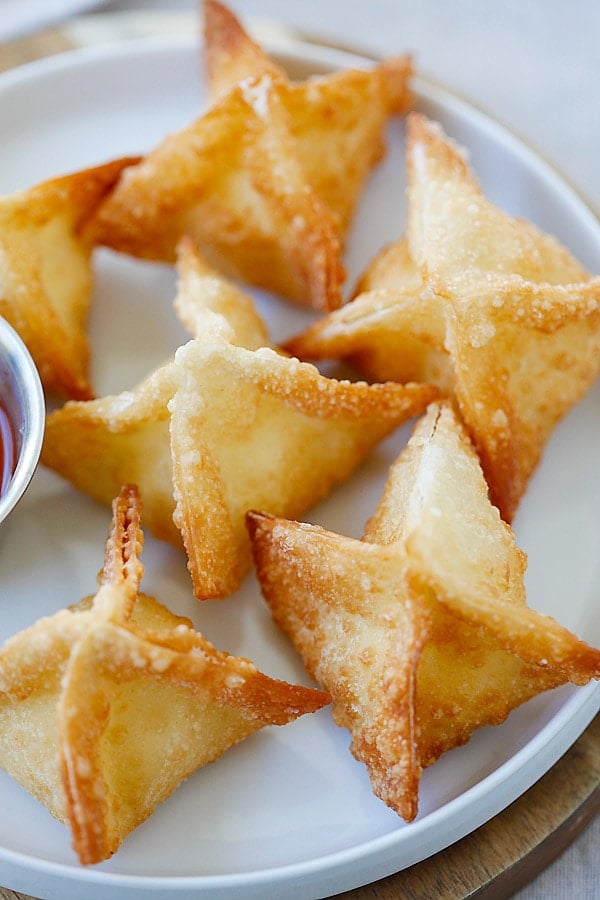 Chicken Wontons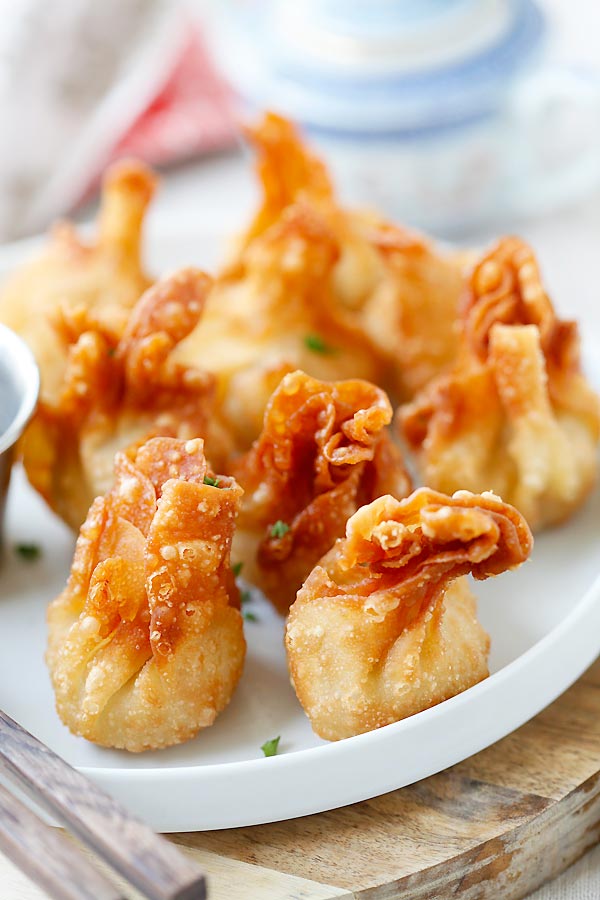 Onion Scallion Beef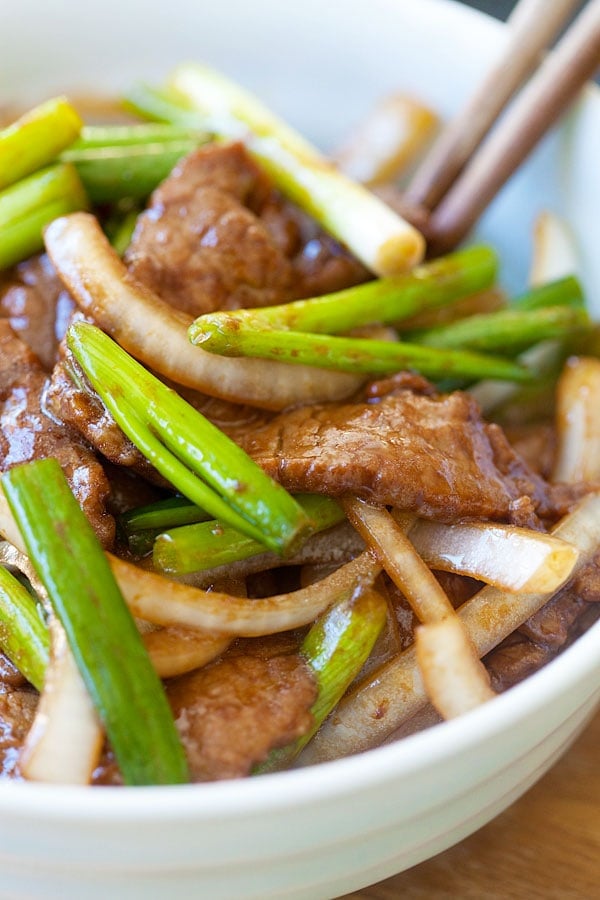 Thai Chicken Sate with Peanut Sauce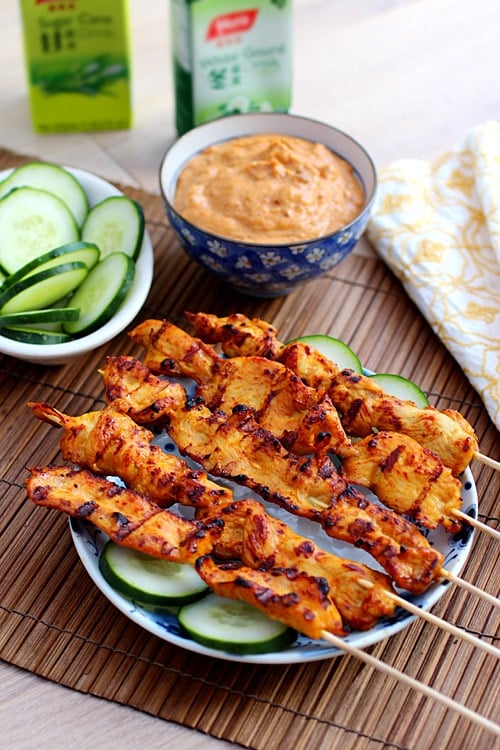 Thai Peanut Sauce