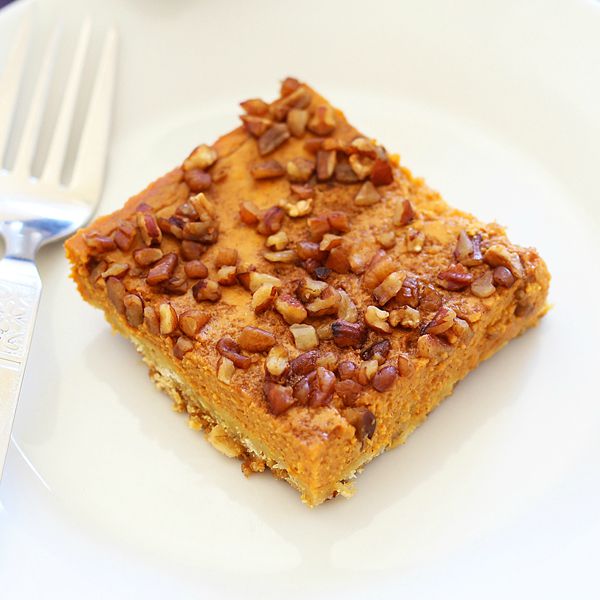 Pumpkin Pecan Pie Squares
Pumpkin Pecan Pie Squares – sweet, nutty, crumbly pumpkin dessert topped with toasted pecans, so good, addictive you won't stop eating! | rasamalaysia.com
Prep time:
Cook time:
Total Time: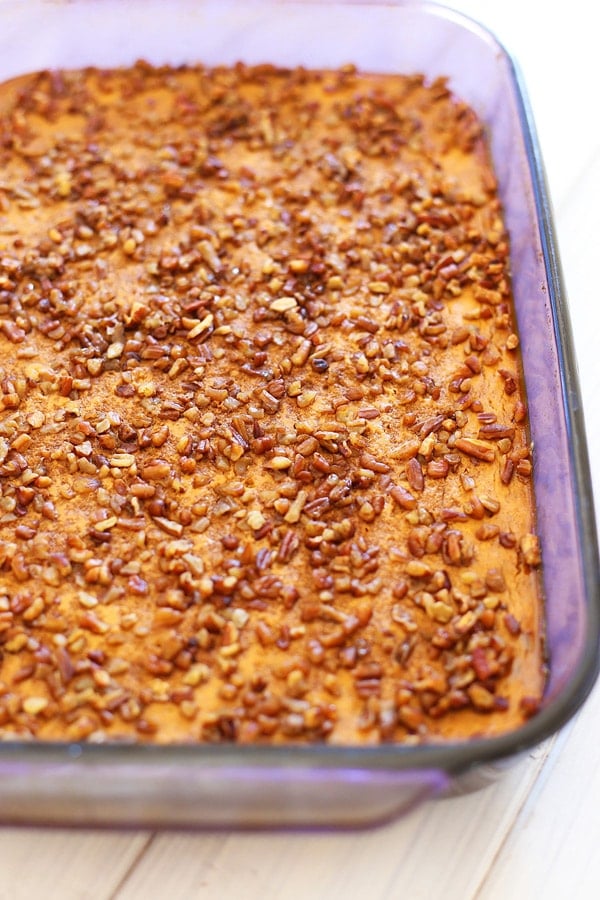 Pumpkin Pecan Pie Squares
Pumpkin Pecan Pie Squares – sweet, nutty, crumbly pumpkin dessert topped with toasted pecans, so good, addictive you won't stop eating!
This Pumpkin Pecan Pie Squares taste just like traditional pumpkin pie to me. But this version has toasted pecans on top for a super nutty finish. As for the base, it's almost like an oatmeal cookie. Filled with dark brown sugar for a richer dessert, it's a tad crumbly, just the way I like it. The old-fashioned oats also create flakiness that reminds me of pie crust.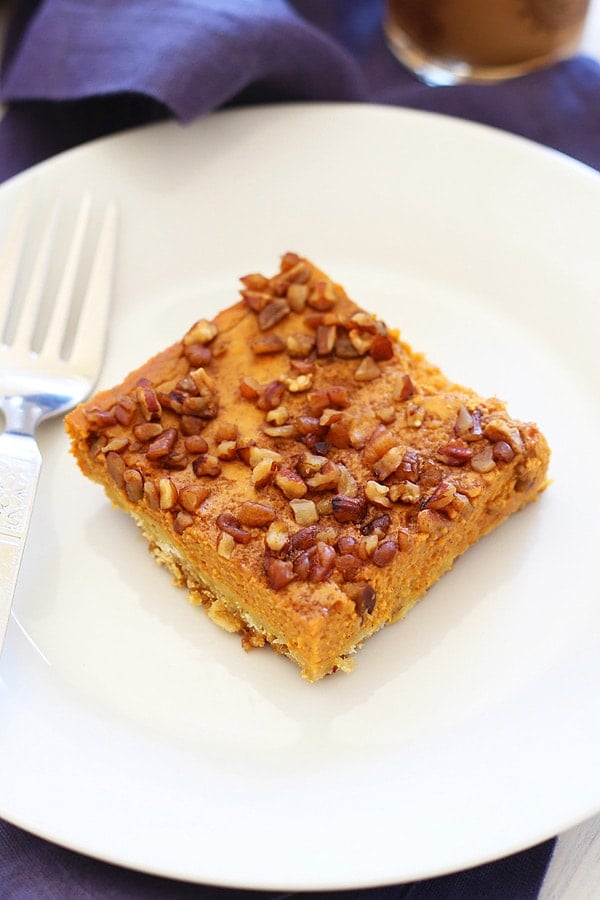 Pumpkin Pecan Pie Squares
Serves 12 | Prep Time: 10 Mins | Cook Time: 55 Mins
Source: Adapted from Meals

Ingredients:
1 cup (120 g) all-purpose flour
1/2 cup (45 g) old-fashioned oats
3/4 cup (135 g) packed dark brown sugar, separated
1/2 cup (120 g) unsalted butter, softened
3/4 cup (150 g) granulated sugar
1-15 oz can (425 g) pumpkin puree
1-12 fl oz can (354 mL) evaporated milk
2 large eggs
2 1/4 teaspoons (11.25 mL) pumpkin pie spice
1/2 cup (75 g) pecans, chopped

Method:
Preheat the oven to 350 degrees F.
In a stand mixer, combine the flour, oats, 1/2 cup brown sugar and butter. Beat on low speed for 2 minutes or until the mixture looks crumbly. Press the oat mixture on the bottom of an ungreased 13×9-inch baking pan.
Bake for 15 minutes.
In a large bowl, whisk toegther the granulated sugar, pumpkin, evaporated milk, eggs and pumpkin pie spice until just combined. Pour the pumpkin mixture over the crust.
Bake for 20 minutes.
Meanwhile, combine the pecans and the remaining brown sugar in small bowl. Sprinkle pecan topping over filling. Continue baking for 20 minutes or until a toothpick inserted in the center comes out clean. Cool completely in the pan on a wire rack. Cut into bars.
Cook's Note:
Cover the baking pan with plastic wrap to store in the refrigerator. Chilling the dessert will also help make cleaner cuts.