Almond Tea - Almond tea is a Chinese dessert, and this almond tea recipe is topped with baked puff pastry. Almond tea is great for the winter days.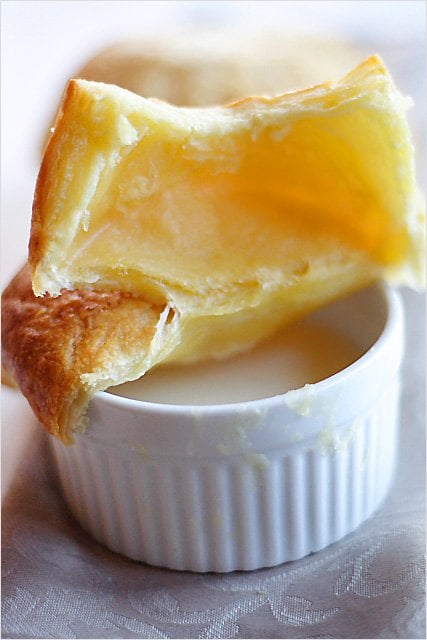 (Chinese recipes, prepare authentic Chinese food now!)
I hate cold weather.
There I said it, I haaaaaaaate cold weather.
Blame it on my tropical blood, I dread cold temperatures. Winter makes my face crease like a dried prune and my winter wardrobe of fleece, wool, sweaters, jackets and such make me look–and feel–utterly frumpy and unattractive!
I love warmth and sun–80 degree Fahrenheit and 80% humidity is my natural habitat. While most people shuns away from humidity, I for one think that humidity does wonders to my complexion–it makes my skin looks perfectly dewy and glossy (perhaps it's SWEAT?!).
I digress…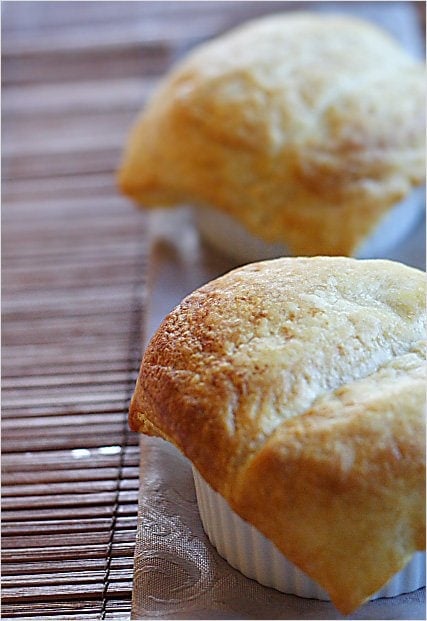 So, when it comes to cooking during this time of year, I only have one thing in my mind: foods that make me warm. Other than my claypot dishes, this almond tea with baked puff pastry (酥皮杏仁茶) has been an absolute life-saver, especially during those cold mornings and nights.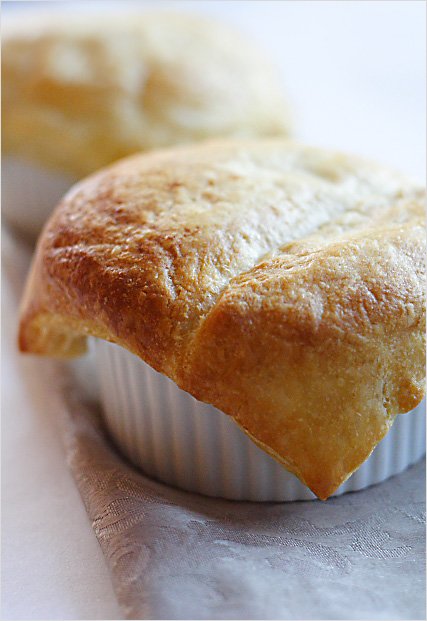 I learn this almond tea recipe from a Chinese restaurant near where I live. While it might seem hard to prepare, it's actually quite easy to make this almond tea with baked puff pastry (酥皮杏仁茶) with store-bought ingredients such as puff pastry sheets, almond powder, and canned ginkgo nuts.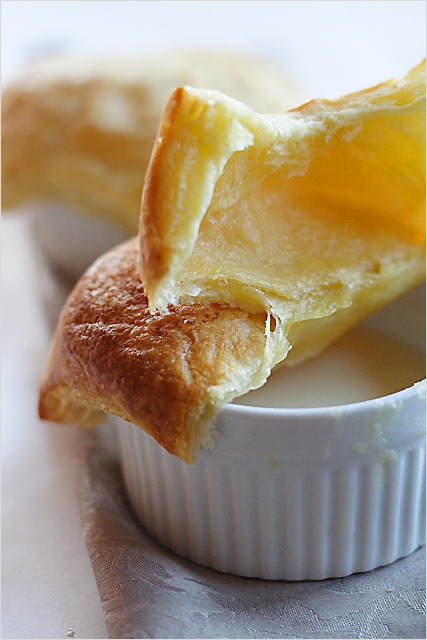 It's great sipping the almond tea while munching away the crispy and flaky puff pastry, with a magazine or newspaper in hand.
And that's when I feel that I might actually start to like cold weather. *wink*
Other bakes goods/recipes that go well with Almond Tea with Puff Pastry (酥皮杏仁茶):
How Many Calories Per Serving?
This recipe is only 176 calories per serving.
5 Secrets to 20 Min Dinners
Get tricks for quick & easy meals!
Yield: 2 people
Almond Tea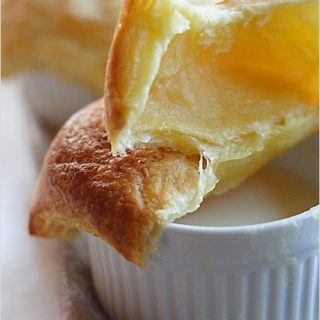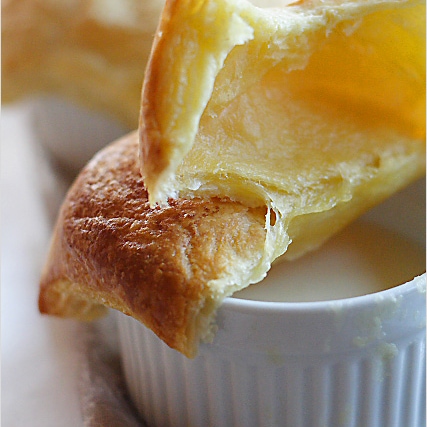 Almond tea with puff pastry. Almond tea is a Chinese dessert, this almond tea recipe is topped with baked puff pastry. Almond tea is great for winter days.
Ingredients
5 tablespoons sweetened almond powder
1 teaspoon honey
10 ginkgo nuts, canned
1 cup water
1 puff pastry sheet, thawed and cut into two 4.5 in. x 4.5 in. squares
Instructions
Preheat oven to 400°F (207°C).
Bring one cup of water to boil and add in the almond powder, ginkgo nuts, and honey. Stir well and set aside.
Transfer equal portion of the boiled almond tea into two regular soufflé dishes. Top the soufflé dishes with the puff pastry squares. Stretch the puff pastry square to cover the dish opening tight.
Bake for 12-15 minutes or until the puff pastry turns golden brown. Serve hot.
Notes
You can get both almond powder and canned ginkgo nuts at Asian food stores. Fresh ginkgo nuts (pictured above) can be used. Use a nut cracker to crack the shell, then remove the skin and soak the ginkgo nuts in water for a few hours (to soften them) before use.
Nutrition Information
Yield
2
Serving Size
2 people
Amount Per Serving
Calories

176
Total Fat

13g
Saturated Fat

1g
Unsaturated Fat

0g
Sodium

6mg
Carbohydrates

9g
Fiber

3g
Sugar

3g
Protein

7g