Fish Ball (Steamed Fish Balls with Bean Curd Sticks) - A great dimsum item featuring fish paste, garlic, bean curds, sesame oil. Delicious recipe.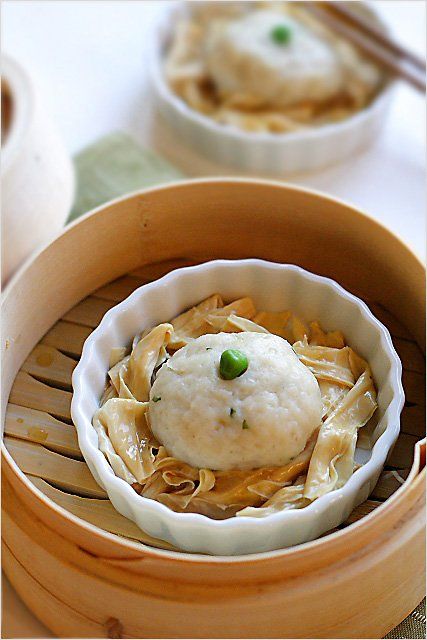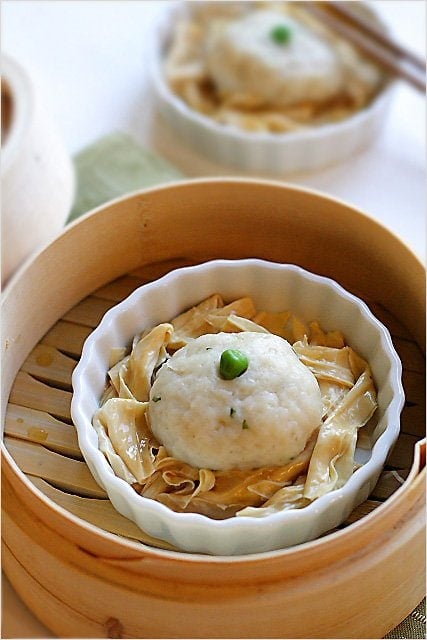 One thing I don't like about eating dim sum in the United States is the lack of fish ball offerings. If you recall my previous posts about sweet and sour fish balls and yong tow foo, I am partial to fish ball-related foods: deep-fried, stuffed in vegetables or tofu (like Malaysian yong tow foo/酿豆腐), in soup, or steamed.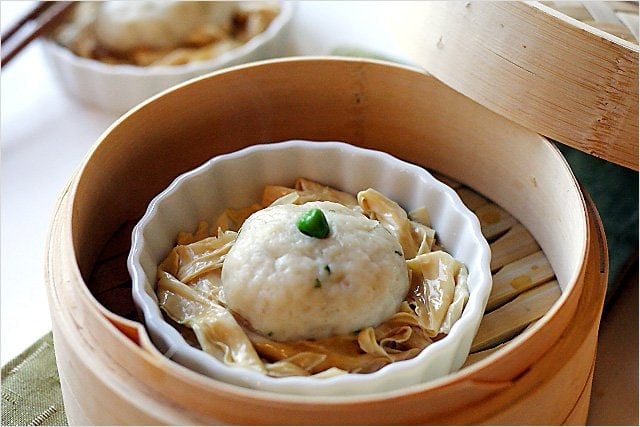 Whenever I go home to Malaysia and have dim sum, I would order trays after trays of fish ball dim sum. They are usually lightly fried and then steamed.
Some of them are just plain steamed fish balls and some are pan-fried and drenched in savory bean sauce.
Whichever way they are prepared, fish balls found in Malaysian dim sum restaurants are springy, utterly addictive (you just want more after the first taste) and delicious, and below is the picture of fish balls served in dim sum restaurant in Malaysia.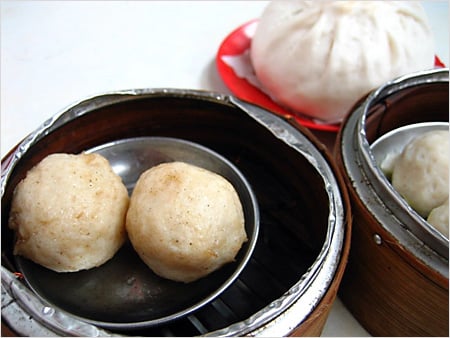 So, when I crave for fish ball dim sum, I make mine at home. They are very easy to make because I cheat with store-bought fish paste.
I add some chopped garlic into the fish paste and steam them over a bed of bean curd sticks, a trick that I learned from a dim sum restaurant.
These steamed fish balls are so good with chili sauce. I just can't get enough of them.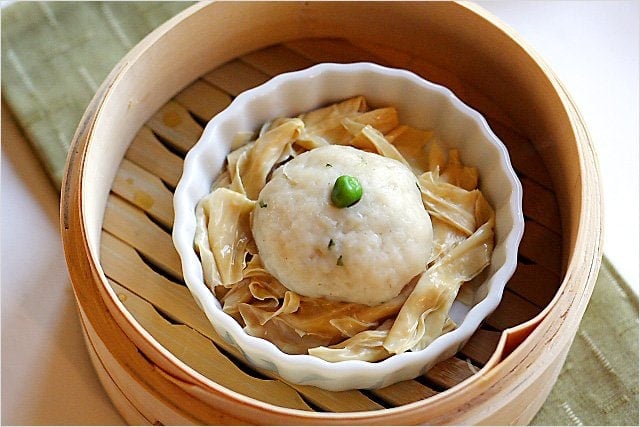 Love the recipe? Here are more dim sum and fish balls recipes on Rasa Malaysia:
(Chinese recipes, prepare authentic Chinese food now!)
How Many Calories per Serving?
This recipe is only 255 calories per serving.
What to Serve with This Recipe?
Serve this dish with other Malaysian dishes. For a Malaysia meal and easy weeknight dinner, I recommend the following recipes.
5 Secrets to 20 Min Dinners
Get tricks for quick & easy meals!
Yield: 4 people
Fish Ball (Steamed Fish Balls with Bean Curd Sticks)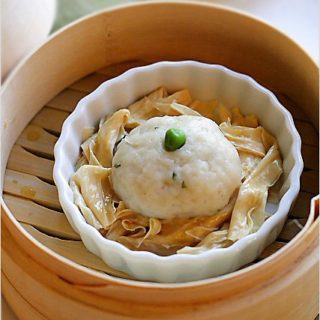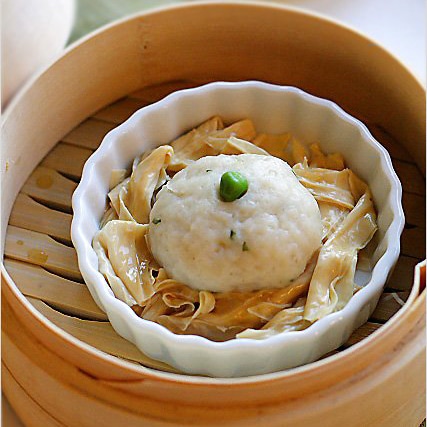 Fish Ball Recipe (Steamed Fish Balls with Bean Curd Sticks) - A great dimsum item - fish paste, garlic, bean curds, sesame oil.
Ingredients
1/2 container fish paste (I used this)
2 cloves garlic, finely minced
1/8 teaspoon sesame oil
3 dashes of white pepper powder
3 bean curd sticks
1 pinch salt
green peas, for garnishing
Instructions
Soak the bean curd sticks in hot water to soften them. Cut them into 1 1/2 inch pieces (3cm). Heat up a small pot of water and add in some salt. Drop the bean curd sticks into the boiling water to cook them. Remove the bean curd sticks from the water and arrange them on small dim sum plates.
Defrost the frozen fish paste and add in minced garlic, sesame oil, and pepper. Blend well and form them into balls and place them on top of the beancurd sticks. Garnish with a green pea.
Steamed the dim sum fish balls for 5 minutes. Serve hot immediately with chili sauce.
Nutrition Information
Yield
4
Serving Size
4 people
Amount Per Serving
Calories

255
Total Fat

13g
Saturated Fat

1g
Unsaturated Fat

0g
Sodium

21mg
Carbohydrates

7g
Fiber

2g
Protein

26g