Fried Rice Vermicelli - Delicious fried rice sticks stir-fried with chicken, using the simplest of ingredients–chicken, vermicelli, and bean sprouts.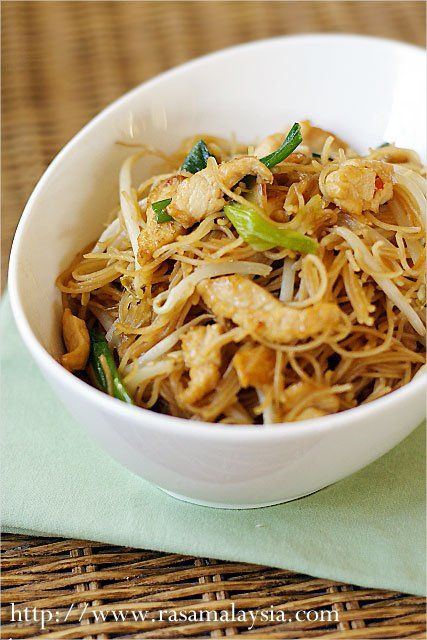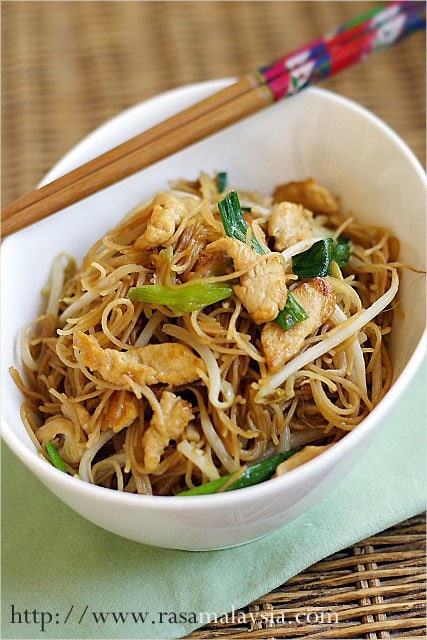 Different Chinese Noodles
As a Chinese, I never have to think hard when it comes to buying noodles at the market. Noodles are a staple in Chinese cuisine; the varieties of noodles available are just like pastas to the Italians–they come in different sizes, shapes, colors, texture, and forms.
There are rice vermicelli, yellow noodles, green (spinach) noodles, egg noodles, steamed chow mein, pan-fried chow mein, lo mein, crispy noodles, Shanghai noodles, fresh noodles, glass noodles, udon-like "laifen," flat rice noodles, Taiwanese noodles, etc.
And then, there are dry packaged noodles from all over Asia and the lists and brands go forever on.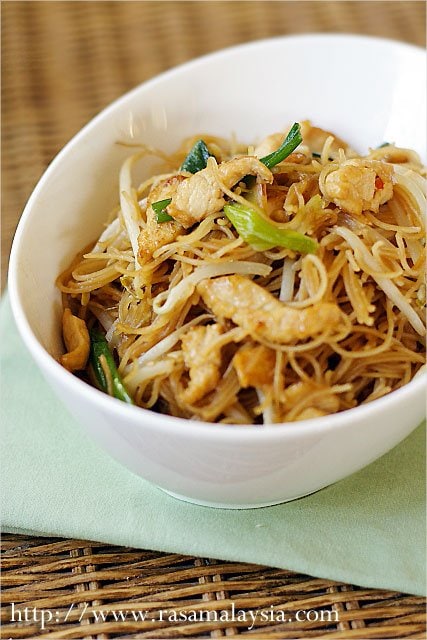 Despite the many offerings in the marketplace, picking out the right noodles for that perfect fried noodles dish is our natural ability. However, the experience could be overwhelming for others, a fact that I have just come to realize.
For many non-Chinese/Asians and Asian food beginners, buying noodles is a somewhat daunting–not to mention confusing and frustrating–task. There are just too many different noodles to choose from–especially if you shop in Asian supermarkets.
For example: how do you tell the difference between "steamed chow mein" and "pan-fried chow mein?" They look almost identical; the only difference is the texture of the noodles.
So, how do you select the perfect noodles for a homemade fried noodle dish? I thought I would provide a simple example/recipe that is sure to please most people…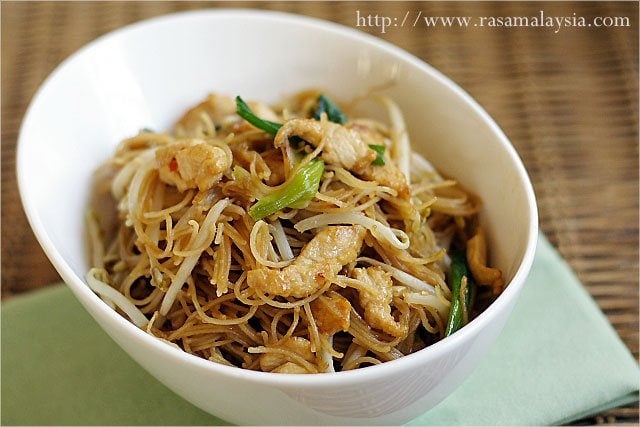 Other Recipes You Might Like
Ingredients for Fried Rice Vermicelli
Rice sticks are also called rice vermicelli or rice noodles in the United States. In Chinese, we call them 米粉 or mifen as they are plain noodles made from rice flour and water.
In Malaysia and Singapore, they are simply known as beehoon or meehoon. The Vietnamese call them bun. They are very common across all Asian cuisines, be it Chinese, Malaysian/Singaporean, Indonesian, Filipino (called pancit or bihon), Thai, or Cantonese. Rice vermicelli is always a safe bet if you are just starting to learn about Chinese noodles.
For this fried rice sticks with chicken recipe, I use the simplest of ingredients–chicken, rice sticks, and bean sprouts (which lend a "crunchy" texture and a refreshing taste to this dish).
Despite the uninteresting and very humble look, fried rice sticks always rank high in the taste department. 炒米粉 or fried rice sticks do make a good and satisfying meal.
If you are a Chinese noodles newbie, do try this recipe. I think you will love it, especially if you top it off with a fiery hot chili paste. :)
What Dishes to Serve with this Recipe?
For a wholesome meal and easy weeknight dinner, I recommend the following recipes.
How Many Calories Per Serving?
This recipe is only 404 calories per serving.
Pairs well with: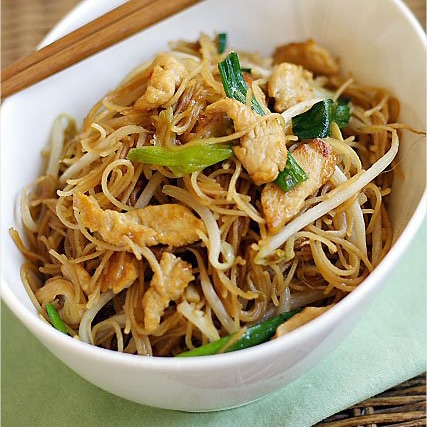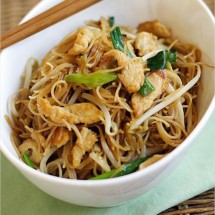 Fried Rice Vermicelli/Rice Sticks/Rice Noodles with Chicken (炒米粉) Recipe
Fried Rice Vermicelli/Rice Sticks/Rice Noodles Recipe - For this fried rice sticks with chicken recipe, I used the simplest of ingredients–chicken, rice sticks, and bean sprouts.
Ingredients
Ingredients:
1/2

pack

rice sticks

(8 oz)

2-3

cloves

garlic, chopped

1

handful fresh bean sprouts

3

stalks

scallions, cut into 2-inch length

1

boneless & skinless chicken breast, cut into small pieces

1/2

teaspoon

cornstarch to marinate the chicken

4

tablespoons

oil
Seasonings:
4

tablespoons

soy sauce, Kimlan Light Soy Sauce

1

tablespoon

ABC sweet soy sauce

4

tablespoons

water

1

tablespoon

sugar

3

dashes

white pepper powder
Click Here for Conversion Tool
Directions
Soak the rice sticks in warm water for 30 minutes or until they turn soft. Set aside in a colander to drain the excess water. Rinse the bean sprouts with water and set aside to drain excess water. Lightly coat the chicken meat with the corn starch (to tenderize the chicken).

Mix all the seasonings and water together and set aside. Heat up a wok and add in the cooking oil. Add in the chopped garlic and stir-fry until aromatic or turn light brown. Add in the chicken meat and stir fry until the chicken is half done.

Add in the rice sticks and then follow by the seasonings. Stir the rice sticks continuously to blend well with the seasonings. Continue to stir fry for 2-3 minutes or until noodles turn soft or no longer wet, then add in the bean sprouts and chopped scallions. Stir-fry for another minute or until the bean sprouts are cooked.

Dish out and serve hot.
Recipe Notes
You can substitute chicken with pork, beef, shrimp, or other seafood. You can also do a combination of them. Once you master the techniques of stir-frying noodles, you can start experimenting with other noodles. Eventually, you will discover what makes that perfect fried noodles dish for you. :)
Nutrition Facts
Fried Rice Vermicelli/Rice Sticks/Rice Noodles with Chicken (炒米粉) Recipe
Amount Per Serving (2 people)
Calories 404
Calories from Fat 270
% Daily Value*
Fat 30g46%
Cholesterol 36mg12%
Sodium 2244mg98%
Potassium 335mg10%
Carbohydrates 20g7%
Protein 16g32%
Vitamin A 180IU4%
Vitamin C 5mg6%
Calcium 26mg3%
Iron 1.5mg8%
* Percent Daily Values are based on a 2000 calorie diet.