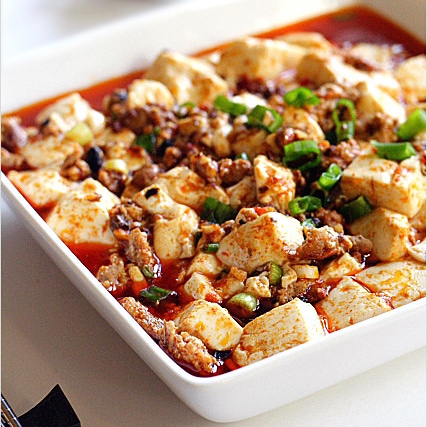 Mapo Tofu Recipe
Mapo Tofu – the best Chinese tofu dish. Learn how to make it with this super easy and delicious recipe.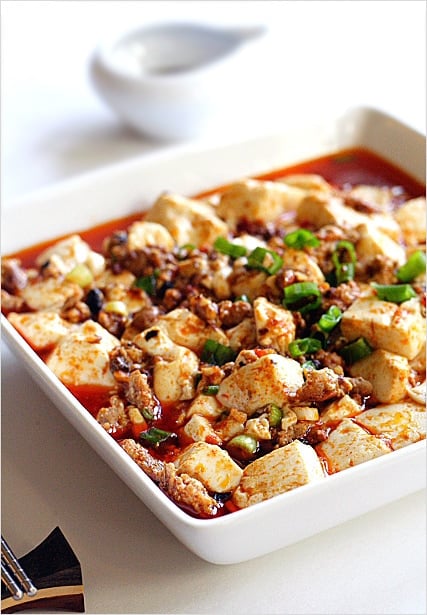 (Chinese recipes, prepare authentic Chinese food now!)
Recently, my colleague asked me for Mapo Tofu/麻婆豆腐 recipe. He has just gotten into cooking and wished to try making Mapo Tofu at home. I was psyched by the idea of teaching a novice home cook with my secret Mapo Tofu recipe; great recipes are meant to be shared.
Is Mapo Tofu/麻婆豆腐 so hard to make at home? Does the long list of ingredients appear intimidating to a novice home cook? I asked myself. The answer is–unfortunately–yes. Making a plate of Mapo Tofu that oozes the signature mala/麻辣 (numbing spiciness) flavor without losing its originality is not easy…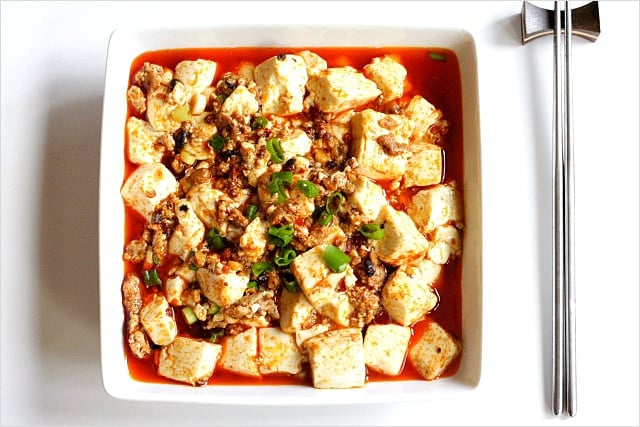 Recipe: Ma Po Tofu (麻婆豆腐)
Ingredients:
1 block silken tofu (19 oz box)
1/4 lb ground pork
3 tablespoons Sichuan spicy bean paste (辣豆瓣酱)
2 tablespoons chili powder
2 tablespoons cooking oil
3 tablespoons chili oil
1 tablespoon Sichuan peppercorns (roasted and ground to powder)
1 tablespoon light soy sauce
1 teaspoon fermented black beans (rinsed and pounded)
2 stalks of leeks or scallions (chopped into 1 or 2-inch length)
2 gloves garlic (chopped)
1/2 cup water
Salt to taste
Method:
Cut the tofu into small pieces, drain the water from the tofu and set aside. Heat up a wok and pour in the cooking oil and chili oil. Add the chopped garlic, ground pork, spicy bean paste and stir-fry until the pork is half-done. Then add in chili powder, soy sauce, fermented black beans and stir-fry until aromatic. Add in the tofu and water; stir gently to blend the tofu (don't break them) well with the sauce. Lower the heat and simmer for about 3-5 mins or until the sauce thickens. Add in the roasted Sichuan peppercorn powder and chopped scallions. Gently stir and blend well. Dish out and serve hot.
Cook's notes:
To tone down the numbing spiciness of this dish, use less roasted sichuan peppercorn powder, chili powder, and chili oil. Adjust them to fit your palate.
Mo Po Tofu (麻婆豆腐) literally means "Pock-Marked Old Lady Tofu" (I know!). You can read about the origin of this dish here.
The Ma Po Tofu served at Chinese restaurants in the US has been adapted to appeal to local taste–the level of numbing spiciness is largely toned down.

Most-Pinned Recipes
Ginger Garlic Baked Chicken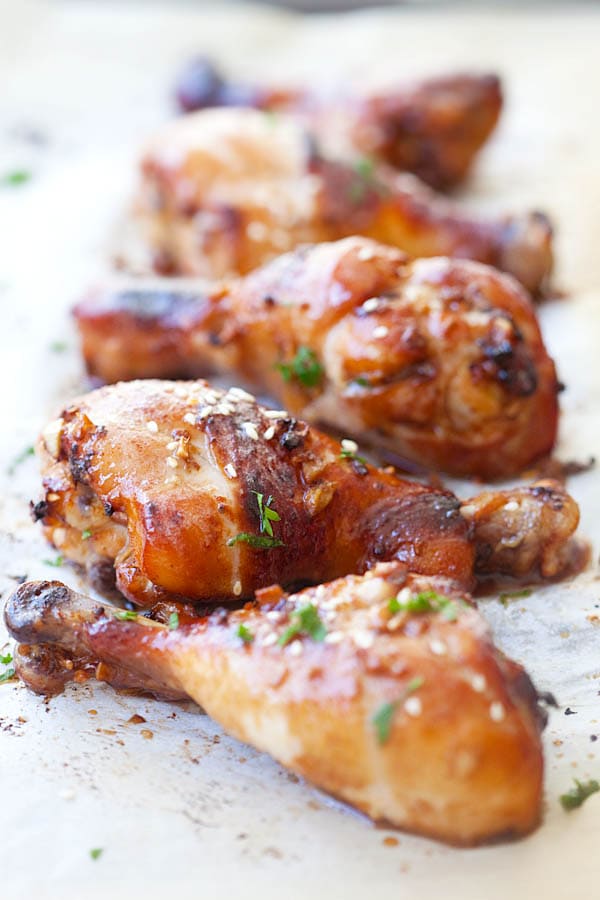 Crab Rangoon (Cream Cheese Wontons)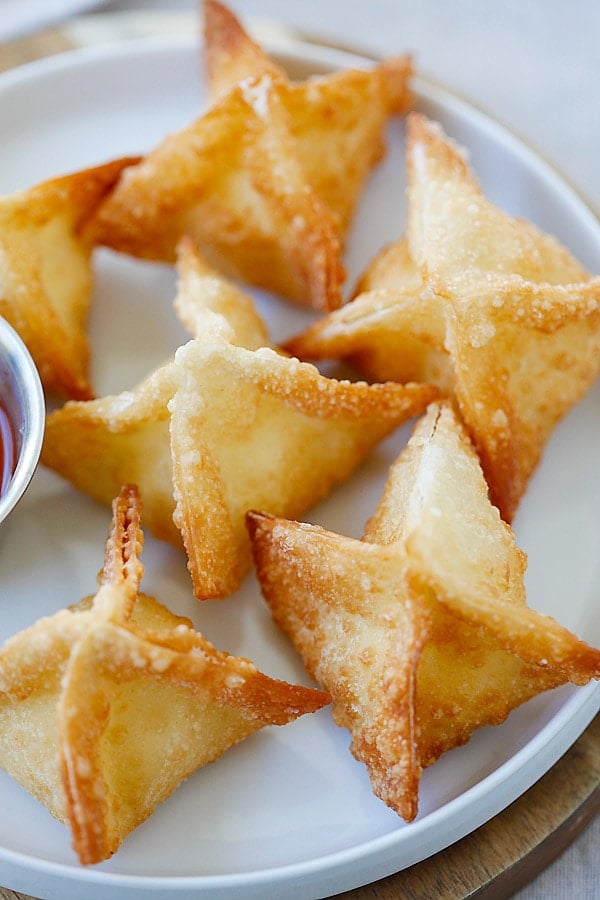 Chicken Wontons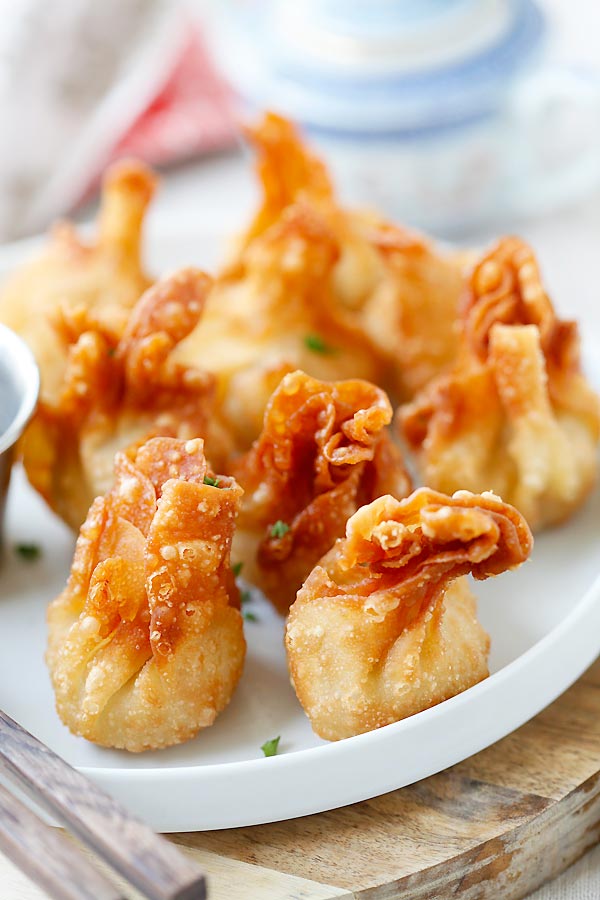 Onion Scallion Beef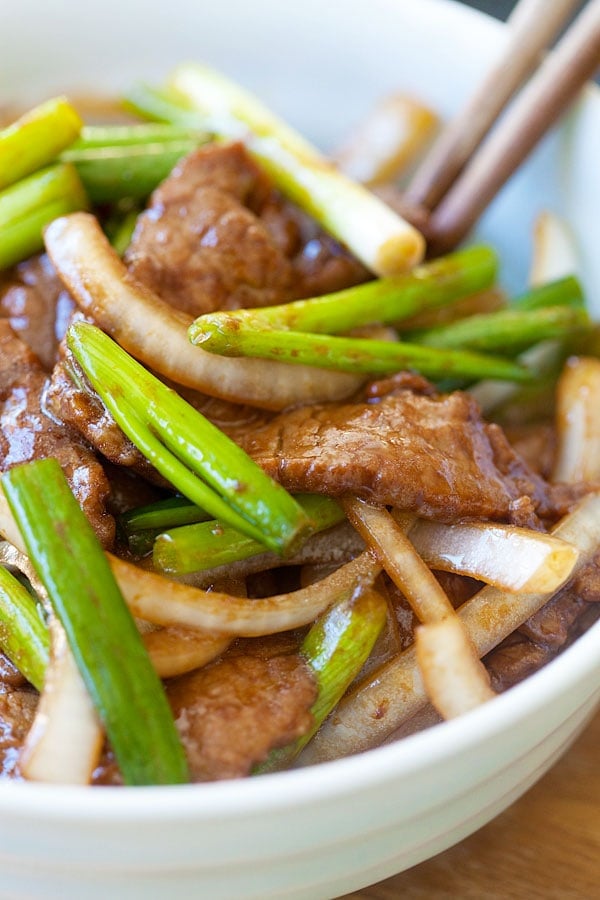 Thai Chicken Sate with Peanut Sauce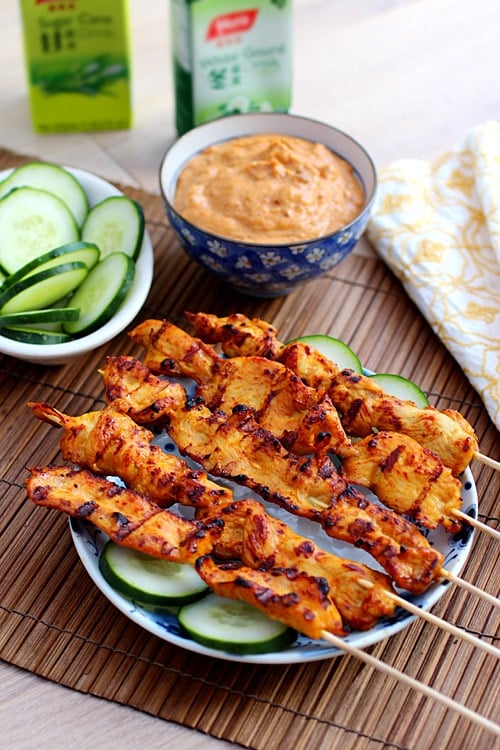 Thai Peanut Sauce