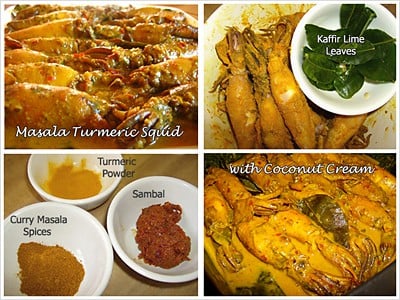 Since my last post about Potluck Party, Malaysian Style, I have had no less than five inquires about this slurpylicious and jilatable dish (yes, I almost terjilat aka "licked" my plate dry when I first tried them last week)–emails, comments from my last post, plus a couple of phone calls.
Due to the overwhelming and positive responses, I resolved to get S to spill her secret recipe to me. After much sweet talk and sincere flattery, I finally convinced S to pen down the following recipe to Rasa Malaysia readers.
I know I am not the only one who is going to rush into the kitchen and cook up this fabulous dish. Inspired by S, Mae of Rice and Noodles had already concocted her variation of squid dish…stay tuned for her upcoming post and pictures.
Without further ado, here is the highly anticipated recipe of…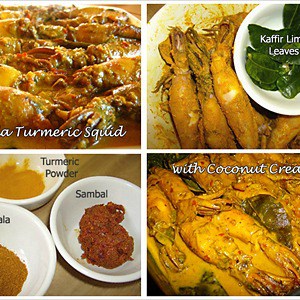 Masala Turmeric Squid with Coconut Cream Recipe
Masala Turmeric Squid with Coconut Cream Recipe.
Ingredients
cleaned squids, with eyes removed

minced ginger

curry masala spices, available at Indian stores

tumeric powder, or ground fresh tumeric

your favorite sambal paste

coconut milk/cream
Click Here for Conversion Tool
Directions
Marinade squid with curry masala and tumeric powder, set aside.

Pan fry kaffir lime leaves and ginger until fragrant, put in the pre-marinated squid and fry on both sides until slightly brown.

Add a table spoon or two table spoons of your favorite sambal paste and coconut milk, let boil.

Turn heat to low and simmer till all squid are cooked (about 8-10 minutes for 1 lb+ of squid).

Do not overcook the squid as they can become pretty tough and rubbery.
Nutrition Facts
Masala Turmeric Squid with Coconut Cream Recipe
Amount Per Serving (4 people)
Calories 0
* Percent Daily Values are based on a 2000 calorie diet.
Easy Weeknight New Recipes: