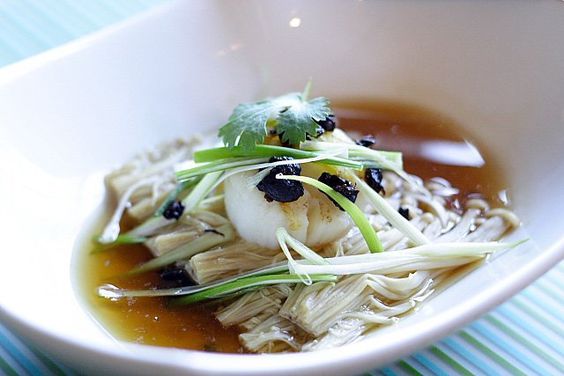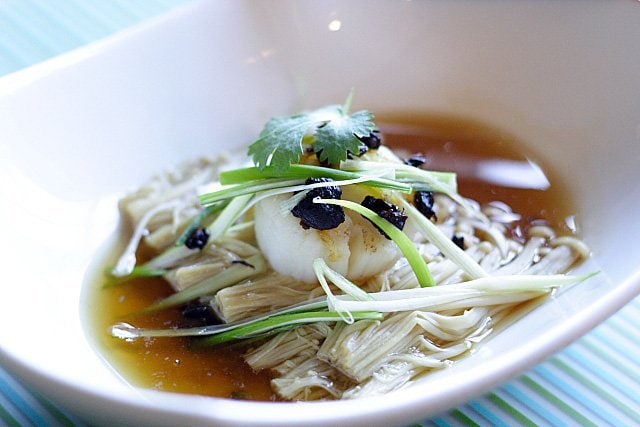 The pain from my recent dental surgery is slowing easing away; I am starting to be able to chew, well, on foods again.
After a week of porridge, porridge, and more porridge of various toppings and ingredients, I am sooooo ready to dive back into something I totally miss, that is, seafood…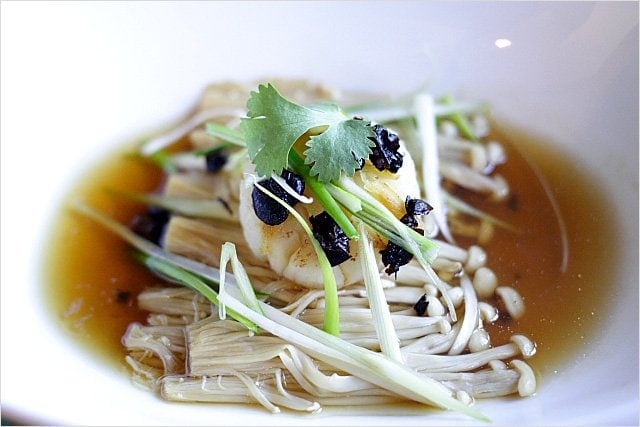 My dentist has warned me not to go overboard yet as my gum tissues are still raw so steaming is the best cooking style for now.
For today's cooking, I picked scallops as I found some succulent ones in the market today. I paired the scallops with fresh enoki mushrooms and heaped in some fermented black beans.
After a few minutes of steaming, the scallops and enoki mushrooms were bathed in a lightly flavored broth bursting with natural sweetness of the scallops and enoki mushrooms. The fermented black beans were simply icing on the cake. Yum…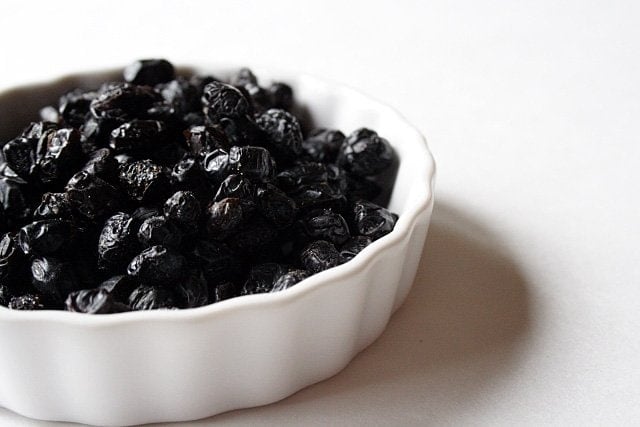 Chewing has never been this enjoyable and fun. I am glad to have it back.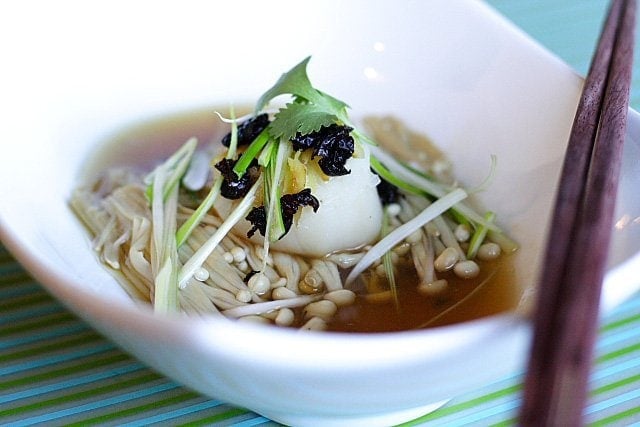 How Many Calories Per Serving?
This recipe is only 27 calories per serving.
5 Secrets to 20 Min Dinners
Get tricks for quick & easy meals!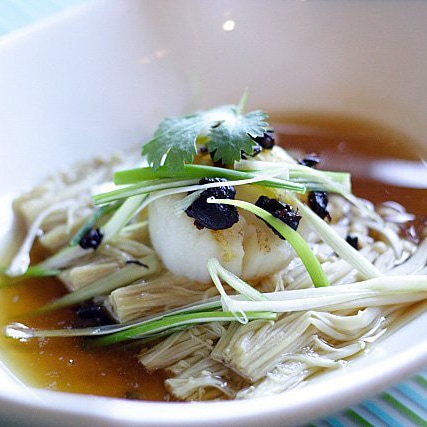 Steamed Scallops with Fermented Black Beans Recipe
Steamed Scallops with Fermented Black Beans Recipe.
Ingredients
6

diver scallops

1

stalk

scallion, cut into threads

1

inch

young ginger, shredded

1

pack

enoki mushrooms, cut off the roots

1

teaspoon

soy sauce

1/8

teaspoon

sugar

1

tablespoon

rice wine, or sake

1

teaspoon

fermented black beans, rinsed with water and mashed
Click Here for Conversion Tool
Directions
Spread the enoki mushrooms evenly on a plate. Arrange the scallops on top of the enoki mushrooms. Top the scallops with shredded ginger and mashed fermented black beans. Sprinkle rice wine, soy sauce, and sugar over the scallops. Steam for 5 minutes. Garnish with scallions and serve hot.
Nutrition Facts
Steamed Scallops with Fermented Black Beans Recipe
Amount Per Serving (4 people)
Calories 27
% Daily Value*
Cholesterol 5mg2%
Sodium 222mg10%
Potassium 46mg1%
Carbohydrates 1g0%
Protein 3g6%
Vitamin A 30IU1%
Vitamin C 0.6mg1%
Iron 0.1mg1%
* Percent Daily Values are based on a 2000 calorie diet.