4.8
40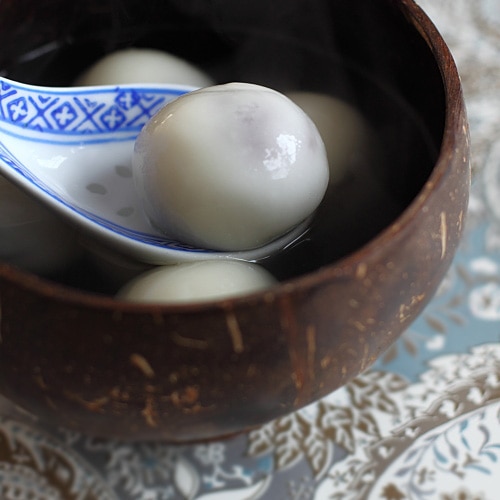 Red Bean Dumplings (红豆汤圆)
Red bean dumpling (红豆汤圆) – The red bean paste is encased in sticky rice balls, boiled, and then served in ginger syrup. It's a wonderfully refreshing dessert that anyone can make.

Ingredients:
4 oz glutinous rice flour (sticky rice flour)
100 ml water
3 oz canned red bean paste
Water, for boiling the dumplings
Ginger Syrup
3 cups water
2-inch piece of fresh ginger, lightly pounded with the back of a cleaver
Rock sugar to taste

Method:
Mix the glutinous rice flour with the water in a bowl until it forms a smooth paste and no longer sticks to your hand. Divide the dough and red bean past into 10 balls each. Gently roll the sticky rice balls and red bean paste into ball shape using your palm. To wrap the dumplings, flatten a sticky rice balls using your palm and place a red bean ball in the center. Fold the edges to seal tight. Gently roll the dumplings using your palms again. Make sure there is no leakage. Place the dumplings on a piece of parchment paper.Prepare the ginger syrup by boiling the water. Add the ginger  into the water and boil for 10-15 minutes with medium heat. Add rock sugar (to taste) and boil for another 5 minutes. Lower heat to simmer.
Heat up another pot of water and bring it to boil. Drop the dumplings into the boiling water. As soon as they float to the top, transfer them out and into the ginger syrup. Turn off the heat and serve the red bean dumplings immediately.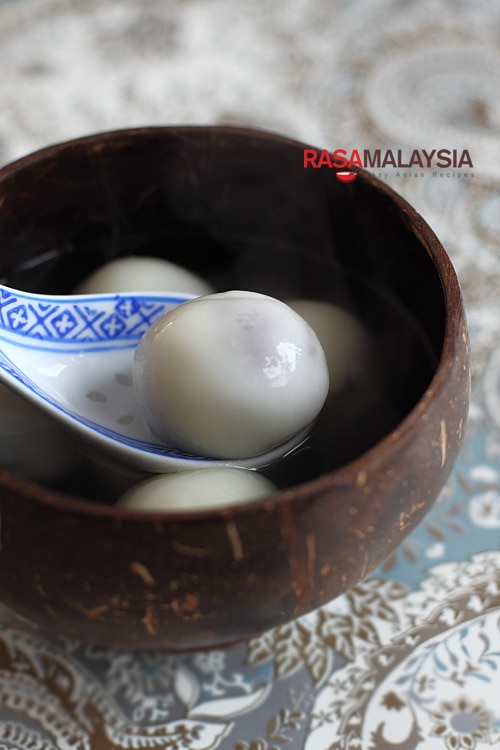 I have a good news to share about my Chinese recipes cookbook!!
The recipes development, cooking, food styling and photography are pretty much done, and I am almost ready for recipes testing involving you—my loyal readers and fans. I will be needing your help and will announce it on Rasa Malaysia in the next few weeks, including a sneak preview of the food photography (they are very different from what you see here and all shot with my professional camera, Canon 5D Mark II)! I am very excited and I hope you are, too.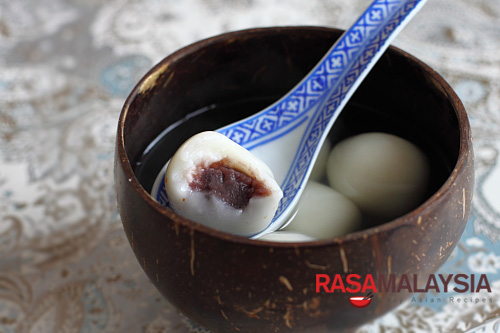 Anyway, I have been cooking up a storm and working very hard on the cookbook since April. It has been fun, challenging, and a great learning process. As a result of the recipes development, I have accumulated a lot of random ingredients in my refrigerator—leftover items used in the recipes, which I have to get rid of. One of them is a can of red bean paste that had been sitting in the dark corner of my refrigerator for over a month! It kept well so I didn't want to just toss it away. I decided to clear the space finally and made it into red bean dumplings. I have to say that it was a great way to use up leftover red bean paste, for something sweet and pleasing…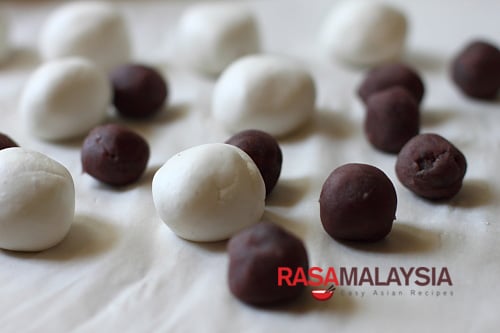 Red bean dumpling (红豆汤圆) is a common dessert in Chinese cuisine (the other is black sesame dumplings). The red bean paste is encased in sticky rice balls, boiled, and then served in ginger syrup. It's a wonderfully refreshing dessert that anyone can make at home. Traditionally, red bean paste is made from scratch, but the canned version is as good as it gets. You can find it at Chinese, Japanese, or Asian stores. If you like dumplings, do try out this red bean dumplings recipe!
RECIPE RATING:
Rate This
Recipe Name
Average Rating

Based on 10 Review(s)
SUBSCRIBE AND NEVER MISS A RECIPE:
SUBSCRIBE TO RASA MALAYSIA NEWSLETTER AND GET EASY AND DELICIOUS RECIPES DELIVERED TO YOUR INBOX. If you try my recipe, please use hashtag #rasamalaysia on social media so I can see your creations! Follow me on Facebook | Instagram | Pinterest | Twitter for new recipes, giveaways and more.