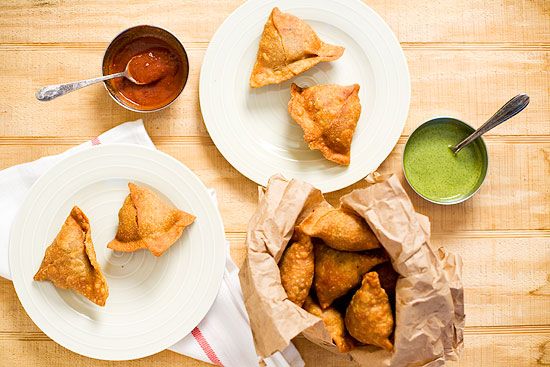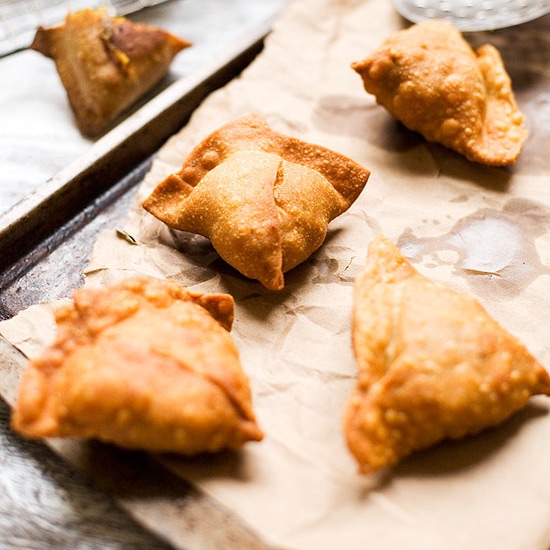 Samosa Recipe
Samosa Recipe: It's a stuffed pastry which is mostly fried in oil and is triangular in shape. Any kind of filling can be used from minced meat to something sweet like sweetened coconut filling.
Ingredients:
For the pastry:
1 ½ cups of all-purpose flour (if you are familiar with Indian wheat flour or durum aata you can use that as well)
2 tbsp semolina (cream of wheat)
2 tbsp oil
1 tsp salt
½ ajwain seeds (optional)
A little over 2/3 cups of water
For the filling:
2 medium sized potatoes (I use Yukon gold)
½ cup sweet green peas
1 cup thinly sliced onions
1 tsp cumin seeds
1 tsp minced green chili
1 ½ tsp coriander powder (optional)
Method:
For the pastry:
Trick to kneading perfect dough – always add water in small portions. Dough for samosa pastry should be a little tougher. As a test, when you press your finger into it, you must have to apply a little pressure.
Mix all the dry ingredients together.
Add oil into the flour and mix it all very well together. To mix the oil well into the flour, take flour in small portions in your hand and rub it between your palms. To make sure that the oil is mixed well, hold the flour in your fist, press tightly and open the fist, the flour should still hold itself.
Now add water in small portions and try to make dough out of it. I easily used 2/3 cup of water and then a little extra to wet my hands for kneading.
Once the dough comes together, work it for another 5 minutes. Then wrap with a plastic wrap and let it rest for 30 minutes.
For the filling:
Boil potatoes. Cool and then mash them. Set aside.
Heat oil in a pan. Add cumin seeds. Once they start to pop add chili and onion. Cook until onion becomes translucent. Then add peas and turmeric. Once the peas are cooked, add coriander powder, salt and mashed potatoes. Mix everything well together and set it aside for the mixture to cool before using them for filling.
Making Samosas:
The trick all samosa shop vendors use to make crisp samosas is that they use warm oil to fry their samosas. They drop them in oil which is a little over room temperature and slowly increase the temperature of oil. This cooks the outer pastry slowly, making them crisp. Frying them in hot oil makes the pastry soft and you don't want that.
Start by rolling a lemon size ball of dough into a circle using a rolling pin. The flat circle should be around 11-12 cm in diameter.
Cut the big circle into two semicircles. Take about two spoons of potato mixture, make a ball off of it and place it in the center of the semicircle. Now dip your finger in water and rub it at the straight edge of the semicircle to make it wet so that it can stick.
Pick it from one side and place it over the potato ball covering it half way. Then pick the other side and place it over to the previous one, covering the potato to make a triangle shape. The two flaps should stick to each other right at the center of the samosa. The third side of the triangle should be still open. Use a little water, make it wet and stick the two flaps together with your finger. Repeat the process with the rest of the dough.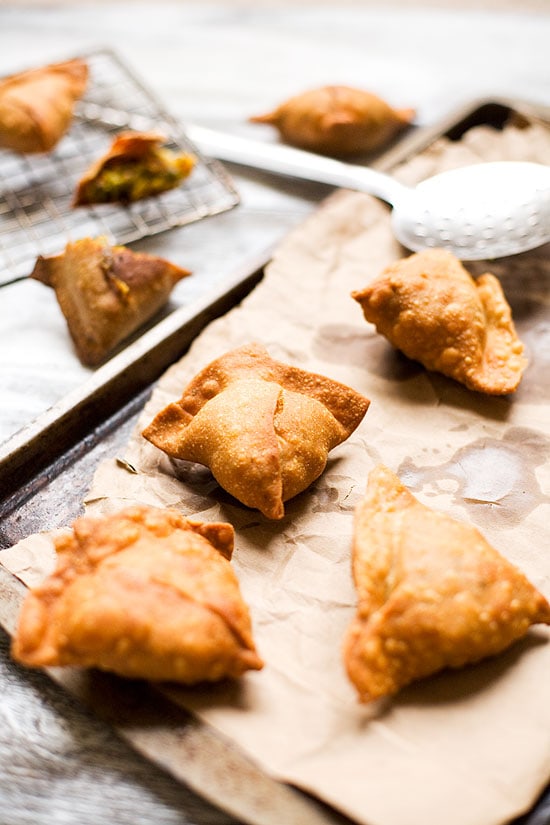 Greetings from Penang!
I am very happy that Prerna of Indian Simmer is guest posting today as I have always loved Indian cuisine and one particular recipe that I wanted to learn is Samosa—a bite-sized parcel of spiced potatoes encased in a crispy shell. Prerna moved to the US five years ago and started Indian Simmer last year to share her love and passion in Indian cooking with a simple goal—making Indian food more approachable and appealing to all. Indian Simmer is graced with mouthwatering and authentic Indian recipes and her food photography is pure perfection. I am just so glad that now I have another great Indian cooking blog to refer to. Please welcome Indian Simmer to Rasa Malaysia and do check it out. It's a gem and I am very sure that you will love it.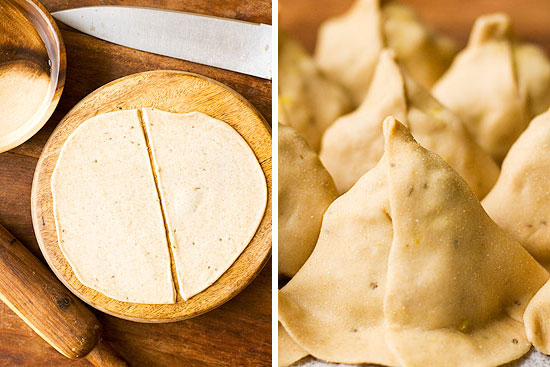 I have to admit, when Bee asked me if I would be able to share the recipe for Samosa on her blog, I was a bit worried. Not because I had never made it before but because I wanted to it be perfect enough for me to share it with everyone. I decided to reach out to the best Indian food chef that I know of and get some help. So I made an SOS call to my mom. She gave me some really important tips and also a lot of courage to do this and do this right…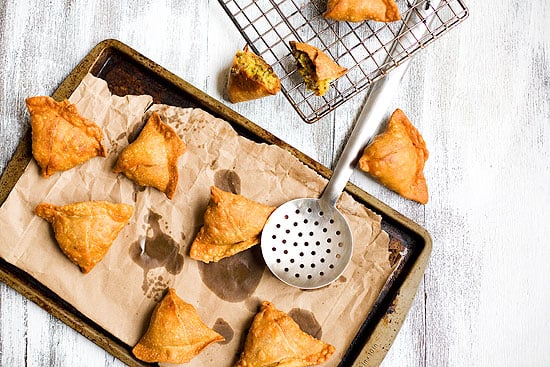 Growing up it was a treat when guests would visit us for evening tea. I and my brother knew that Papa (our dad) would hand us a ten rupee bill and we would run over to the shop at the corner of the street to get some fresh out of the fryer samosas for everyone! Samosa is probably the most popular snack you can find in nearly every part of incredibly diverse India, in some form or the other. It's a stuffed pastry which is mostly fried in oil and is triangular in shape. It is very simple to make, you just need to know the right tricks to put it together. Any kind of filling can be used from minced meat to something sweet like sweetened coconut filling but here I am sharing a recipe that has everyone's favorite and most common filling in India – potato.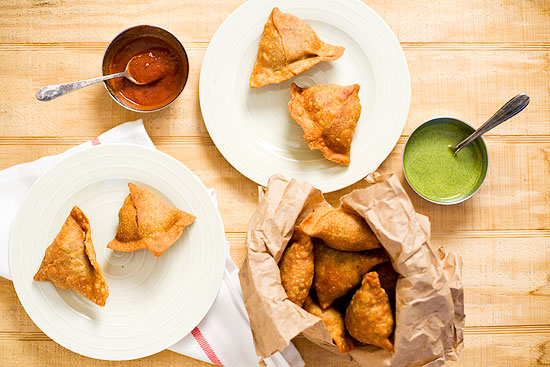 Rate the Recipe:
SUBSCRIBE AND NEVER MISS A RECIPE:
SUBSCRIBE TO RASA MALAYSIA NEWSLETTER AND GET EASY AND DELICIOUS RECIPES DELIVERED TO YOUR INBOX. If you try my recipe, please use hashtag #rasamalaysia on social media so I can see your creations! Follow me on Facebook | Instagram | Pinterest | Twitter for new recipes, giveaways and more.