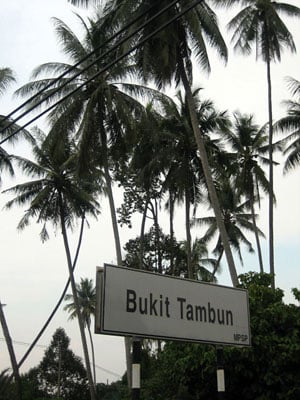 Bukit Tambun–a quaint and small fishing village about 30-45 minutes across from Penang Island–is a seafood lover paradise. While Penang is blessed with a wide array of great seafood eateries, many Penangites often drive across the Penang Bridge to look for the best, freshest, and cheapest offerings. The answer is simple: sitting by a kuala (the river mouth where it meets the sea), Bukit Tambun is blessed with countless seafood restaurants dotting its main street and these restaurants offer loads of fresh bounties of the sea.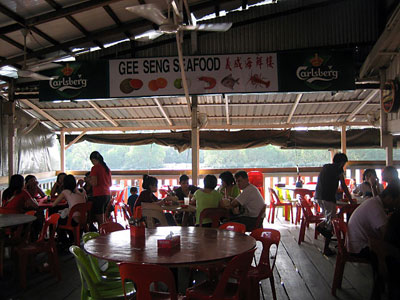 While I have tried out quite a few seafood restaurants at Bukit Tambun, my favorite is Gee Seng Seafood Restaurant at the end of the main strip. There are a few reasons I love it: 1) It's one of the two restaurants floating on the river at Bukit Tambun, 2) There are many varieties to choose from, 3) The price is darn cheap, and 4) Last but not least, the taste of the seafood dishes are always heavenly.
I went there with my best friend and my niece tonight and here are the pictures of our catch.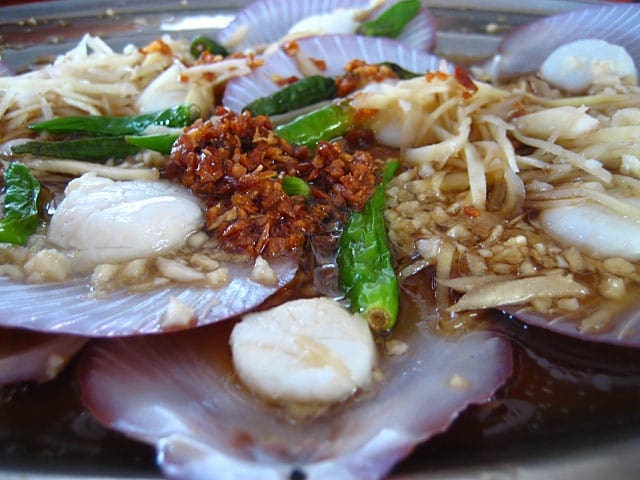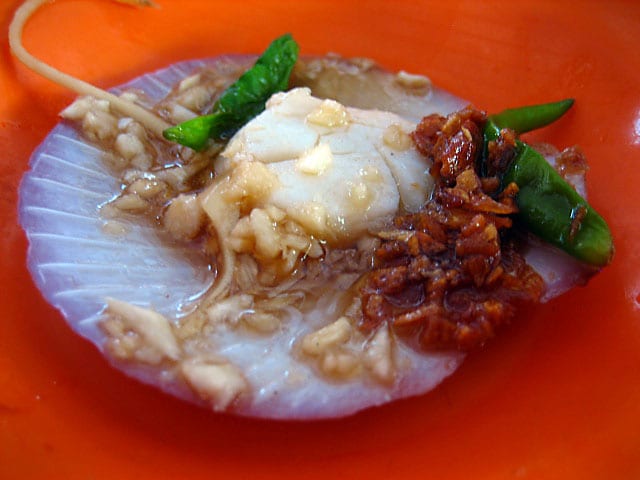 A plateful of fresh scallops on the half shell; steamed with only soy sauce, garlic, bird's eye chilies and shredded garlic, these sweeties are just RM11.00 or US$3.00. Now, I can't even buy fake scallops with that money in the States!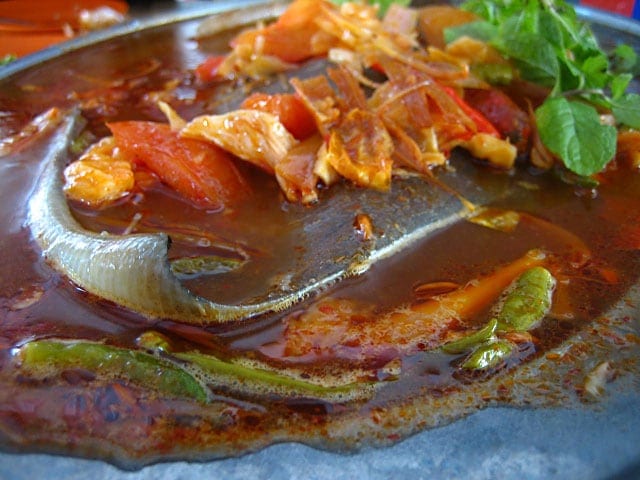 Tom Yam Stingray. Rasa Malaysia certified jilatable (lickylicious). It was so good I almost ate the soft bones of the stingray wings. Sour, spicy, and downright addictive, this is not the typical Tom Yam. A must have.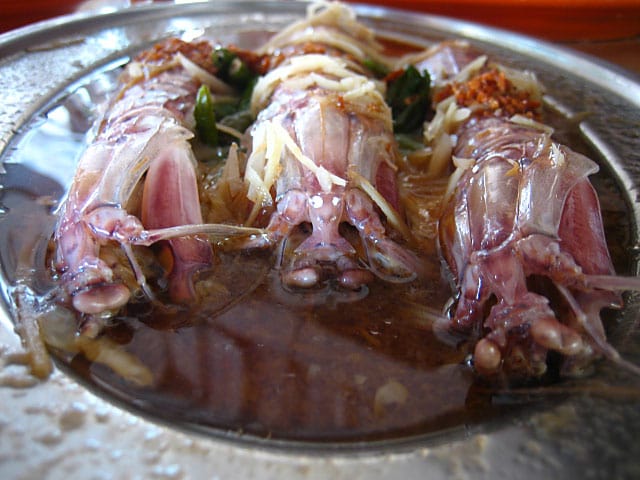 These somewhat scary looking sea creatures are called Mantis Prawns. They are not the best looking seafood around and look like centipedes, but the flesh is sweet with a great texture.
Above is the picture of the mantis prawn after you peel off the shell. In Penang, the best Hokkien Mee vendor tops his divine prawn noodles soup with these killer mantis prawns.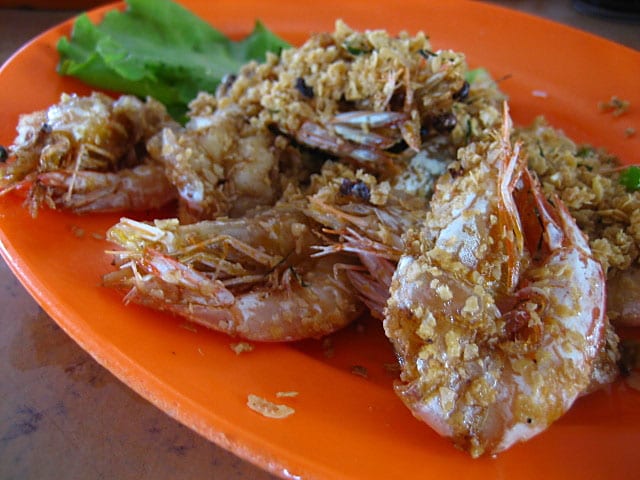 Nestum Prawns. The crunchy bits (Nestum corn meal) were a tad too sweet and the aromatic curry leaves were missing in action. However, it was still a great dish considering the price was just RM14.00 or US$4.00.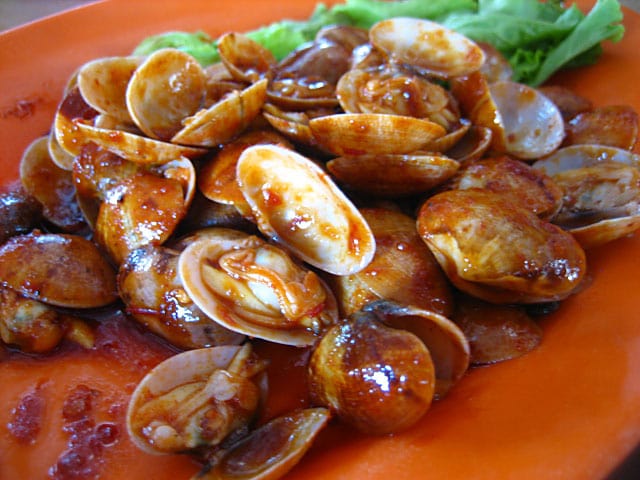 As a die-hard clam lover, I had to have my clam-du-jour. Stir-fried clams "kam heong" (savory and aromatic) style was a mere RM7.00 or US2.00. Can you say "bargain?"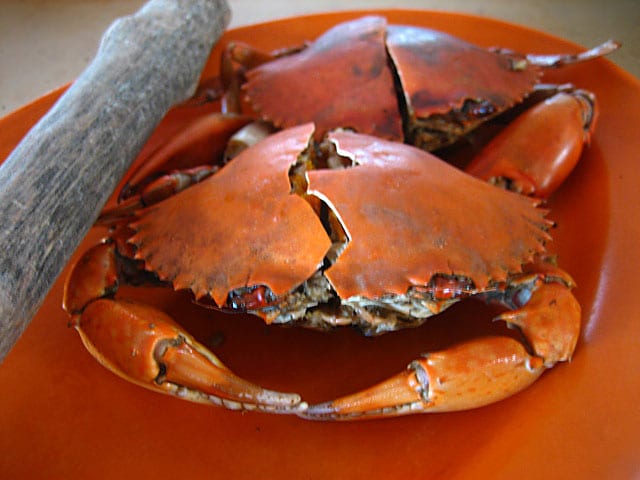 Baked mud crabs. This was the only dish that was disappointing; not that the chef didn't know how to bake them, but they were too small for my taste. I love my crabs big, fat, and fleshy.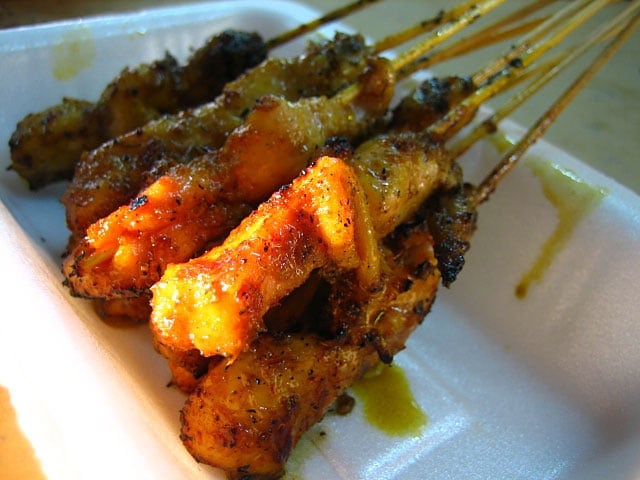 To wrap up the meal, I ordered some chicken satays from the hawker beside the restaurant. Perfectly charred and juicy with a tint of turmeric and lemongrass, they had me wanting for more.
Total damage of the meal (fresh coconut drinks and rice included) was only RM95.20 or US$27.00 for 3 people. With all these seafood sitting happy in my stomach, I think I will have a good night of sleep tonight.
Restaurant Makanan Laut Gee Seng/Gee Seng Seafood Restaurant
860 Bagan Bukit Tambun
14110 Simpang Ampat
Penang
Tel: 04-588-7220
I love Bukit Tambun as it has a lot of character and very original. Wait no more, hop on a plane, car, train, or bus and visit Penang now; as much to offer and yet so cheap.