Seared Ahi Tuna Salad with Mizkan Ponzu - Learn how to make seared ahi tuna at home, and use it to make seared ahi tuna salad.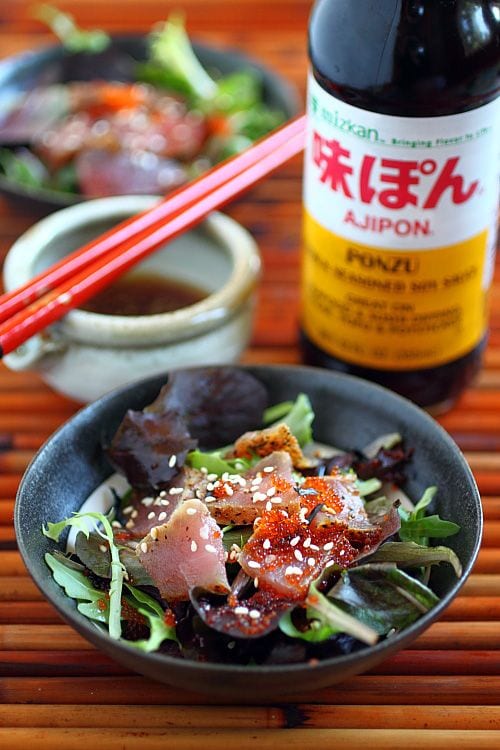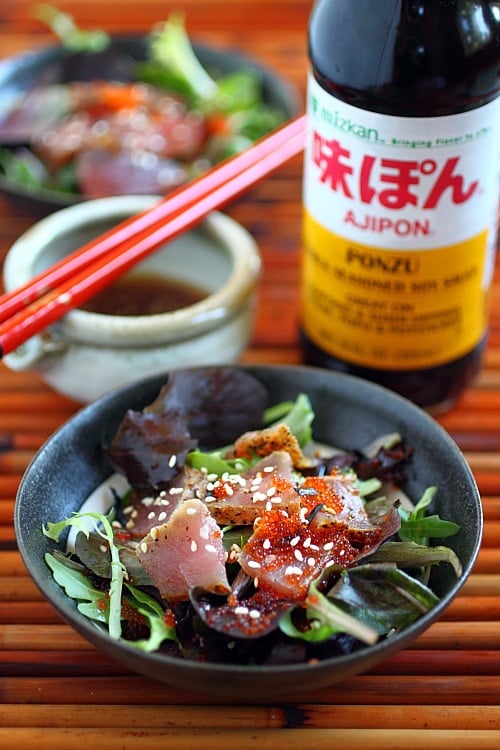 I love all sorts of Japanese-style salads, from the simple seaweed salad to the more complex salads such as seared ahi tuna salad.
Whenever I eat out at Japanese restaurants, I almost never miss out on my favorite ahi tuna salad.
It's almost like having sashimi, except that it is healthier—a few slices of lightly seared ahi tuna on top of a bed of greens, drizzled with a splash of Japanese ponzu dressing.
If you love Japanese cooking, I am sure you have had your fair share of seared ahi tuna salad.
The good news is that I am sharing my recipe with you, so you can start making this refreshing salad at home.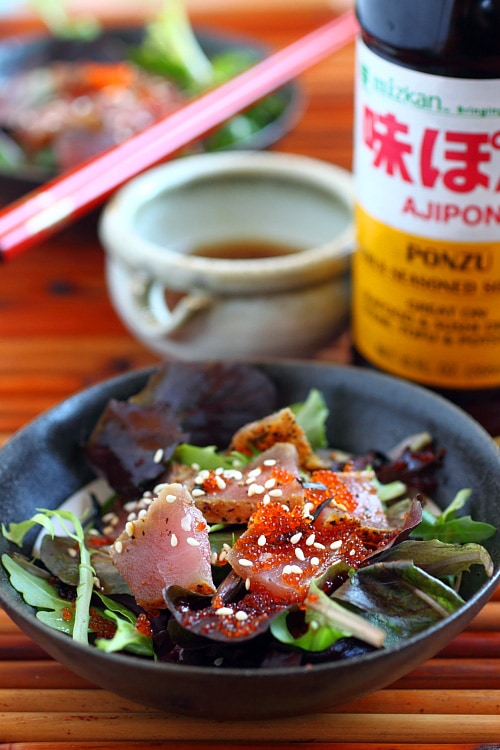 A good seared ahi tuna salad starts with three basic ingredients: sushi-grade ahi tuna, your favorite salad (I like spring mix or herb mix), and a superb Japanese ponzu sauce.
Many people are confused by the name "ahi" tuna.
Ahi is the Hawaiian word for two species of tuna: yellowfin tuna and bigeye tuna.
Yellowfin tuna is best served as sashimi (raw) or seared rare.
For the dressing, my choice is Mizkan AJIPON® Ponzu, which is widely used at Japanese restaurants.
You just can't go wrong with the choice of Japanese chefs and restaurateurs.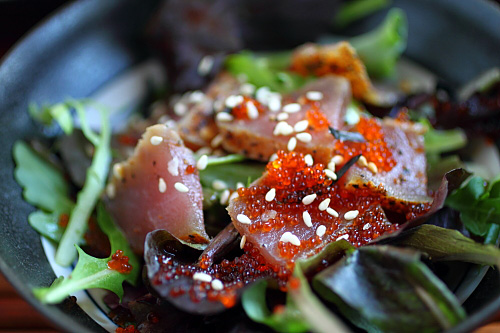 I have tried countless variations of seared ahi tuna salad at Japanese restaurants but my ultimate favorite is the ones served with tobikko roes (fly fish roes) and shredded roasted seaweed.
The tobikko roes add the pleasing "popping" texture and sensation to the mouth and the roasted seaweed gives its signature Japanese nuance.
I also jazzed up the Mizkan AJIPON® Ponzu dressing with a bit of ground sesame seeds and sesame oil.
To cut the acidic taste, I sweetened it up with a little honey.
Finally, for the star of this dish, I rubbed some shichimi togarashi (Japanese seven spice) to the fish before searing.
The end result is this gorgeous looking, refreshing, and appetizing seared ahi tuna salad.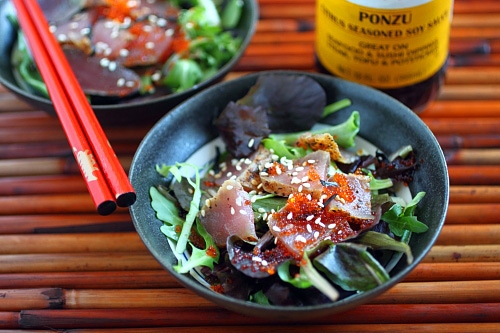 I hope you like this seared ahi tuna salad recipe as much as I do.
Enjoy!
How Many Calories per Serving?
This recipe is only 161 calories per serving.
What Dishes to Serve with This Recipe?
For a wholesome meal and easy weeknight dinner, I recommend the following recipes.
5 Secrets to 20 Min Dinners
Get tricks for quick & easy meals!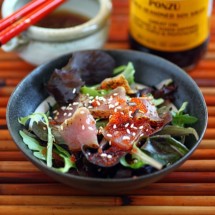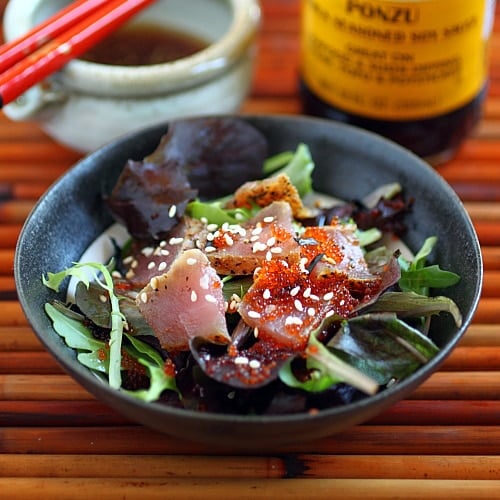 Seared Ahi Tuna Salad with Mizkan Ponzu
Learn how to make seared ahi tuna at home, and use it to make seared ahi tuna salad. Seared ahi tuna salad with Mizkan ponzu dressing.
Ingredients
8

oz.

sushi grade ahi tuna steak

1

tablespoon

Shichimi Togarashi

Japanese seven spice

olive oil

for pan-searing

1

box

5 oz. /140 g spring mix salad

1

tablespoon

Tobikko roes

1

pinch

shredded roasted seaweeds

1

pinch

white sesame
Click Here for Conversion Tool
Directions
Rub and season the ahi tuna steak with the Shichimi Togarashi, for 15 minutes. Heat up a pan on medium heat and add some olive oil to coat the pan. Pan-sear each side of the ahi tuna steak for about 30 seconds or as soon as the surface turns opaque. Dish out and let cool in the fridge.

Prepare the Dressing by mixing all the ingredients together.

To serve, toss the salad with the dressing and divide the salad into individual serving bowls. Slice the ahi tuna into pieces and lay them on the salad. Add some Tobikko, shredded roasted seaweed, and sesame as toppings and serve immediately.
Recipe Notes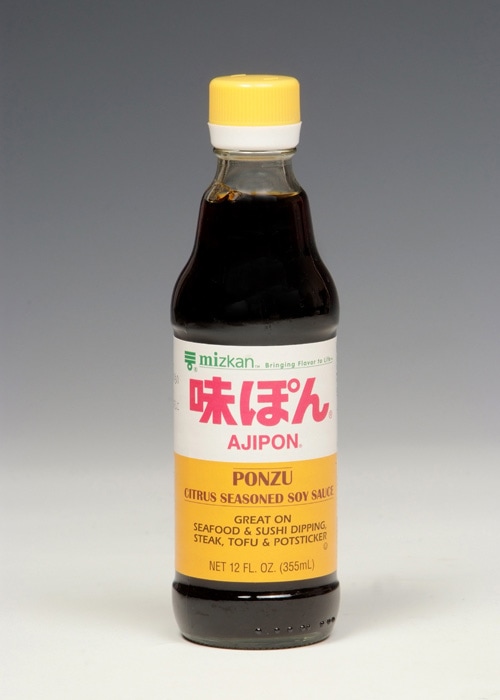 Nutrition Facts
Seared Ahi Tuna Salad with Mizkan Ponzu
Amount Per Serving (3 people)
Calories 161
Calories from Fat 63
% Daily Value*
Fat 7g11%
Cholesterol 46mg15%
Sodium 524mg23%
Carbohydrates 3g1%
Protein 19g38%
* Percent Daily Values are based on a 2000 calorie diet.