It all started at Redondo Beach. Famed for its fresh seafood and beautiful coastline, Redondo Beach is one of the top tourist destinations in the Greater Los Angeles area. Personally, I don't care much about the beach and the touristy crowd; the main draw for me is the live-in-the-tank (hidup!) and wide selection of fruits de la mer…and so, that was the beginning of my shellfish binge this past weekend.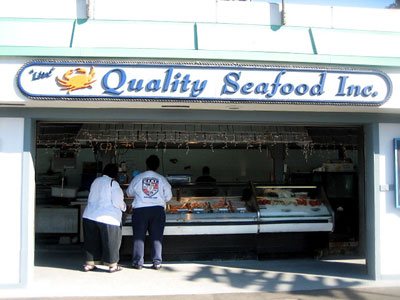 As a die-hard seafood aficionado, Quality Seafood is a dream come through. Think 25 varieties of fresh oysters, over a dozen of clams of various sizes and species, lobsters from both the Atlantic and Pacific waters, and big fat meaty crab of all kinds (has anyone tried Spider Crab before?!). And wait, there are more: fish, chilled seafood, cold appetizers, hot seafood dishes, cook-to-order services, plus a few tables right outside the shop to feed the eager seafood buffs who just can't wait to get home to devour their goods…well, you get the idea. This is a seafood lover's paradise. Period.
So, at the sight of the above large shellfish selection, I literally went hog wild with my buying (and later eating) spree. I got myself black mussels, farmed necks, live softshells, and scallops.
On the way out, I scooped up a dozen of fresh oysters–Kumamoto, Stellar Bay, Eastern, Baja, Willapa, and Malpeque–and had them shucked and served immediately. The Stellar Bay and the Malpeque, both recommended by the salesperson, were sweet, creamy, and very tender. The Willapa tasted salty to me and the Kumamoto were mushy. I enjoyed the Baja oysters while LK preferred the Eastern oysters.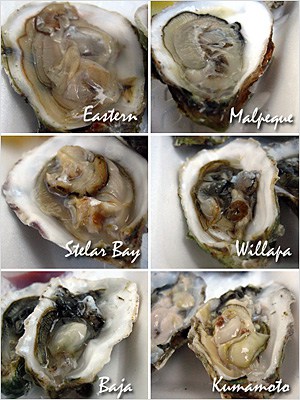 All in all though, Quality Seafood–as the name suggested–is a great fish market. The price is not cheap (raw oysters are priced at $1.25 – $1.85 each), but you get what you pay for, that is, freshness and varieties.
Quality Seafood
Fresh Fish Market
130 S. International Boardwalk
Redondo Beach, CA 90277
Tel: (310) 374-2382
Now, do you like raw oysters on the half shell?
Related Post: Shellfish Overload