Shrimp Wonton Miso RamenThis shrimp wonton miso ramen recipe is so easy to make, homemade and loaded with shrimp and wonton.

I love ramen but I have a difficult situation. Almost every one of my favorite ramen joint is always jam-packed with people with a line longer than the great wall of China.
The wait is frustrating so I usually give up, as a result, I can't have ramen as much as I wanted to.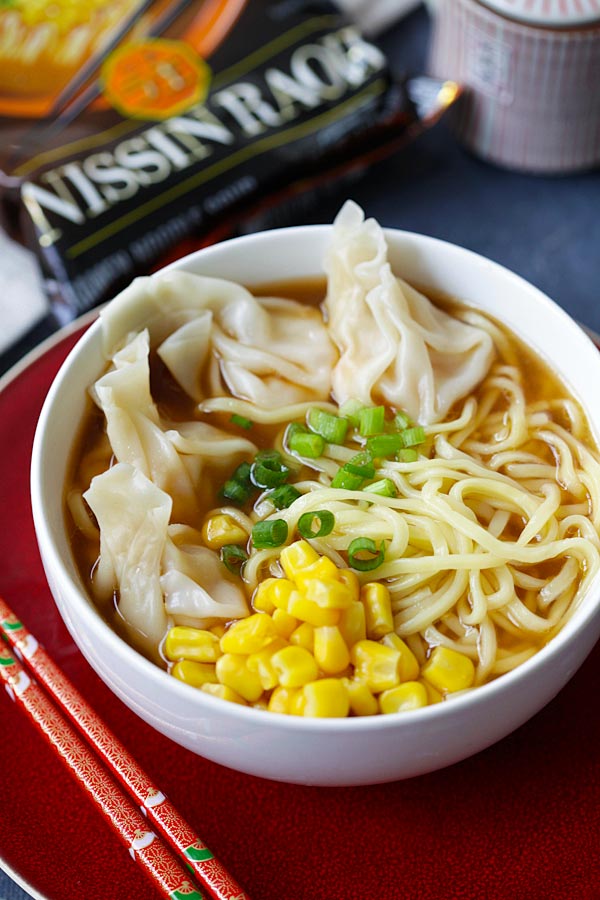 But it all changes with Nissin RAOH–the first brand of restaurant-quality ramen available in the US, in a packet that takes practically 4 minutes to cook.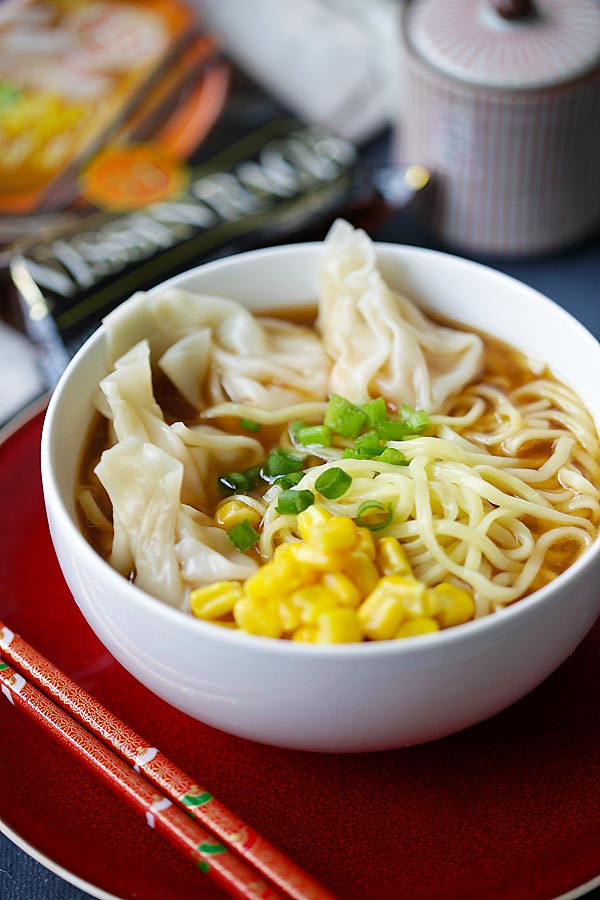 Other Recipes You Might Like
When I say restaurant-quality, I am talking about ramen that tastes like it is straight out of Santouka or Kitakata (both are famous ramen restaurants in the Orange County area); think Tonkotsu Ramen, Miso Ramen, and Soy Sauce Ramen, three authentic ramen flavors that we all love.
What's more, the dry noodles in Nissin RAOH are almost like fresh ramen noodles after cooking, thanks to Nissin's state-of-the-art technology to create triple-layered air-dried noodles.
The texture of the ramen noodles is silky, smooth, yet with a chewy and firm bite. Nissin ROAH–which means Ramen KING in Japanese language–is the real deal and by far the BEST instant Japanese ramen in a packet.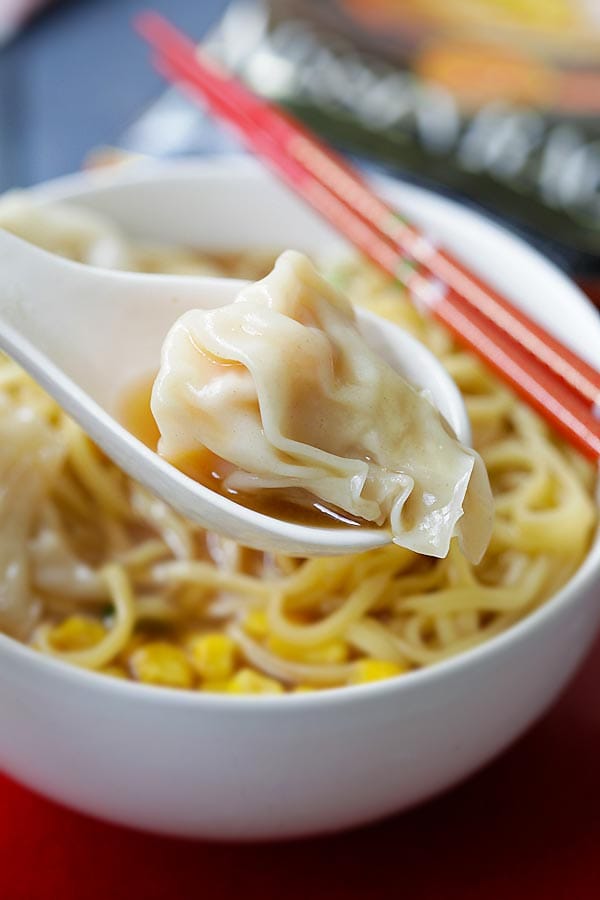 This Nissin RAOH Umami Miso Ramen is uniquely Japanese and has become a modern classic.
It's one of my favorite flavors. To make my homemade ramen extra delicious, I made some fresh shrimp wontons and added corn as the toppings.
The whole meal took about 20 minutes to make but I had a bowl of piping hot, authentic, and extremely delicious Japanese ramen at home.
I enjoyed it so much that I slurped the last drop of the miso broth. The 20 minutes cooking time sure is shorter than the wait time!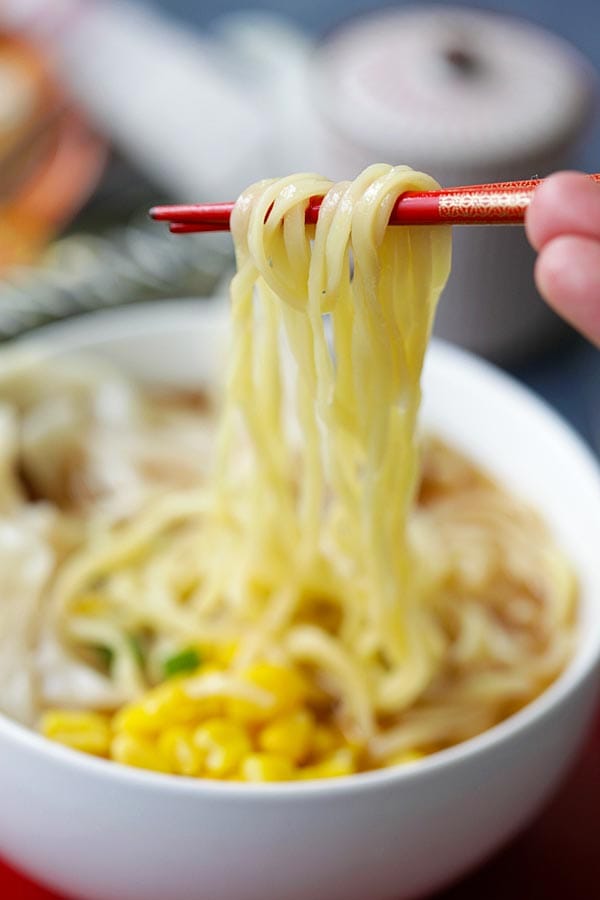 If you love ramen, you HAVE to buy and try out Nissin RAOH. Trust me, you will not believe that this is an instant ramen.
Buy bulk now on Amazon here, or buy the single packets here (for Amazon Prime subscribers only). Trust me, you will thank me after you try out!
Now check out my cooking video below and learn how to wrap shrimp wontons and make amazing ramen.
About Nissin RAOH
Nissin was founded in 1948 by Momofuku Ando, the inventor of instant ramen. Nissin RAOH has been a best-selling brand of ramen in Japan for over 20 years. Nissin RAOH comes in three authentic flavors: RAOH Umami Miso, RAOH Umami Soy Sauce, and RAOH Umami Tonkotsu.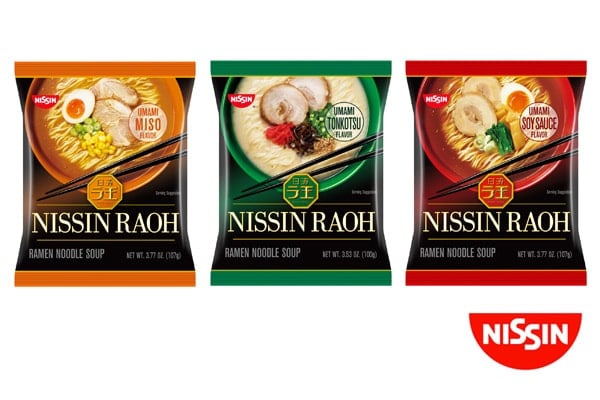 This conversation is sponsored by Nissin. The opinions and text are all mine.
How Many Calories per Serving?
This recipe is only 198 calories per serving.
What Dishes to Serve with This Recipe?
For a wholesome meal and easy weeknight dinner, I recommend the following recipes.
5 Secrets to 20 Min Dinners
Get tricks for quick & easy meals!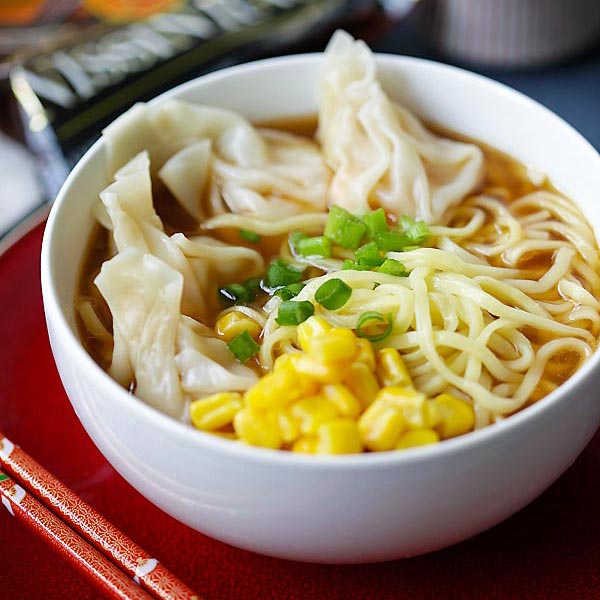 Shrimp Wonton Miso Ramen
Shrimp Wonton Miso Ramen - restaurant-quality miso ramen with juicy and plump shrimp wontons, made with Nissin RAOH ramen, SO GOOD!
Ingredients
2

packets

Nissin RAOH Umami Miso Ramen

4

oz.

peeled and deveined shrimp

1/2

teaspoon

sesame oil

1/8

teaspoon

salt

1/2

teaspoon

corn starch

1/4

cup

boiled corn kernels

1

tablespoon

chopped scallions
Click Here for Conversion Tool
Directions
Cut the shrimp into small pieces. Add the sesame oil, salt and cornstarch, stir to mix well.

Add 1 teaspoon of the shrimp filling onto the center of a wonton wrapper. Wet your index finger with water and trace the outer corners of the wonton wrapper. Fold, pinch and enclose the opening to form the wonton. Repeat the same to make 10 wontons.

Heat up a small pot of water and bring it to boil. Drop the wontons into the pot. As soon as they float to the top, remove them with a slotted spoon or strainer. Set aside.

To make each bowl of ramen, boil two cups of water in the same pot. Add the noodles and cook for 4 minutes or until al dente. Meanwhile, empty the flavor pouch of Nissin RAOH Umami Miso in a serving bowl.

Remove the noodles from heat and pour the water into the bowl first and mix well with a pair of chopsticks. Add the noodles into the bowl and mix again.

Add the wontons, corns, and scallions as the toppings. Serve immediately. Repeat the steps above to make the second serving.
Recipe Video
Nutrition Facts
Shrimp Wonton Miso Ramen
Amount Per Serving (2 people)
Calories 198
Calories from Fat 18
% Daily Value*
Fat 2g3%
Cholesterol 146mg49%
Sodium 859mg37%
Carbohydrates 26g9%
Protein 15g30%
* Percent Daily Values are based on a 2000 calorie diet.