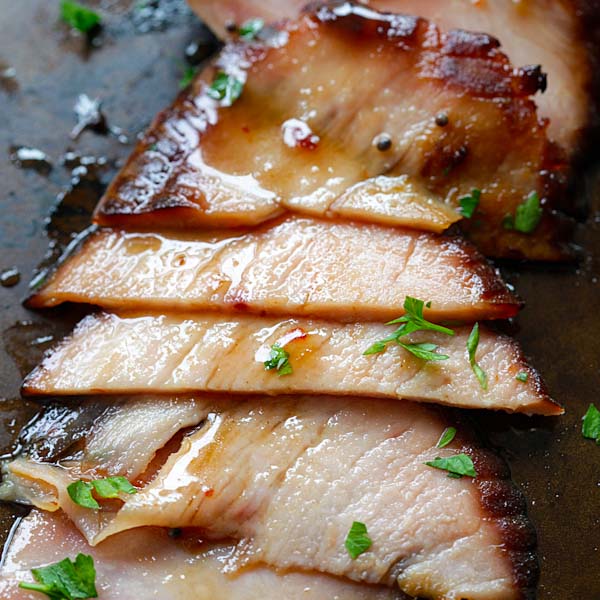 Spicy Honey-Glazed Ham
Spicy Honey-Glazed Ham – complete your holiday dinner with this amazing ham in a sweet and sticky honey glaze. It's crazy delicious
Prep time:
Cook time:
Total Time: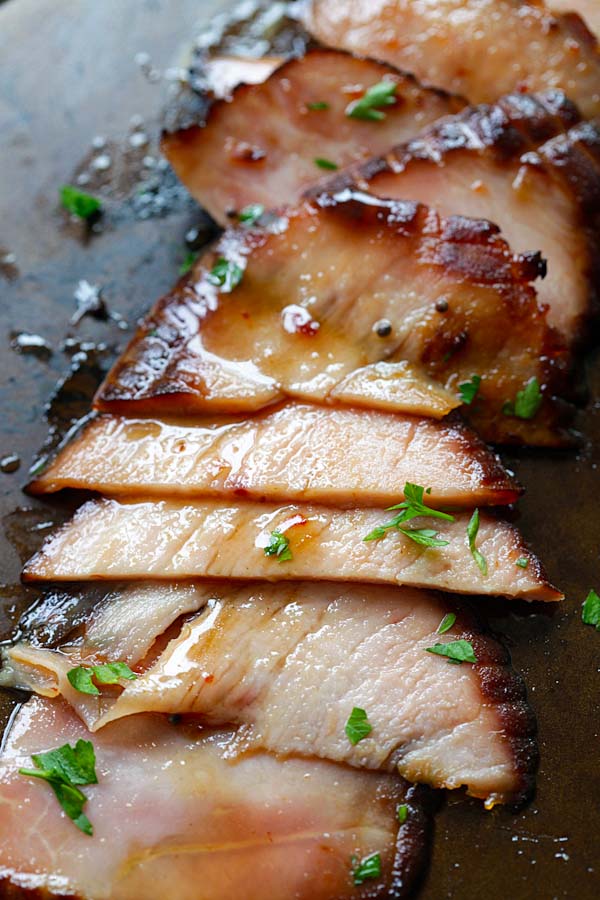 Spicy Honey-Glazed Ham
Spicy Honey-Glazed Ham – complete your holiday dinner with this amazing ham in a sweet and sticky honey glaze. It's crazy delicious!
This spicy honey-glazed ham recipe is an absolute must-try if you are serving ham. The sticky sweet honey glaze is to die for, it's so good that I am now using the glaze for all kinds of recipes. It's made with honey, with a little heat (mild but enough to tingle the palate), with dijon mustard and grainy mustard.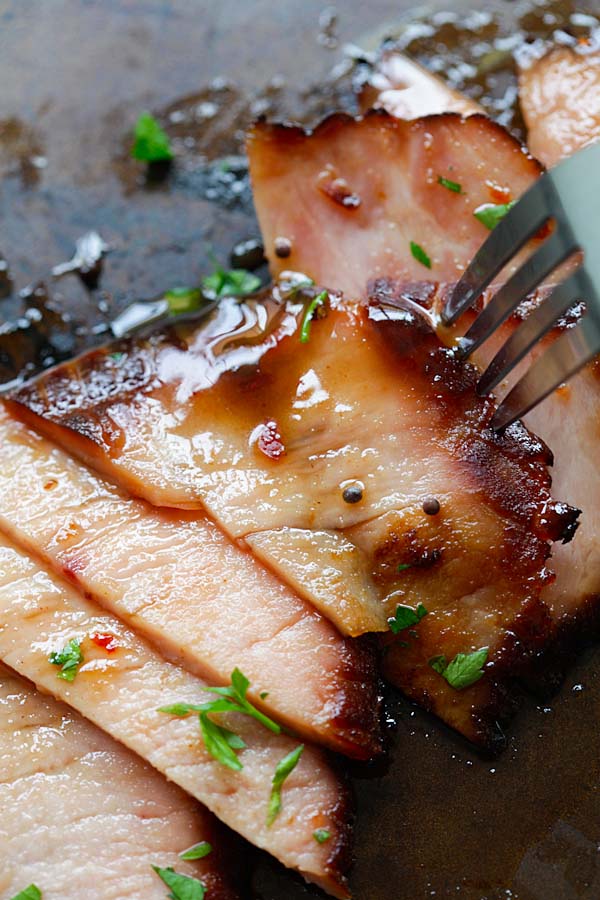 Spicy Honey-Glazed Ham
Serves: 4-6 servings | Prep Time: 30 Mins | Cook Time: 1 Hour
Adapted from: Food Network
Ingredients:
1 4-pound fully cooked bone-in half ham (shank or butt)
1/2 cup low-sodium chicken broth
1/2 cup honey
1/3 cup packed light brown sugar
1/4 cup Dijon mustard
1/4 cup whole-grain mustard
1 1/2 tablespoons apple cider vinegar
1 1/2 tablespoons hot sauce
1 tablespoon chopped Italian parsley
1/2 teaspoon red pepper flakes
Bring the ham to room temperature 1 hour before baking
Method:
Preheat oven to 350F. Place the ham flat-side down in a roasting pan and add the chicken broth to the pan. Cover with foil and bake for 1 hour.
Whisk the honey, brown sugar, mustards, vinegar, hot sauce, parsley and red pepper flakes in a medium bowl. Remove half of the glaze to a separate bowl and set aside for serving. Remove the ham from the oven, discard the foil and brush with about one-quarter of the remaining glaze. Continue baking, brushing with the glaze and the pan juices every 30 minutes, until the ham is a deep reddish-brown and a thermometer inserted into the center registers 140 degrees F, bake for a total 1 hour. (Add 1/2 cup water to the pan if the juices dry out.)
Transfer the ham to a cutting board and let rest 20 minutes before slicing. Serve with the reserved glaze.