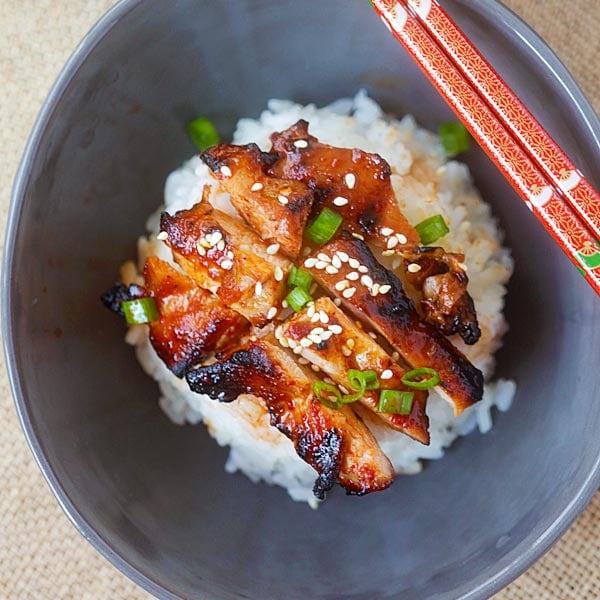 Spicy Korean Chicken
Spicy Korean Chicken – amazing and super yummy chicken with spicy Korean marinade. So easy to make, cheaper, and better than takeout | rasamalaysia.com
Prep time:
Cook time:
Total Time: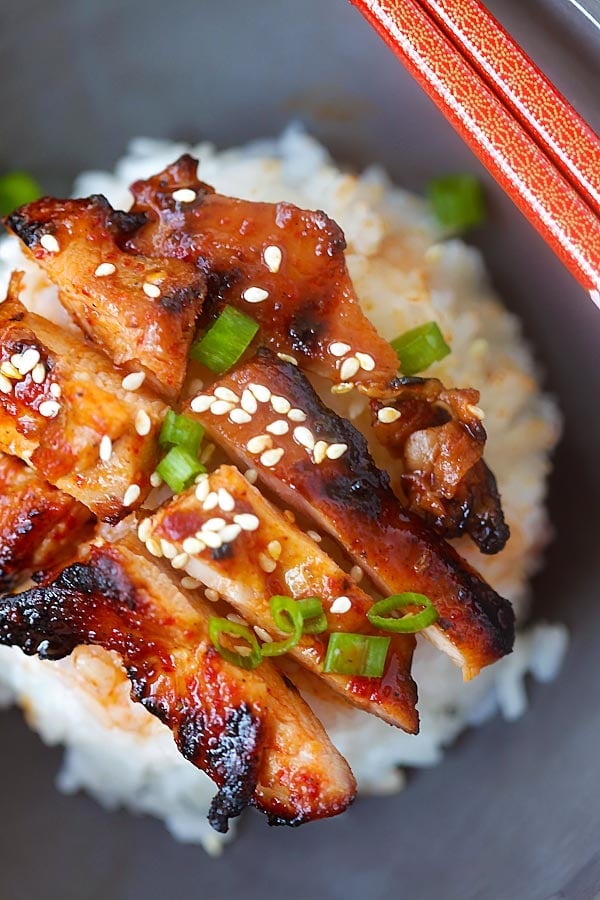 Spicy Korean Chicken
Spicy Korean Chicken – amazing and super yummy chicken with spicy Korean marinade. So easy to make, cheaper, and better than takeout.
This recipe is inspired by my favorite Korean takeout joint. The idea is very simple; it's pretty much like Japanese chicken teriyaki but the chicken is jazzed up with Korean gochujang, or Korean chili paste, which is the building block of many Korean recipes. It's mildly spicy but makes the chicken so much more flavorful and appetizing. Serve the chicken on top of steamed rice, with some boiled vegetables such as broccoli and you have a complete and utterly delicious meal.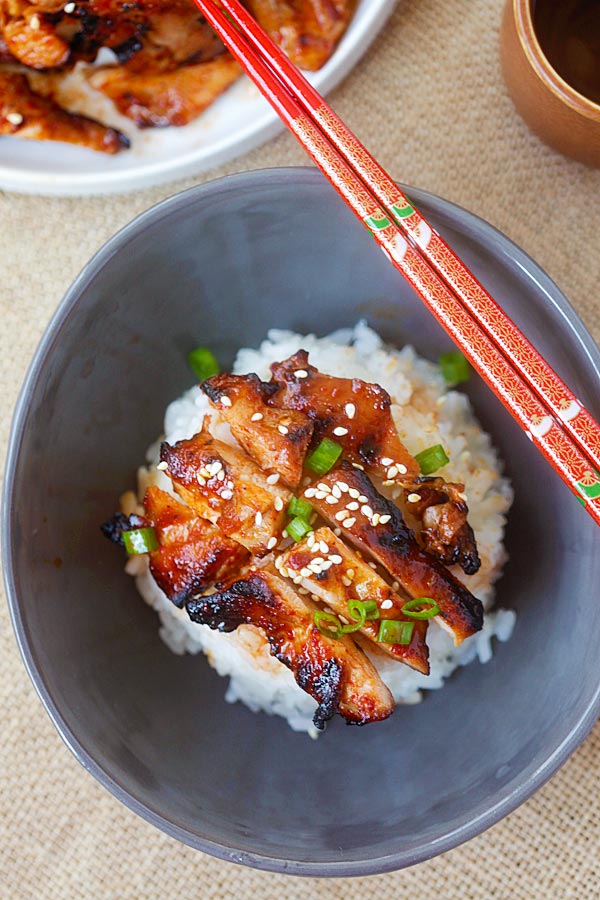 Spicy Korean Chicken Recipe
Serves 4 | Prep Time: 10 Mins | Marinade Time: 30 Mins | Cook Time: 15 Mins
Ingredients:
1 lb boneless and skinless chicken thighs
Marinade:
2 tablespoons oil
1 1/2 tablespoons Korean chili paste (gochujang)
1 teaspoon Korean red chili powder (gochugaru) or regular chili powder
1 tablespoon sesame oil
2 tablespoons soy sauce
1 1/2 tablespoons sugar
1-inch piece ginger, peeeled and minced
3 cloves garlic, minced
Salt, to taste
Method:
Slice the chicken thighs horizontally to make thinner pieces of meat. Slice each piece of chicken thigh (depends on its thickness) into 2 or 3 horizontal pieces. Set aside.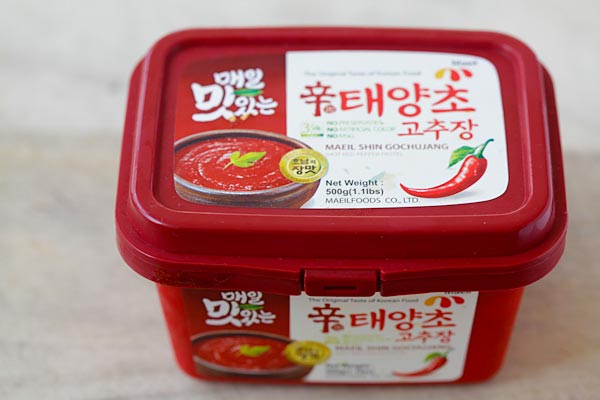 Combine all the ingredients in the Marinade in a bowl, whisk it to make sure the Korean chili paste (gochujang) is completely dissolved. Marinate the chicken for at least 30 minutes or best for two hours.
Grill the chicken until slightly charred and completely cooked through. You may also pan-fried the chicken on a skillet or pan, or bake in the oven at 400F for about 20 minutes. Serve immediately with steamed rice.
Subscribe to FREE Newsletter and YouTube Channel:
Don't miss a recipe! Subscribe to Rasa Malaysia newsletter and Rasa Malaysia YouTube Channel.
NEW! Menu Pairing Ideas:
IMPORTANT:
All photos and recipes on Rasa Malaysia are copyright protected. Please do not use the photos and recipes without prior written permission. If you wish to republish this recipe, please rewrite the recipe in your own words instead of copy and paste and link back to https://rasamalaysia.com//.spicy-korean-chicken Thank you very much!
Most-Pinned Recipes
Ginger Garlic Baked Chicken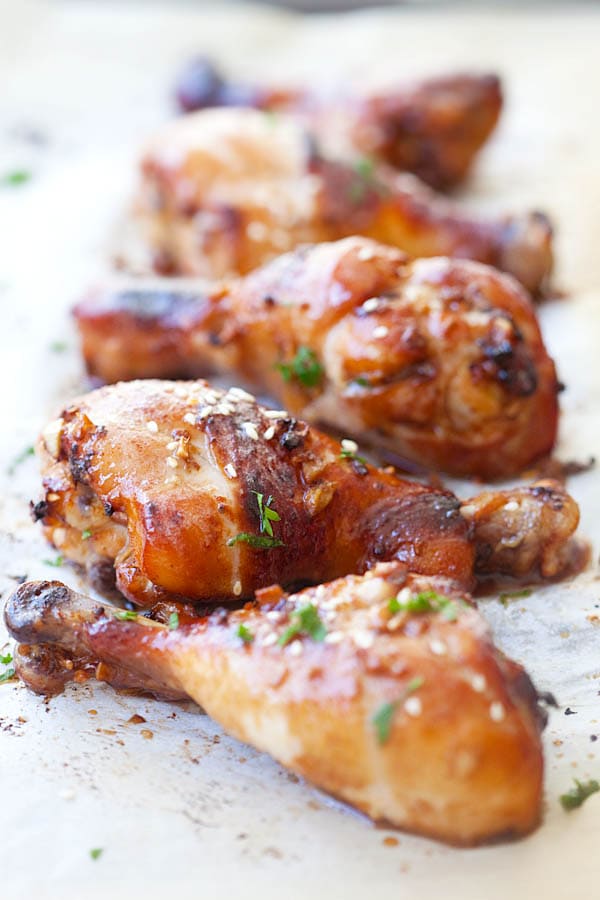 Crab Rangoon (Cream Cheese Wontons)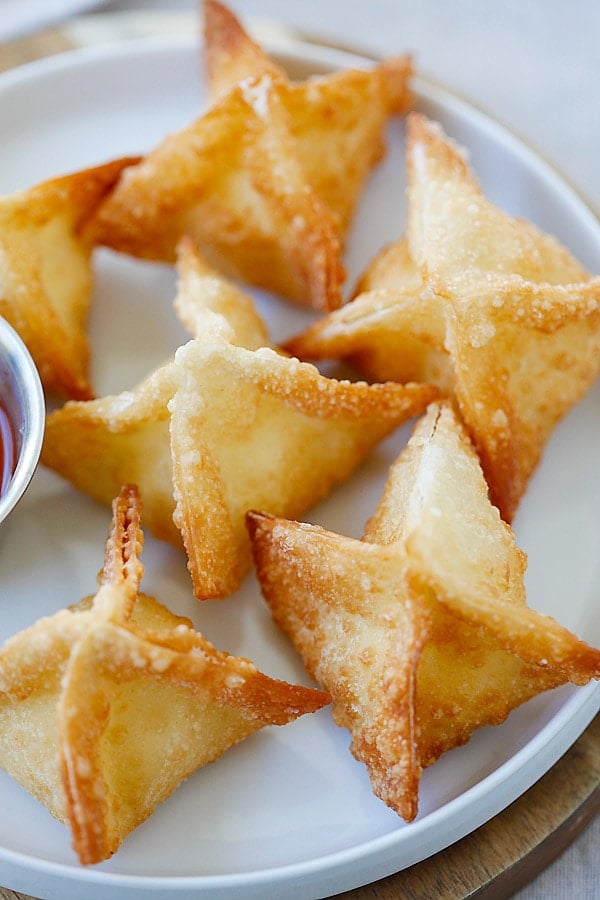 Chicken Wontons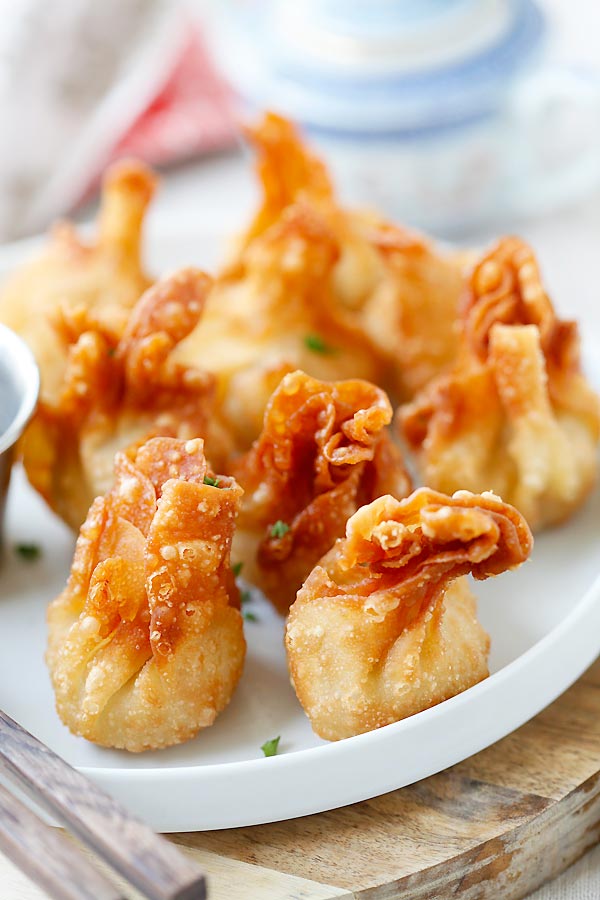 Onion Scallion Beef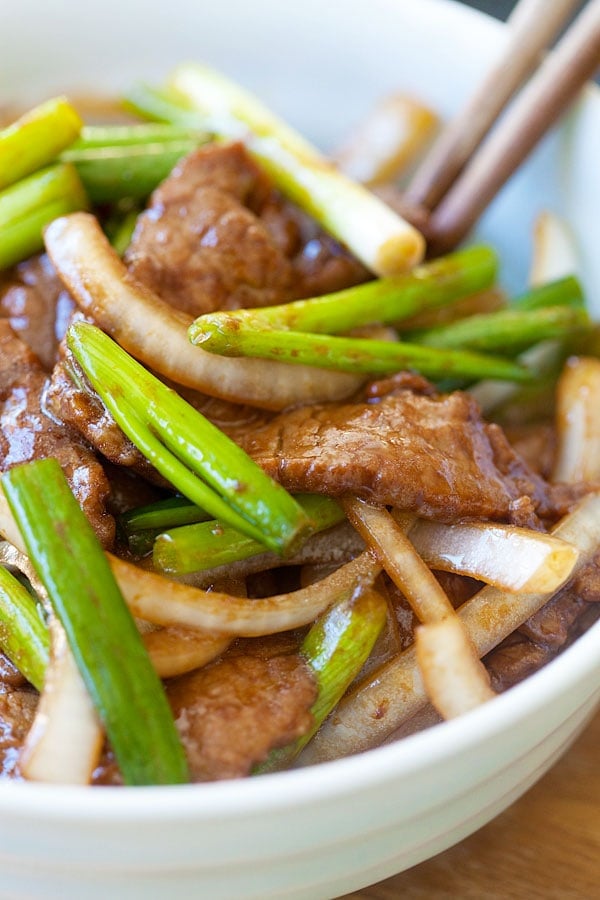 Thai Chicken Sate with Peanut Sauce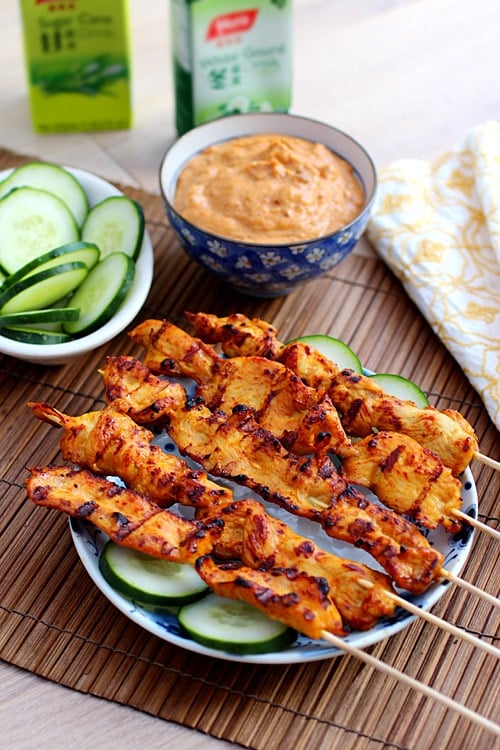 Thai Peanut Sauce