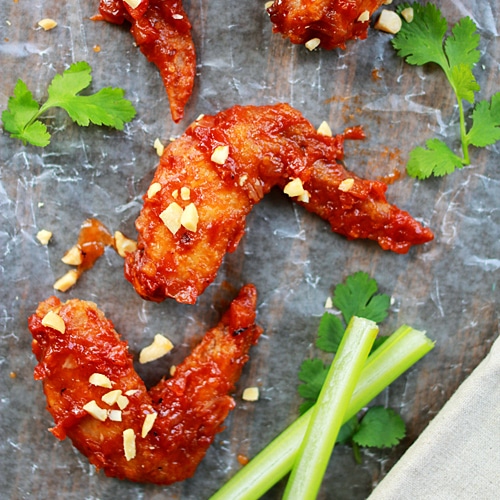 Spicy Thai Chicken Wings
Spicy Thai Chicken Wings – Thai-version of buffalo wings, easy, quick, delicious and the taste is out of this world
Prep time:
Cook time:
Total Time: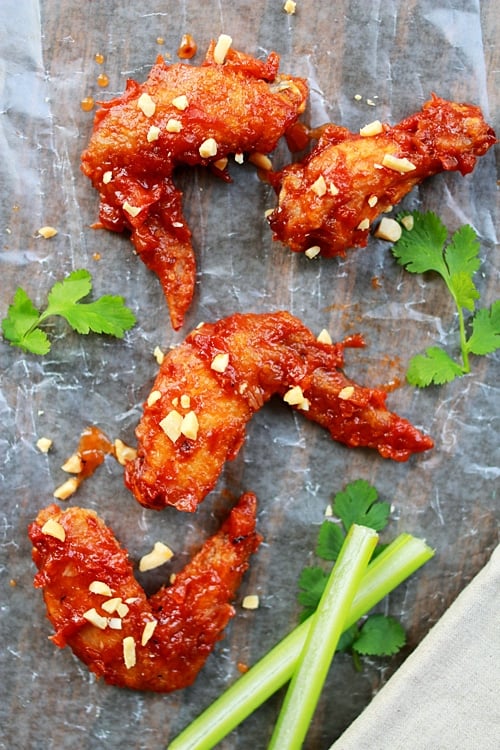 Thai Spicy Chicken Wings (Peek Gai Nam Daeng) Recipe
Adapted from Saveur No. 148
Serves 4-6 | Prep Time: 10 minutes | Cook Time: 40 minutes
Ingredients:
Oil for frying
2 pounds chicken wings
Salt to taste
1/2 cup tapioca starch
2 tablespoons peanut oil
3 cloves garlic, minced
2 small shallots, minced
1 small onion, minced
2 medium tomatoes, cored and finely chopped
1 cup ketchup
2 tablespoons Sriracha or any Asian hot sauce
2 tablespoons soy sauce
2 tablespoons sugar
1 tablespoon oyster sauce
1/4 cup water
1 tablespoon Chinese cooking wine
1/4 cup roasted peanuts, chopped
For serving:
Celery Sticks
Cilantro leaves
Method:
Pour enough oil in a 6-quart Dutch oven, about 1.5-2 inches high. Heat it at medium heat until the temperature reaches approximately 400°F (200°C).
In a bowl, season the chicken wings with salt to taste. Add in the tapioca starch and toss to coat.
When the oil is ready for frying, working in batches, slowly add the chicken wings to the oil. Cook, turning occasionally, until the chicken wings are golden brown and crisp, about 10-12 minutes. Transfer the chicken wings to a rack over a baking sheet to drain.
In a 6-quart sauce pan, heat the peanut oil over medium heat. Add in the garlic, shallots and onion. Stir well until the ingredients turn brown.
Then add in the tomatoes and cook while stirring until soft and smooth. Add in the ketchup, Sriracha, soy sauce, sugar, oyster sauce and water. Stir until it slightly thickens. Then add in the wine and give it a quick stir. Add the chicken wings to the sauce and toss to coat.
Transfer the chicken wings to a serving plate, sprinkle the chopped peanut and serve with cilantro and celery on the side. If there's extra sauce, transfer into a bowl and serve it with the chicken wings.
Cook's Notes:
I cut the chicken wings into two part, the wings and the drummettes for easier cooking.
I used Shaoxing cooking wine.
Most-Pinned Recipes
Ginger Garlic Baked Chicken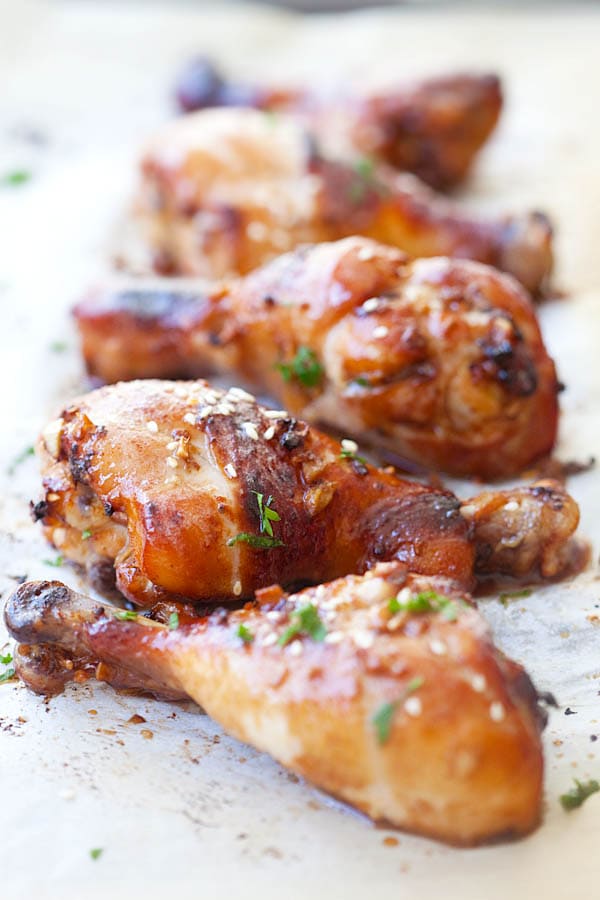 Crab Rangoon (Cream Cheese Wontons)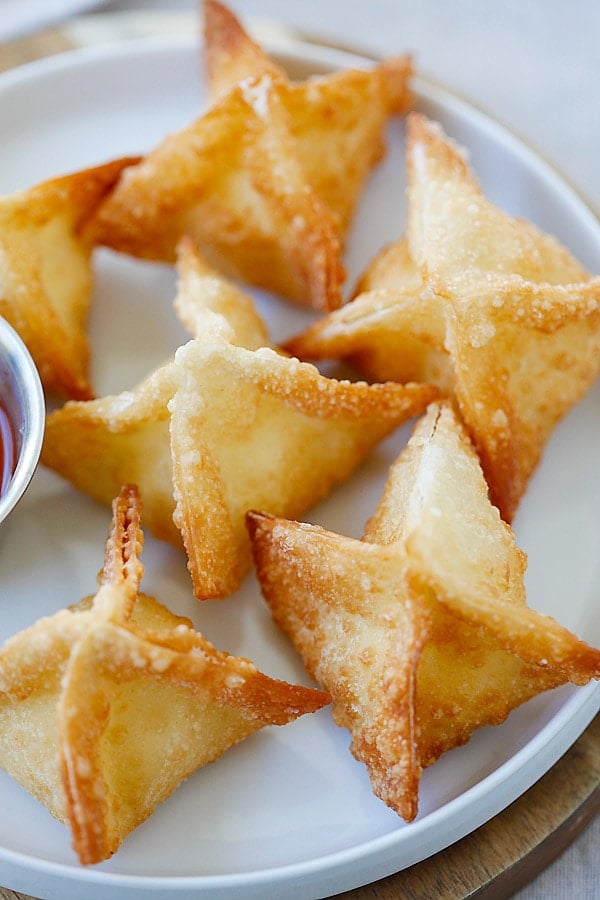 Chicken Wontons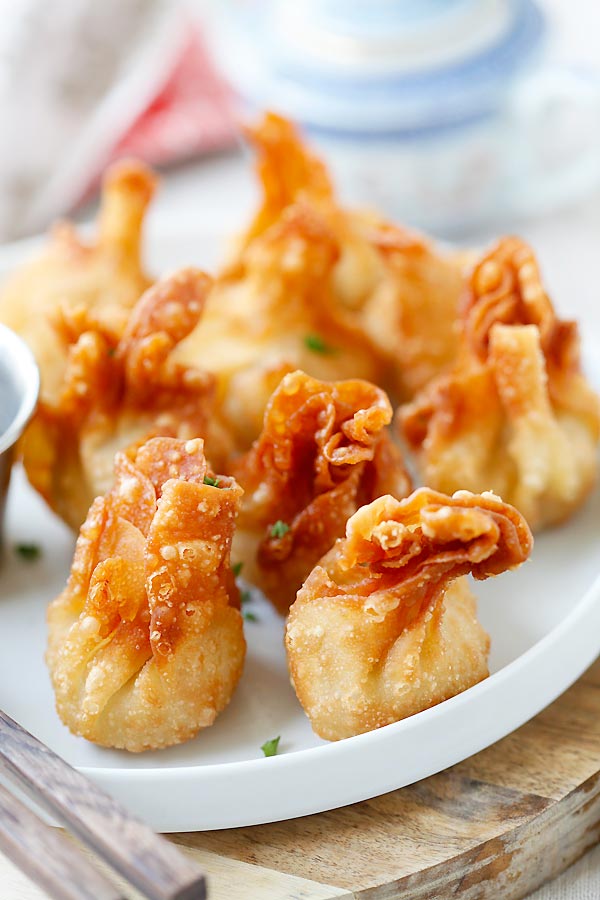 Onion Scallion Beef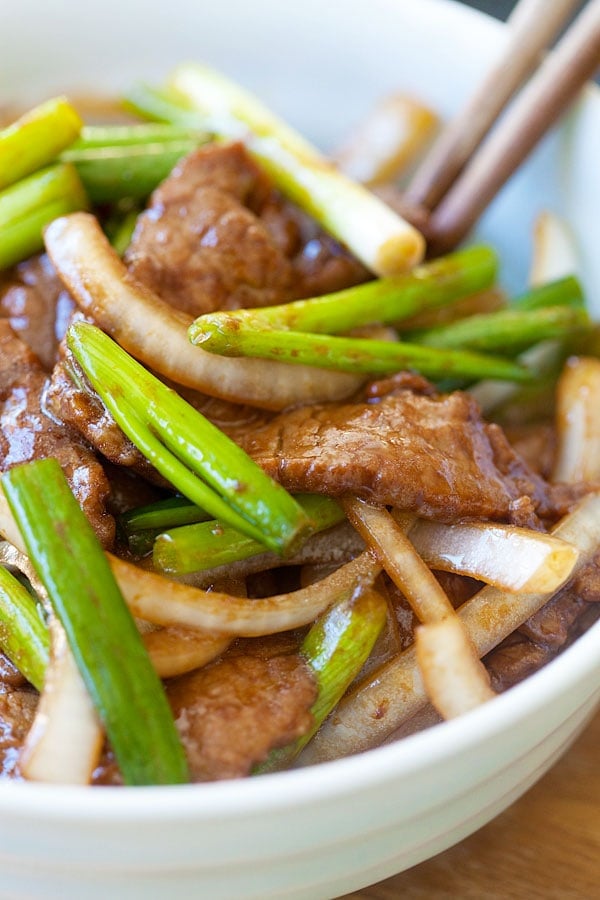 Thai Chicken Sate with Peanut Sauce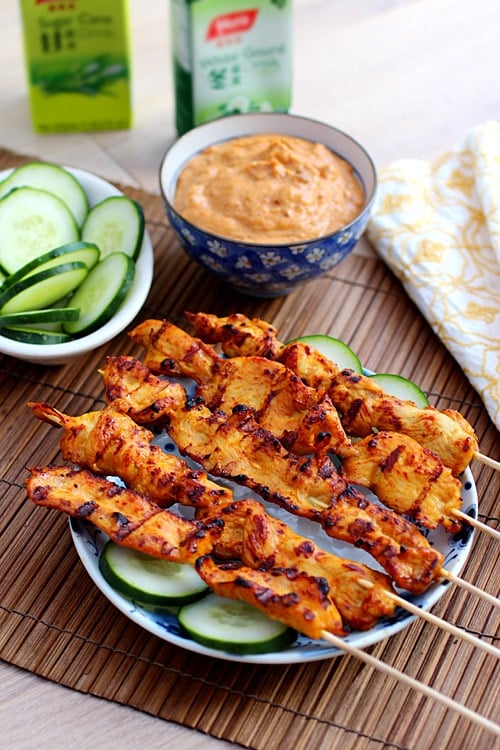 Thai Peanut Sauce