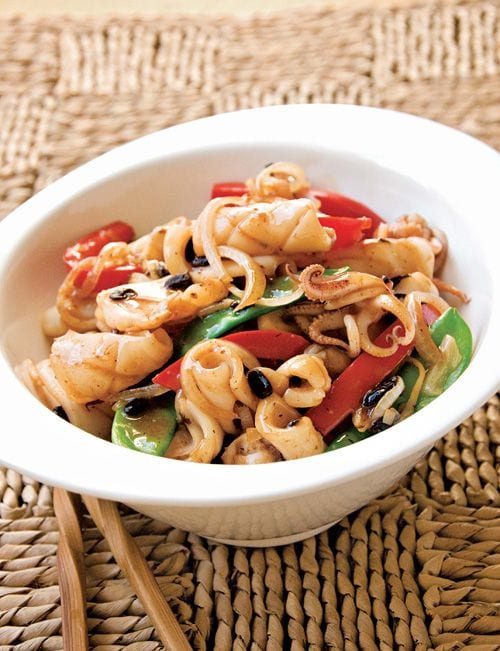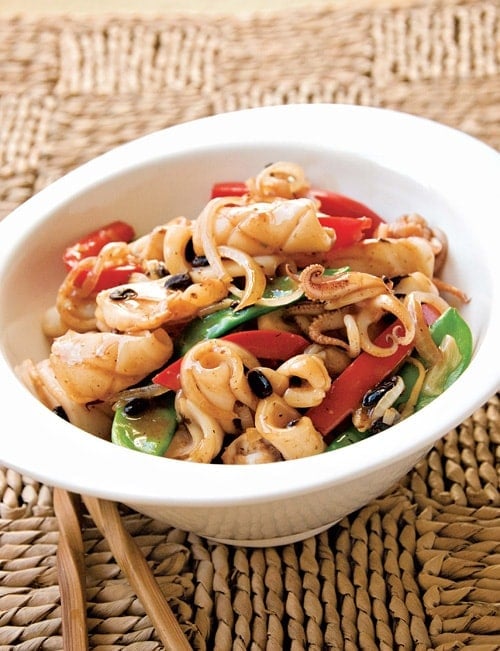 Stir-Fried Squid with Black Bean Sauce Recipe
Source: Stir-Frying to the Sky's Edge, Grace Young
Serves 2 as a main dish with rice or 4 as part of a multicourse meal
Ingredients:
1 pound fresh cleaned squid
2 tablespoons chicken broth
2 teaspoons oyster sauce
2 teaspoons soy sauce
1 teaspoon dark soy sauce
1 teaspoon sesame oil
1∕2 teaspoon cornstarch
2 tablespoons peanut or vegetable oil
2 tablespoons fermented black beans, rinsed and mashed
1 tablespoon chopped scallion, white part only
1 tablespoon thinly sliced garlic
3∕4 cup thinly sliced onions
2 teaspoons finely shredded ginger
1∕2 cup julienned red bell peppers
1∕4 teaspoon salt
1∕8 teaspoon freshly ground pepper
1 tablespoon Shaoxing wine or dry sherry
12 snow peas, strings removed
Method:
1. Cut each squid body in half lengthwise. Using a very sharp knife, lightly score the inside of the bodies in a crisscross pattern. Cut the squid into 11∕2-inch squares and the tentacles into 2-inch pieces.
2. In a 2-quart saucepan bring 1 quart water to a boil covered over high heat. Add the squid and blanch 10 seconds or until the squid turns opaque and curls. Drain well in a colander, shaking out all the excess water. Set the squid on paper towels and blot dry to remove excess moisture. In a small bowl combine 1 tablespoon of the broth, oyster sauce, soy sauce, and dark soy sauce. In another small bowl combine the sesame oil, cornstarch, and the remaining 1 tablespoon broth.
3. Heat a 14-inch flat-bottomed wok or 12-inch skillet over high heat until a bead of water vaporizes within 1 to 2 seconds of contact. Swirl in the peanut oil, add the fermented black beans, scallion, and garlic and stir-fry 10 seconds or until the aromatics are fragrant. Add the onions and ginger and stir-fry 1 minute or until the onions just wilt. Add the bell peppers, sprinkle on the salt and pepper, and stir-fry 30 seconds or until the bell pepper begins to soften. Add the rice wine and stir-fry 20 seconds or until just combined. Add the squid and snow peas to the wok, swirl in the soy sauce mixture, and stir-fry 1 minute or until the snow peas are bright green. Restir the cornstarch mixture, swirl it into the wok, and stir-fry 30 seconds or until the squid is just cooked.

Most-Pinned Recipes
Ginger Garlic Baked Chicken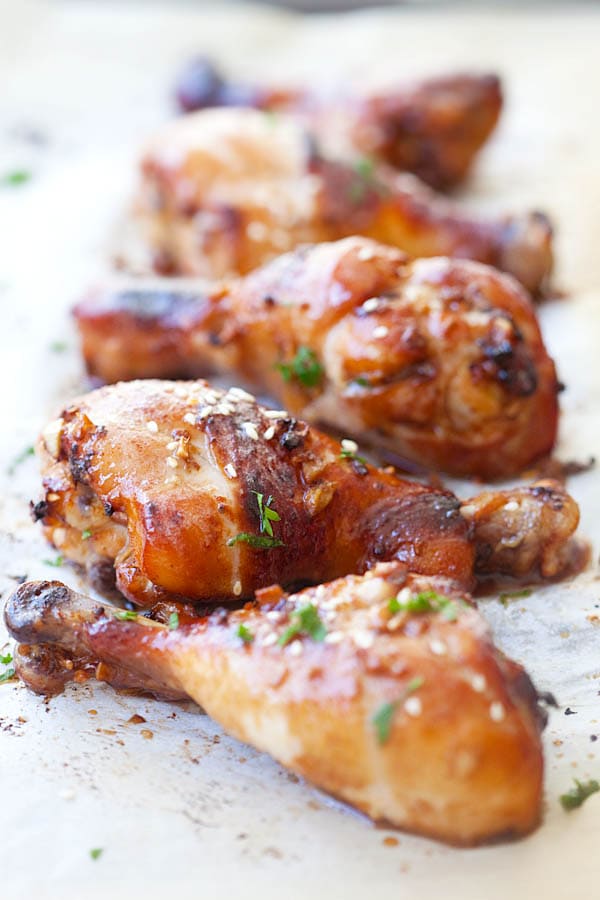 Crab Rangoon (Cream Cheese Wontons)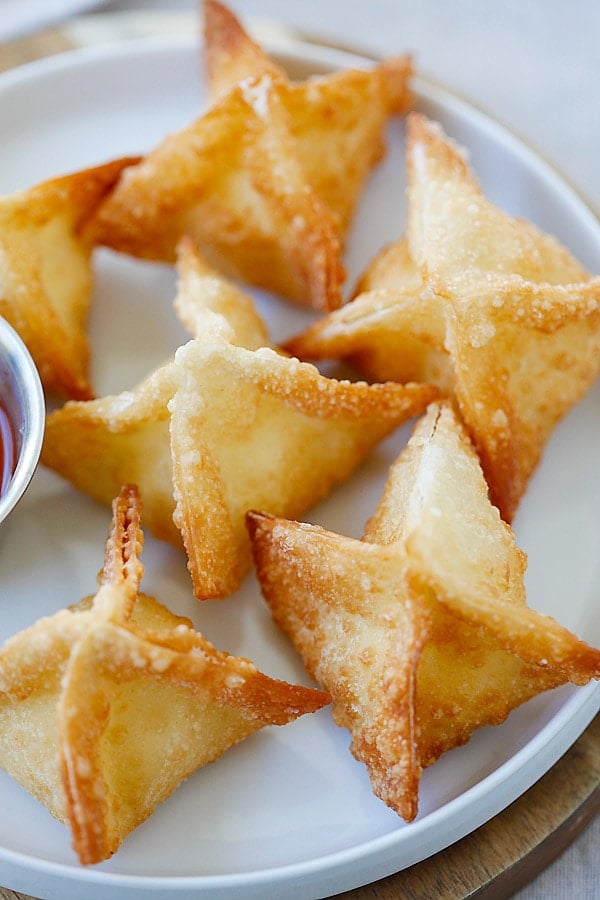 Chicken Wontons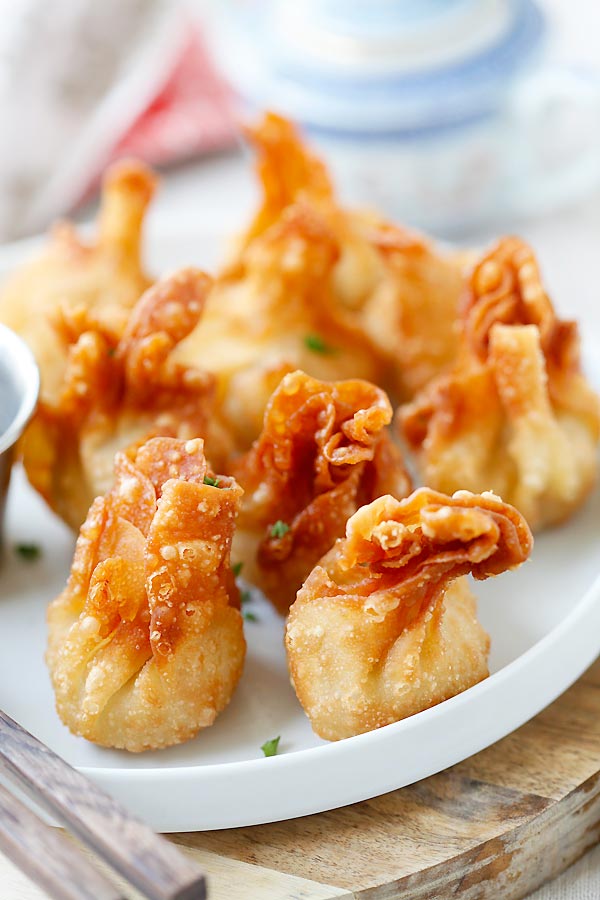 Onion Scallion Beef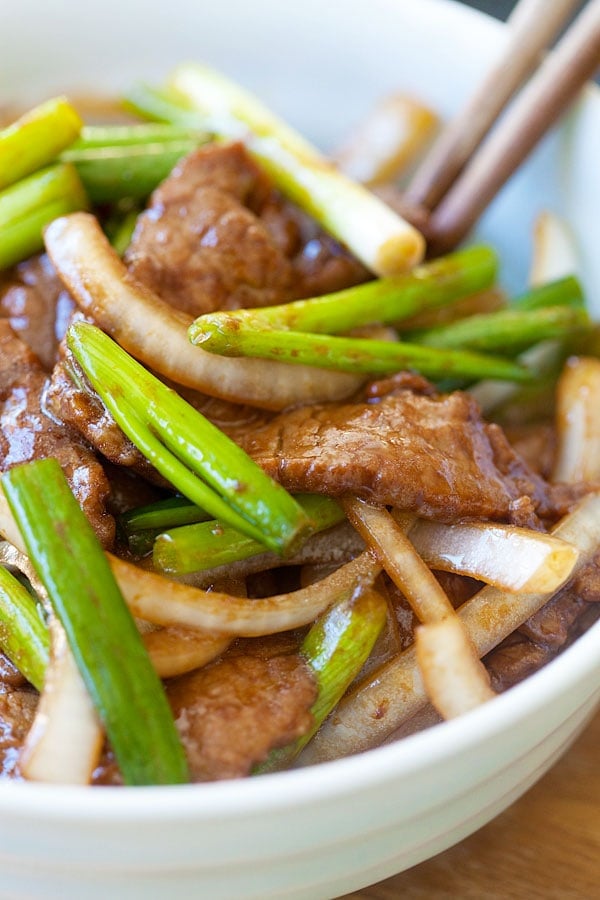 Thai Chicken Sate with Peanut Sauce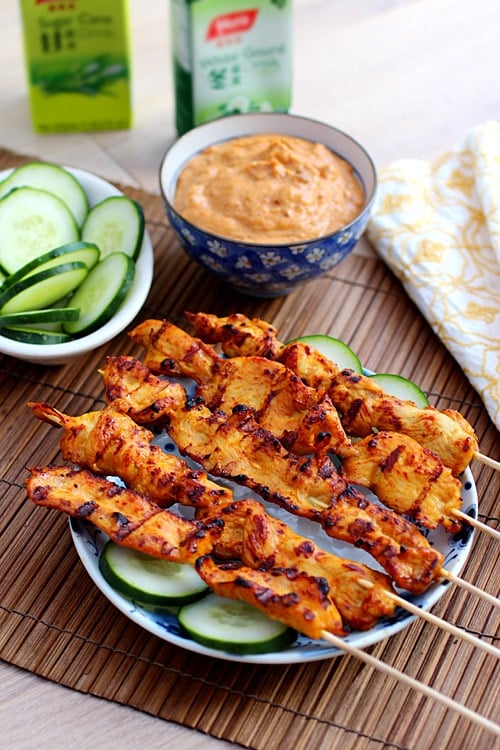 Thai Peanut Sauce