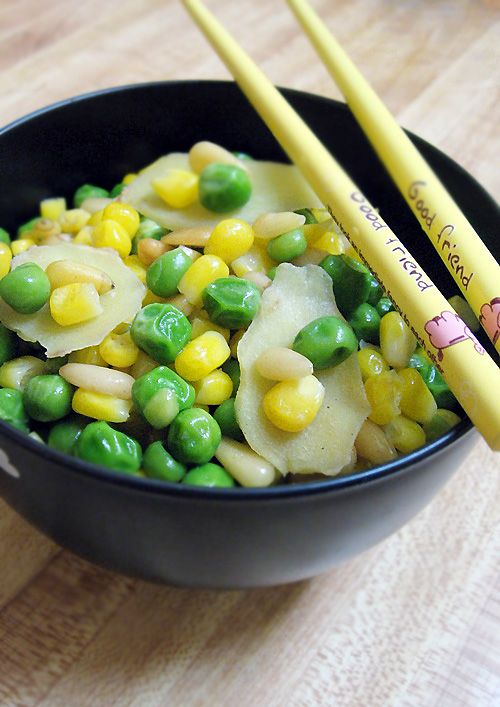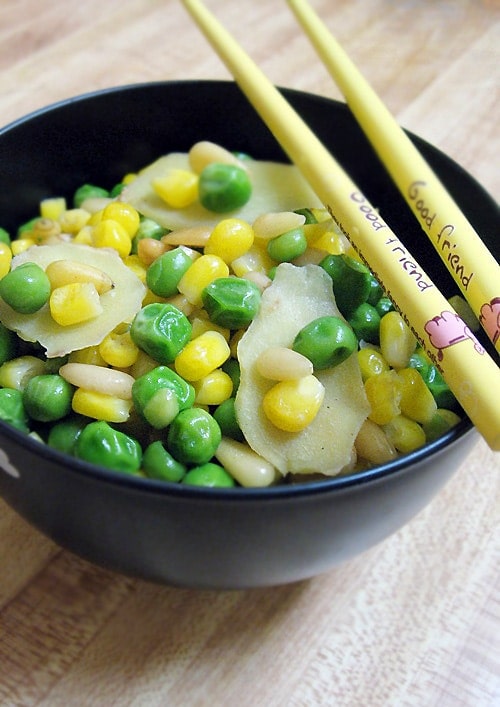 This is the last of my Chinese/Lunar New Year series. To end it on a healthy note, I have invited my good friend Tigerfish at Teczcape to share a vegetarian dish—stir-fried pine nuts with corn and peas, 金玉满堂, or literally means "full of gold and jade."
Tigerfish is one of the very first friends I made through blogging and we even met up one time! She is a really sweet person and Teczcape is her cooking journal of everyday recipes. Please welcome Teczcape to Rasa Malaysia.
For those who celebrate Chinese/Lunar New Year, Happy Tiger Year, Gong Xi Fa Cai (恭喜发财). To get more Chinese recipes and ideas, please check out the complete list of my Chinese recipes index and this Chinese New Year Recipes post from last year. You might also want to check out Steamy Kitchen.
One of the great Chinese physicians—Li ShiZhen (李时珍) rates highly on pine nuts for medicinal benefit. Not only they reinforce the brain functions and delay the aging process, pine nuts contain essential vitamins and minerals such as thiamine, vitamin B1 and protein; and nourish/balance the essential bodily functions.
With the nutritional benefit, I consider it a healing food, being rather neutral and neither too "heaty" or "cooling". Indeed, this will be a great addition to balance an otherwise "meaty" (大鱼大肉) feast you will be having this Lunar New Year. Yes, it is also totally vegetarian. Vegetarians are in for a delectable treat.
The natural sweetness of sweet peas and corn kernels complements very well with the slight bittersweet in pine nuts and a little spice from the ginger slices.
The array of flavors is enormous even though the ingredients are all "small" in size. I love the tender crisp textures in the dish too. This Stir-Fry Pine Nuts, Corn and Sweet Peas (清炒松子玉米甜豆) of yellow-golden (pine nuts and corn) and jade-green (sweet peas) symbolizes 金玉满堂: that prosperity and fortune (金, jin:gold and 玉, yu:jade) fills your entire household and home.
Personally, I like this recipe very much because there is not much preparation required (rinsing and cutting of vegetable is reduced to a minimal!), it is easy to cook (no kidding, look at the recipe below) and taste superbly good!
If you are preparing at least a four to five–course dinner at home to celebrate Chinese New Year and challenged by the amount of time you have, this dish is going to make your day…extra sweet (no pun intended).
Click Here to Pin This Recipe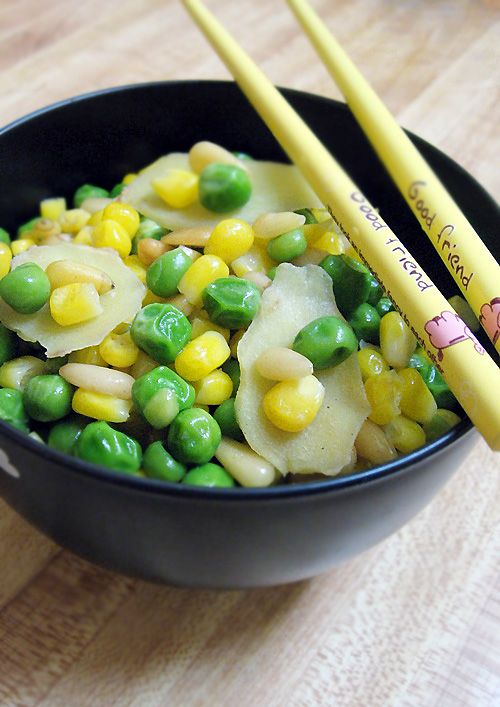 SUBSCRIBE AND NEVER MISS A RECIPE
SUBSCRIBE TO RASA MALAYSIA NEWSLETTER AND GET EASY AND DELICIOUS RECIPES DELIVERED TO YOUR INBOX. If you try my recipe, please use hashtag #rasamalaysia on social media so I can see your creations! Follow me on Facebook | Instagram | Pinterest | Twitter for new recipes, giveaways and more.