Sukiyaki Donburi - Easy sukiyaki donburi recipe that uses Mizkan Bonito-Flavored Soup Base, takes only 30 minutes to make.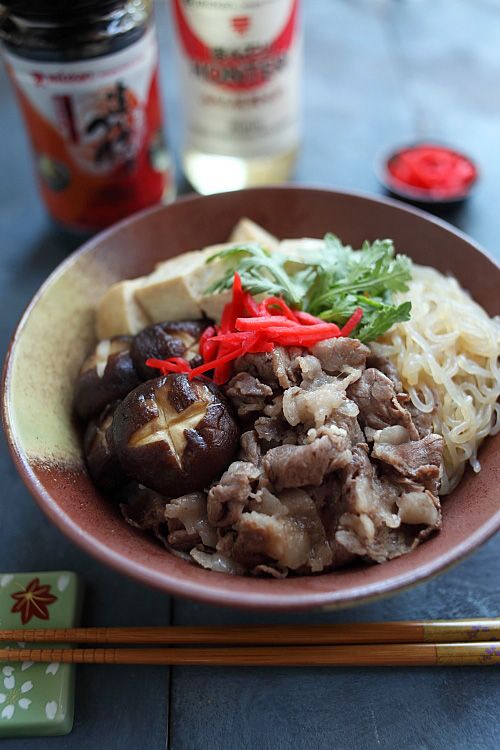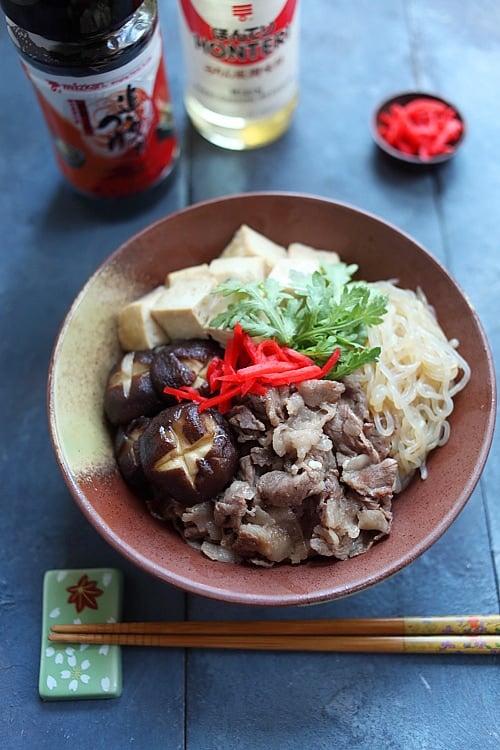 Other than bentos, rice bowls are very popular in Japan.
Japanese fast food chains such as Yoshinoya and many curry house restaurants offer simple and delicious rice bowls such as beef bowl, curry rice bowls, chicken and egg rice bowls, etc.
Known as donburi in Japanese, these rice bowls are very popular especially for the working professionals.
As I mentioned in my earlier post, I have always been fascinated by this particular food culture in Japan.
Every corner you turn, you will see bento and rice bowls signboards, all touting their signature dishes and endless choices.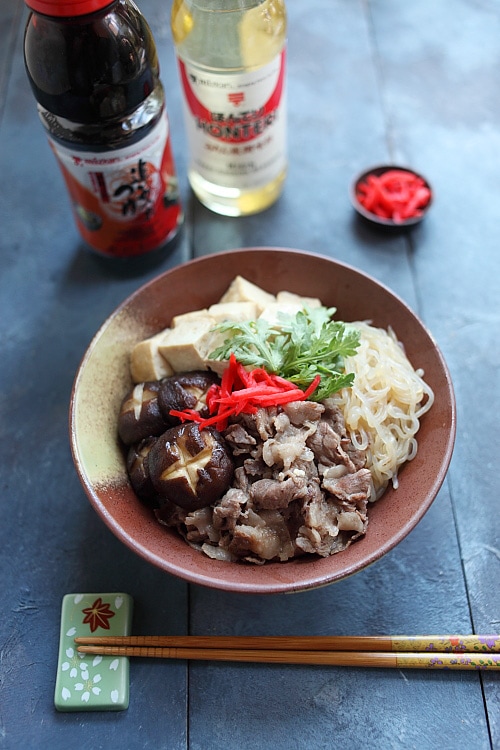 I am a huge fan of Japanese donburi, especially rice bowls topped with savory simmered dish, for example: sukiyaki donburi.
Sukiyaki is a traditional Japanese nabemono (hot pot) dish, where various types of ingredients such as meat, tofu, vegetables, mushrooms, noodles are simmered in a savory broth, and the foods are shared communal style.
Sukiyaki is a special-occasion dish, mostly prepared to mark a celebration, when everyone sits around a table, have great conversations while enjoying the food.
Sukiyaki Donburi is basically the "fast food" version, where the dish is served on top of steamed white rice, in a big rice bowl.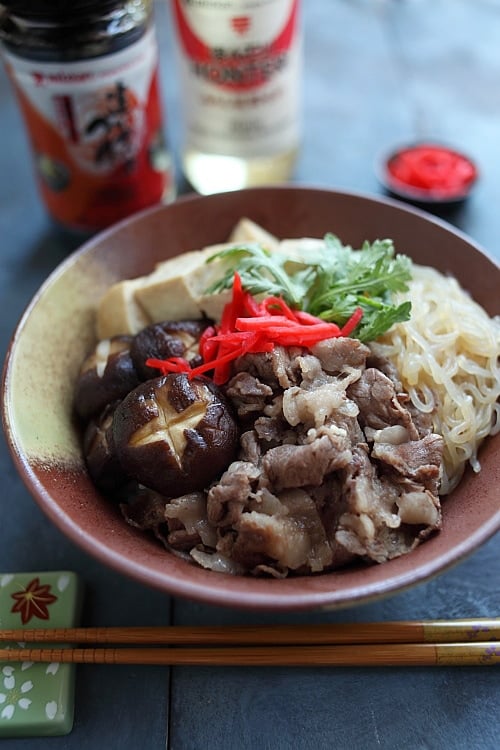 Even though the traditional Sukiyaki is a fall/winter dish, sukiyaki donburi is an everyday dish that anyone can enjoy throughout the year.
You don't need a birthday, graduation, anniversary to have sukiyaki.
Who wouldn't want to eat a rice bowl topped with savory and sweet simmered beef, vegetables, mushrooms, tofu, and noodles?
I personally would want to eat it every day!
Making sukiyaki donburi is actually very quick and easy. You can prepare the dish in about 30 minutes.
The best thing about this recipe is that you can pack the leftover into a bento the next day (the flavor develops overnight and tastes even better).
You don't need the immaculate 5-compartment bento box but any simple one compartment tupperware, container, or bento box will do.
I used Mizkan (Bonito-Flavored) Soup Base and Mizkan Honteri Mirin to make this sukiyaki donburi.
I added sake and sugar to complete the traditional flavor.
The key is getting really good (and fatty) beef that are thinly sliced, shirataki noodles, some Tokyo negi (Japanese scallion), and shungiku, which can be found at Japanese grocery stores.
You can also turn this into a Chicken sukiyaki, using chicken meat instead of beef.
Sukiyaki donburi is a delicious rice bowl that everyone can enjoy!
How Many Calories per Serving?
This recipe is only 537 calories per serving.
What Dishes to Serve with This Recipe?
For a wholesome meal and easy weeknight dinner, I recommend the following recipes.
5 Secrets to 20 Min Dinners
Get tricks for quick & easy meals!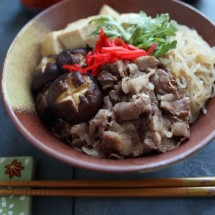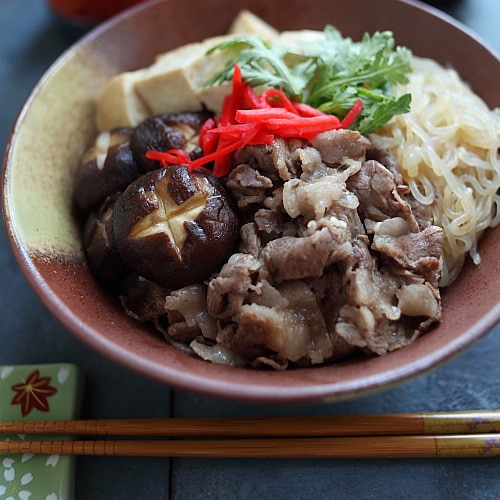 Sukiyaki Donburi
Sukiyaki donburi and sukiyaki donburi recipe. Easy sukiyaki donburi recipe that uses Mizkan Bonito-Flavored Soup Base, takes only 30 minutes to make.
Ingredients
8

oz.

shirataki noodles

6-8

shiitake mushrooms

stems removed

2

oz.

shungiku

4-6

oz.

regular tofu, cut into pieces

3

stalks

Tokyo Negi or scallion

cut diagonally into 2-inch lengths

1/2

lb.

thinly sliced fatty beef, such as Ribeye
Sauce:
1/4

cup

Mizkan

Bonito Flavored soup base

1/4

cup

water

1

teaspoon

sugar

2

tablespoons

Mizkan Honteri Mirin

2

tablespoons

sake
Click Here for Conversion Tool
Directions
Rinse the shirataki noodles with cold water a few times until clean, drain and set aside. Arrange the ingredients in a skillet in the following order. Rinse the shungiku thoroughly, set aside. You can cut the bottom part of the stems, about 1/2 inch off. Make two incisions in the cap of the mushroom to form the nice "cross" shape. Slice the beef into smaller pieces, if you like.

Arrange the ingredients in a skillet.

Mix all the ingredients in the Sauce in a small bowl. Blend well.

Heat up the skillet on high heat. Cook for about 30 seconds, add the sauce in the skillet. Cover and cook until the sauce is boiled. Use a pair of chopsticks to turn the beef around and make sure they are cooked. Turn off the heat once everything is cooked.

Scoop steamed rice into a big rice bowl. Top the rice with the various ingredients in the Sukiyaki. Serve with some shredded benishoga (pickled ginger).
Recipe Notes
You can find all the ingredients in Japanese food stores.
If you can't find shirataki noodles (which is made of konjac yam), you can use regular cellophane noodles (mung bean noodles/glass noodles).
You can use watercress to replace shungiku.
If you can't find thinly sliced beef, buy the ribeye, freeze it and slice with very sharp knife. The key is to slice the beef really thin.
Nutrition Facts
Sukiyaki Donburi
Amount Per Serving (2 people)
Calories 537
Calories from Fat 225
% Daily Value*
Fat 25g38%
Cholesterol 100mg33%
Sodium 305mg13%
Carbohydrates 19g6%
Protein 47g94%
* Percent Daily Values are based on a 2000 calorie diet.