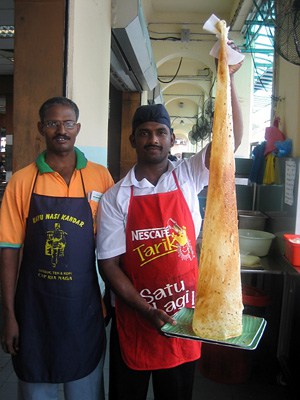 We Malaysians are obsessed with getting into the Guinness Book of World Records–the world's tallest building (now the second tallest), the tallest tower in the world, the oldest rain forest, the biggest flower, the highest flag pole, the longest mall. The list just goes on and on.
So what about breaking a few cooking records, say like creating the tallest roti in the world? We've got that covered…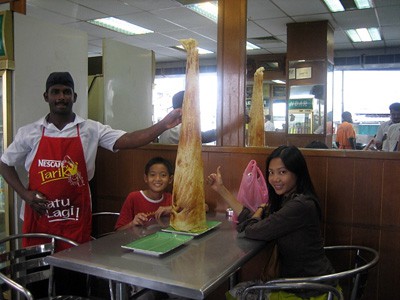 Aptly named Roti Tissue, this roti was light, thin, super crispy, and coated with generous amount of margarine, honey, condensed milk, and grounded peanut. Being as thin as a piece of tissue paper, unfortunately, this roti tower was also too fragile: it practically "collapsed" and cracked into pieces as soon as you started to eat it.
My verdict? Well, for presentation, I'd give it a thumb up. But for taste, let's just say that I would prefer the world's best tasting Roti Canai over this larger-than-life Roti Tissue anytime. Don't get me wrong, I was floored by the creativity and the roti maker's skills (I giggled non-stop while watching the preparation), but eating is pure indulgence to the taste buds and palate, it's not a spectator sport. So there.