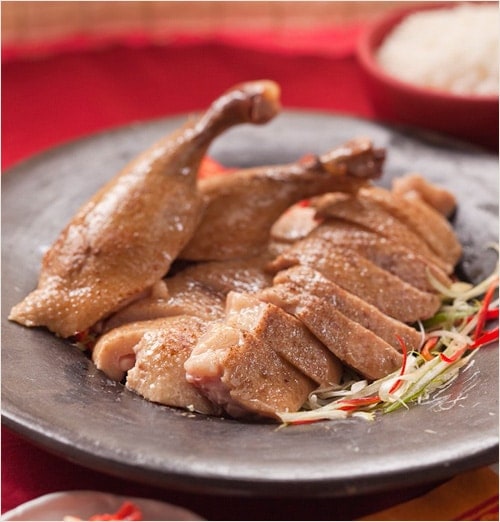 What an honor to have another cookbook author gracing the cover of Rasa Malaysia…introducing Pat Tanumihardja of "The Asian Grandmother's Cookbook"—a gorgeous and beautifully written cookbook released in Oct 2009 with food photography by Lara Ferroni.
A couple of years ago, Pat invited me to share my family's recipes in her book, especially recipes from my late grandmother who was a Nyonya. While I was overwhelmed by the opportunity, I turned it down on the mere reason that I'd like to "save" the recipes for my future cookbook project, when it comes along. "The Asian Grandmother's Cookbook" is easily one of my favorite cookbooks this season, so please welcome Pat and check out her Teochew braised duck or Lo Ack/滷鸭 guest post below.
When I was growing up in Singapore, my mother would sometimes bring home a whole or half duck—succulent, slick with soy sauce, and very tasty—from the nearby hawker center to supplement our dinner.
My siblings and I would dig in heartily, devouring every part of the bird. And we, a family of dark meat lovers, always came away with satisfied grins on our faces, as unlike with a whole chicken, no one had to contend with white meat. Even though mum is a fabulous cook, I remember wishing that she would be too busy to cook more often.
Since moving to the U.S., I had long stored these memories away. Not because I don't like duck anymore but here in the U.S., things are just different.
There is no uncle at the hawker stall just around the corner to proffer his best bird, nor does it cost only $5 for a whole cooked duck. You'd be hard pressed to even find a single duck breast for that amount of money!
I do enjoy duck when I eat out at restaurants but I'd never cooked duck at home believing its preparation best relegated to French chefs and duck die-hards.
This all changed when I was doing research for my cookbook The Asian Grandmother's Cookbook, Home Cooking from Asian American Kitchens.
I happened on a gem of a recipe from my good friend's mom who is Singaporean. Redolent with Chinese and Southeast Asian flavors, and best of all, oh-so-easy, this recipe was already a winner in my books before I tasted it.
And when I tested it in my kitchen, I was head-over-heels in love.
While this braised duck recipe doesn't have the exact DNA of the duck of my childhood memories, it comes close enough. I have long learned that as an immigrant, you have to adapt and shift your expectations whether it pertains to your palate or life in general. With that said, I hope you enjoy it too.
Click Here to Pin This Recipe
SUBSCRIBE AND NEVER MISS A RECIPE
SUBSCRIBE TO RASA MALAYSIA NEWSLETTER AND GET EASY AND DELICIOUS RECIPES DELIVERED TO YOUR INBOX. If you try my recipe, please use hashtag #rasamalaysia on social media so I can see your creations! Follow me on Facebook | Instagram | Pinterest | Twitter for new recipes, giveaways and more.