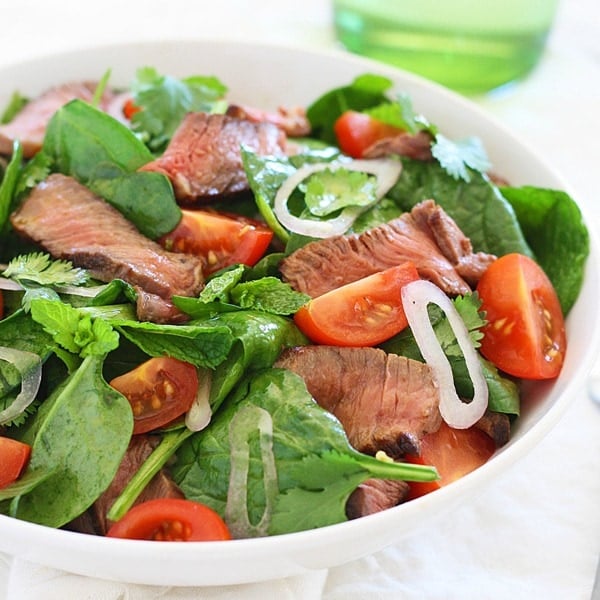 Thai Beef Salad
Thai Beef Salad is a tasty salad with beef and greens in a savory dressing. Easy Thai beef salad recipe that everyone can make at home. | rasamalaysia.com
Prep time:
Cook time:
Total Time: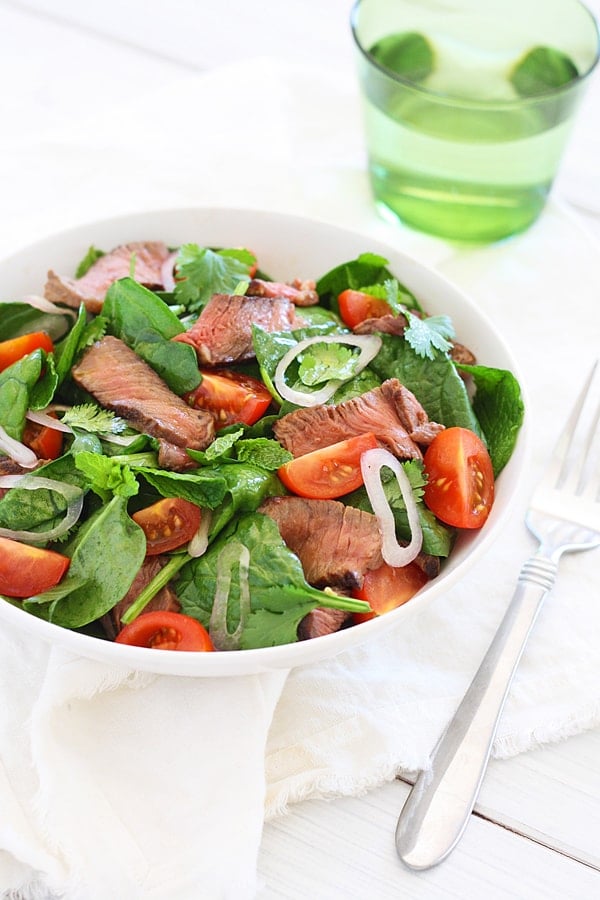 Thai Beef Salad
I am a firm believer in clean eating; my diet consists of well-balanced meals that include lots of vegetables and greens. In summertime, I love making healthy and colorful salads because fresh produce are bountiful in the farmers market. Plus salads are so quick and easy to make, and the taste is always refreshing, light, and healthy.
One of the salads I really like is Thai Beef Salad—tender greens with perfectly seared beef in a savory Thai dressing that is packed with lots of flavor. However, as a work-from-home mom, sometimes my days are so packed that I have no time to prepare even the simplest of meals. That's when I head out to Panera Bread for my quick lunch. For Thai-flavored salad, I always order Thai Chicken Salad because it is so good and made with clean ingredients that fit my lifestyle.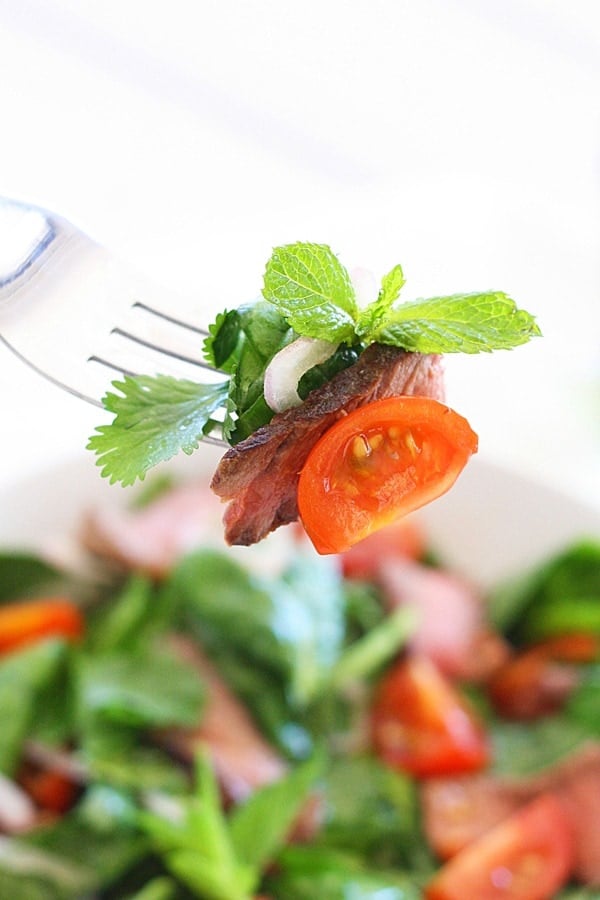 Thai Beef Salad Recipe
Serves 2 | Prep Time: 15 Minutes | Cook Time: 5 Minutes
Ingredients:
1 lb/450 grams grilled top sirloin or trimmed rib eye steak
A tiny bit of cooking oil
For the salad:
1 cup spinach leaves
1/2 cup fresh mint leaves
1/2 cup fresh cilantro
2 thinly sliced shallots
6-8 cherry tomatoes cut in halves
For the dressing:
1/4 cup lime juice or 5 tablespoons lime juice
1/4 cup or 5 tablespoons fish sauce
Sugar to taste
1- 2 red birds eye chilies finely chopped (depending on how hot you like it)
Method:
1. Preheat a pan on high heat until very hot. Add a bit of cooking oil and spread it evenly across the bottom. Let the steak sit in the pan for around a minute to get a nice crust. Flip over the steak and repeat. Reduce heat to medium and cook to your liking. Wrap the meat in aluminum foil and allow resting for about 5 – 10 minutes before thinly slicing across the grain.
2. In a bowl whisk together fish sauce, lime juice, bird's eye chilies and sugar to taste. Toss in the mint leaves, cilantro, shallots and cherry tomatoes and mix well. Serve the salad mix on top of a bed of spinach and drizzle some of the dressing over.
Cook's Notes:
If you have the access to a grill, this will produce even better results. Cooking time of the steak depend on how thick it is and if you prefer it rare, medium rare or well done.
For a less spicy alternative, use fresh red finger length chilies with seeds and central stem removed.
Temper the meat by letting it rest in room temperature for 30 minutes before grilling/cooking.

NEW! Menu Pairing Ideas: