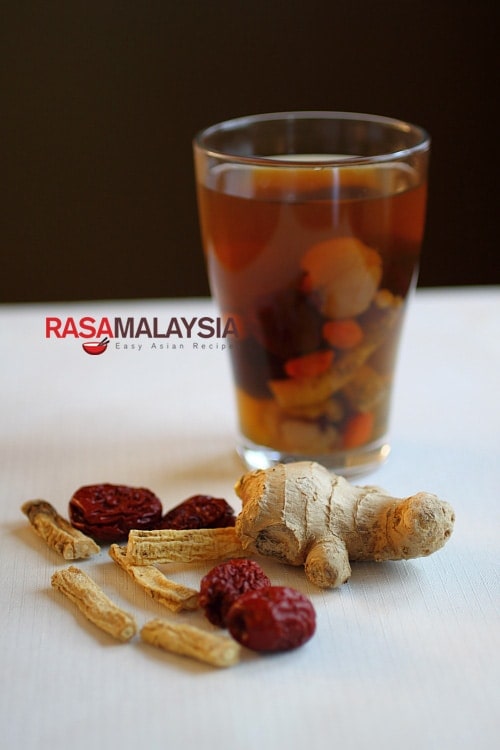 Confinement Drink: Longan and Red Date Tea
Apologies that I have neglected my blogs and my dear readers, but it's not without a good reason. As many of you have known, I recently gave birth to my son baby G, and have since been "sentenced" to a month-long Chinese birth confinement. As I am writing this post, I am eagerly counting down to the end of the confinement period, which is next Tuesday, Oct 19.
So, what is confinement, or 坐月?
According to the Chinese, a woman's body is the weakest and most vulnerable to future ailments after childbirth, and thus a confinement period of at least 30-40 days will ensure great recovery and long term health. During confinement, the confining mother will have to observe, follow, and endure a series of taboos, traditional rituals, and consumed a strict confinement cuisine…
Confinement cuisine basically consists of heating ingredients: old ginger, sesame oil, wine, black vinegar, etc., which are used excessively in almost every confinement meal. Chinese herbs such as ginseng and dong qui (当归) are also vital tonics to help the body heal. Water is a no-no as it will cause water retention, hence hot drinks such as ginger & date tea and longan & date tea are prescribed. Wine such as DOM is indispensable even though there are debates that nursing mothers shouldn't have wine as the wine passes to the milk.
Other than the above, certain dishes are must-have's during the confinement period. The most common ones are ginger and black vinegar pig trotters (猪脚醋), sesame oil chicken (麻油鸡), pork liver and kidneys cooked with ginger and sesame oil, pig stomach soup, etc. The dishes also have to be consumed while hot/warm. Suffice it to say, confinement meals are not your regular day-to-day cooking, but a series of concoctions prepared the traditional way to nourish the body.
Chinese confinement also comes with a laundry list of taboos but the most unbearable of all to a confining mother is not being able to shower and wash the hair during the confinement period, which means an average of 30-40 days!!! In present day, it's hard to fathom that such belief still exists but the contact of cold water is said to cause the penetration of "wind" (风) into the body, and will lead to severe body ache and future ailment. (Just between you and me, let's just say that I didn't exactly follow this practice.) The concept of "wind" also extends to not leaving the house during the confinement, no air-condition, no fan, no sleeveless top, etc. Precisely, the confining mother has to be wrapped up with layers of clothing, socks, and not to expose the body to the "wind."
So, here you have it, a quick snapshot of what I am going through. I have to say that it's an exceedingly challenging time for me as I am not 100% sold on the concept. I do believe that eating well is very important but when you are fed with sesame oil + ginger + wine every single day, it's a completely different story. I miss my favorite seafood and sambal-laden dishes. I miss being normal, I guess, but I know in no time, I will be back to my regular lifestyle and eating my favorite food.