Turkey Lettuce Wraps - healthy lettuce wraps recipe with ground turkey with a Hoisin-Sriracha dipping sauce. Perfect appetizer for Thanksgiving.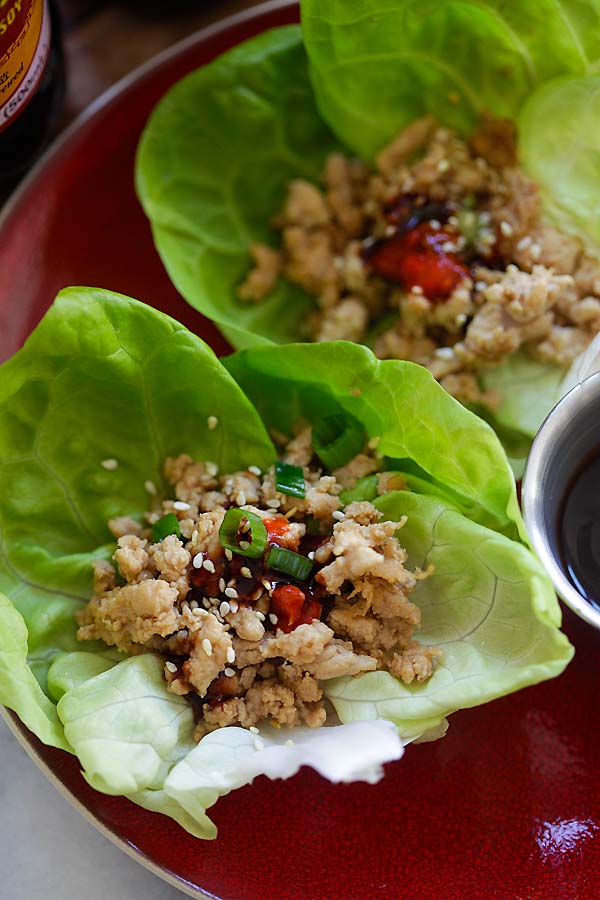 Thanksgiving is practically days away and I am sure you're finalizing your Thanksgiving menu.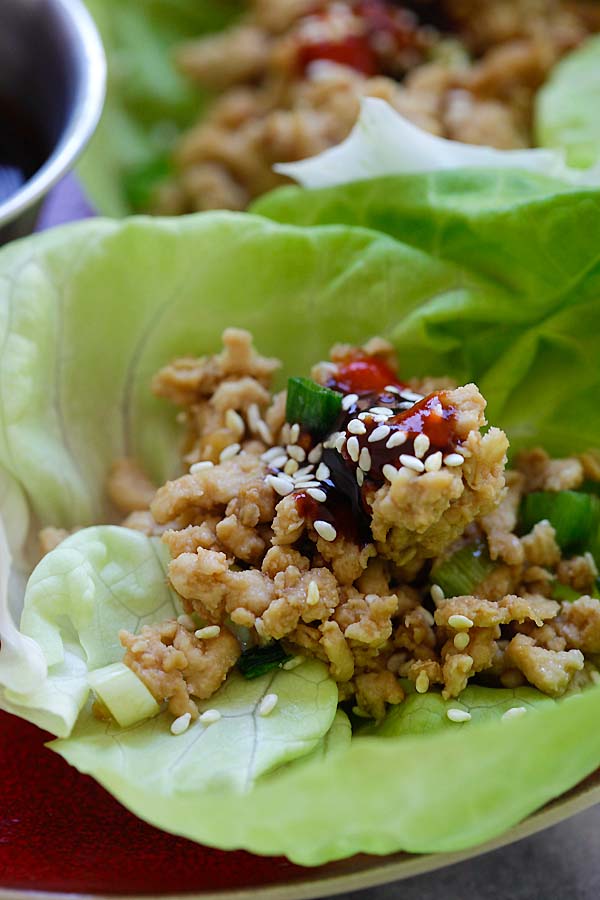 This year, if you wish to make something unconventional for your family–in addition to the traditional roast turkey–I have this perfect Turkey Lettuce Wraps recipe for you!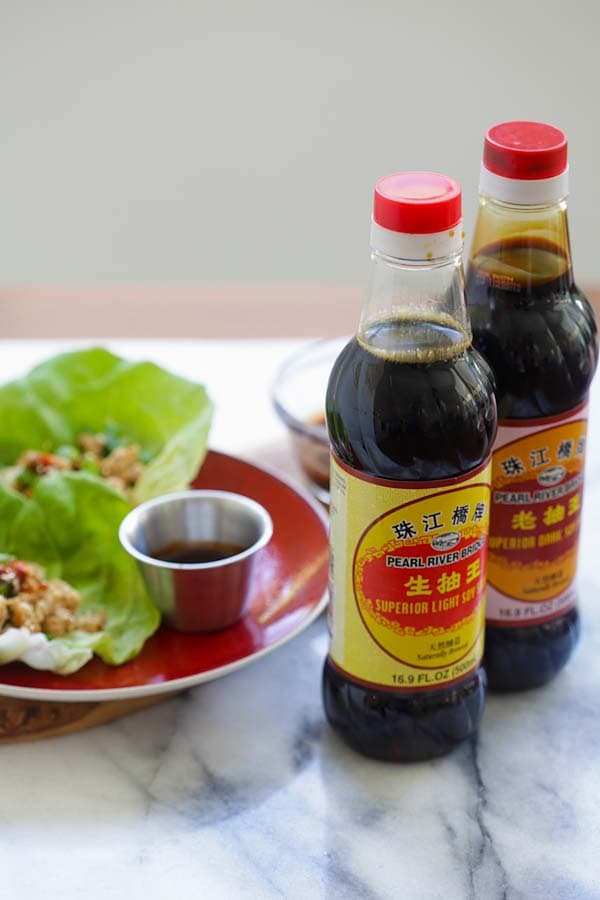 Other Recipes You Might Like
Imagine perfectly cooked, juicy and flavorful ground turkey seasoned with soy sauce and wrapped with fresh and refreshing lettuce leave, with a Hoisin-Sriracha dipping sauce…
ahhhh, my mouth is watering thinking about it. Making Turkey lettuce wrap is quite easy and I am sure it will be a crowd pleaser.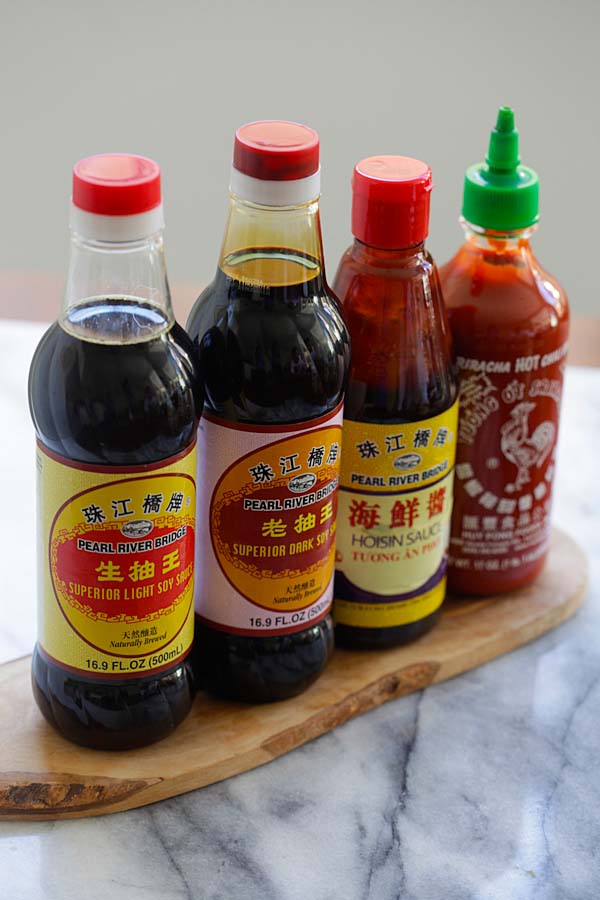 Soy sauce and dark soy sauce are two essential ingredients in this Turkey Lettuce Wraps recipe. My preferred choice is the new Pearl River Bridge Superior Light Soy Sauce and Pearl River Bridge Superior Dark Soy Sauce in the newly designed plastic bottle.
Pearl River Bridge is a premier Chinese brand and its soy sauce is 100% natural, with fermentation process passed down from generations ago.
I love the flavors imparted by Pearl River Bridge soy sauce in my Chinese recipes; it makes everything so much better. Pearl River Bridge soy sauces can be bought at Amazon.
To complete the dish, I made a Hoisin and Sriracha dipping sauce, which is perfect for the savory Turkey Lettuce Wraps.
Watch the cooking video above and make a big bunch of this as a Thanksgiving appetizer. I guarantee that everyone would enjoy it.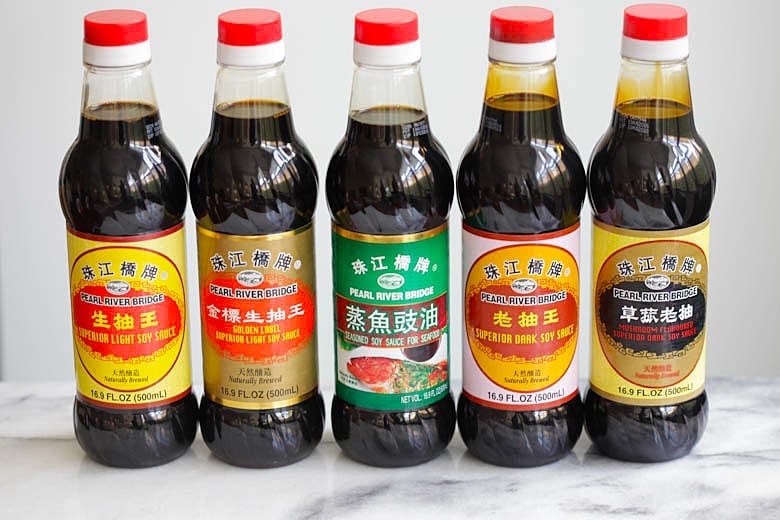 Disclaimer: This is a sponsored post by Pearl River Bridge. The opinions and text are all mine.
How Many Calories per Serving?
This recipe is only 229 calories per serving.
What Dishes to Serve with This Recipe?
For a wholesome meal and easy weeknight dinner, I recommend the following recipes.
5 Secrets to 20 Min Dinners
Get tricks for quick & easy meals!
Yield: 4 people
Turkey Lettuce Wraps Recipe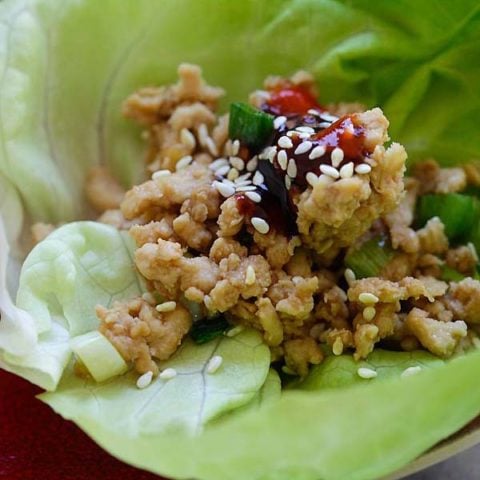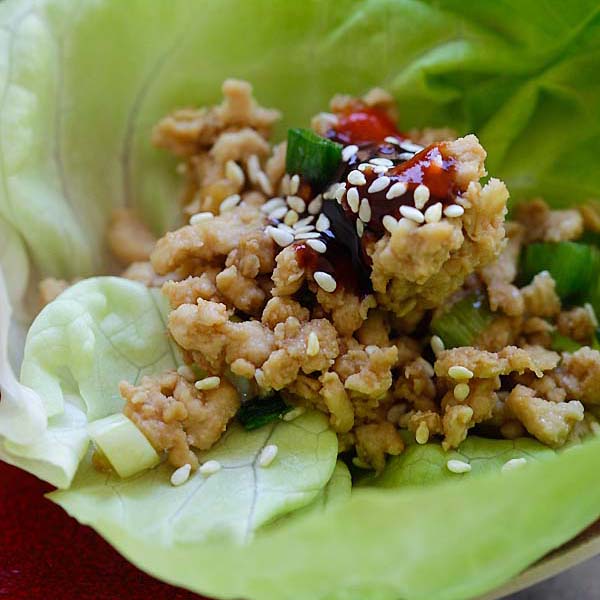 Turkey Lettuce Wraps – healthy lettuce wraps recipe with ground turkey with a Hoisin-Sriracha dipping sauce. Perfect appetizer for Thanksgiving.
Ingredients
2 tablespoons cooking oil
2 cloves garlic, minced
1 lb. (0.4 kg) ground turkey breast
1 tablespoon pearl river bridge superior light soy sauce
1/2 teaspoon pearl river bridge superior dark soy sauce
1 tablespoon oyster sauce
2 tablespoons chopped scallions
white sesame, for garnishing
1 fresh and cold iceberg lettuce or butter lettuce
Hoisin Dipping Sauce:
3 tablespoons pearl river bridge hoisin sauce
1/2 teaspoon huy fong sriracha chili sause
1 tablespoon warm water
Instructions
Mix the Hoisin Sauce, Sriracha and water together. Stir until well combined.
Heat up a wok or skillet on medium heat. Add the cooking oil. When the oil is heated, add the garlic and stir fry until aromatic. Transfer the turkey into the wok or skillet, stir a few times before adding the soy sauce, dark soy sauce and oyster sauce. Break up the turkey into small lumps. Add scallions, stir to mix well, dish out and top with some sesame.
Carefully peel off the lettuce leaves from the iceberg lettuce head or butter lettuce head. Be careful not to break the leaves. Scoop up a big spoonful of turkey and place it in the middle of a lettuce leaf. Add some Hoisin Dipping Sauce on top of the turkey and serve immediately.
Nutrition Information
Serving Size
4 people
Amount Per Serving
Calories

229
Total Fat

9g
Saturated Fat

1g
Cholesterol

62mg
Sodium

684mg
Carbohydrates

7g
Sugar

3g
Protein

28g