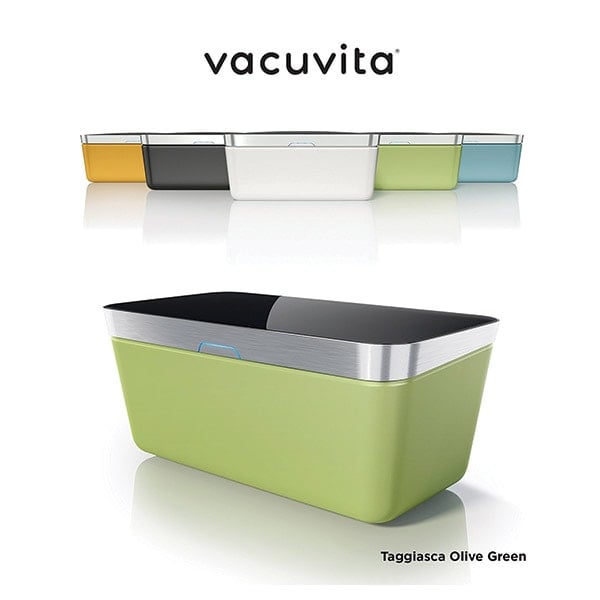 I am partnering with my friends at Vacuvita® to giveaway a Vacuvita® One Touch Vacuum Storage System, Resealable and Reusable Vacuum Sealer, MSRP: $299.99, US only.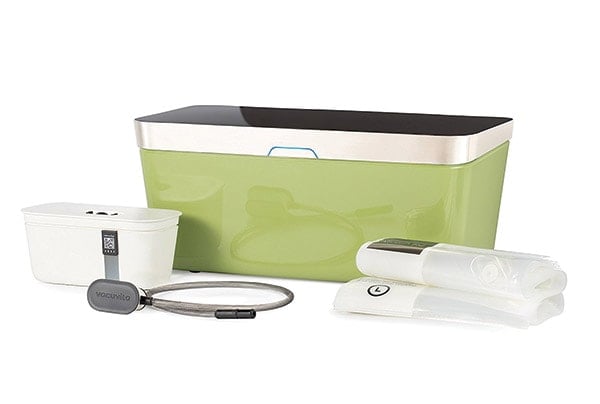 Vacuvita® One Touch Vacuum Storage System, Resealable and Reusable Vacuum Sealer:
Features:
COUNTERTOP CONVENIENCE: Store dry foods like coffee, crackers, bread, cereals and more in the Home Base, which is designed to sit on the countertop for easy access and create an air-tight vacuum when closed
REUSABLE CONTAINERS AND BAGS: Use the Home Base and the vacuum tube and adaptor to extract air from resealable bags and premium containers to keep your pantry, refrigerator or freezer organized in a way that works for you
EYE-CATCHING DESIGN: Modern lines, sleek buttons and a range of colors make for a countertop system you'll want to show off
ENJOY FOOD UP TO 5X LONGER: Vacuum sealing food reduces waste and saves money
KEEP TRACK OF FOOD WITH THE VACUVITA APP: The unique Vacuvita container coding system app lets you track what's in your freezer or pantry and how long a shelf life it has left
Every week in my kitchen, I throw away food. Stale crackers, cereal, the mysterious green herb slime in the crisper, moldy leftovers or freezer burned mystery meat. I feel like I'm throwing away money and food! But now there is the Vacuvita® One Touch Storage System – the first of its kind vacuum and food storage option. Vacuvita is a company that focuses on fresh food and storing that food in a better (and prettier) way. Enjoy food up to 5X longer, opening a world of storage and prep options that significantly cuts back on waste.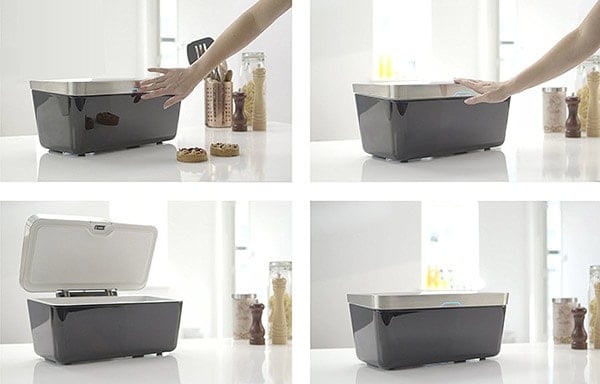 Vacuvita® is like a modern day, high tech, connected bread box. It stores food in an eye-catching container, the Home Base, to keep it fresher longer. The Home Base then pairs with an easy-to-use vacuum tube to seal food in coordinating, reusable containers or vacuum seal bags. For enhanced functionality in everyday life, Vacuvita® developed an app tailored to its system to keep track of everything you have stored and then send reminders of when it will expire. You can use the pre-set reminders or set your own. So you never forget about those strawberries you purchased last week, or the chicken you froze last month.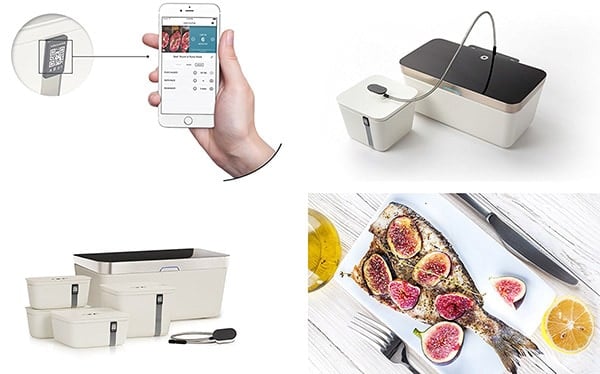 Here are a few of the many reasons to bring Vacuvita to your kitchen:
The average household wastes 1300 pounds of food per year – up to $1500 in waste.
The Vacuvita app keeps track of your stored food effortlessly (and sends you reminders of when your food is getting ready to expire).
In addition to storage, you can use your Vacuvita products to marinate, sous vide and more.
To further enhance your first Vacuvita experience, here are some tips for ultimate freshness:
When storing bread products in your Home Base, leave it wrapped in paper or plastic.
Do not store both dry and moist foods in Home Base simultaneously.
Wash, clean and dry fresh fruits and vegetables before vacuum sealing in bags.
Never store bananas or soft cheese in vacuum. For a list of foods not recommended, as well as guidelines for how to store all recommended foods visit the Vacuvita FAQ page: https://www.vacuvita.com/faq/
Eligibility: United States only. No purchase necessary and subject to this official giveaway rules. Closing Date: April 8 11:59 pm PST. Winner will be randomly selected and contacted via email on April 9, 2018.
To enter, please follow the steps below.
Step 1
Follow Rasa Malaysia (@rasamalaysia) on Instagram. (Click on the Instagram button below and click "Follow." If you don't have Instagram, skip this step.)

Step 2
Follow All Rasa Malaysia Boards on Pinterest. (Click on the Pinterest button below and click "Follow All." If you don't have Pinterest, skip this step.)

Step 3
Fill in the form below. You can enter to win every day.
You will be redirected to the "Thank You" page if your entry is successfully submitted.
BE SURE TO ENTER EVERYDAY! ONE ENTRY PER DAY STRICTLY ENFORCED. By entering into this contest, you are automatically subscribed to Rasa Malaysia newsletter for new giveaways, recipes, and more. If you don't want to receive the newsletter, you may unsubscribe it.
GIVE US SOME LOVE!
Like Rasa Malaysia on Facebook. (Click on the Like button below.)