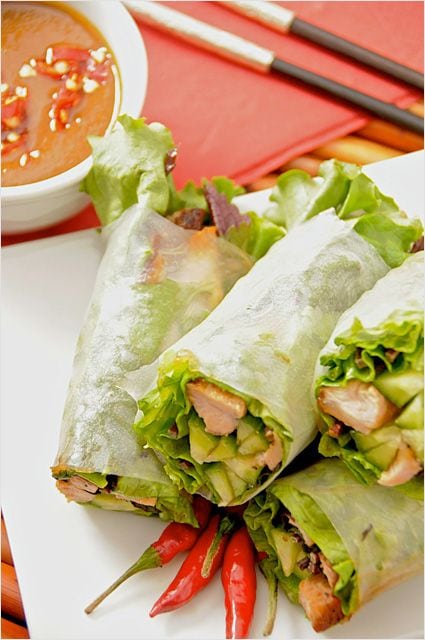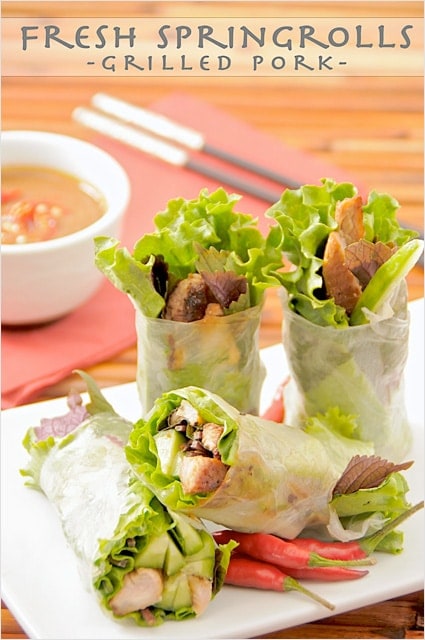 Vietnamese cuisine is gaining popularity in the United States and the world, so today, I invited Todd and Diane of White on Rice Couple to share a delicious Vietnamese recipe with us: Goi Cuon Thit Heo Nuong (generally known as "Goi Cuon") or Vietnamese fresh spring rolls with a killer hoisin peanut dipping sauce (my personal favorite!).
Please welcome White on Rice Couple to Rasa Malaysia as they unveil the techniques of rolling these fresh spring rolls plus the secret family recipe of Goi Cuon.
Guest writing for Rasa Malaysia's gorgeous and delicious blog is both exciting and an honor. To be part of this grand celebration of Asian foods from all around the world is both educational and inspiring. Reading all the great guest bloggers' family recipes and food traditions shows us just how much we all have in common, no matter what part of the world we hail from.
I'm sharing my families "go-to" dish, grilled pork fresh spring rolls or know in Vietnamese as Goi Cuon Thit Heo Nuong. How could I not? Mom would have me feathered and tarred with caramel ginger sauce, just like she does with her precious duck.
And Dad would have my head on a platter, covered in chilies and garlic, just like his special fried snapper dish. My parents certainly are not the abusive nor violent kind. They're just very passionate about their food and even more thrilled to be able to share it with others.
So Vietnamese fresh spring rolls, filled with fresh herbs, veggies and grilled pork all wrapped with rice paper, are always available in my parents kitchen. Whenever one of us homesick 6 kids came home from college, the military or the all-too-often relationship dispute, my mom made sure there were the ingredients available for this quick and hearty assembly of spring rolls.
Pretty much anything wrapped in rice paper was a sentimental sign to let us know that we were safe and satisfied to be back at home.
But the best spring rolls/Goi Cuon were with grilled pork. Mom loves her pork, in 3 ways: grilled, braised and boiled. And it was her quick, "magic sauce marinade" of fish sauce with her grilled pork that we all turned to for emotional comfort.
She always has an abundant garden full of fresh Vietnamese herbs as well, so her staple bag of spring roll greens is always washed, ready and waiting to be devoured with her grilled pork.
Dad's favorite dip for these grilled pork rolls is his hoisin-peanut dip. This fast and easy dip is his "pride and joy" because he can't compete with Mom's fish sauce dip. Yes, there is plenty of healthy cooking competition in my family.
This brown colored, hoisin peanut dipping sauce is just the perfect sweet/spicy dip for the fragrant, herb filled rolls. The best part about this this dip is that Dad whips it up in less than 15 minutes. Not bad for an aging car mechanic that takes FOREVER to do an oil change on my car! (But I'll leave that for a later post).
Back in the old days, with 6 growing and hungry kids, my parents always made these fresh spring rolls for us because it was simple, quick and delicious.
Especially when finances were tighter and when we were on a strict budget, these economical spring rolls never broke the piggy bank. Time was also of the essence and all they had to do was to grill the pork, wash the vegetables and let us kids do all the rolling ourselves.
These fresh spring rolls are healthy, satisfying and a great way for kids and adults to eat their veggies!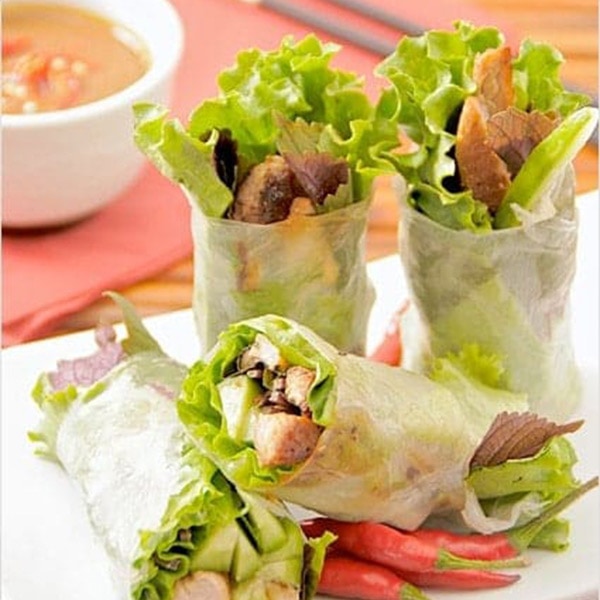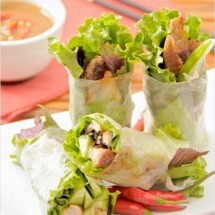 Vietnamese Grilled Pork Spring Rolls (Goi Cuon Thit Heo Nuong) Recipe
Goi Cuon (Vietnamese Fresh Spring Rolls) with Hoisin Peanut Dipping Sauce Recipe -- Vietnamese fresh spring rolls, filled with fresh herbs, veggies and grilled pork all wrapped with rice paper.
Ingredients
For the grilled pork:
1

lb

pork chops, loin, butt or shoulder. Sliced thin.

2

cloves

garlic, minced

2

shallots, minced

1

tablespoon

fish sauce

1

teaspoon

sugar

2

teaspoons

freshly ground black pepper or to taste

1/4

cup

peanut or vegetable oil
Hoisin Peanut Dipping Sauce Recipe:
1

cup

8 oz hoisin sauce (if sauce is thick, add about 1/4 cup warm water to reach desired consistency)

1/4

cup

smooth peanut butter

1

tablespoon

rice vinegar

2

garlic, crushed

1

minced thai chili or more for desired spiciness
For spring roll rice paper assembly:
About 10 rice paper wrappers

Lettuce

Cucumber, cut into long slices

: mint, cilantro, basil, vietnamese coriander, balm or perilla

Bean sprouts
Click Here for Conversion Tool
Directions
In plastic bag, combine all ingredients for the grilled pork. Let marinade for about 20 minutes. Grill both sides of pork for about 2-3 minutes, or until desired texture.

In blender, combine all ingredients for the hoisin peanut dipping sauce. Blend until everything combines smoothly together. If it is too thick, continue adding warm water until desired consistency.

In bowl of warm water, dip each rice paper wrapper for about 3-5 seconds (depending on rice paper thickness). Do not over soak your rice paper wrapper! Place on work service and allow rice paper to soak up water and become gelatinous and pliable (about 30 seconds to 1 minute, again, depending on the thickness rice paper).

On top 1/3 side closest to you, lay lettuce on the bottom for added strength to the wrapper. Then place meat, herbs and other vegetables. Roll up spring roll about 1/3 way through, then fold in the sides. View step-by-step photographs of spring rolling here.

Serve with hoisin peanut dip.
Nutrition Facts
Vietnamese Grilled Pork Spring Rolls (Goi Cuon Thit Heo Nuong) Recipe
Amount Per Serving (4 people)
Calories 526
Calories from Fat 225
% Daily Value*
Fat 25g38%
Cholesterol 73mg24%
Sodium 1608mg70%
Potassium 681mg19%
Carbohydrates 41g14%
Protein 32g64%
Vitamin C 4mg5%
Calcium 48mg5%
Iron 1.9mg11%
* Percent Daily Values are based on a 2000 calorie diet.
Easy Weeknight New Recipes: