Limited Time Offer: $5.99 only. Available for download WORLDWIDE!
**Use it on Your Tablet, Mobile Phone, Desktop or Laptop**
Cook all your favorite Asian takeout dishes at home with this easy-to-follow ebook.
35 delicious and healthy recipes, 108 color photos, a comprehensive ingredients chapter and so much more! "Easy Asian Takeout is for home cooks who love Asian cuisines. The cookbook demystifies popular Asian recipes so you can make healthy and delicious Asian takeout dishes for your family. — Bee Yinn Low"
Everyone loves Asian takeout—it's our love affair with Asian food that satiate our hunger and craving for Mongolian Beef, Sweet and Sour Chicken, Pad Thai, and Chicken Tikka Masala. In Easy Asian Takeout, Bee Yinn Low, author of the best-selling "Easy Chinese Recipes" cookbook takes us on a culinary journey through Asia, sharing her passion and expertise in Asian cooking. It features a collection of popular Asian dishes that we have all grown to love so much: – Sesame Chicken – Summer Rolls – Tandoori Chicken – Pad Kee Mao (Thai Drunken Noodles) – Singapore Fried Noodles – Shaking Beef and so much more…
Building off her successful website at RasaMalaysia.com—the web's most popular Asian recipes site, Easy Chinese Takeout is the ultimate cookbook that you can use in the kitchen. Fire up the wok or pan, let's cook and eat amazing, healthy, and absolutely scrumptious Asian food at home!

Table of Contents:
– Preface
– Introduction
– Resource Guides
– Ingredients
– Recipes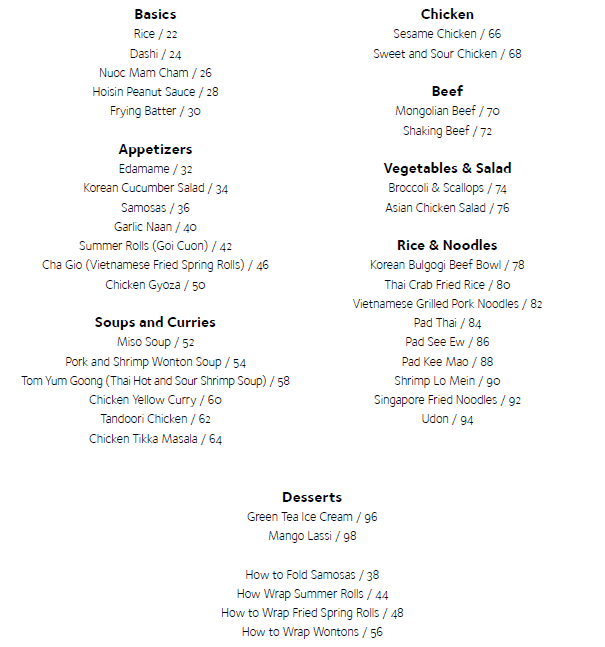 HOW TO BUY:
"Easy Asian Takeout" is available as a downloadable PDF. It is formatted to read beautifully on your computer, laptop, tablet or phone.
To purchase a copy, click on the red Buy Now or Add to Cart button, then click on the "Checkout" button. You will then be redirected to Paypal. If you have a Paypal account, please enter your email and password to login and complete the purchase. If you don't have a Paypal, click on the "Pay with a debit or credit card, or Paypal Credit" link at the bottom. Enter all your card information and click on "Pay" to complete the purchase.
To buy the cookbook, click on the BUY NOW button below now.

HOW TO DOWNLOAD:
Once your payment has been processed, you will receive three (3) emails, one from Paypal and two from SendOwl Downloads. The first SendOwl email will contain the download link, which can be used up to 3 times only. I suggest you download one copy of the ebook to your desktop or laptop, one on your phone, and one on your tablet. If you use Apple iOS products, PLEASE FOLLOW THE FOLLOWING INSTRUCTIONS:
** iPhone/iPad DOWNLOAD INSTRUCTIONS **
.
To save the ebook on your iPad or iPhone, click the download link on the SendOwl email. Once the ebook has downloaded and opened on your iPad or iPhone, tap the screen and a horizontal bar will appear at the top of your screen. Select "Open in iBooks" and the ebook will save to your iBooks library for future viewing.
If you have questions or problems, contact me here.
HOW TO BECOME AN AFFILIATE
Become an affiliate of Rasa Malaysia, sell my cookbook and get 50% revenue share. Click here to sign up now!