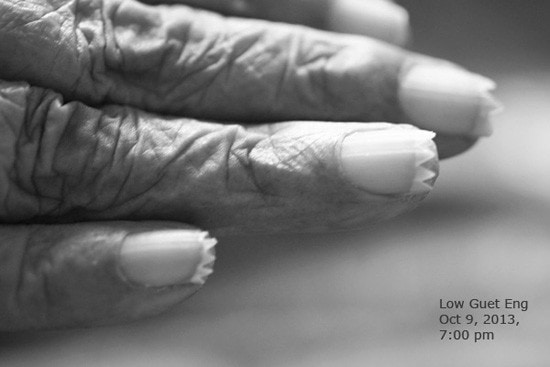 Dearest Kor (姑姑/aunt),
It's with the heaviest of hearts that I am writing this eulogy to celebrate and honor your life. I took the above picture two and a half years ago when I first brought baby G home to Penang to meet you for the first time. I decided to give you a special manicure. As I was cutting your nails on your hand, I realized that it was the hand that had nurtured me, and the very hand that had nurtured my siblings, my nieces and nephews, and every single one in our big family.
You lived and devoted your entire life with only one goal—to be completely selfless and giving, to everyone in our family. I remember every single detail when I was under your care, since I was a little girl until I left for college in KL. We walked to the morning market every weekend; we shopped for the freshest ingredients and then ate breakfast together. You would always make my favorite dishes for me; you loved, pampered, and spoiled me like I was your own child. You took me shopping before Chinese New Year…you were always the first one who bought me my first Chinese New Year clothes. We made kaya together; we made Chinese New Years cookies, kuih kapit, kuih bangkit, peanut cookies every year. You taught me our family recipes—jiu hu char, bubur cha cha, perut ikan, acar fish, etc., and that eventually, I am able to turn my lifelong passion and hobby into a fruitful career. Without you, I wouldn't be doing what I do today.
I am thankful that I had the opportunity to go home two months ago and spent precious and quality times with you. I felt that I was finally able to reciprocate what you had done for me: taking care of you, cooking for you, and feeding you. When I said goodbye to you at the hospital that early morning in September, I knew that it would be the last time I see you.
Kor, my heart is filled with sorrow and grief, but you will forever live in my memory. I am on my way back to Penang to send you off…may you rest in peace.
Love always,
Yinn