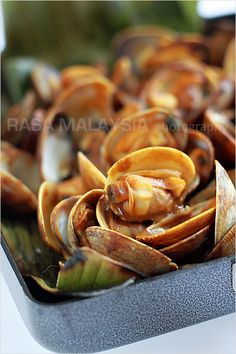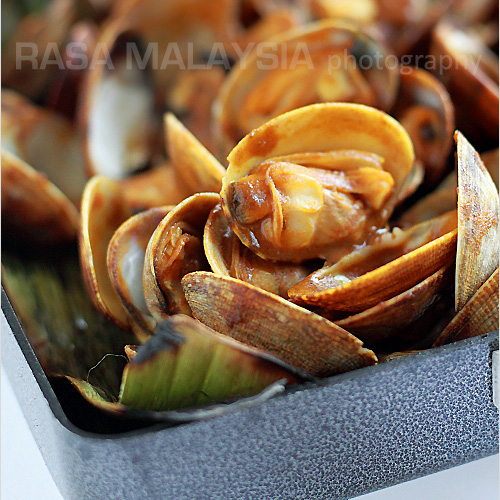 Curry Clams Recipe
Curry clams wrapped with banana leaves. Curry-flavored clam is a popular Malaysian street food—delicious, spicy, and addictive. Easy curry clams recipe.
Ingredients:
1 1/2 lb. Manila clams
2 tablespoons cooking oil
1 1/4 tablespoons seafood curry powder
1 tablespoon Malaysian Lingham's hot sauce
1 teaspoon oyster sauce or to taste
A few sheets of fresh or frozen banana leaf (rinsed and wiped clean and dry with paper towels)
Method:
Rinse clams with cold water thoroughly, scrub the shells, drain the water, and set aside.
Heat up the pan on medium heat and add a little cooking oil to coat the surface. Lay the banana leaves on top of the pan. Add the remaining cooking oil onto the banana leaves, add clams into the pan and start stirring. As soon as the clams start to open, add curry powder, hot sauce, oyster sauce and stir well with the clams. Cover the pan with its lid and cook for a few minutes or until all clams are open.
Dish out and serve immediately.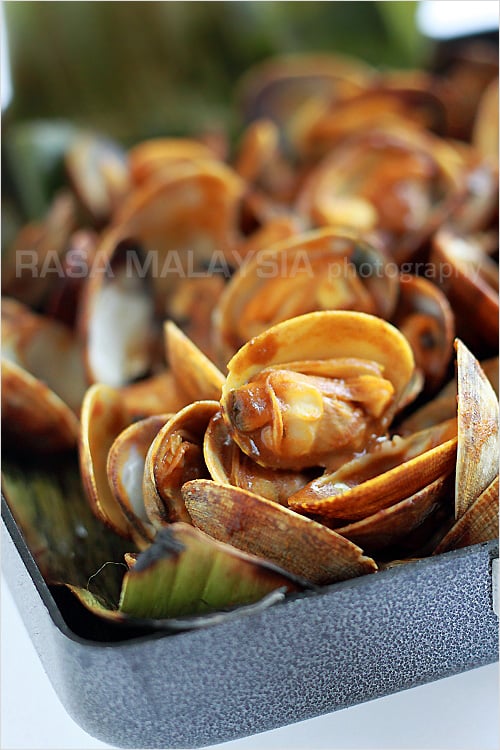 Whenever I go back to Penang, I would never miss out ordering this dish at the "Ikan Panggang" (grilled fish) hawker stall. Even though ikan, a Malay word that literally means fish, you can find all sorts of grilled seafood. One of my favorite this this curry clams, which is basically clams seasoned with some curry powder and seasonings, and grilled on a flat griddle over banana leaves. I simply love the aroma of the curry powder and the burnt smell from banana leaves.
Here is my simple curry clam recipe that you can easily replicate at home without having to travel to Malaysia. You can use just about any clams but I love it with Manila clams. The briny taste of the clams and the aromatic curry deliver a wonderful taste and flavor.