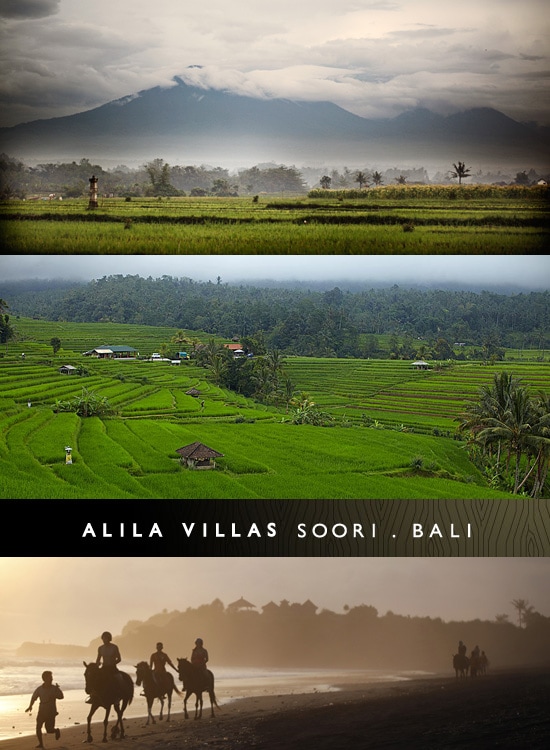 "Happiness is the consequence of personal effort. You fight for it, strive for it, insist upon it, and sometimes even travel around the world looking for it. You have to participate relentlessly in the manifestations of your own blessings. And once you have achieved a state of happiness, you must never become lax about maintaining it. You must make a mighty effort to keep swimming upward into that happiness forever, to stay afloat on top of it."
― Elizabeth Gilbert, Eat, Pray, Love
I'm a fan of Eat, Pray, Love, and I especially find Gilbert's take on the quest for happiness compelling. And that's what brought me back to Bali, the third time, to up my happiness level a notch, no, maybe a few notches higher, and more importantly, to complete my annual Eat, Pray, Love sojourn. I wouldn't be so conceited to say that I've seen every part of Bali, but my stay in Kuta, Nusa Dua and Ubud during the last two visits would have sufficiently shown me what the world comes cramming into this 5,632km² Island of God in Paradise yearly for. So this time, I wanted to be away from the madding crowd, to rediscover Bali from a different lens, and to experience happiness and love with my two men (yes, my husband G and my little boy Baby G traveled with me). And Alila Villas Soori opened its door for us.
Tucked away in the southwest coast of Bali fronting the cerulean Indian Ocean bordered by the rich, glistening volcanic black sands beach and cradled within the endless emerald green terraced rice paddies, Alila Villas Soori has the best of everything Bali has to offer. I believe this is the few places on earth where you can get so intimate physically and spiritually with the astonishingly beautiful interplay of the five elements of nature – space, air, fire, water and earth. I was so enthralled by the breathtaking view and have hence added an item on the top of my wish list – to have my own villa in Bali built on the similar landscape. One day, Bee, one day.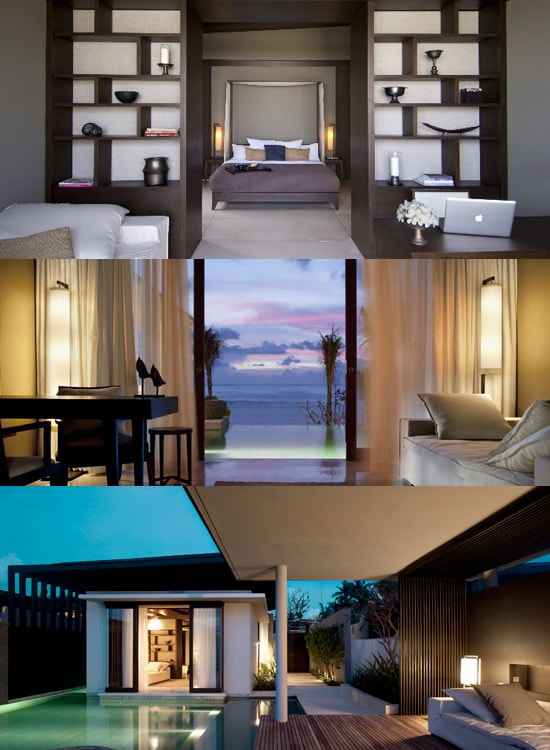 We were given our personal space in one of the 15 Ocean Pool Villas one level above the Beach Pool Villas. It opened up to a to-die-for view of the ocean and held us back on to our feet with the many splendored things awaited us in the various corners of the villa. Being so well-exposed to villa stay, my little man immediately claimed the private pool his territory and happily left the outdoor pavilion to mom and dad for their quiet moments. We didn't have to go far to look for Nature as Nature came to visit us daily in our villa, feasting our ears with the symphony of lapping waves caressing, sometimes crashing against the volcanic shore, but always accompanied by the balmy sea breeze. When we felt like going out to greet Nature, our villa also gave us the direct access to the open-to-the-sky courtyard and the beach.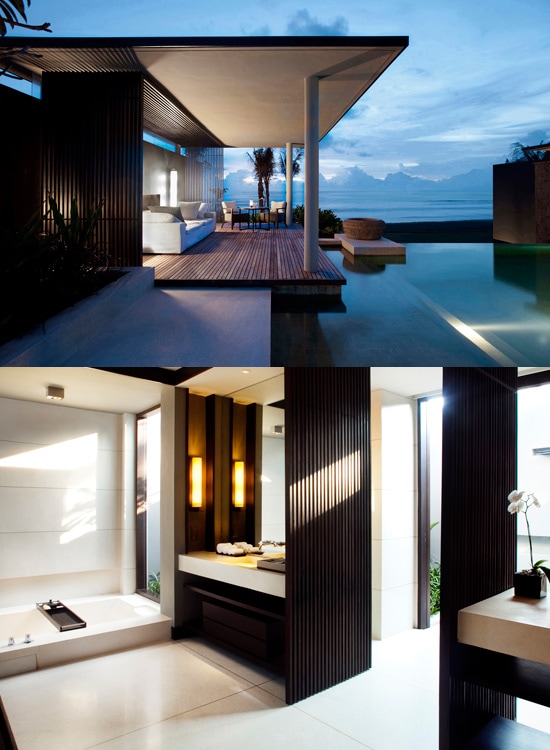 Even though this was not my first stay in luxury boutique hotels with pool villas, Alila Villas Soori exceeded my expectations and highly surprised and impressed the critic in me with its attention to very fine details. First thing that caught my eyes were the For Him and For Her toiletries complete with lip balm, sun tanning oil, sunscreen SPF 30, after sun cooling gel, insect repellent and many others, thoughtfully displayed in the indoor bathroom and the outdoor rain shower. So this is the "surprisingly different" experience promised to us on the personalized greetings we received upon our check-in. The thoughtful supply of His and Her vanity with complete range of bath amenities for the guests by Alila Villas Soori was something that I've never come across in any of the luxury boutique hotel that I've stayed with. The For Her shampoo and conditioner were truly godsend to tame my mane. This justifies its recent victory of being crowned The Best Boutique Hotel 2013 by Hospitality Investment World.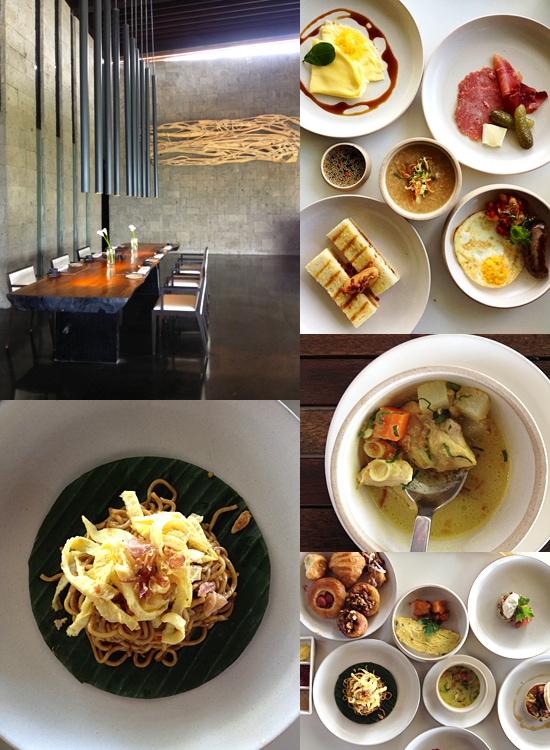 Mornings can never be so welcoming to me unless they promise something special. I really looked forward to the breaking dawn at Alila Villas Soori, not only for the killer views but also for the sumptuous spread of authentic local fare and classics with fun twists at Cotta Restaurant. For someone who takes food and dining very seriously, the daily gastronomic experience I had at Cotta was simply one of the best I have had so far, in terms of hotel breakfast. It's the place where you could get the best of both worlds without compromising the local flavors. The epicurean in me was totally satiated.
To further enrich my Love journey, I signed us up for the Journeys by Alila specially customized to bring deeper understanding of what truly defines Bali, to the participating guests, while allowing them to pursue their own personal passions. We began our journey with Kopi Luwak Voyage. The best part of this tour was to have the opportunity to see the real Luwak, and to have a chance to visit the coffee plantation was a bonus. The excursion was especially exciting for my husband, G, because he loves coffee and wouldn't miss the world to get a taste of the prized coffee and pack some for the road. As for me, I was intrigued by the coffee roasting process and of course had a bit too much of caffeine after sampling the different varieties of local coffee. Not complaining though.
After an overdose of Kopi Luwak, we went on to Jatiluwih, which is a UNESCO world heritage site (awarded in August 2012) famed for its unique Subak irrigation system that fertilizes the stunning emerald green rice terraces there. It should be noted that rice terraces play a central role in the preservation of Balinese culture as it was part of an ancient living cultural system that still lives on till today. Jatiluwih is a must-visit site for everyone who visits Bali as I fell instantly and deeply in love with the views. The endless green was so absorbing and it was drizzling that day, so the whole horizon of paddy fields was misty, giving it a dreamlike, almost surreal effect. I confidently voted this the most scenic place in Bali.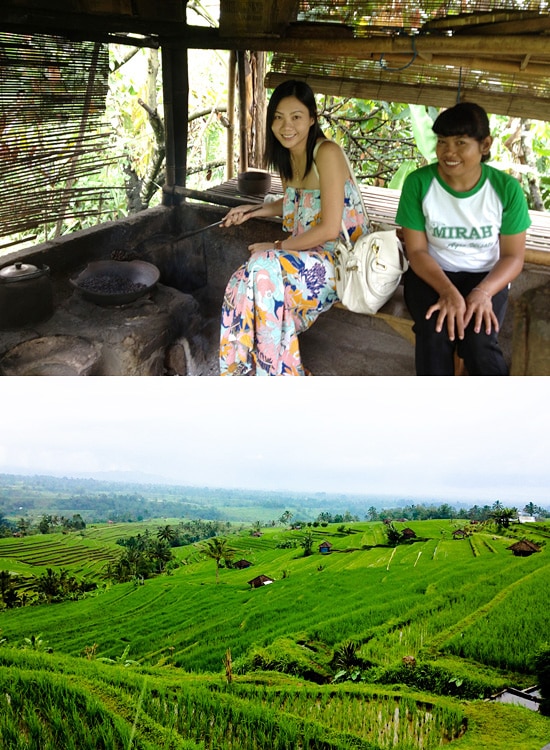 We had a fulfilling Day One seeing Luwak, sampling coffee, learning about coffee roasting and trailing Jatiluwih, nourishing our eyes and mind on the greenery. Upon arrival at the hotel, G and I decided to hop into Spa Alila for a 90-minute massage to pamper our tired bodies, albeit high spirits. Indulgence of such kind doesn't come very often and we were indeed very blessed to have had the chance to experience it.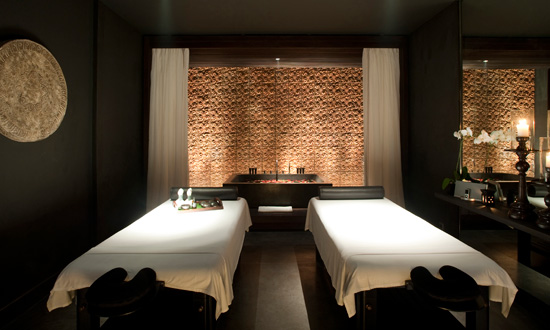 Day Two of our Journeys by Alila: Journey of Culinary Delights took us to a Market Tour and Balinese/Indonesian Cooking Class with the hotel's Balinese chef. This was truly my day as I love studying local culture and authentic local lifestyle of whichever place I go to. This excursion did not only allow me to be part of the hustle and bustle of the local market scenes, but it also gave me a chance to actually interact with the local vendors, learning from them the wide range of new ingredients for my future culinary adventures, even getting offers from one of them to sample his sate ayam. Lucky me!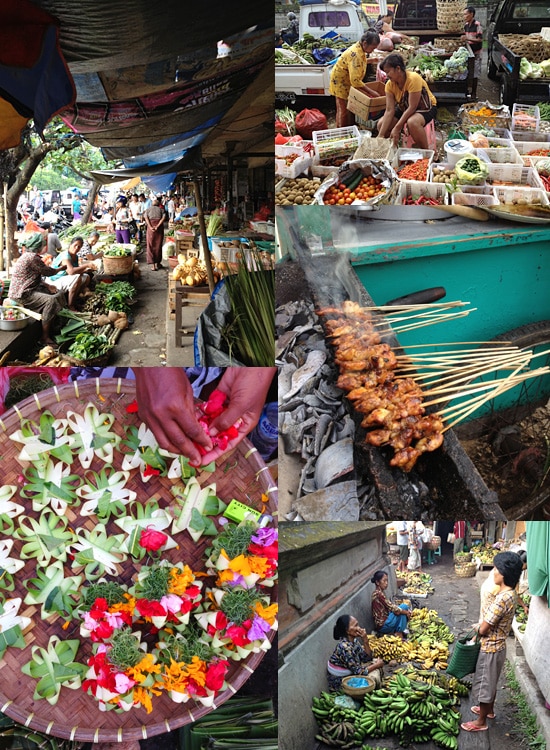 Later at the cooking class, I charmed the chef into teaching me the secrets to making the authentic local delights – Sate Lilit Bali, Opor Ayam and Sambal Tomat. The cooking class was conducted at Ombak, the open air kitchen right by the ocean. Cooking in such naturally beautiful surrounding with the sound of ombak (waves) as background could give you such great feeling in the kitchen. On a more professional note, I diligently learned the fundamentals of Indonesian cooking from the chef, pounding my way into the heart of the white spice paste, yellow spice paste and red spice paste. The cooking class is open for hotel guests with maximum two guests per class. I thoroughly enjoyed the class. It was really fun and educational.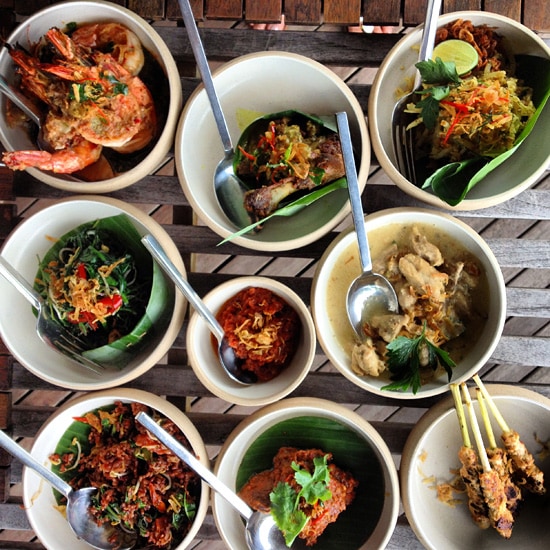 Alila Villas Soori has opened my eyes to many things. One of them was having a special Indonesian/Balinese lunch with its General Manager, Marco Groten as slotted into Day Two of Journeys by Alila: Journey of Culinary Delights. I was awed by the extent Alila hotel group would go to make its guests feel special. The spread was understandably scrumptious, including bebek (duck), rendang, prawn, Balinese papaya salad, kangkung, red rice and the three dishes I prepared under the guidance of the master in the cooking class earlier on. I never really realized the greatness of Indonesian cooking until that groundbreaking lunch at Ombak. Marco was a perfect host throughout, engaging me in interesting conversations about Bali, its people and the hotel. He even personally came to see us off during our check-out after lunch. This is something unprecedented, a General Manager seeing his guests off! We were utterly impressed! Thanks Marco.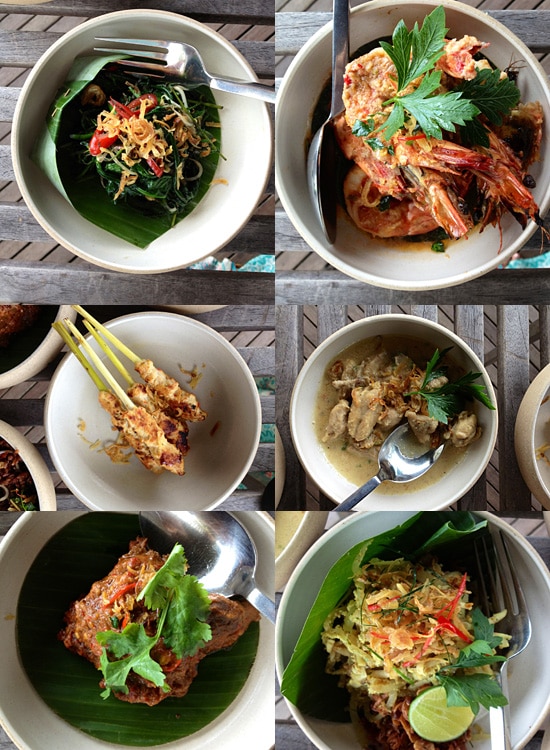 Besides the excursions, family ties could easily be strengthened in Alila Villas Soori indoor and outdoor. Our family bonding was most enjoyable during the bicycle rides around the hotel. The bikes are free for use by hotel guests. Till today, I can still remember vividly the joy of cycling around the paddy fields with the backdrop of green mountains, balmy sea breeze caressing our faces, nature's orchestra made up of the soothing sounds from the flowing stream, harmonious chirping of birds and insects. Straddled snugly in the baby seat attached to the bike, Baby G was the happiest boy being cycled around by Daddy. That sweetly completed my Love journey ala Eat, Pray, Love, seeing the happy and contented faces of my beloved. My heart brimmed with love, joy, and pure gratitude.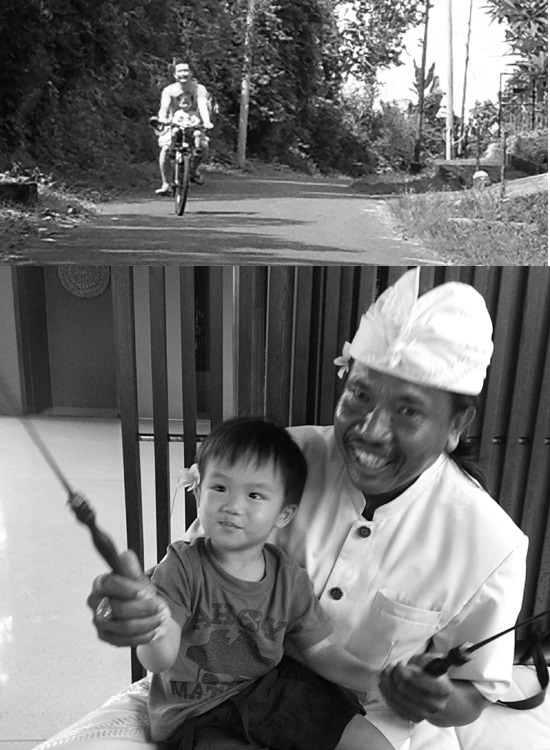 Alila Villas Soori has given us many amazing stories to tell and lasting memories to hold on to, for a very long time. There couldn't be a better place for us to spend our first family vacation at. Two days could be too short for us to relish the place to our hearts' content but it also tempted us to go back for more. So we will certainly go back there again. I'm sure Baby G would certainly love to be cycled around by his Daddy and to play rindik (a traditional Balinese musical instrument made of bamboo) again with the rindik performers at the hotel lounge. And I would love to again indulge myself with the signature Alila hospitality and experience rendered by its top-notch staff who speak fluent English, with a couple of them impressed me so with their fluent Mandarin and Cantonese.
Take it from me, make haste and go have your Eat, Pray, Love moments at Alila Villas Soori. Everyone deserves something beautiful. Go and make it happen!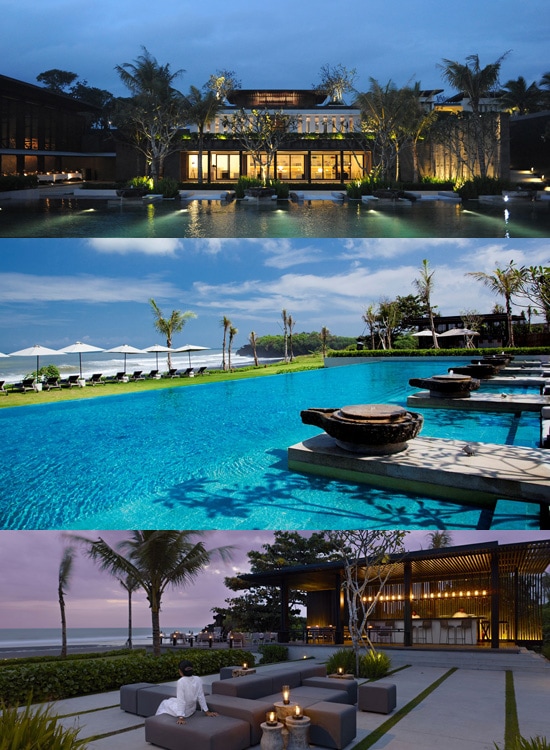 ALILA VILLAS SOORI . BALI
Banjar Dukuh, Desa Kelating,
Kerambitan, Tebanan,
Bali 82161
Tel: +62 361 894 6388
Fax: +62 361 894 6377
Email: soori@alilahotels.com
Website: http://www.alilahotels.com/soori
COTTA
Banjar Dukuh, Desa Kelating,
Kerambitan, Tebanan,
Bali 82161
Tel: +62 361 894 6388
Fax: +62 361 894 6377
Email: soori@alilahotels.com
Website: http://www.alilahotels.com/soori/dining
OMBAK
Banjar Dukuh, Desa Kelating,
Kerambitan, Tebanan,
Bali 82161
Tel: +62 361 894 6388
Fax: +62 361 894 6377
Email: soori@alilahotels.com
Website: http://www.alilahotels.com/soori/dining
SPA ALILA
Banjar Dukuh, Desa Kelating,
Kerambitan, Tebanan,
Bali 82161
Tel: +62 361 894 6388
Fax: +62 361 894 6377
Email: soori@alilahotels.com
Website: http://www.alilahotels.com/soori/spa-alila