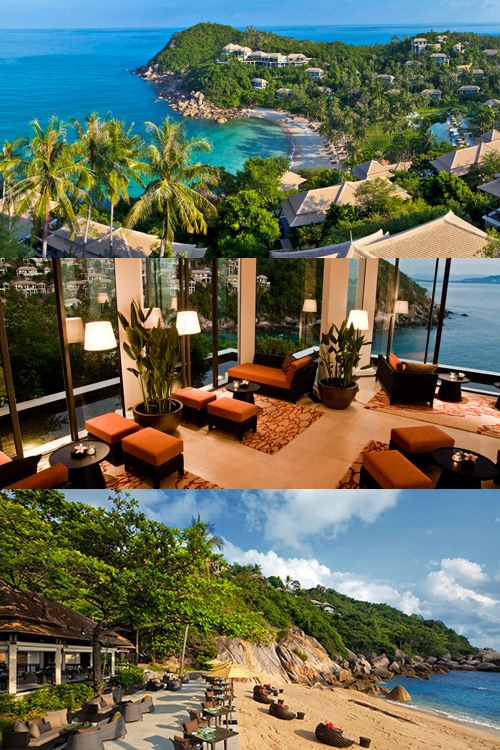 Banyan Tree—a name that conjures up a dream-like imagery of luxury pool villas, exotic locales, friendly smiles, impeccable services and luxury vacations. I have always wanted to stay in Banyan Tree, any Banyan Tree. Having read so much about Banyan Tree and its exquisite collections of boutique resorts, residences and spas, I told myself that I would one day bring myself to its Sanctuary of the Senses to rest and relax, to be pampered, and also to scout for worthy resorts for my travel and leisure clients. Together with my son Baby G, I made my dream come true during my annual year-end break in Asia few months back. I bought us a ticket to the paradise island of Koh Samui and checked ourselves into Banyan Tree Samui. It was truly a paradise. A paradise on earth.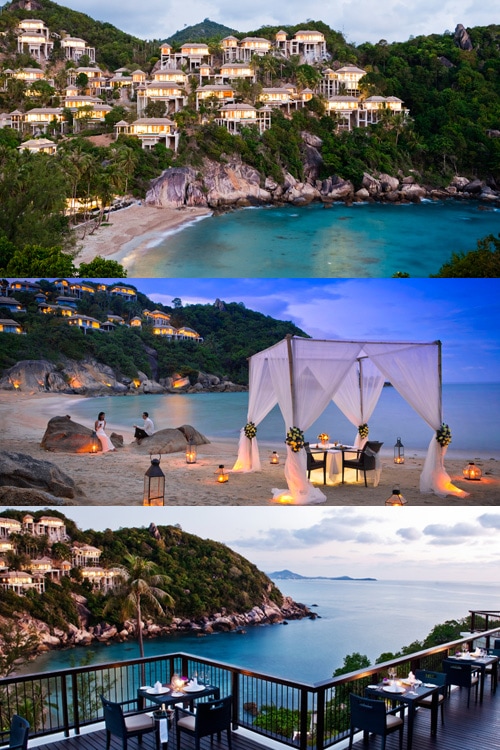 Since its opening in July 2010, Banyan Tree Samui has blazed the pages of major travel and lifestyle magazines and has received rave reviews from travellers around the world. I was immediately sold on all the publicity just as soon as our taxi arrived at the entrance of the property. I fell instantly in love with the commanding view of the picturesque Lamai Bay from the reception area where we had our welcoming drinks. Taking in the view of cascading terraces dotted with the villas as the backdrop against the cobalt blue sea, I could not help but gasped under my breath, "Hea-ven!" At that moment, I fully understood why so many others fell under the spell of Banyan Tree Samui.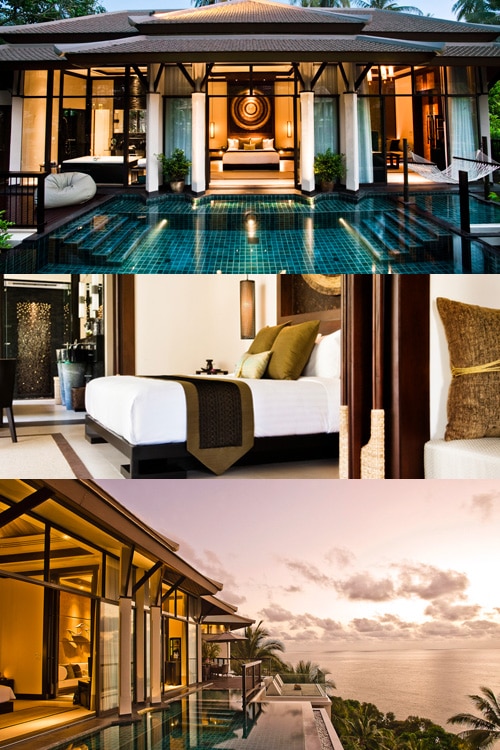 Banyan Tree Samui is especially special to me as it captured Baby G's two firsts. Here in Banyan Tree Samui, he had his first every golf buggy ride. Since the resort covers a massive area and situated on the hill slope, the main transportation within the resort is via buggy. We were taken on a buggy ride from the reception to our Deluxe Pool Villa. It was an adventure of another kind, especially for the very excited Baby G. Little did he know that his second first awaited him at our villa. He had a pool all to himself, the first time! Can you imagine how happy my little man was? And when the baby was happy, the mom was happier because it was a precursor to a joyful, peaceful and blissful stay for both mother and son.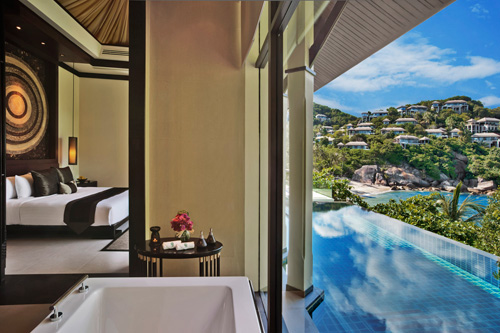 Keeping synonymous with the philosophy of Banyan Tree, the finer details of luxury, class and comfort are looked into and gracefully accentuated in the premise and the services of Banyan Tree Samui. The Deluxe Pool Villa we stayed in was not only spacious but also aesthetically decorated to honor the traditionally Thai design with contemporary concepts. Rattan and bamboo furniture can never be so classy and refined as showcased by Banyan Tree Samui. The aura of class and refinement that exude from every corner of our villa—crisp white bedding, multi-room audio, mosaic-tiled shower, signature hair and body care toiletries, etc.—are indescribably and very uniquely Banyan Tree. Lying on the soft and plush king-sized bed, I looked up to the ceiling adorned with beautiful silk ceiling drapes. No ceiling in any hotels has such fine details and immaculate workmanship. I also adored the layout of the villa; brilliantly partitioned to three separate sections by sliding wooden doors: sitting area, sleeping area, and shower/vanity area. And it would be unforgivable to not fully appreciate what the villa had for us. So we spent most of our time in the comfort of our villa, with Baby G keeping himself merry in the pool while I kept myself busy with soaking in the tropical breeze and taking in the lush green view from our pool. I never knew that watching the swaying palms and coconut fronds from our pool could be so therapeutic. We also made full use of our daybed (the BIGGEST I've ever seen) which provided ample space for Baby G with his toys and iPad, and me lying down, rolling about, reading and sky-gazing. Ahhh. Good times.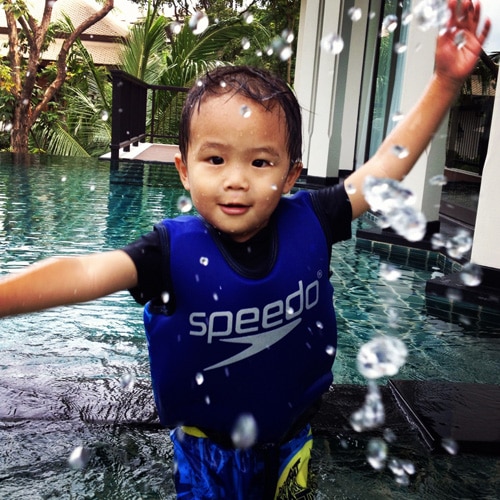 Apart from accommodation, I was also highly impressed by the scrumptious Thai buffet dinner at Saffron, the signature restaurant of Banyan Tree Samui which serves traditional Thai dishes with a modern twist. Set on the highest point of Banyan Tree Samui, we were sitting outdoor under the twinkles of so many stars while we savored the full spread and taste of the buffet—tom yum goong, som tam, fish and prawn cakes, pandan leaf chicken, Pad Thai, creamy curries, and so much more. All the dishes were comparable to fine dining. Even the food snob in me had to admit that it was the best Thai food we had in Koh Samui.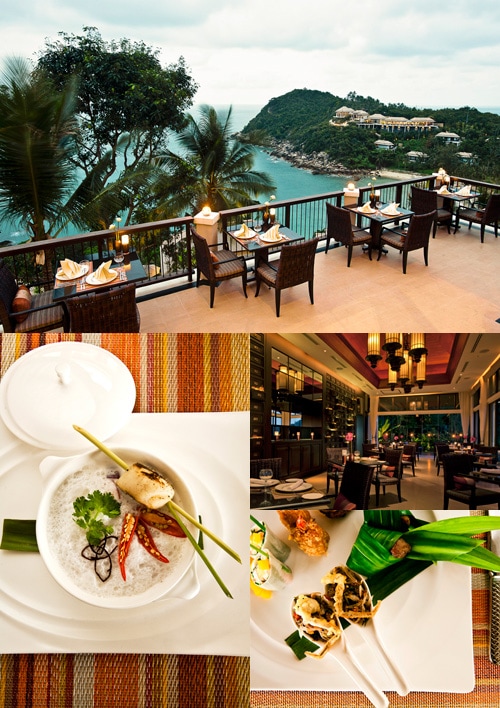 My adventure of the senses was taken to its climax by the Rainforest Indulgence, the signature hydrotherapy spa treatment I experienced at the Banyan Tree Spa Samui. The Rainforest treatment indulges your senses and rejuvenates your skin with Rain Walk (a walk through cascading shower), Steam, Rasul, Sauna, Bucket Drench Shower, Ice Fountain, Swiss Shower and Vitality Pool. What an extraordinary spa experience and I came out feeling completely refreshed and revitalized; body, mind and soul. It is a must-try and must-do at Banyan Tree Samui, trust me. It's a treatment you don't get anywhere else!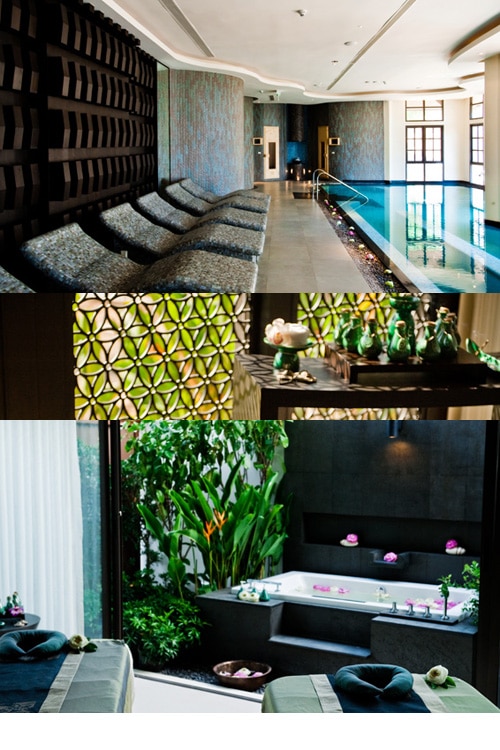 My stay at Banyan Tree Samui has proven to me why year after year, Banyan Tree snags the title of Asia's Leading Luxury Resort Brand. The attentiveness of the staff was subtle yet utterly thoughtful. They did not only leave freshly baked cookies and pecan tartlets in the room at night for Baby G but also a plush turtle for him on the bed. How sweet was that? Such gestures are truly personalized simply because Banyan Tree believes that this is the way things should be.
So this is my story of Banyan Tree Samui, a piece of heaven on earth.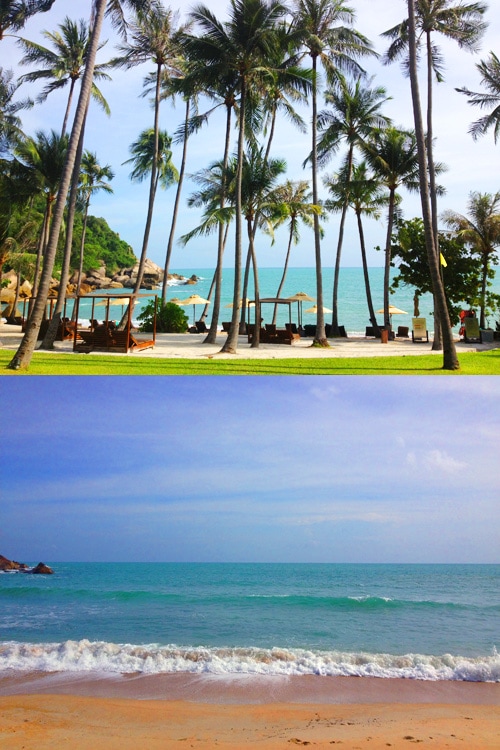 Note: Parents traveling with children who want to soak up the luxury and tranquility that the resort has to offer may like to take advantage of the Kid's Club. Banyan Tree Samui is also a perfect venue for wedding and honeymoon.
BANYAN TREE SAMUI
99/9 Moo 4, Maret,
Samui, Surat Thani 84310
Thailand
Tel: +66 77 915 333
Fax: +66 77 915 388
Email: reservations-samui@banyantree.com
Website: http://www.banyantree.com/en/samui/
SAFFRON
99/9 Moo 4, Maret,
Samui, Surat Thani 84310
Thailand
Tel: +66 77 915 333
Fax: +66 77 915 388
Email: reservations-samui@banyantree.com
Website: http://www.banyantree.com/en/samui/dining/saffron
BANYAN TREE SPA SAMUI
99/9 Moo 4, Maret,
Samui, Surat Thani 84310
Thailand
Tel: +66 77 915 333
Fax: +66 77 915 388
Email: spa-samui@banyantree.com
Website: http://www.banyantree.com/en/samui/ experience_the_resort/spa