Blueberry Scones - soft, crumbly and sweet homemade scones loaded with fresh blueberries. These are perfect with a cup of tea or coffee.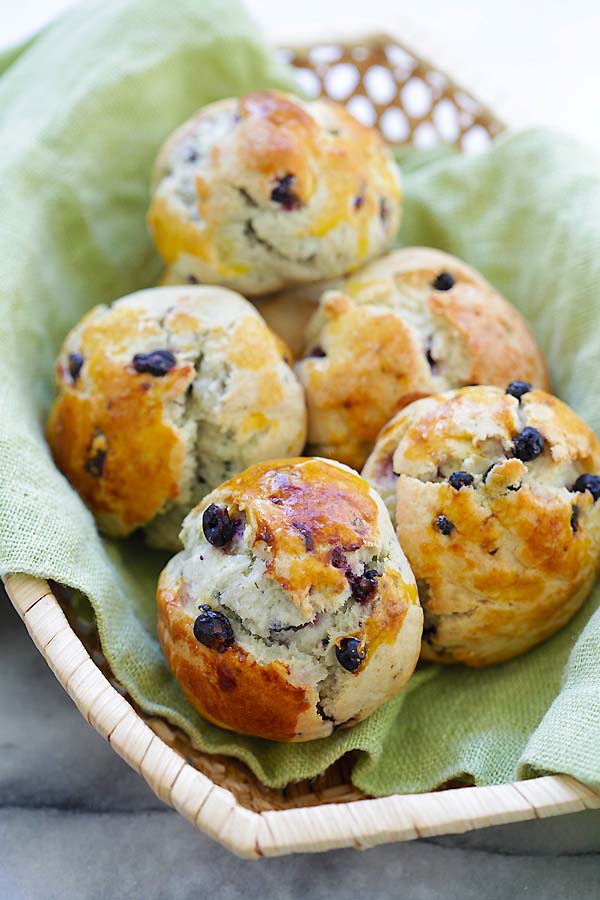 The Best Blueberry Scones
This blueberry scone recipe makes for the perfect treat for afternoon tea.
One of the things I love most is afternoon tea with my favorite cup of tea or coffee, warm and crumbly scones with jam, and a few good friends sitting out on the deck or patio having fun conversations.
The blueberries lend a tiny bit of tartness to the scones, and when pairing with a fruity jam and a cup of tea of coffee, you have the perfect afternoon tea scones!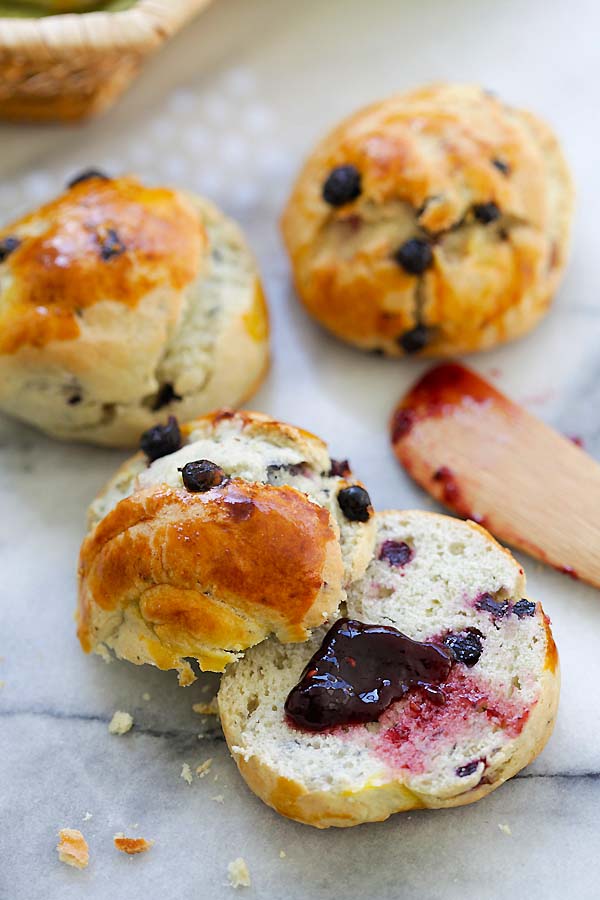 Ingredients for Blueberry Scone Recipe
Flour
Baking powder
Unsalted butter
Milk
Egg
Vanilla extract
Blueberries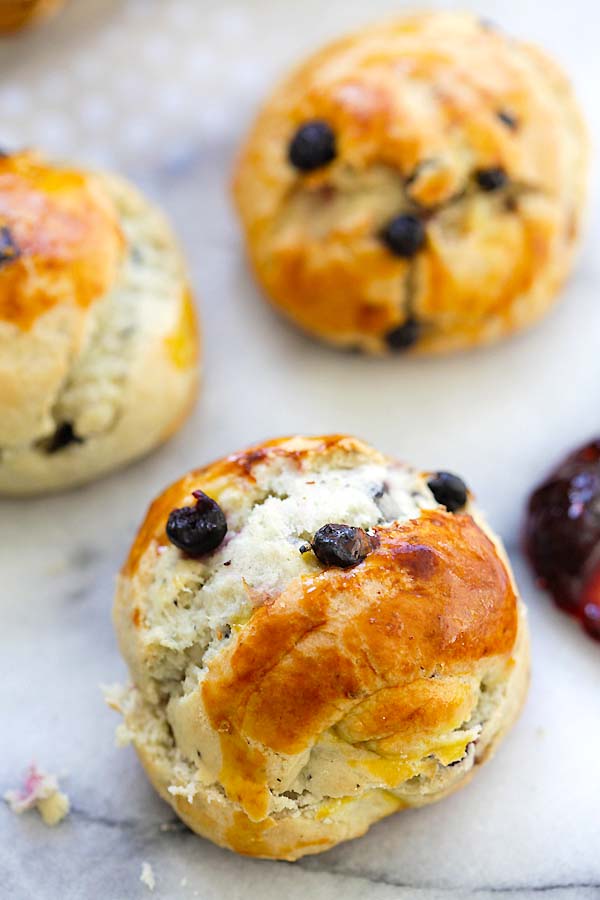 Frequently Asked Questions
Do Scones Have Eggs?
Yes, my recipe contains eggs. This gives them a richer taste.
Why Do My Scones Not Rise?
If you're having trouble with them, make sure that you are using fresh baking powder. Additionally, be sure not to knead the dough too much, and add just the right amount of flour.
Can You Refrigerate Scone Dough Overnight?
Yes, feel free to make the dough the night before, refrigerating it, and baking it in the morning!
How Many Calories?
This recipe has 273 calories per serving.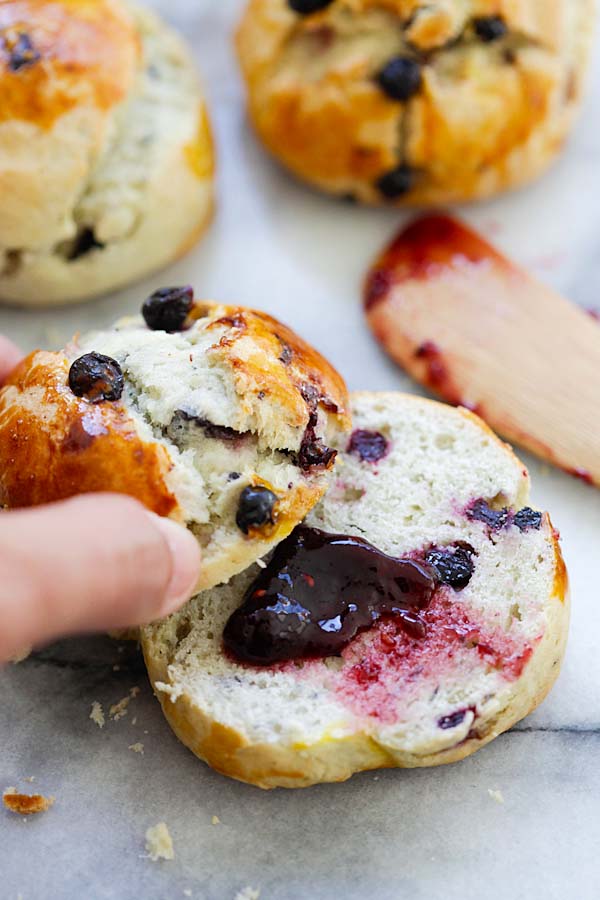 What Dishes to Serve with This Recipe?
This dish is best served with tea or coffee. For a wonderful tea party, I recommend the following recipes.
5 Secrets to 20 Min Dinners
Get tricks for quick & easy meals!
Yield: 8 people
Blueberry Scones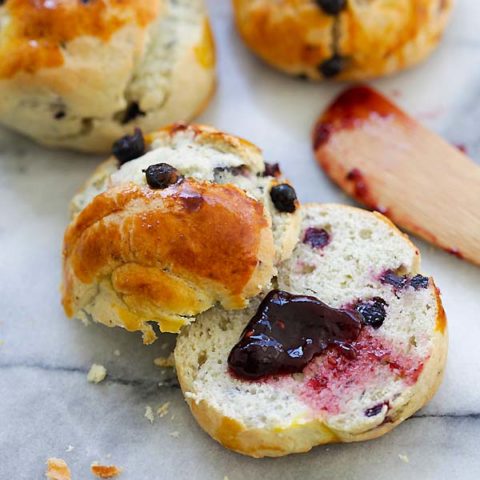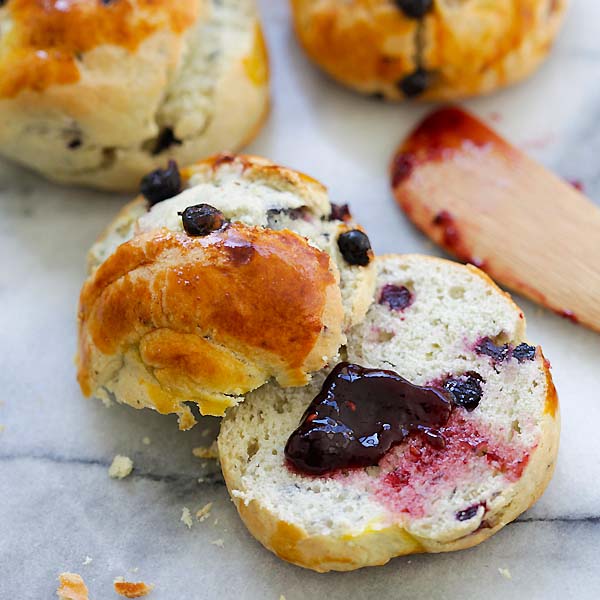 Blueberry Scones – soft, crumbly and sweet homemade scones loaded with fresh blueberries. Perfect as afternoon tea with a cup of tea or coffee.
Ingredients
2 cups all-purpose flour
3 tablespoons sugar
1 tablespoon baking powder
1/4 teaspoon salt
1/2 cup unsalted butter
2/3 cup full milk
1 large egg, beaten
1 teaspoon vanilla extract
1 cup fresh blueberries
1 egg yolk, beaten, for egg wash
Instructions
Pre-heat the oven to 400°F (207°C). Combine the flour, sugar, baking powder, and salt. Add in the butter until mixture resembles coarse crumbs and then follow by the egg and vanilla. Add in the milk slowly. If the dough becomes too sticky, stop adding the milk, instead add a little more flour to form the dough. Stir until the dry ingredients are moistened. Add in the blue berries.
Roll out the dough on floured surface to 3/4-inch thickness. Using a 2-inch round cookie cutter, cut out the scones. Using your hands to smooth out the surface of the scones to make them slightly rounder on the edges. Gather the scraps; re-roll and cut out additional scones. Place the scones on prepared baking sheets, spacing apart.
Brush egg yolk over the tops of the scones. Bake scones until golden brown, about 15-20 minutes. Serve warm.
Notes
If the dough is too sticky, add more flour to the dough.
Nutrition Information
Serving Size
8 people
Amount Per Serving
Calories

273
Total Fat

13g
Saturated Fat

8g
Cholesterol

77mg
Sodium

94mg
Carbohydrates

32g
Fiber

1g
Sugar

7g
Protein

5g