One of the best pasta recipes that takes 20 minutes to make in one pan. Throw all the ingredients in the pan and dinner is ready for the entire family!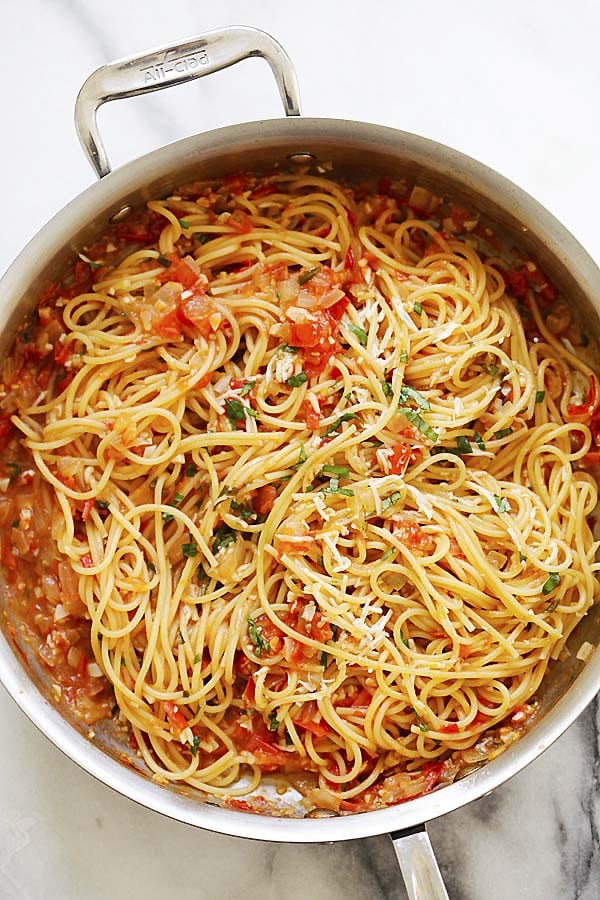 How Do You Cook Pasta and Sauce Together?
One pan pasta recipe is your answer and pasta is the easiest weeknight dinner for the entire family. This recipe will be your life saver as it's so easy and quick.
The pasta is cooked right in the sauce, in your pan, in 20 minutes. This recipe yields delicious pasta as the noodles soak up all the goodness of the ingredients.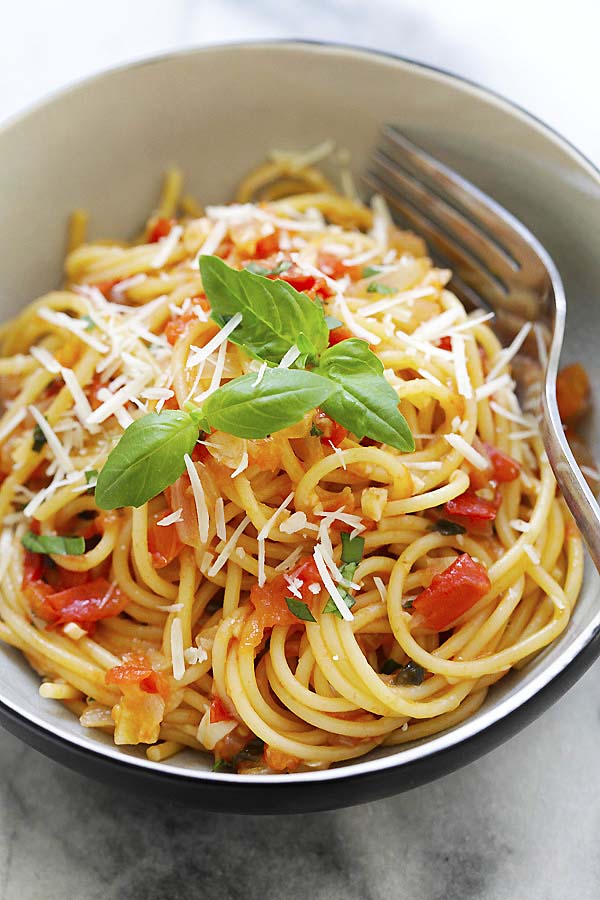 So, how do you actually cook them together? All you have to do is throw all your ingredients: tomatoes, chicken broth, uncooked spaghetti and seasonings into the pan and magic happens! There is one pan to clean up after the meal, making this one of the easiest Italian pasta recipes ever!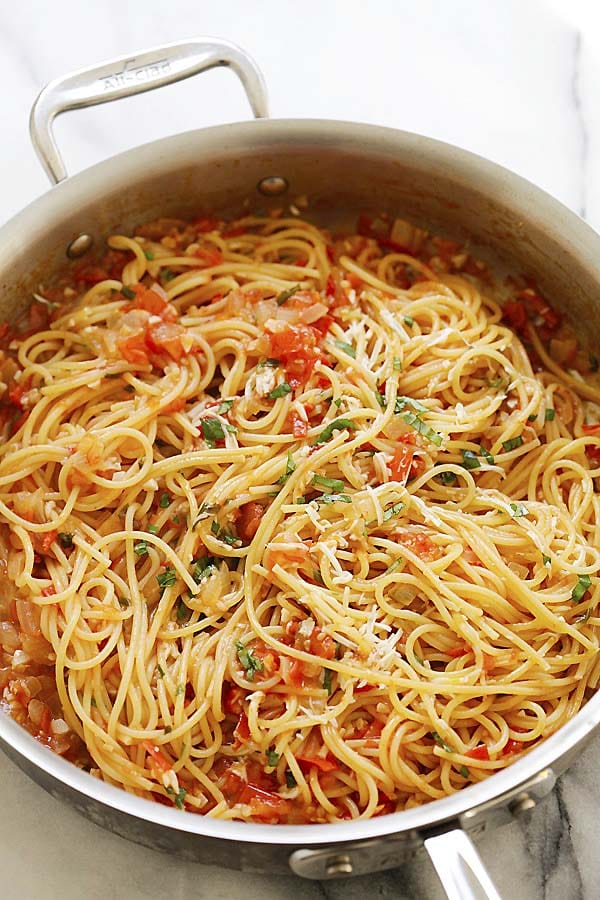 Easy Pasta Recipes You Might Like
Which Pasta is Best for One-Pan Pasta?
You should use spaghetti as the noodles are thinner and they will get cooked evenly in the pan. Angel hair will work well, too, but you might want to cut down the cooking time by 1 minute or so, as you don't want soggy and overcooked pasta.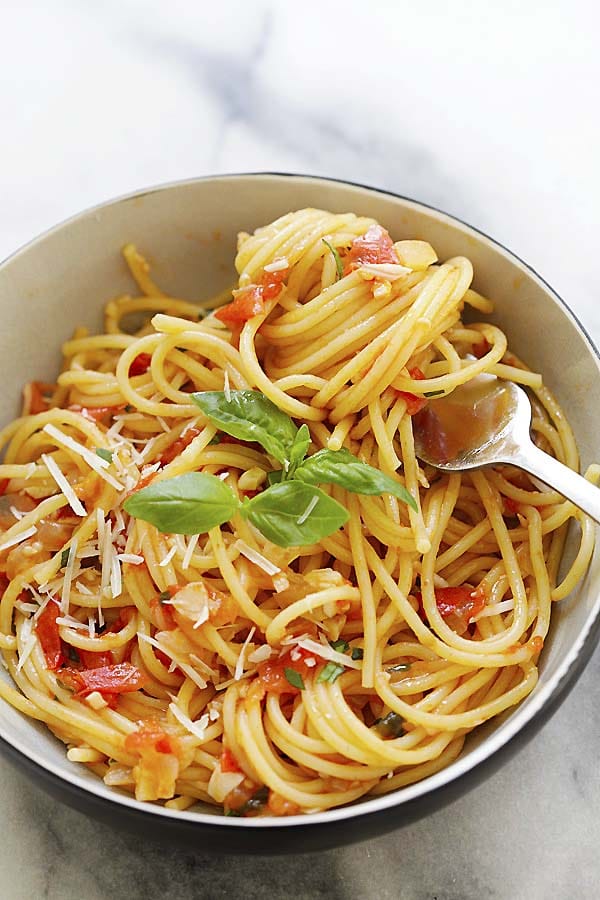 Pan or Pot?
For the cookware, you can use a pot, for example: a Dutch oven, or a wide soup pot. I like to use my skillet for one-pan pasta. For the best results, make sure your cookware is wide enough for the spaghetti noodles.
If not, break the spaghetti into halves so they are covered by the sauce while cooking. If it is too narrow, the pasta will not get cooked properly.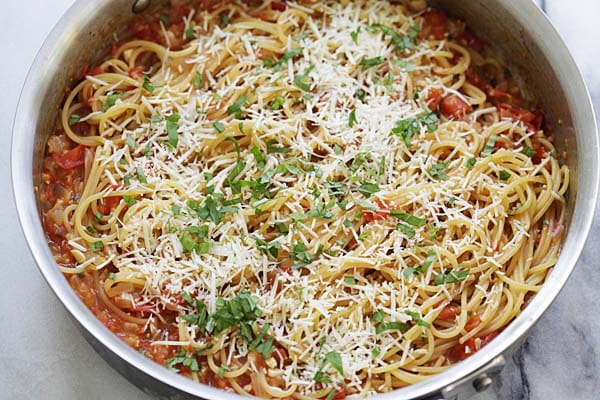 Cook's Tips
As I mentioned above, this is one of the best homemade Italian pasta recipes that is easy, however there are a few tips that I wanted to share with you.
You can use any skillet to try this recipe. To be completely fail-proof, use a non-stick skillet to avoid the dry spaghetti from sticking to the bottom of the skillet.
If you use a regular stainless steel skillet, remember to use the spatula to flip up the spaghetti so they don't stick to the bottom.
Add more chicken broth if the sauce dries up and the spaghetti is not fully cooked.
For tomatoes, I recommend Campari tomatoes as they are juicier, sweeter and less acidic, making the Campari's a top choice for this recipe.
Can You Freeze The Leftover
Trust me, there will be no leftovers, but in case you do, you can just freeze them in the refrigerator.
You have keep them in a plastic container, ziploc bag, or a pasta bowl covered with shrink wrap. To eat, reheat in the microwave for 1 minute.
How Many Calories Per Serving?
This recipe is only 387 calories per serving.
What Dishes to Serve with this Pasta Recipe?
For a wholesome meal and easy weeknight dinner, I recommend the following recipes.
Pairs well with: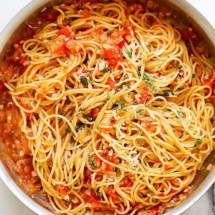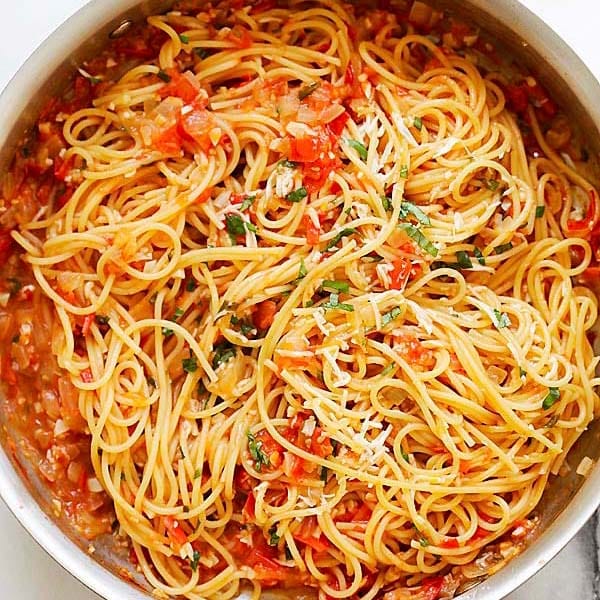 One-Pan Pasta Recipe
Quick and easy pasta recipe that takes less than 20 minutes to make. Throw all the ingredients in the pan and dinner is ready for the entire family!
Ingredients
2

tablespoons

olive oil

1

cup

chopped onion

6

cloves

garlic, minced

14

oz.

fresh tomatoes, diced

2

cups

chicken broth

1

tablespoon

chopped Italian basil

8

oz.

spaghetti

1/4

teaspoon

salt or to taste

1/4

cup

shredded Parmesan cheese

1

tablespoon

chopped Italian parsley
Click Here for Conversion Tool
Directions
Heat oil in a wide skillet, pan or pot over medium heat. Add the onion and garlic, saute 3 minutes or until they start to brown. Add tomatoes, chicken broth, Italian basil and spaghetti. 

Press the spaghetti with a spatula to submerge the pasta in the liquid. If your skillet, pan or pot is not wide enough, break the spaghetti into halves before cooking. Cover with the lid and reduce heat to medium-low. Cook for 8 minutes or until the pasta is al dente. If the pasta is not cooked after 8 minutes, add a little bit more chicken broth, cover the lid and cook for another 1 to 2 minutes.

Uncover the lid and add salt. Turn off the heat and top the pasta with Parmesan cheese and parsley. Serve immediately.
Recipe Notes
You may add shrimp and spinach to the pasta, if you like.
Nutrition Facts
One-Pan Pasta Recipe
Amount Per Serving (4 people)
Calories 387
Calories from Fat 90
% Daily Value*
Fat 10g15%
Cholesterol 3mg1%
Sodium 362mg16%
Potassium 628mg18%
Carbohydrates 59g20%
Protein 17g34%
Vitamin A 960IU19%
Vitamin C 19.3mg23%
Calcium 162mg16%
Iron 2.2mg12%
* Percent Daily Values are based on a 2000 calorie diet.