The best pulled pork recipe using oven and stovetop smoker. This pulled pork is fall-off-the-bone tender, smoky, with homemade dry rub seasonings. So easy and delicious!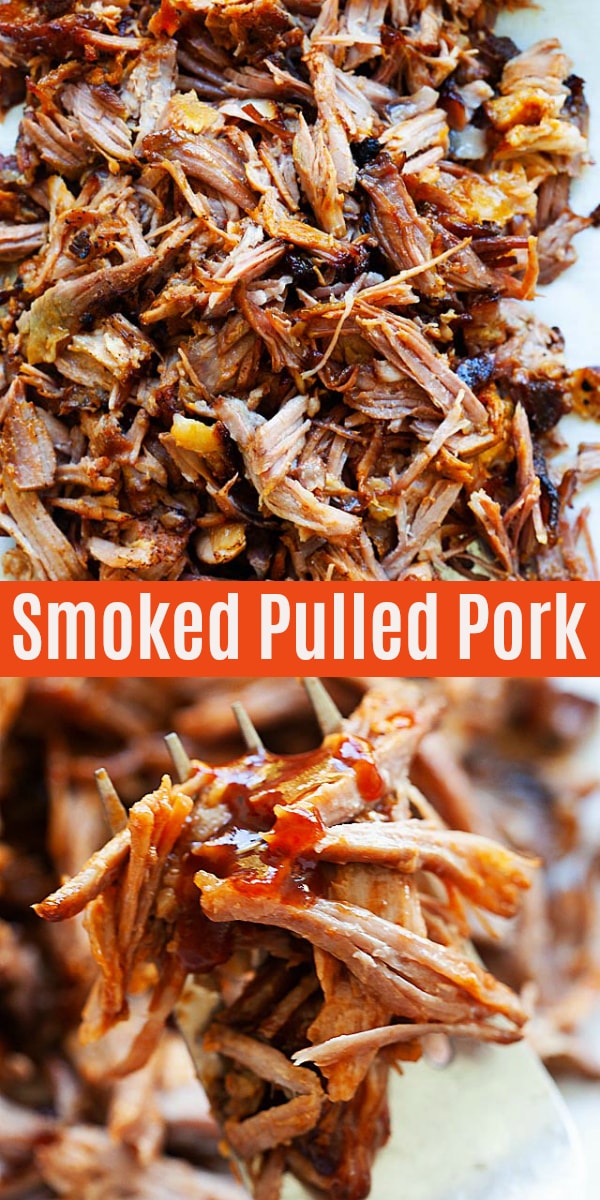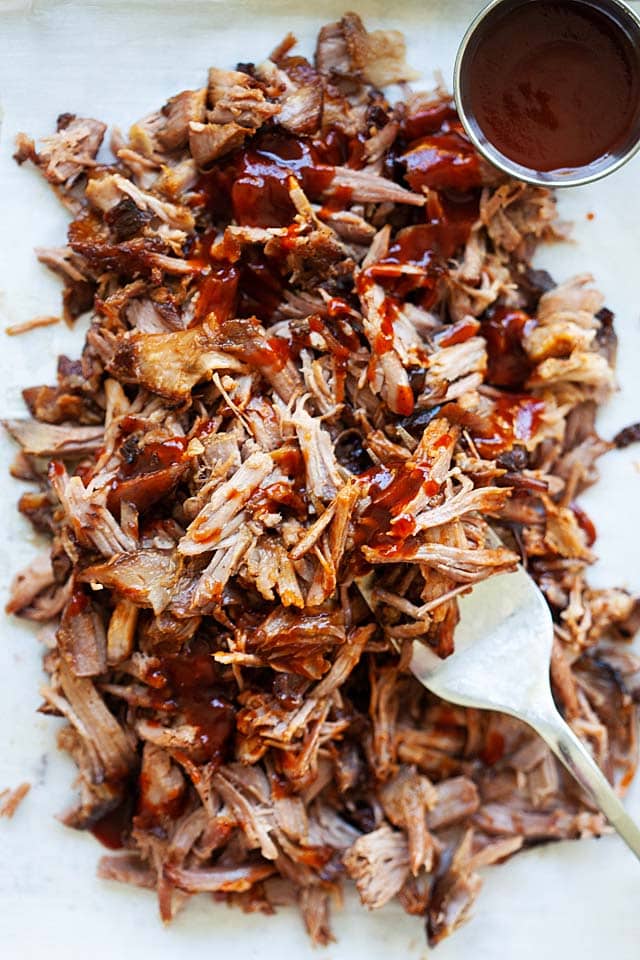 Pulled Pork Recipe
I love pulled pork and I am so excited to share this recipe with you.
This is one of the best pulled pork recipes ever.
It's made in oven, with fall-off-the-bone, tender and juicy meat that is packed full of delicious flavors.
The meat is smoky as I smoked the pork in a stovetop smoker. This recipe so delicious and tastes just like best BBQ restaurants!
This recipe is adapted from my friend Slap Yo Daddy BBQ.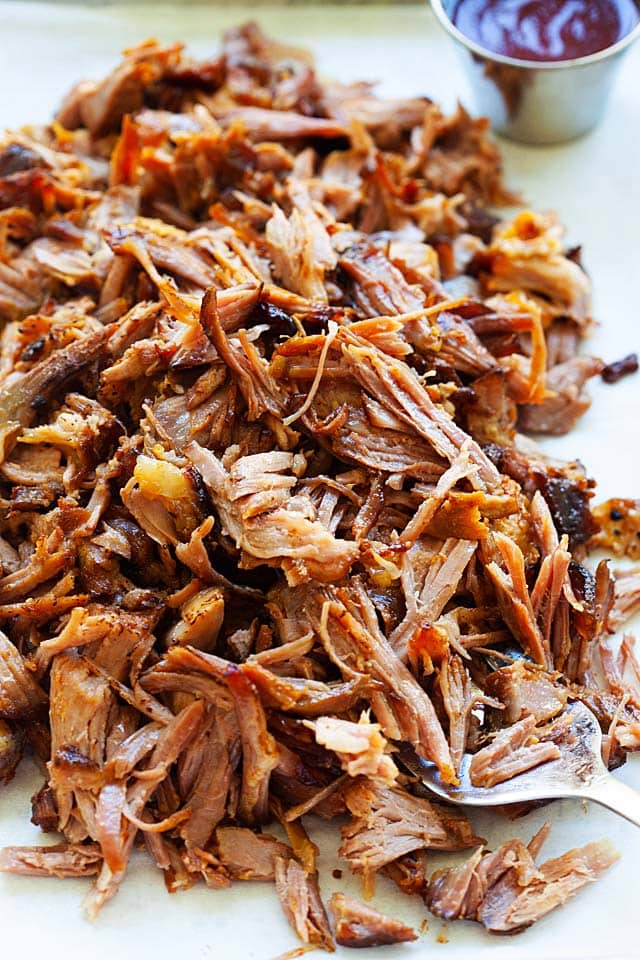 Other Recipes You Might Like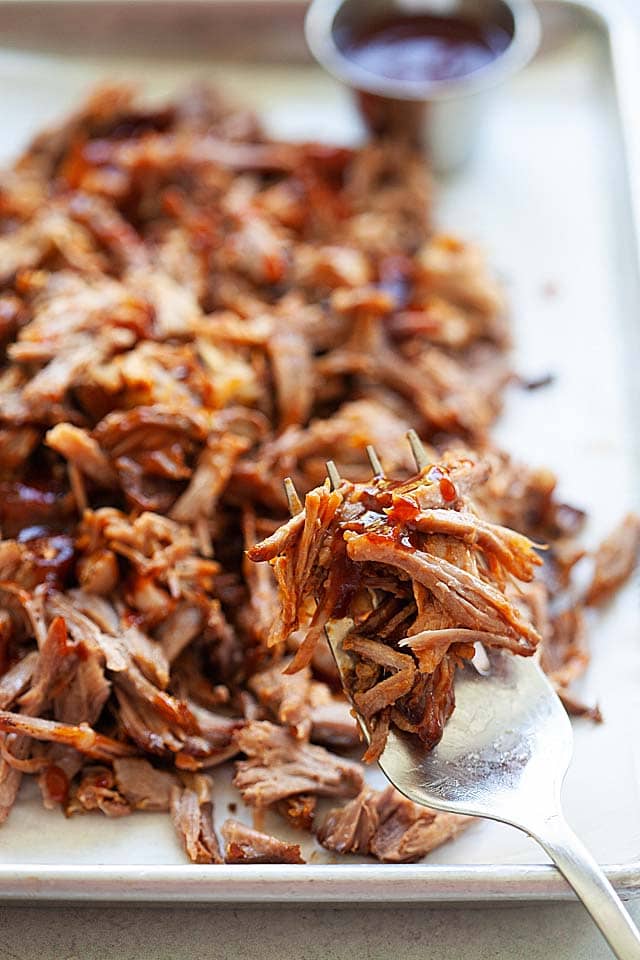 How to Make Pulled Pork?
There are many ways to make pulled pork, for example: crockpot (crock pot) or slow cooker is the easiest method.
You can also use an Instant Pot, oven or a smoker. For this recipe, I used an oven and then smoked it using a stovetop smoker.
Pulled Pork Ingredients:
Bone-in pork shoulder
Apple juice
Apple cider vinegar
Brown sugar
Louisiana hot sauce
Liquid smoke
BBQ sauce
First, I marinated the pork shoulder with dry rub, apple juice, apple cider vinegar, brown sugar, hot sauce and liquid smoke overnight or best for 24 hours.
The next day, I topped the marinated pork shoulder with a bit more dry rub and brown sugar. The pork shoulder should be wrapped tight with a few sheets of aluminum foil.
To make sure that the pulled pork is tender and fall-off-the-bones, it's best to roast it on low heat at 250°F (121°C) for 6 hours.
However, if you don't have much time, you can certainly increase the temperature to 350°F (176°C) and roast for 3 hours.
To serve, shred the pork and serve with BBQ sauce.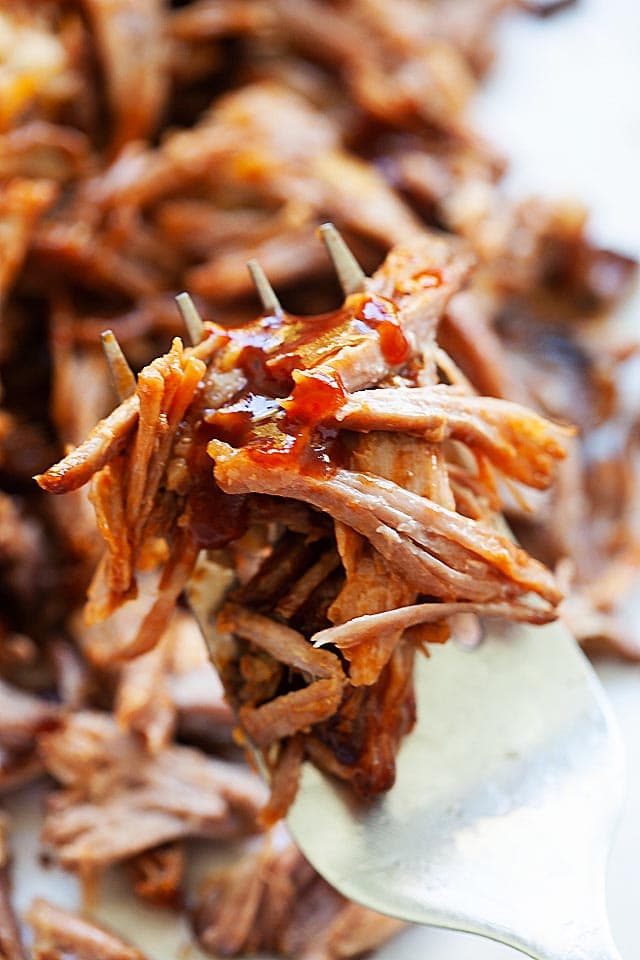 Smoked Pulled Pork
I love smoke pulled pork. If you have an indirect smoker, you are guaranteed to have the best results.
I do not have a smoker but I used an indoor stovetop smoker with great success.
I used oak wood chips to smoke the pork shoulder, but you can use apple wood, hickory wood or a combination of both.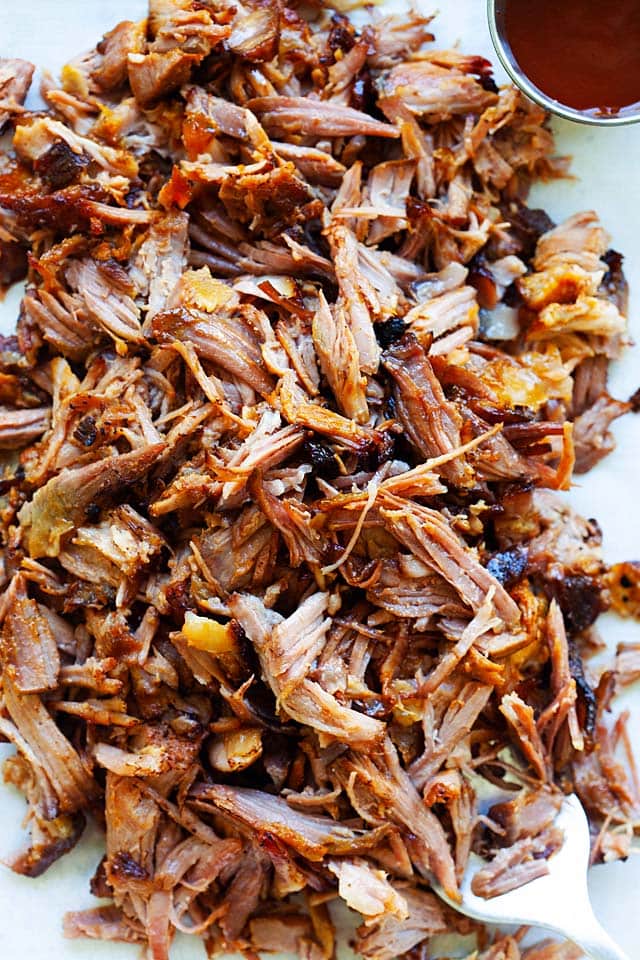 Frequently Asked Questions
Can I Use Boneless Pork Shoulder?
Yes, you can. However, I strongly encourage you to use bone-in pork shoulder.
The bone infuses the pulled pork with extra flavors, making it extremely flavorful.
Can I Use Pork Butt?
Yes. Pork butt is the same as pork shoulder. Technically, it's called the Boston Butt, but it's actually pork shoulder.
How to Serve Pulled Pork?
You can serve the meat as is, with your favorite BBQ sauce.
Other than that, you can make pulled pork sandwiches with burger buns or slider buns. Top the sandwiches with coleslaw and BBQ sauce.
How Many Calories Per Serving?
This recipe is only 587 calories per serving.
What to Serve with this Recipe?
Serve this dish with other side dishes. For a southern-style meal and easy weeknight dinner, I recommend the following recipes.

5 Secrets to 20 Min Dinners
Get tricks for quick & easy meals!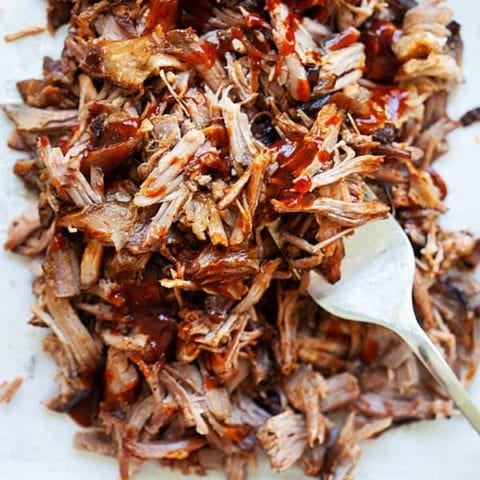 The best pulled pork recipe using oven and stovetop smoker. This pulled pork is fall-off-the-bone tender, smoky, with homemade dry rub seasonings.
Total Time
3 hours
20 minutes
Ingredients
3 lbs. bone-in pork shoulder (pork butt)
1/3 cup homemade dry rub
3/4 cup apple juice
2 tablespoons apple cider vinegar
1/3 cup brown sugar
1 tablespoon Louisiana hot sauce
1 tablespoon liquid smoke
Wrapping:
BBQ Sauce:
1 cup Stubb's® Original Bar-B-Q Sauce
1/4 cup brown sugar
Instructions
Score both sides of the pork shoulder to allow the marinade seasonings to get inside the pork.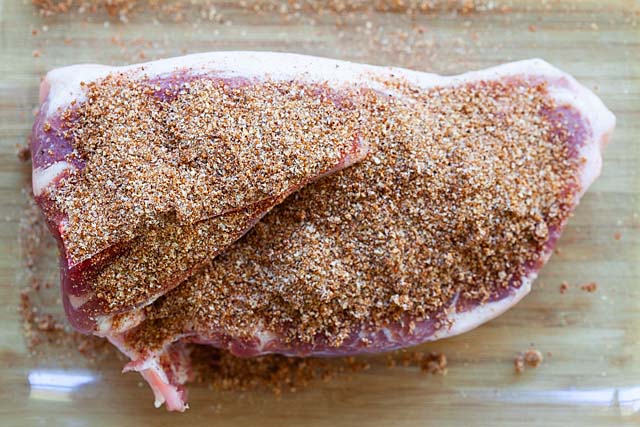 Rub the dry rub all over the pork shoulder and inside the slits.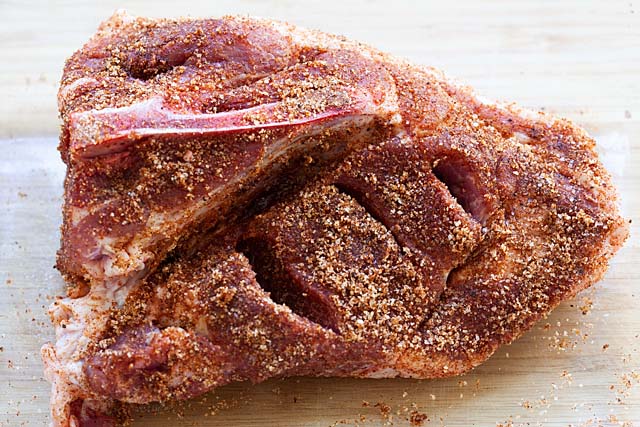 Add apple juice, apple cider vinegar, sugar, hot sauce and liquid smoke. Transfer the pork shoulder and all the liquid marinade inside a plastic bag. Marinate in the refrigerator overnight or best for 24 hours.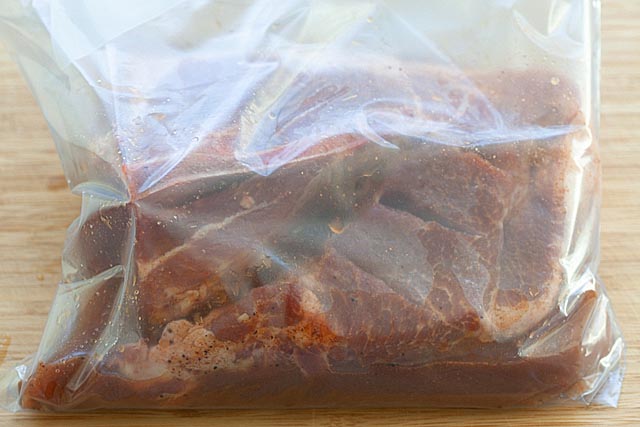 Heat up the oven to 250 degrees F.
Transfer the pork shoulder onto a few sheets of heavy duty aluminum foil. Discard the liquid marinade.
Combine the dry rub and brown sugar in a small bowl and rub all over the pork. Wrap tightly with the aluminum foil. Make sure there is no leakage. Place the pork shoulder in a roasting pan with rack (preferred) or a deep baking pan, with the aluminum foil opening side up. This will prevent the pork jus from leaking out.
Slow roast the pork shoulder in the oven for 6 hours, recommended. (You may bake it at 350 degrees F for 3 hours if you are pressed for time.)
In the meantime, heat up the BBQ sauce in a small sauce pan on low heat. Add the brown sugar, stir to mix well. Set aside.
Remove the pork shoulder from the oven, unwrap the aluminum foil and broil each side of the pork shoulder for 1-2 minutes, or until both sides are slightly charred.
Close off the aluminum oil, set aside and let cool for 30 minutes.
Discard the pork bone, shred and pull the pork with hands or using 2 forks. Reserve every bit of the pork jus inside the aluminum foil or on the roasting pan/baking pan. Spoon the pork jus all over the pulled pork.
How to Make Smoked Pulled Pork?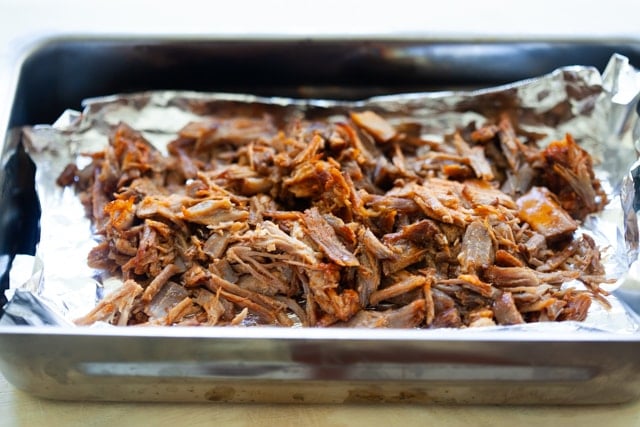 To smoke the pulled pork, heat up a stovetop smoker and add 1 tablespoon of wood chips in the middle of the smoker. Place some pulled pork on aluminum foil. Cover the lid and place the smoker on a burner on medium heat. Smoke for 5 minutes. Remove from heat and remove the pulled pork from the smoker after 10 minutes.
To serve, drizzle the BBQ sauce generously over the pulled pork. To make pulled pork sandwiches, stuff a slider bun or burger bun with pulled pork, top with BBQ sauce and coleslaw.
Nutrition Information
Yield
8
Serving Size
1
Amount Per Serving
Calories

587
Total Fat

37g
Saturated Fat

13g
Trans Fat

0g
Unsaturated Fat

20g
Cholesterol

154mg
Sodium

316mg
Carbohydrates

21g
Fiber

1g
Sugar

20g
Protein

40g