Carrot cake with maple cream cheese frosting. This is the best carrot cake recipe ever, with pineapples and spices. The cake is moist, crumbly, with a sinfully good frosting.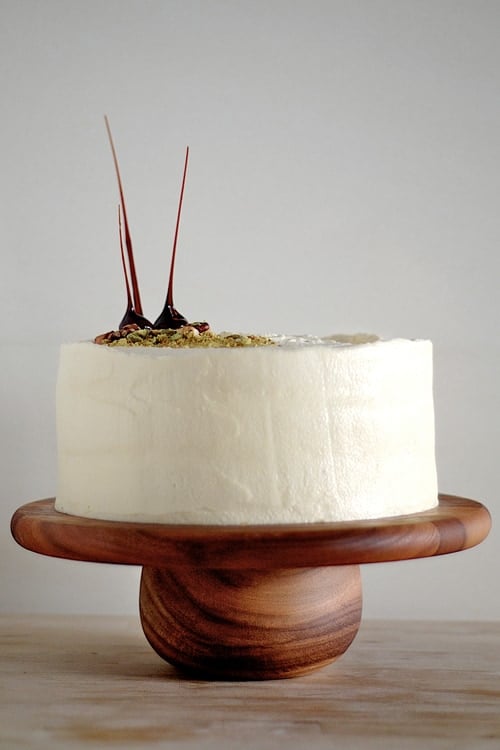 Carrot Cake Recipe
One of my favorite root vegetables is carrot.
I love carrot in my soups, drinks (carrot juice), so it's no surprise that I also love carrot cake.
Even though the idea of adding carrots to a cake is rather unusual, but carrot cake is so delicious!
This carrot cake recipe is from Life is Great. The cake is topped with a rich and decadent maple cream cheese frosting.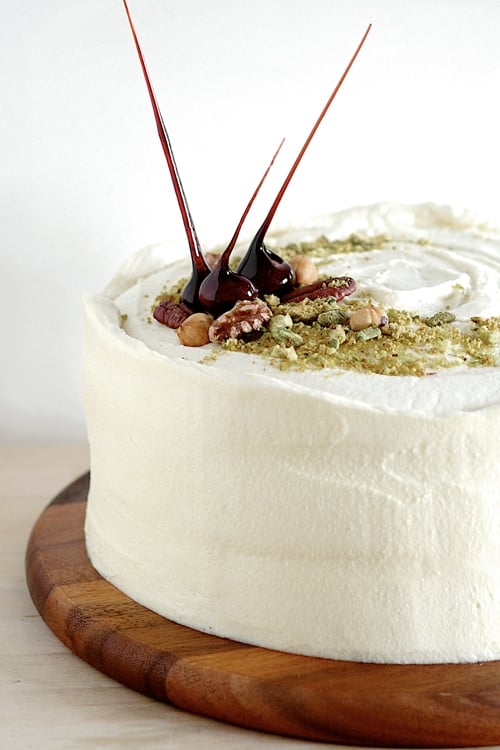 Other Cake Recipes You Might Like
How Many Calories per Serving?
This recipe is only 397 calories per serving.
5 Secrets to 20 Min Dinners
Get tricks for quick & easy meals!
Yield: 24 Slices
Carrot Cake with Maple Cream Cheese Frosting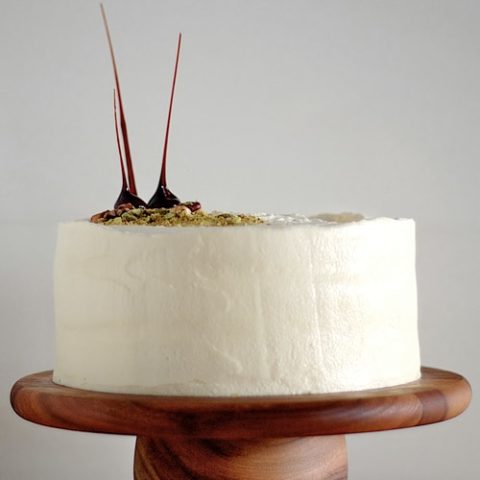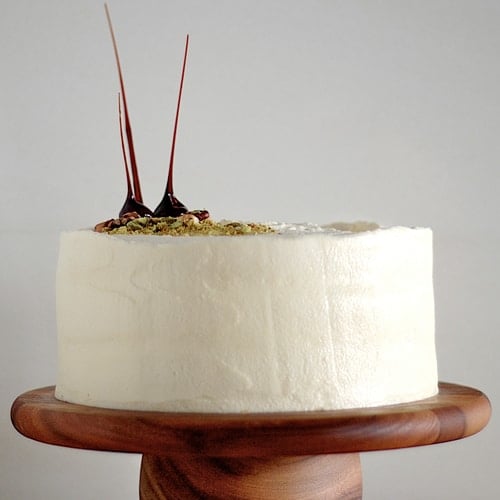 Carrot cake with maple cream cheese frosting. This is the best carrot cake recipe ever, with pineapples and spices. The cake is moist, crumbly, with a sinfully good frosting.
Ingredients
2 cups all-purpose flour
2 teaspoons baking soda
1 teaspoon salt
2 teaspoons ground cinnamon
1/2 teaspoon ground nutmeg
1 teaspoon ground ginger
1 cup granulated sugar
1 cup packed light brown sugar
1 cup canola oil
18 oz. (510 g) can pineapple slices
1 teaspoon vanilla extract
4 large eggs, room temperature
3 cups (650 g) grated peeled carrots, from about 5-6 large carrots
2 inches fresh old ginger, finely grated
1 cups walnuts, optional
1/2 cup raisins, optional
Maple Cream Cheese Frosting:
2 packages (226 g) cream cheese, softened at room temperature
1 stick (113 g) unsalted butter, room temperature
2 cups (230 g) powdered sugar, sifted
1 teaspoon vanilla extract
1 teaspoon ground cinnamon
1/4 cup pure maple syrup
Instructions
Preheat oven to 350°F (180°C /gas mark 4).
For cupcakes: Line 24 cupcake molds (2 12-standard muffin tins) with liners, or butter and flour them.
For layered cakes: Butter two 9-inch-diameter or three 8-inch-diameter cake pans. Line bottom of pans with parchment, butter and flour paper; tap out excess flour.
If using walnuts, lightly roast them on a baking tray or a frying pan, about 4-5 minutes. Leave to cool before processing them finely.
Meanwhile, whisk flour, baking soda, salt, cinnamon, nutmeg and ground ginger in medium bowl to blend. Set aside. Place the pineapple slices in a blender and add some of the juices from the can. Discard excess liquid. Puree until smooth and set aside.
In a separate large bowl, whisk sugars, pineapple puree and oil until well blended. Whisk in eggs, one at a time. Add in the flour mixture and stir until blended. Stir in the vanilla, carrots and fresh ginger. Add in the walnuts and raisins, if using them.
For cupcakes: Divide batter among cupcake molds, filling 3/4 of each. Bake cupcakes 14 to 18 minutes, or until a tester inserted into the center of one comes out clean. Let cool in pans for about 5 minutes. Transfer cakes to a cooling rack. Let cool completely before icing them.
For layered cakes: Divide the batter equally between the prepared pans, and bake the layers for about 30 minutes each for 8-inch cakes or about 40 minutes each for 9-inch cakes; or until a tester inserted into center comes out clean. Cool cake in pan for about 15 minutes. Turn out onto cooling rack. Peel off parchment; cool cake completely before icing.

Maple Cream Cheese Frosting:
In a stand mixer with the paddle attachment, beat all the ingredients on medium speed until fluffy. Chill the frosting for about 20 to 30 minutes or until it has set up enough to spread smoothly and hold its shape.
For cupcakes: Place the maple cream cheese frosting into a piping bag fitted with your tip of choice and pipe onto cooled cupcakes accordingly.
For layered cakes: To assemble a layered cake, with an offset spatula, frost the top of one cake and place the other cake on top. Repeat for a three-layered cake. Frost the sides and top with a thin layer of frosting, chill the cake for about 30-45 minutes. Frost the cake completely to cover and decorate with swirls on the top. Chill cake for at least 30 minutes or till frosting is set. Bring to room temperature before slicing.
Notes
Adapted from Smitten Kitchen.
For a soft batter and a cake with a melt-in-your-mouth crumb, like Smitten Kitchen I grated the carrots by hand with a box cheese grater and like her, I will not lie to you - it takes some elbow grease to get the required 3 cups. You can use the food processor but you will get thicker pieces - take care not to over do it or you will end up with carrot pulp swimming in carrot water. Like most cakes without butter and using oil instead, this is a very moist one so I chilled the cooled layers in the freezer prior to frosting.
Nutrition Information
Yield
24
Serving Size
1
Amount Per Serving
Calories

397
Total Fat

17g
Saturated Fat

5g
Trans Fat

0g
Unsaturated Fat

11g
Cholesterol

48mg
Sodium

250mg
Carbohydrates

62g
Fiber

4g
Sugar

46g
Protein

4g