Cassava is a starchy root. This cassava cake is coated with shredded coconut. It's a Malaysian kuih recipe. It's sweet, dainty and delicious!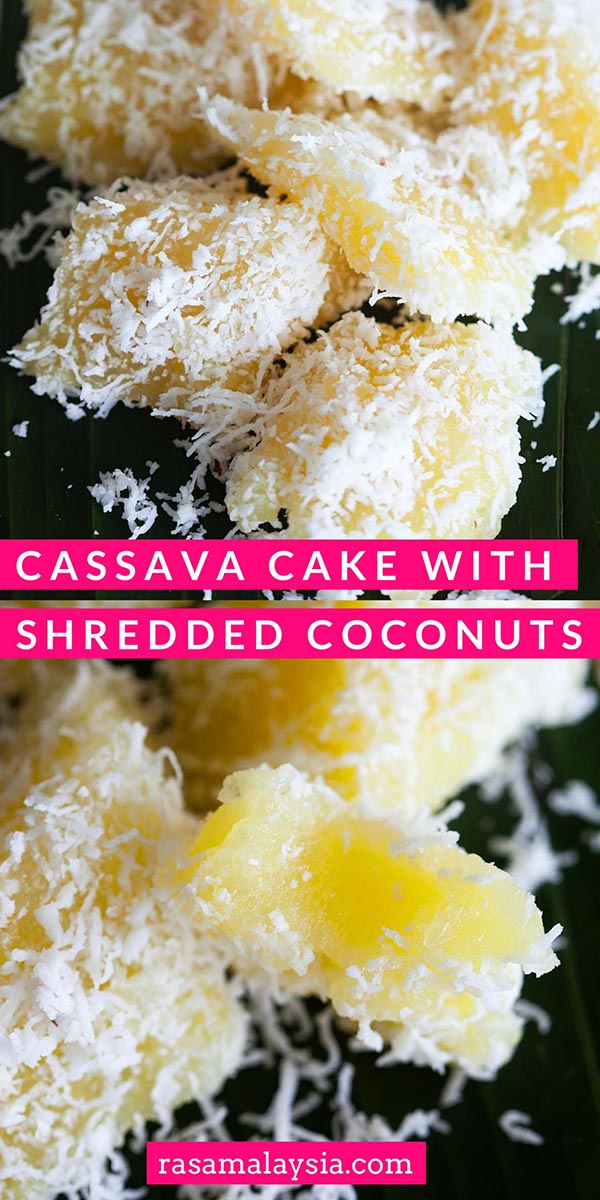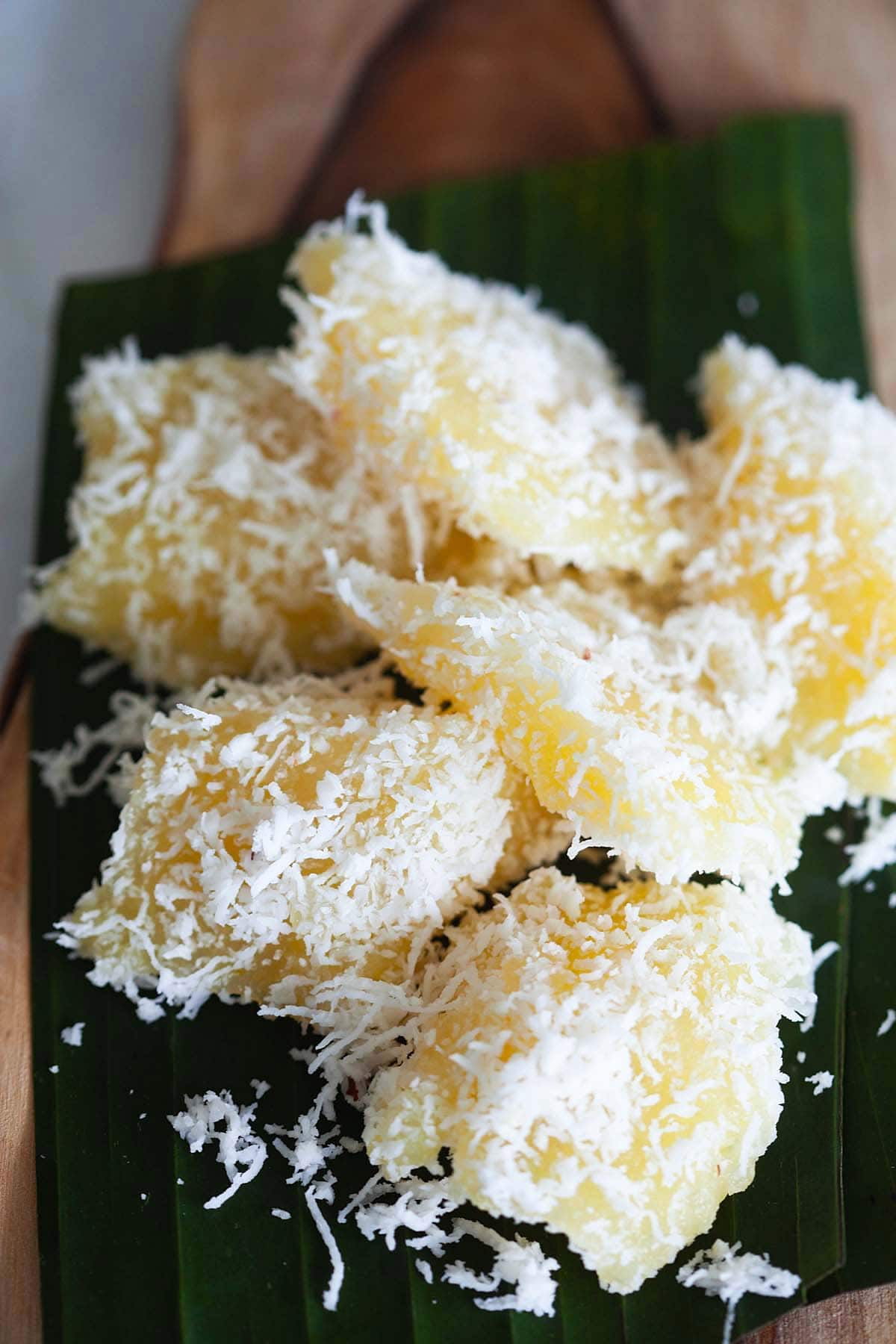 Cassava
What is cassava? It is a woody shrub found in South America, tropical and subtropical regions.
It has an edible root which is starchy, fibrous and packed of carbohydrates. It is called yuca in the United States.
In Southeast Asian countries, for example: Malaysia, it is made into cassava cake. The cake is called "kuih bingka ubi" and great with coffee.
Kuih is a local term for bite-sized sweet cakes and served in the morning or as an after a sweet dessert.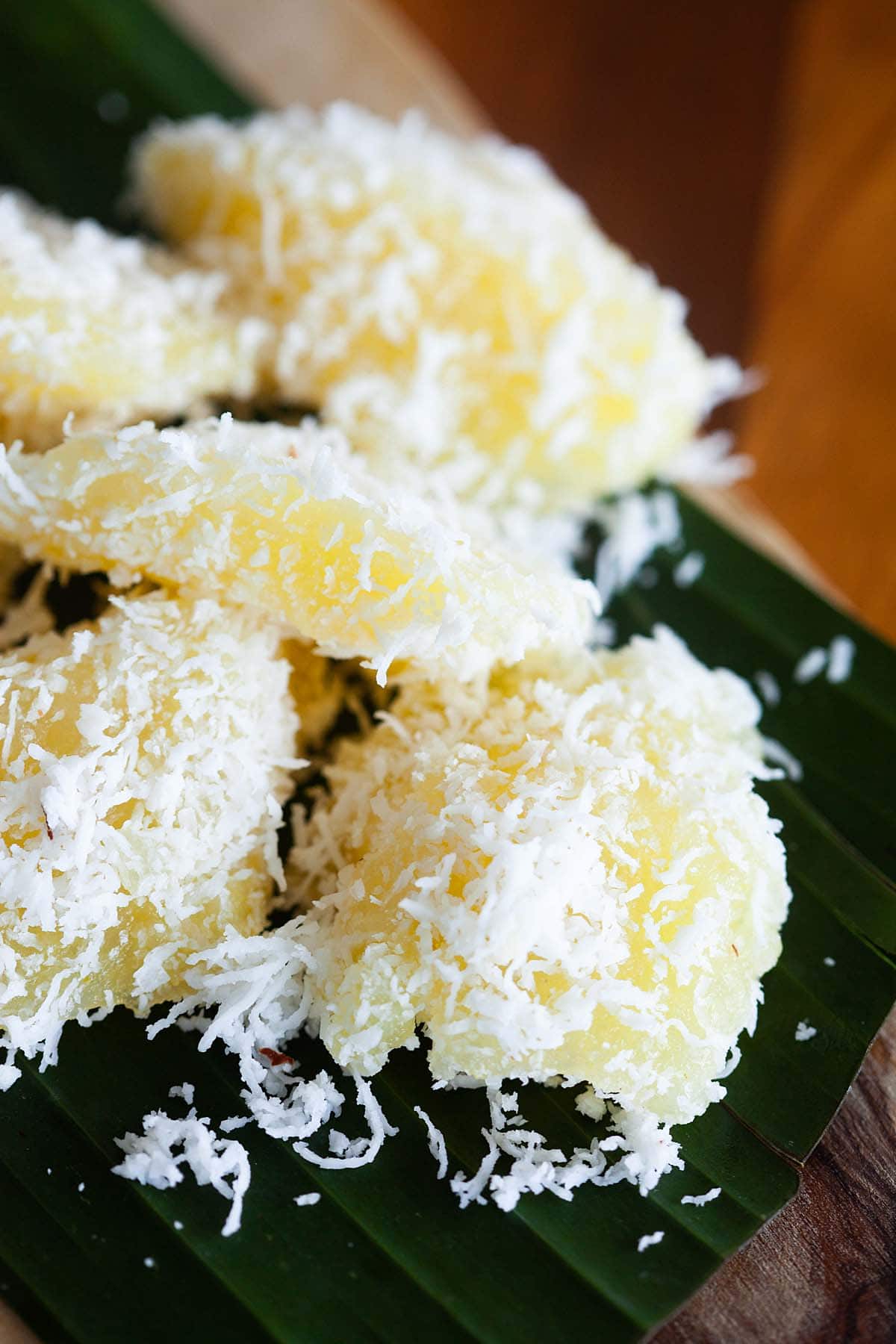 Other Recipes You Might Like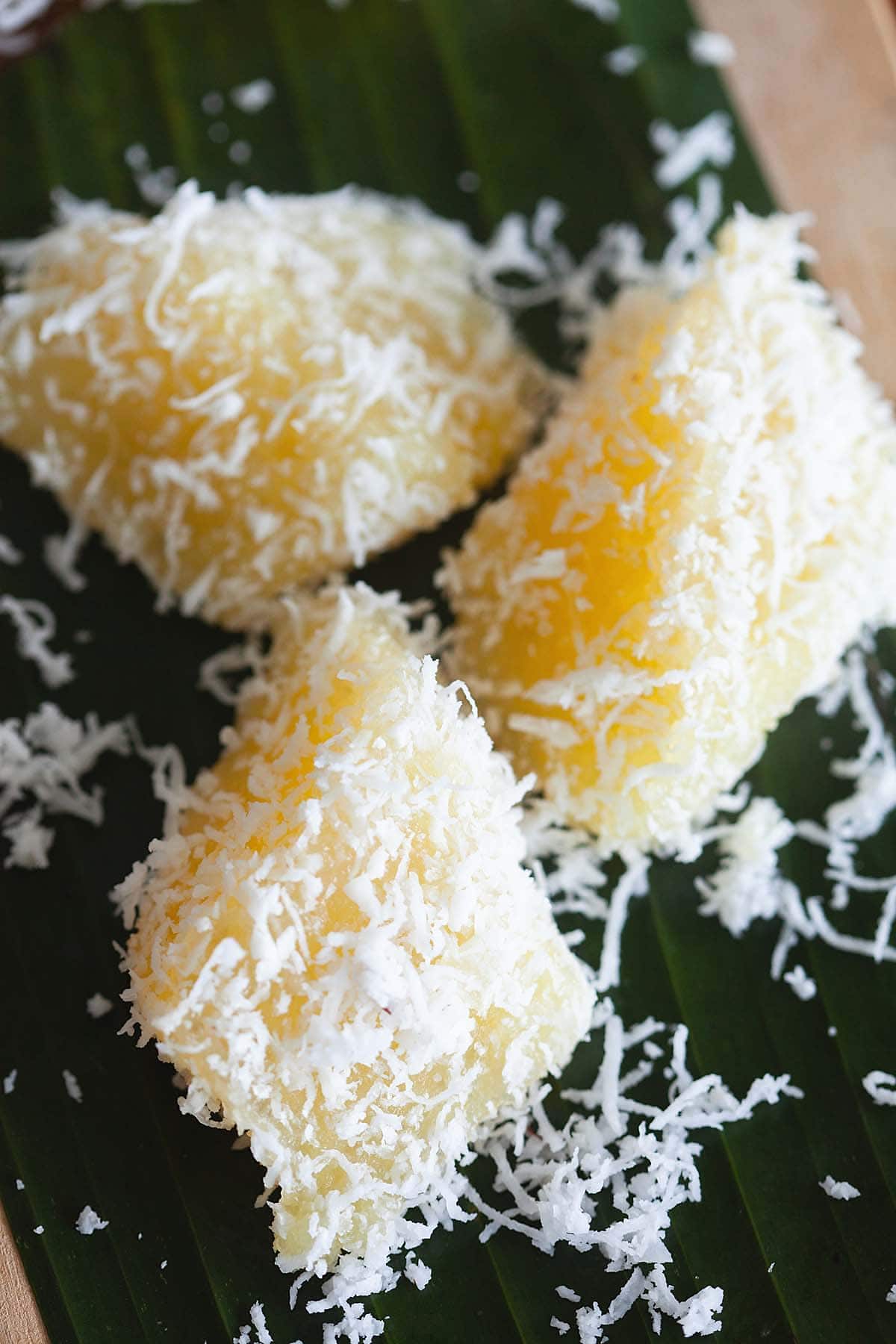 Cassava Cake
This recipe is laborious and takes a long time to make from start to finish.
In the old days, this delicacy is hand made and everything is made from scratch.
In home kitchen, you can make the recipe by mixing grated cassava, sugar, coconut milk, water, potato starch and salt until well combined.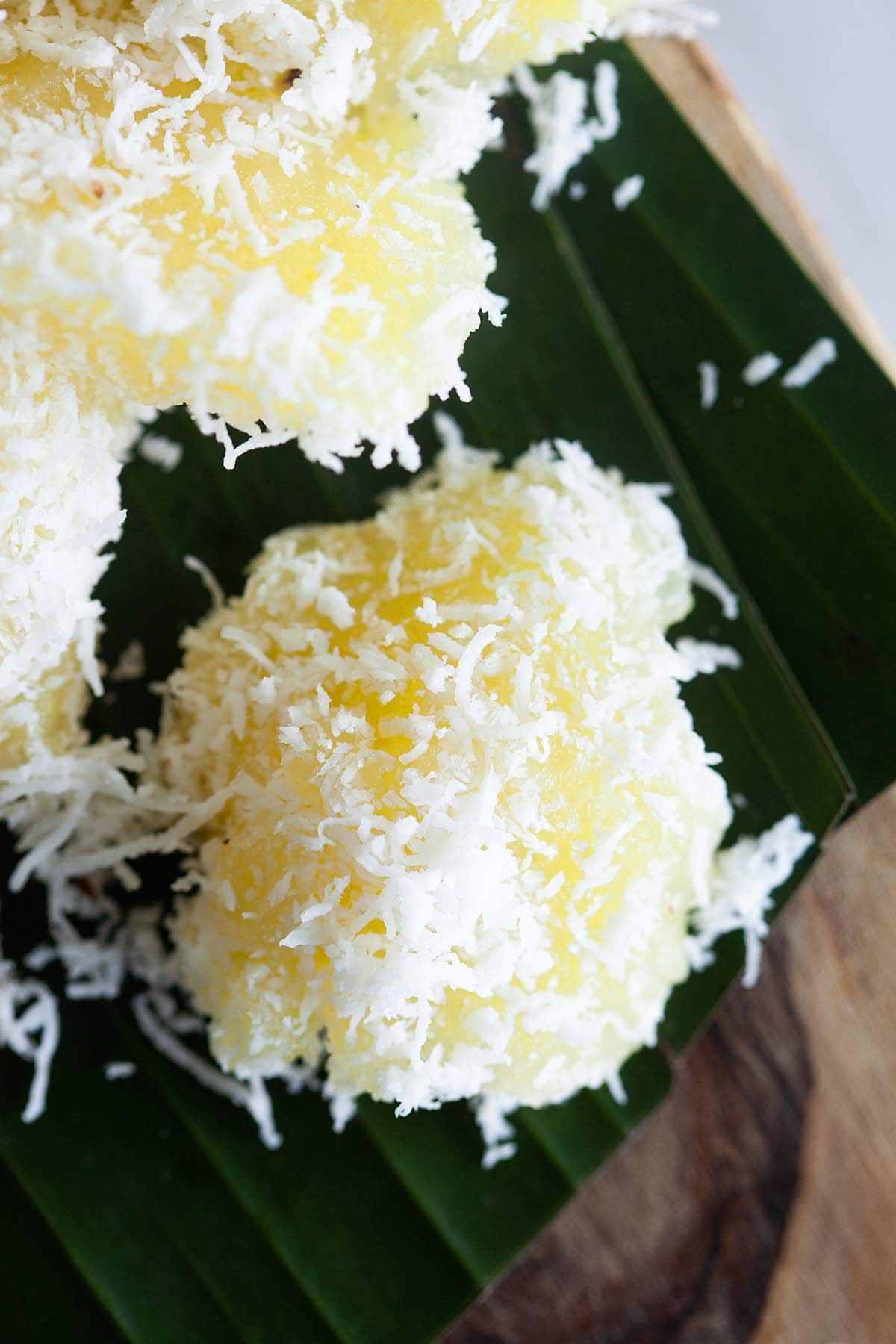 Next, steam the mixture in a steamer until it firms up and cooked.
Finally, cut the cake into bite-sized pieces and coat evenly with the shredded coconut before serving.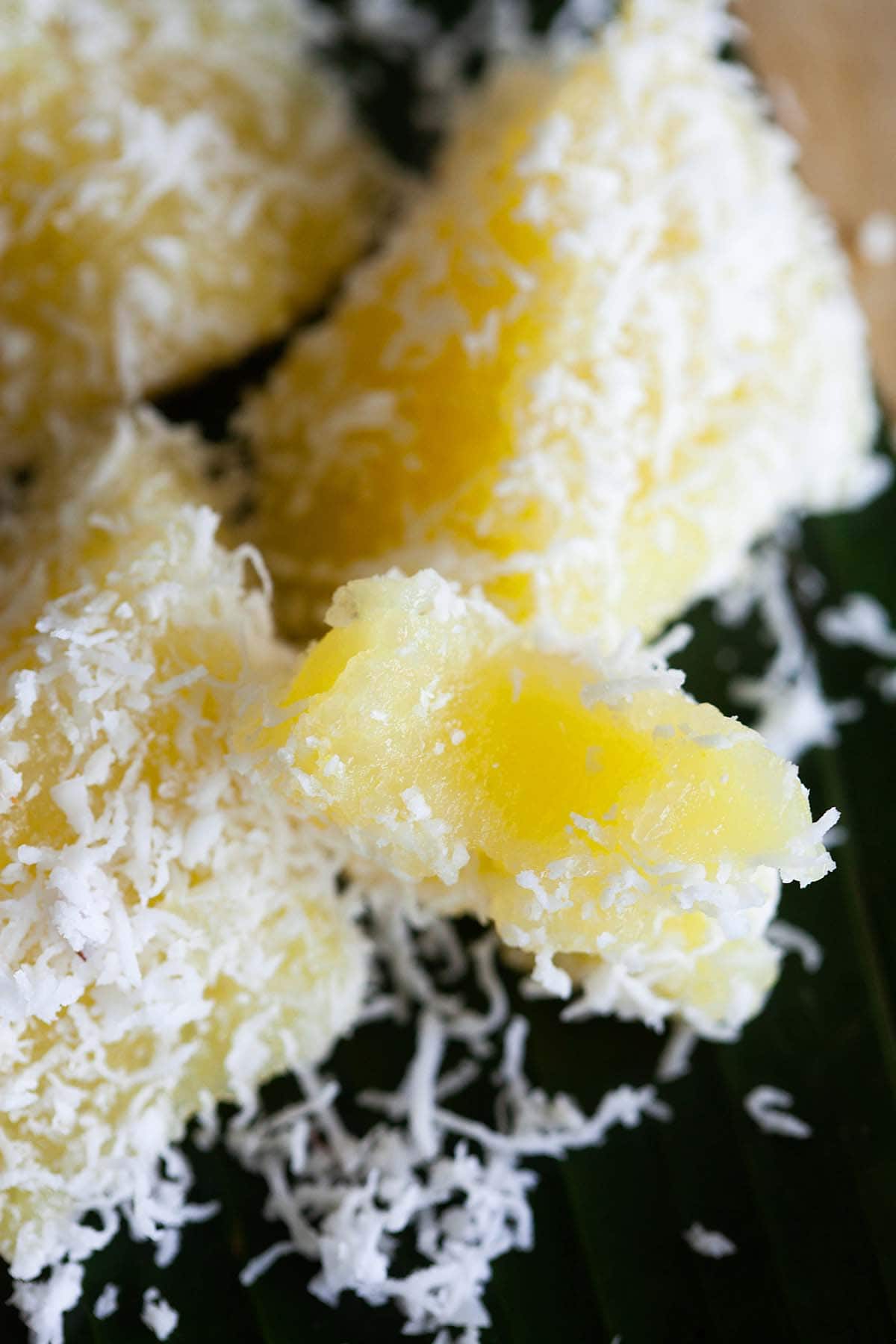 Frequently Asked Questions
Can I Use Cassava Flour to Make This Recipe?
No, the main ingredient is the root. The flour or starch is not a substitute for this recipe.
Recipes of Cassava
You can use the starchy root to make a variety of recipes, for example: chips, bread, tortilla, etc.
Is It Healthy?
The plant and leaves are not edible. The root is edible and healthy. It's a popular ingredient in South America and Southeast Asia.
Where Can I Find Cassava?
In the United States, it's very hard to find fresh cassava. However, you can find frozen cassava in Asian stores.
It is packaged in a plastic bag and grated.
How Many Calories per Serving?
This recipe is only 456 calories per serving.
What to Serve with This Recipe?
There are many types of kuih in Malaysia. If you wish to try making kuih at home, I recommend the following recipes.
5 Secrets to 20 Min Dinners
Get tricks for quick & easy meals!
Yield: 4 people
Cassava Cake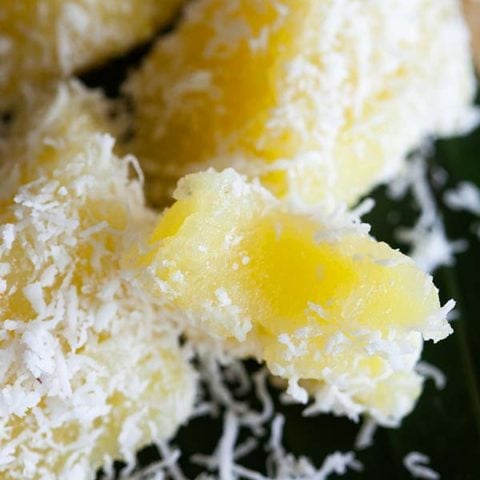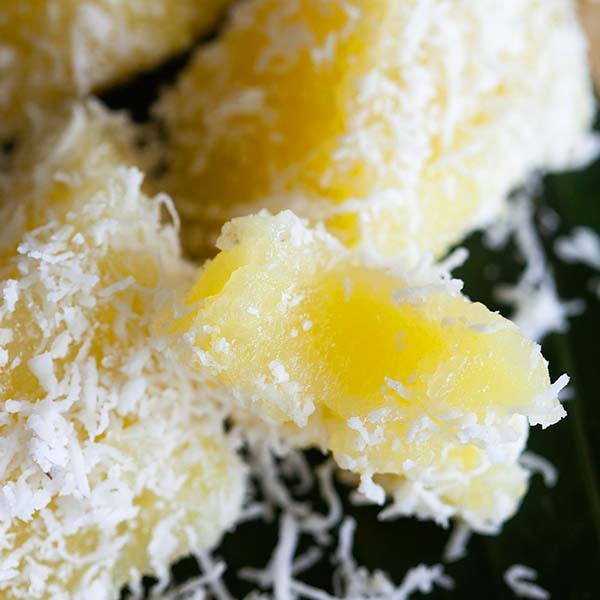 This cassava cake is coated with shredded coconut. It's a Malaysian kuih recipe. It's sweet, dainty and delicious!
Ingredients
3.5 oz. (100 g) shredded coconut
1/8 teaspoons salt
14 oz. (400 g) grated Cassava
3 1/2 oz. (100 g) sugar
4 1/2 oz. (125 g) coconut milk
2 oz. (50 g) water
2 tablespoons potato starch
1 pinch salt
3-4 screwpine, pandan leaves, cut into 4-5" (10-12 cm) length
1 banana leaf, optional
Water, for boiling
Instructions
Heat up the water in a wok/pot big enough for a 6.5" square pan.
Combine the shredded coconut with 1/8 teaspoon salt in a stainless steel dish and steam for 3-4 minutes. Set aside to cool.
Use a food processor to mix the grated cassava, sugar, coconut milk, water, potato starch and pinch of salt until well mixed, about 30-45 seconds.
Pour the mixture into a 6.5" (17 cm) square pan. Level the top of the mixture with the base of a spoon. Layer the screwpine leaves flat on top of the mixture. Steam the cassava mixture for 35-40 minutes on medium heat.
Remove the pan from the streaming tray when it is done. Let it cool completely before cutting. Cut into small squares and toss with the shredded coconut before serving.
Serve Steamed Cassava with Shredded Coconut on the banana leaf, optional.
Notes
You can use frozen grated cassava if you can't find fresh cassava. If using frozen cassava, squeeze out the liquid from the defrosted grated cassava before use. This recipe calls for fresh shredded coconut or frozen shredded coconut (can be found at the frozen section at Asian grocery stores). Dry shredded coconut doesn't work well for this recipe. You can use a round pan instead of square.
Nutrition Information
Yield
4
Serving Size
4
Amount Per Serving
Calories

1681
Total Fat

28g
Saturated Fat

23g
Trans Fat

0g
Unsaturated Fat

4g
Cholesterol

22mg
Sodium

559mg
Carbohydrates

338g
Fiber

21g
Sugar

43g
Protein

22g