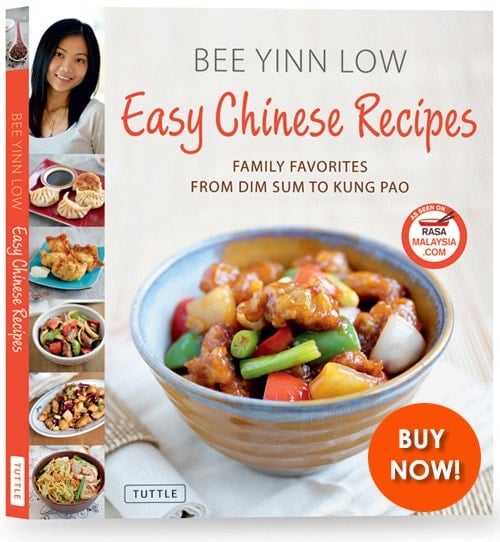 I am extremely thrilled to announce that my first cookbook "Easy Chinese Recipes" is now available WORLDWIDE (scroll down to see where you can buy a copy of my cookbook) and on Amazon.
It's been a long journey from the moment I signed the book deal, two years ago precisely. It was a lot of hard work and dedication as I cooked, styled, photographed, and wrote the entire cookbook while I was pregnant. Check out the above promo video to learn more about the cookbook.
The book is a compilation of 80+ easy Chinese recipes: popular Chinese take-outs in the United States, classic Chinatown dishes, restaurant-style recipes, and family favorites. Every recipe is graced with a color photo and many of them have step-by-step picture guide. Most importantly, all recipes are super easy, authentic, and deliver amazingly delicious results. Easy Chinese Recipes is a cookbook that you want to have in your kitchen—it's filled with everyday recipes that you can refer to on a daily basis.
[xyz-ihs snippet="2nd-page-before-content-position"]
PRESS AND REVIEWS
"What a gorgeous, heartfelt, fun, and inspiring book! From pot stickers, roast pork, steamed fish, original chow mein, and much more, Bee Yinn Low demystifies one of the world's greatest cuisines through this amazing trove of utterly authentic yet accessible recipes. If you love Chinese food, you must—and I mean must—own this book." — Harris Salat, food writer and coauthor of The Japanese Grill
"Easy Chinese Recipes is a clear guide to help you cook Chinese for your family and friends. Bee Yinn Low is a multi-talented writer and cook, and her easy to follow recipes along with her own beautiful photography makes this a book you will reach for over and over again."— Robert Danhi, author & photographer of Southeast Asian Flavors
"This book gushes with Bee Yinn Low's enthusiasm for pursuing and preparing tasty Chinese food." — Andrea Nguyen, author of Into the Vietnamese Kitchen and Asian Dumplings
"I'm extremely thrilled that you're holding this cookbook, because that means you'll be discovering the secrets to authentic Chinese home cooking." — Jaden Hair, author of The Steamy Kitchen Cookbook
EASY CHINESE RECIPES COOKBOOK REVIEWS & PRESS MENTIONS

LA Weekly, Oct 28, 2011: Review
Tampa Tribune, September 13, 2011: Recipe Lost and Found: Shrimp Fried Rice

Library Journal, September 15, 2011: Review
Babble.com, September 28, 2011: Easy Chinese Recipes: Sweet and Sour Pork & Giveaway
Yummly.com, October 13, 2011: Simple Egg Drop Soup
DavidLebovitz.com, December 5, 2011: Favorite Cookbooks of 2011
World Journal 世界日报, Sept 18, 2011: Interview
Examiner, September 9, 2011: Rasa Malaysia Food Blogger Releases New Cookbook
The Orange County Register, September 2, 2011: Popular Irvine Blogger to Release Cookbook
Audrey Magazine, Fall 2011: Review
Flavours Magazine, September/October, 2011: Review
Menuism, September, 2011: Interview
Travel & Leisure Southeast Asia, September 2011: Insider Books

Style Magazine, Singapore, August 2011: Review
The Daring Kitchen, September 2011: Review
Glow Magazine, October 2011, Malaysia: Review
Lifewise Magazine, September-October 2011, Singapore: Feature
Dine Malaysia: Review
OZIP Magazine, Australia, September 2011: Review
Delicious Days, October 6, 2011: Review
Foodspotting, October 4, 2011: Interview
Foodie Crush: Interview
Viet World Kitchen, Andrea Nguyen: Crunchy Shrimp Balls Recipe
Taste and Tell Blog: Cookbook of the Month
La Fujimama: 5 Reasons to Own Easy Chinese Recipes
Page7Seven Magazine, January 2011: Taste Malaysia
RADIO & TV APPEARANCES
Let's Dine Out Show, Oct 22, 2011: Live Interview
Kim and Don Culinary Confessions: Two Sessions Live Interviews
Halo Halo with Kat Iniba, LA18 TV: Cooking Segments
Below is the book stores that sell "Easy Chinese Recipes." If you are in the US, you can BUY NOW ON AMAZON. If your country is not on the list, please leave me a comment and I will get the answer for you.
If you are a fan of Rasa Malaysia or a recipe tester, please spread the news to your friends and family as I strongly believe in good word-of-mouth. If you use social media, feel free to share it on your Facebook and Twitter. Last but not least, do remember to pick up a copy of the cookbook when it's out. Thank you so very much for your continued support!
Online Stores:
Amazon US
Amazon UK
Amazon CA
Book Depository – FREE worldwide shipping!
Australia:
New Zealand:
Borders.co.nz
Circlesoft.net

[xyz-ihs snippet="2nd-page-before-content-position"]
WHERE TO BUY "EASY CHINESE RECIPES"
Malaysia
Kinokuniya (KL), MPH, Popular, Borders, Times.
Singapore
Kinokuniya, Times Newslink, Hudson News, Times, Harris Book Company, Prologue, MPH, and Popular.
Indonesia
Kinokuniya and Periplus bookstores
Thailand
Kinokuniya and Asia Books, Bangkok
Philippines
Fully Booked and its online store
China
Shanghai Book Traders, Shanghai Garden Books, Shanghai City of Books, Shanghai Foreign Languages Bookstore, Beijing Foreign Languages Bookstore, Airport Media.
Hong Kong
Dymocks, Relay airport shops, Commercial Press, Swindon Book
India
Om Books, Great India Place Mall
Sri Lanka
Yapa Bookshop
Mauritius
Bookcourt
September 2011
United States, Canada, and New Zealand
October/November 2011
Australia