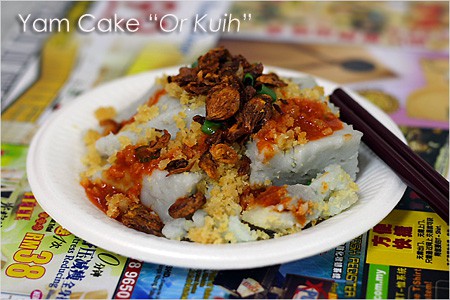 One of the best things about eating in Malaysia is the different kuih available–literally means "cake" but comes in different shapes, forms, textures and could be sweet or savory. Sold by street vendors, hawkers, peddlers and also available in specialty kuih shops, kuih is very popular as a light snack and can be eaten anytime of the day. I underlined "anytime of the day" because it does seem like we Malaysians eat all the time. With so many good foods available, anytime is a good time to eat!
Anyway, I wanted to introduce you to Or Kuih or Yam Cake today. In Malaysia, Taro is referred to as Yam. Or Kuih is basically steamed savory yam with flour. Topped with dried shrimps, chopped scallions and fried shallot crisps, it's best served with chili sauce…
My favorite Or Kuih stall is found at Lam Heng Cafe at McAslister Road, Penang. It's the same place where you can find the famous Sister's Char Kuey Teow (read the review here). The Or Kuih is available from late morning to early afternoon.
To learn more about Penang street food and its best offerings, do check out this website. I personally use it to get the most up-to-date information about Penang hawker food.