Reading through this post and looking at the pictures of this mouthwatering gulai tumis or tamarind fish curry was especially torturing and painful as I haven't had this for a while.
First of all, fresh fish, especially stingray is hard to come by, even here is California . (The closest fish I could get here is skate wings but it was foul-smell the last time I bought it).
Secondly, I can never find bunga kantan or ginger flower here, another key ingredient in this recipe. I can only drool over this scrumptious dish as my contributor Siew Loon shares her precious family recipe of gulai tumis with us. Enjoy!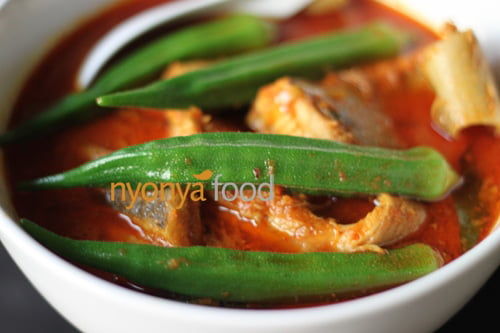 Contributor: Ho Siew Loon
I always remember that when we were in our teenage years my mum used to cooked gulai tumis, or spicy tamarind fish curry, my siblings and I would just feast on it using our hands.
We would pour the sourish hot curry/gravy onto our rice and everything would be gone in minutes. Until today, this particular dish is still a hit among my family members and it brings back sweet memories.
It is an honour to be able to share this family recipe with all my Nyonya Food friends…(get gulai tumis recipe after the jump)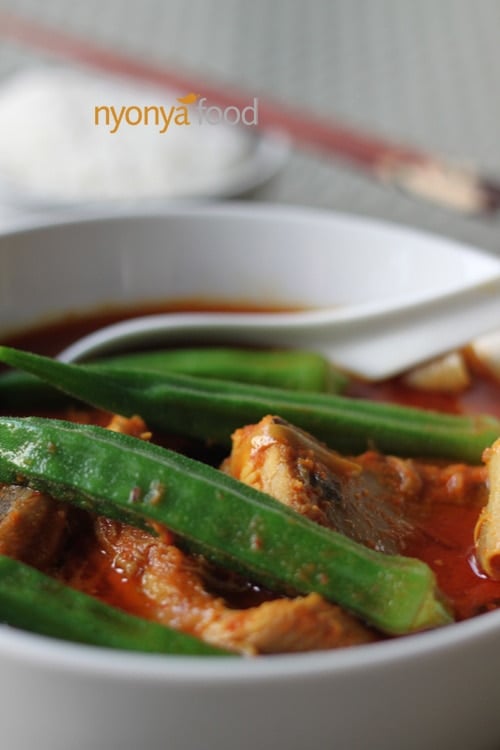 Gulai Tumis is a hot and sour curry which is traditionally famous among the Nyonya and Hainanese households in Malaysia.
I realise that the difference is that the Hainanese Gulai Tumis is more concentrated. This is a specialty where tamarind juice is used in the gravy to give the sour taste and further enhanced by sliced ginger flower or bunga kantan.
The curry is so appetizing and addictive especially the gravy and it simply keeps you coming back for more.
How Many Calories Per Serving?
This recipe is only 415 calories per serving.
5 Secrets to 20 Min Dinners
Get tricks for quick & easy meals!
Yield: 4 people
Gulai Tumis (Tamarind Fish Curry)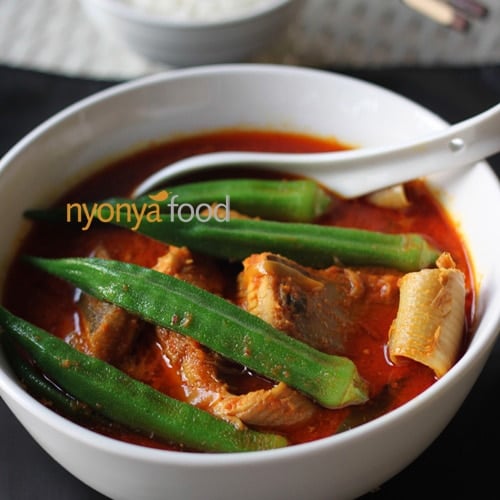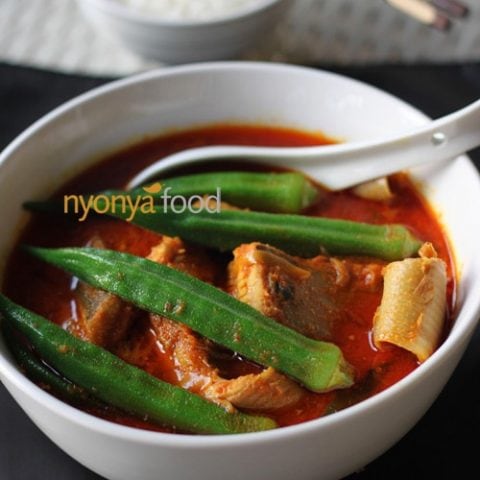 Gulai Tumis is a hot and sour curry which is traditionally famous among the Nyonya and Hainanese households in Malaysia.
Ingredients
Spice paste (Ground):
160 g (5 oz.) shallots
6 g 2-3 candlenuts
12 g galangal, lengkuas
6 g peeled garlic
3 stalks lemongrass, sliced
8 g fresh tumeric or 2 tsp tumeric powder
90 g (3 oz.) 20-25 dried chillies (soaked in hot water for 15 minutes and drained)
16 g Asian shrimp paste, belacan
1/2 cup oil
3 tablespoons tamarind pulp
2 1/2 cups water
salt to taste
sugar to taste, optional
1 bud ginger flower, finely chopped
800 g (28 oz.) stingray, sliced
8-10 ladies fingers, steamed
Instructions
Heat in oil over low fire and saute ground spice paste till oil and paste seperates and fragrant.(About 15 minutes)
Mix the tamarind pulp with water and strain the water to get tamarind juice. Add in to the spice paste and bring it to boil on slow fire. Simmer for about 10-15 minutes.
Add in ginger flower and fish. Simmer for 5 minutes or until fish is cooked.
Served with lady's fingers.
Notes
You can adjust the consistency of the gravy by adding more tamarind juice or less.
Nutrition Information
Yield
4
Serving Size
4 people
Amount Per Serving
Calories

415
Total Fat

29g
Saturated Fat

22g
Unsaturated Fat

0g
Cholesterol

45mg
Sodium

180mg
Carbohydrates

36g
Fiber

9g
Sugar

19g
Protein

7g