Learn the proper steps on seasoning wok with this comprehensive How to Season a Wok guide. Works for cast-iron wok. You can season and reseason the wok anytime!

Wok
Wok is the most important cookware in a Chinese kitchen.You can't make authentic Chinese food without a wok. Chinese wok is a distinguished utensil in the kitchen because of its versatility and it produces wok hei or "the breath of wok" which is highly prized in Chinese cooking.
A wok is used for stir-frying, deep-frying, steaming, boiling, blanching, braising, stewing, and smoking—it's an all-purpose tool for a wide spectrum of Chinese cooking styles.
A Chinese wok is also a kitchen tool that you want to use and keep for a long time as the glorious patina builds over time, which essentially "coats" the wok with a nonstick layer.
There are two kinds of woks: iron cast and carbon steel. Both needs to be seasoned before you start cooking.
Seasoning Wok
Author: Eleanor Hoh at Wok Star
This seasoning method is ONLY for a Chinese, round bottom cast iron wok with two cast iron handles, the best for successful wok cooking.
When new, cast iron woks have a grey coating which must be removed. Seasoning is the most important procedure to set up your wok. It prevents the wok from rusting and gives it an overall protection.
A simple explanation of "seasoning" means using heat to open the pores of the wok so the oil gets absorbed into the pores. When "seasoning" is done correctly, the wok will look bronze and black.
With frequent use, a coating (patina) will build and becomes a natural "non-stick" surface and be pitch black. That's what you want. You need to "season" your wok only once but it can be "reseasoned" if necessary. See below under Care and Maintenance.
In Asia, typically the wok is seasoned only on the inside with aromatics. This requires constant stir frying to make sure 'seasoning' has occurred all round the wok and is quite hard work. I use a two-step process which is a much easier method. Simply baking the wok to open the pores makes seasoning the interior much easier!
You need a little time and patience. Open doors and windows and blast the fan to blow out the smoke. Please be careful of a grease fire and have a fire extinguisher ready. If you are sensitive to smoke, wear a mask and glasses. When washing the wok the first time, grey discoloration may splatter your backsplash.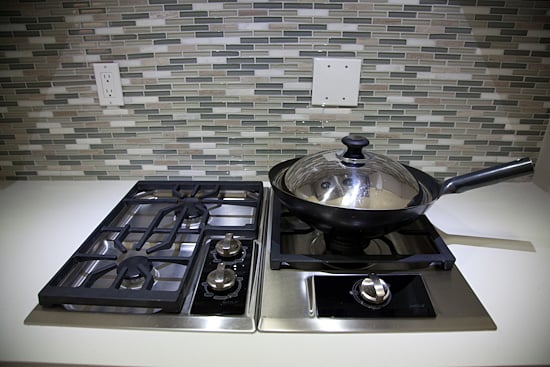 Directions for Wok Seasoning
Preheat oven to 300F. To season a wok, start off by washing the inside and outside of wok as well as handles with hot soapy water and a stainless steel scourer. This is a very important step: Scrub till you stop seeing grey color in the water but not so hard till it's bare metal. Dry wok first with paper towels, towels will look grey. Then dry thoroughly over low heat stove top.
Open pores of the wok by heating up all sides as well as handles. Switch off the heat. Next, add vegetable oil (I use Canola in a clear, plastic squeeze bottle) onto a couple of folded paper towels and apply a THIN, even coat to inside and outside of wok including handles. Swish around wok in a quick motion. Put wok upside down on top of foil and bake in oven for 40 minutes. Let cool in oven, approx. 1 hour. Wok should be cool to the touch prior to next step. If there's a lot of grey when you touch the wok, repeat steps 2 and 3 to ensure your 'seasoning' is correct.

Note: Do NOT add oil directly onto wok or use too much oil, otherwise oil will "bake" in sticky globs.

Wash wok out with hot water and a green scrubber and no soap. Dry completely by heating on low heat stove top. We are now ready to 'season' the inside of wok. Chop an onion or a bunch of scallions or chives, garlic or ginger or combination. This last step will help to finish the seasoning with an aromatic fragrance.
Do the following steps in quick sequence. Using oven pads:
Heat wok on high heat till you see first wisp of smoke.
Immediately squeeze vegetable oil around sides of wok, go around 3-4 times so oil drips down sides.
Add aromatics. Use spatula to push aromatics up sides of wok. You will see "seasoning" (bronze color) start immediately.
Tip wok back and forth so sides will get some heat.
Keep stir frying till "seasoning" (bronze) happens all round wok, then toss them out. Your wok is now ready for your inaugural stir fry!
Care and Maintenance of your cast iron wok:
After using your wok, soak in hot water (no soap) while you are eating but never for any length of time, otherwise it will "rust."
Any food particles will lift off easily. Use a sink brush or green scrubber pad to remove any particles.
Dry by heating on stove. I do not wipe oil on my wok prior to storing because it can become rancid and get sticky.
If your wok is looking "dry," rub oiled paper towels all around to restore its finish. Use your wok for cooking everything, not just Asian stir-fries, patina will build back up quickly!
If you get a "fond" (crust) in your wok from caramelizing (sugar), scrub off with a green scrubber. Rub oiled paper towels in the problem area and heat on stove, this will "reseason" it.
Do NOT put your wok in the dishwasher. The washing agent is too strong and the patina will fade and ruin your wok.
Other Articles You Might Like