Mickey Bento - This recipe is so easy to make, homemade for baby set!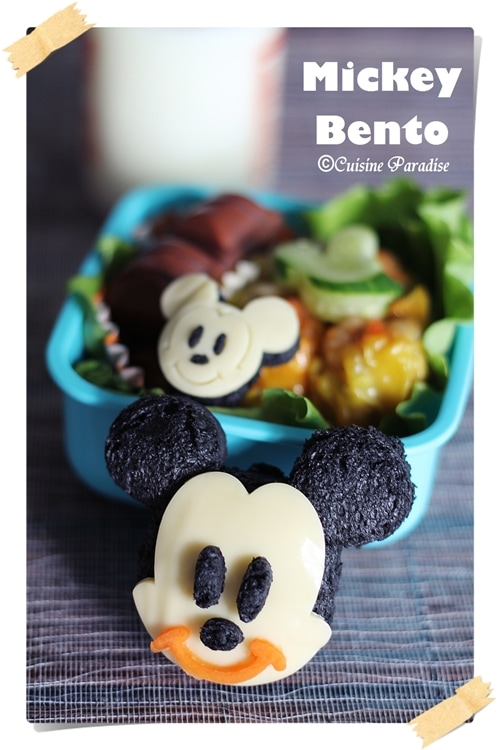 I have a thing about Japanese bento, it's an art that I simply don't have the skills, techniques, or patience to attempt.
There has been a surge in interest in bento boxes, especially kids-friendly bento boxes that they can take to school or nursery.
That's why I invited Ellena Guan or Cuisine Paradise to share a bento box recipe, and she created this most adorable and cutest looking Mickey Bento for us!
Cuisine Paradise is an awesome food blog (finalist of Singapore's best food blogs)—it's full of many delicious homemade dishes, bento collections, and baking recipes.
Go check out Cuisine Paradise now!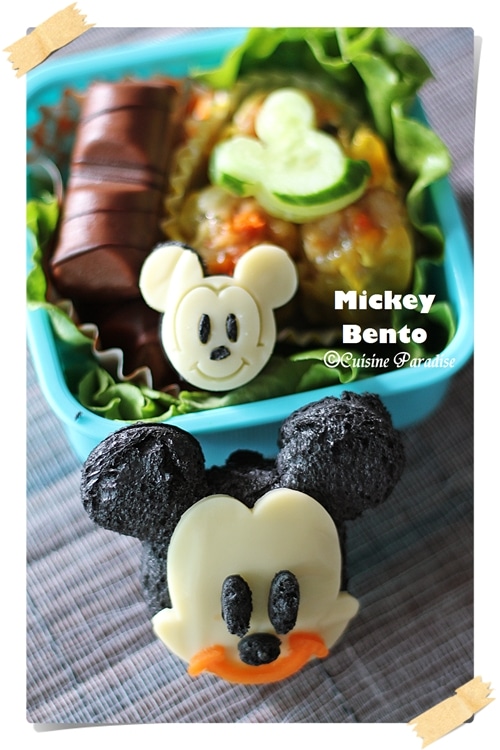 A few weeks back I received an email from Bee together with invitation to do a Bento related guest post at Rasa Malaysia.
I was so surprise after reading her email because for so many years I have being one of her silent readers whom always drool over her mouthwatering photos and recipes which our family enjoys.
And today I am so honored to be one of the invited guests to share my bento post with all her readers.
I have started making bento way back in 2008 when my boy was about 4 years old as I used to pack quick and easy snacks for him to bring to his Nursery Class.
But then I stopped after sometime due to my busy working schedule which holds me back to make bento only during certain weekends or special occasions.
And it's only recently that I am back in making bento again due to my boy's request because he wanted his favourite iPhone game "Angry Birds" to appear as in a bento set.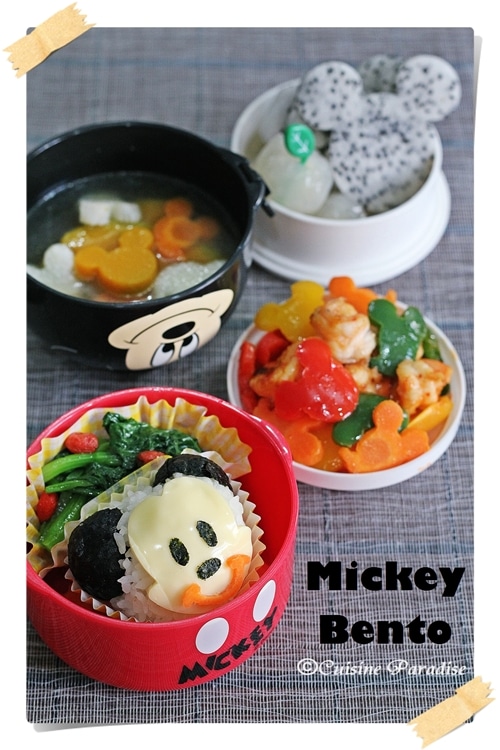 For this post, instead of Angry Birds I will be sharing two Mickey Bento which I have discussed with Bee.
First bento set can be used for either Lunch/Dinner as it comes with soup, rice, veggie, prawn and fresh fruit.
While the second set will be more suitable for tea-snack or field trip outing.
Usually before I start packing the bento meal, I would have a rough ideas on what to incorporate into the box, for example like most Japanese mummy they would go for the 3:1:2 rules where they include 3 parts grains, 1 part protein and 2 parts vegetables/fruits.
But after all it is still up to individual preference when coming to bento packing.
Lastly there are some points which you might want to take note in order to keep the packed food safe for kids consume.
1. Incorporate food and products with antibacterial properties such as using food dividers and bento sheets;
2. Keep everything clean as do not mixed cooked and un-cooked into the bento box when packing; and
3. Keep hot foods hot using thermal containers while cold foods cold using cold packs.
Thanks. Hope you would like these two sets of Mickey Bento.
How Many Calories per Serving?
This recipe is only 382 calories per serving.
For more great recipes like this, sign up for our newsletter. We'll send daily recipes you'll love!
Join
Sign up for our newsletter!
Ingredients
Soup:
10

oz

spare ribs

1

medium carrot

(cut into thick chunks)

7

oz

Chinese yam

(cut into thick chunks)

7

oz

pumpkin

(cut into 3 portions)

1

sweetcorn

(cut into 4 sections and halves)

40

z

water
Onigiri And Veggies:
3

tablespoons

cooked rice

1

slice

sandwich cheese

1

slice

carrot

nori sheet

¼

bunch baby choy sum

1

teaspoon

wolfberries

¼

teaspoon

minced garlic

(optional)
Tomato Shrimp:
¼

red

(yellow and green capsicum)

5

slices

carrot

5

medium shrimp

(shells removed)

¾

tablespoon

ketchup

¼

teaspoon

minced garlic

(optional)

¼

brown onion

(optional)
Fruit Platter:
3

slices

dragon fruits/ melons

4

lychee/ cherry

(seeds removed)
BREAKFAST/SNACK SET (Fruit Platter:):
1

slice

bamboo charcoal/ chocolate bread

1

slice

sandwich cheese

1

slice

carrot

3

slices

Japanese cucumber

1

chocolate/ fruit bar

3

ready-to-eat siew mai/ steamed dumplings
Instructions
Ingredients For Soup:
Blanched spare ribs in boiling water for 1 minute remove rinse and set aside.

Before cutting the root vegetables into chunk, reserve a small portion and use small assorted Mickey food cutters to cutout mickey face shaped from Chinese yam, carrot and pumpkin. (about 5 pieces from each item)

Bring 1.2 litres of water to boil, add in all ingredients except the reserved "Mickey" shaped cutouts.

Lower the heat and simmer for about 20 minutes, next place the mickey cutouts on a metal soup ladler lower into the simmering soup and cook for 15 seconds. Remove and set aside in serving bowl.

Ladle warm soup into the bowl before serving.
Ingredients For Onigiri And Veggies:
Place a sheet of cling wrap on one hand and scoop about 2 tablespoons of cooked rice on it. Shape the rice into a ball.

Remove the cling wrap and place it on a paper cup liner while working on the two ears on the side.

Using the same cling wrap scoop 1 teaspoon of cooked rice on it and shaped into semi-circle. Open the cling wrap and cover the rice ball with a 4cm diameter round nori sheet to form the ear.

Repeat step 3 again. Next, place the 1st round rice ball onto a cling wrap, using 2cm long thin spaghetti to attach the ears on the side of rice ball.

Shaped these three parts of the mickey features tightly using the cling wrap and your hands.

When done remove the wrapper and place it on the paper cup liner into the assigned box and start adding the facial expression using mickey shape cutter, cheese and carrot shown above.

To make the eye balls and nose, use a craft puncher on a nori sheet to get small oval shapes and paste it on the cutout cheese.

For the vegetables; preheat a small saucepan with 1 teaspoon of cooking oil sauté the garlic till fragrant before adding vegetable. Give a quick stir and cook for 30 second, toss in wolfberries and cook for another 5 seconds. Remove and arrange in another paper cup liner at the side of the Mickey onigiri.
Ingredients For Tomato Shrimp:
Using small assorted Mickey food cutters tocutout mickey shaped from the assorted capsicum and carrot. (about 3 cutouts from each items, remaining cut into long strips)

Next preheat saucepan with drizzle of oil, sauté garlic till fragrant add in assorted capsicum and onion cook for 30 seconds before adding in the shrimp.

Give the mixture a quick stir, add in ketchup mix well cook until shrimp changes colour.

Turn off the heat, dish up and assemble it on bento container.
Ingredients For Fruit Platter:
Using a big Mickey food cutter, cutout mickey head shaped from the dragon fruit and set aside

Arrange the serving bento with mickey head dragon fruits and some seedless fresh lychee of any fruits of your choice.
BREAKFAST/SNACK SET (Ingredients For Fruit Platter):
Get ready a small square bento box, line it with some lettuce and place the cooked siew mai into paper cup liner and position it at a corner of the bento box.

Use a small mickey cutter, cut out mickey face shaped from the cucumber and places it on top of the siew mai.

Place chocolate/fruit bar at another corner of the bento leaving the front part clear for the bread.

Next with a Mickey design multi-cutter cutout mickey face shaped from the bread and decorate the feature expression with the cutter using cheese for the face, bread for eyes and nose, carrot for the mouth. (refer to the step-by-step photo illustrations above.

Lastly, using a small mickey head cutter repeat the same step to make a mini Mickey using bread and cheese.

When done, arrangement everything into the box and serve with fresh milk or juice.
Notes
You do not need to cook separate meals.
You can still prepare cute bento for your kid(s) during your usual daily cooking by reserving small kid's serving portion and incorporate it with "cute/special" shaped cutouts into their portion.
Nutrition

Nutrition Facts

Mickey Bento

Amount Per Serving (2 people)

Calories 382

Calories from Fat 261

% Daily Value*

Fat 29g45%

Cholesterol 107mg36%

Sodium 691mg30%

Carbohydrates 105g35%

Protein 30g60%

* Percent Daily Values are based on a 2000 calorie diet.

Notice: Nutrition is auto-calculated, using Spoonacular, for your convenience. Where relevant, we recommend using your own nutrition calculations.