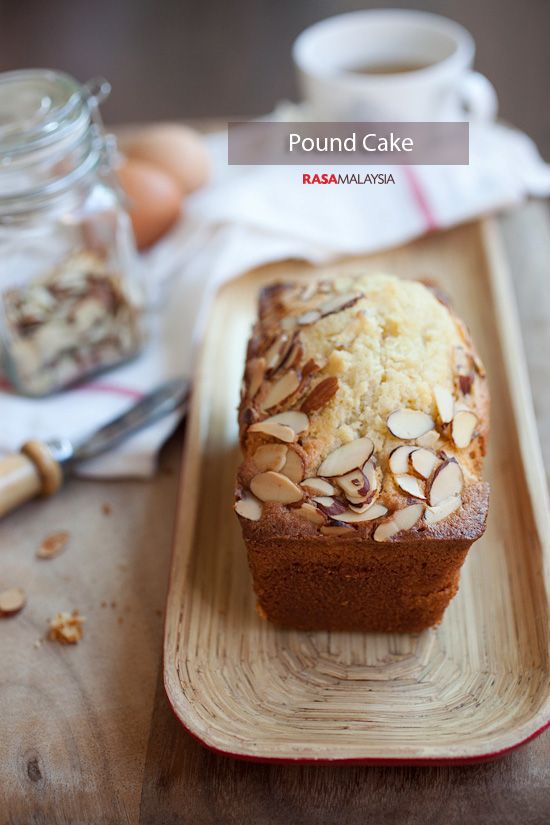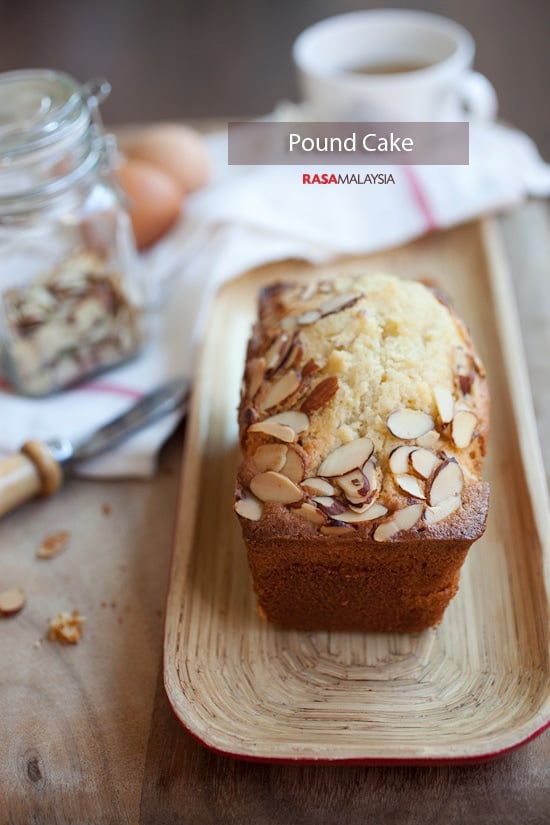 I am a bad passenger, airlines don't like me.
I am a magazine hog who snatches every in-flight magazine, pile them up in my seat, never return them back to the rack, and then I rip off interesting pages on these magazines. (Oops, did I just confess my dirty secrets?!)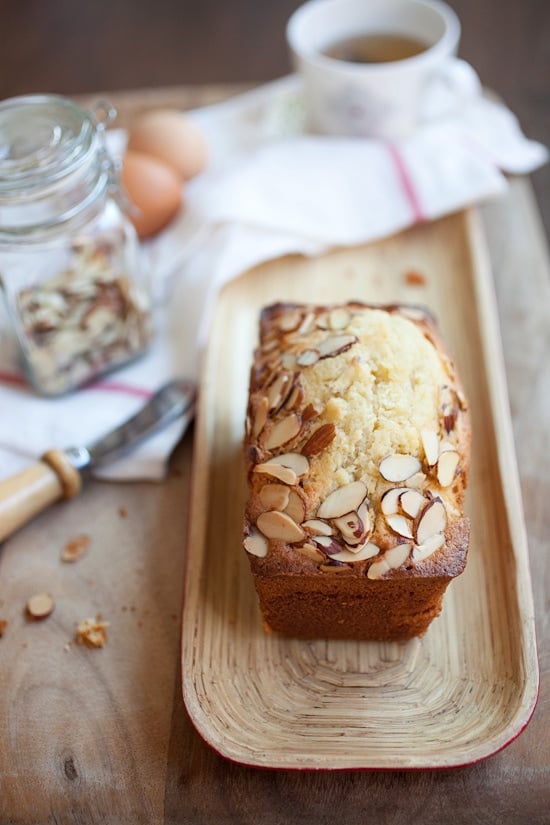 Yes, I am one of those passengers that flight attendants and fellow passengers sneer at, especially when they hear the suspicious noise as I tear off pages.
I really can't help it. I am addicted to magazines; I can't sleep on planes; and I absolutely CANNOT resist mouthwatering food and recipes on magazines. They whisper "tear me tear me" in my ears, I swear.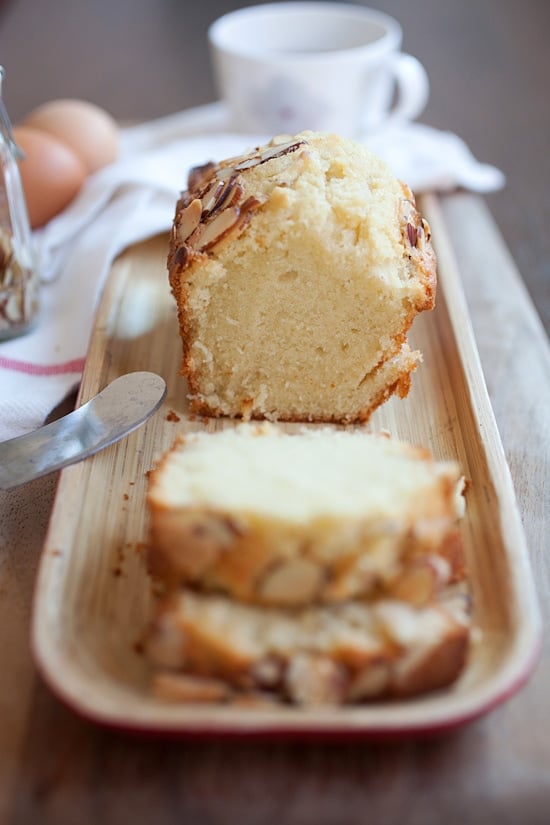 This pound cake is the result of the above acts. It's a classic pound cake recipe on Better Homes and Garden, May 2009 issue.
The pound cake photos look velvety, deliciously dense, moist, and just perfect. I had to tear the pages off and try the pound cake recipe at home. Sorry airline!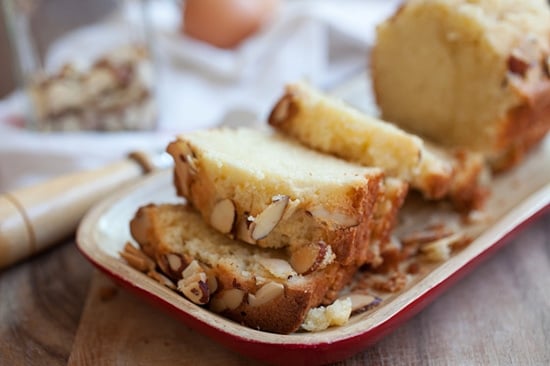 My pound cake turned out quite good. It was a good pound cake recipe.
Here is my adapted pound cake recipe. Happy baking!
How Many Calories Per Serving?
This recipe is only 158 calories per serving.
5 Secrets to 20 Min Dinners
Get tricks for quick & easy meals!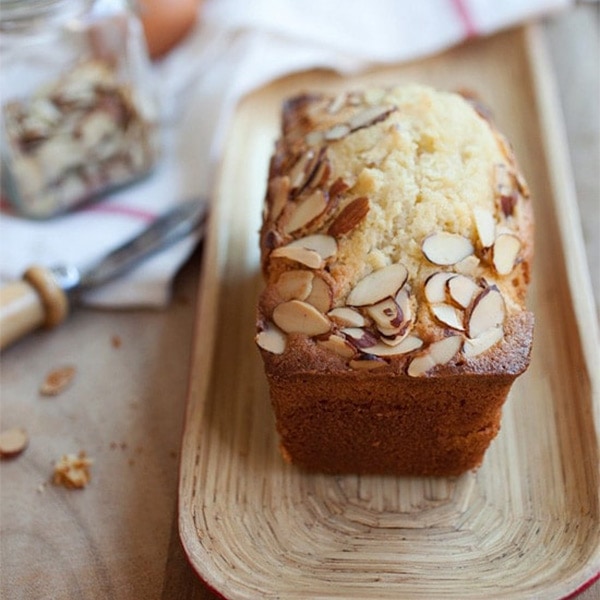 Pound Cake Recipe
Classic pound cake recipe that yields buttery, velvety, moist, and deliciously dense pound cake. A pound cake recipe that is easy and fun to make.
Ingredients
6

eggs, room temperature

1

cup

unsalted butter

(8 oz)

8

oz.

cold cream cheese, cut into 1-inch pieces

2 1/2

cups

fine sugar

1

teaspoon

kosher salt

4

teaspoons

pure vanilla

3

cups

sifted cake flour or 2 1/2 cups plus 2 tablespoons all-purpose flour

1/4

cup

sliced almonds
Click Here for Conversion Tool
Directions
Butter and lightly flour your 8x4x2 inch loaf pans or one 10-inch tube pan. (I used a mini loaf pan and makes 4 loaves.)

Beat the butter on low speed for 2 minutes and add cream cheese. Beat on low speed for 3 minutes until well-blended. While beating, add sugar, salt, and vanilla and turn the speed to medium speed for about 5 minutes until light and fluffy. Then, add eggs one at a time and continue beating.

Turn the speed to low before adding the flour. Beat the batter until well blended and smooth. Transfer batter into the pan. Shake pan gently to distribute the batter. Run a spatula in zigzag pattern through the batter and then top with sliced almonds.

Place on the pan in the center rack of a cold oven and bake at 300 degree F for 1 hour 15 minutes or until a cake tester comes out dry. If you are using a tube pan, bake for 1 hour 45 minutes. Transfer the pound cake to a cooling rack for about 10 minutes before removing from pans and serving.
Recipe Notes
Proper creaming is critical for a perfect pound cake. Creaming is the process of blending the butter and sugar together to incorporate air and it usually takes about 5 minutes or until light and fluffy. So, don't cheat like I did.
Nutrition Facts
Pound Cake Recipe
Amount Per Serving (2 people)
Calories 158
Calories from Fat 1395
% Daily Value*
Fat 155g238%
Cholesterol 859mg286%
Sodium 1733mg75%
Potassium 679mg19%
Carbohydrates 396g132%
Protein 50g100%
Vitamin A 5070IU101%
Calcium 288mg29%
Iron 5.2mg29%
* Percent Daily Values are based on a 2000 calorie diet.