Raisin Scones - If you like raisins and scones, you will love this simple, irresistible, and delicious raisin scones recipe.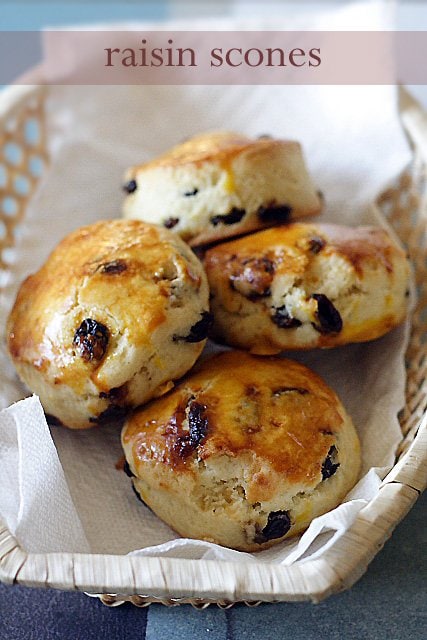 I have never paid much attention to scones–I don't even remember the last time I had them, but it all changed when I was on my cruise vacation. Being on a giant ship 24 hours x 9 days—mostly sea bound—means that the best past time on board was to eat.
Every afternoon, I had scones for my afternoon tea, and of course, a crepe or two. And then one fine day, I fathomed that scones are such great things to eat—under the shade on the deck overlooking the azure blue sea—over a cup of tea or tea.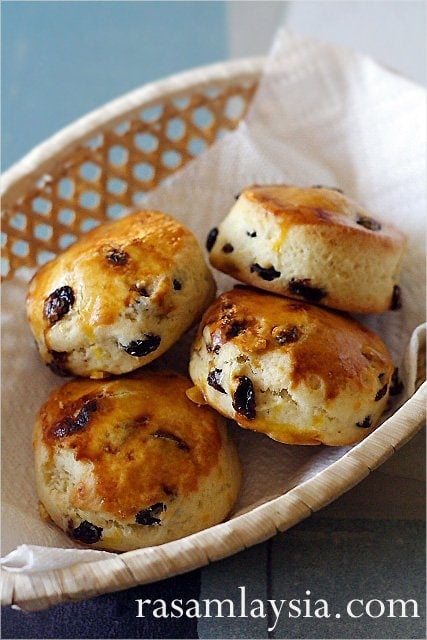 So, that was how I discovered them and marked the start of my love affair with scones, especially raisin scones. I have always loved raisins and in this recipe, raisins give that extra sweetness and add moisture to the scones.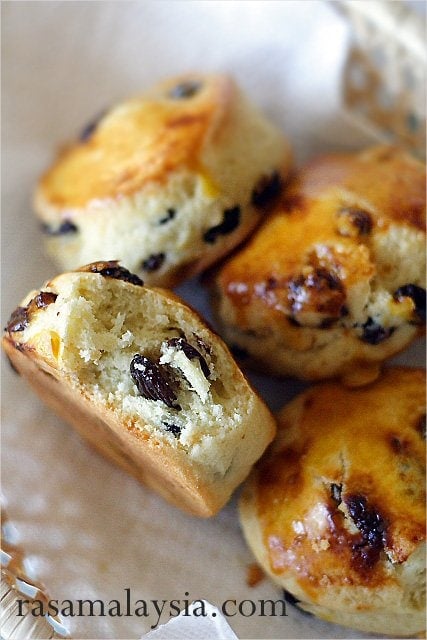 How Many Calories per Serving?
This recipe is only 655 calories per serving.
5 Secrets to 20 Min Dinners
Get tricks for quick & easy meals!
Yield: 4 people
Raisin Scones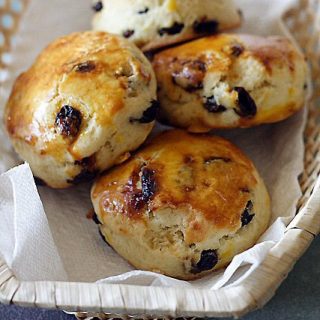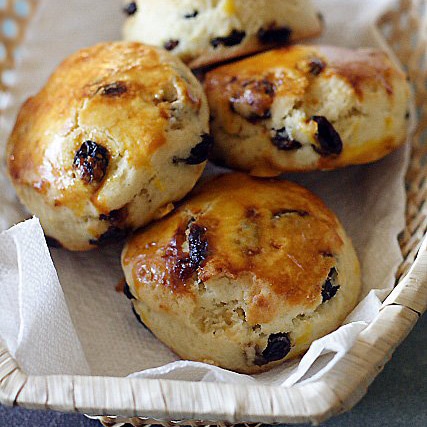 If you like raisins and scones. You will love this simple, irresistible, and delicious raisin scones recipe. These raisin scones are to die for.
Ingredients
2 cups all-purpose flour
1/3 cup sugar
1 tablespoon baking powder
1/4 teaspoon salt
1/2 cup butter
2/3 cup milk
1 beaten egg
1 teaspoon vanilla extract
1 cup Sun-Maid Natural Raisins
1 beaten egg yolk for egg wash
Instructions
Pre-heat the oven to 400°F (204°C). Combine the flour, sugar, baking powder, and salt. Add in the butter until mixture resembles coarse crumbs and then follow by the egg and vanilla. Add in the milk slowly. If the dough becomes too sticky, stop adding the milk, instead add a little more flour to form the dough. Stir until the dry ingredients are moistened. Add in the raisins.
Roll out the dough on floured surface to 3/4-inch (1 cm) thickness. Using a 2-inch (5 cm) round cookie cutter, cut out the scones. Gather the scraps; reroll and cut out additional scones. Place the scones on prepared baking sheets, spacing apart.
Brush egg yolk over the tops of the scones. Bake scones until golden brown, about 15-20 minutes.
Serve warm.
Notes
If the dough is too sticky, add more flour to the dough.
Nutrition Information
Yield
4
Serving Size
4 people
Amount Per Serving
Calories

655
Total Fat

26g
Saturated Fat

15g
Unsaturated Fat

0g
Cholesterol

152mg
Sodium

397mg
Carbohydrates

96g
Fiber

4g
Sugar

19g
Protein

11g