Shortbread Cookies - A simple and delicious recipe. These shortbread cookies are made with basic ingredients that produce beautiful and delicious results.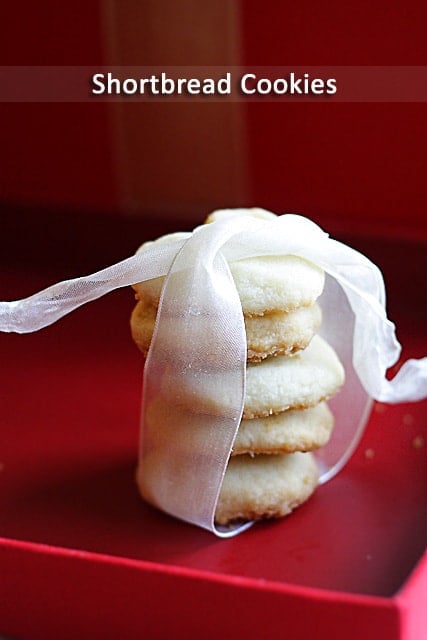 One thing I resolved to do better is learning how to bake, so when I was home this past trip, I managed to pick up a ton of baking essentials: cookie cutters, scale, baking thermometer, cake tester, scraping spoons, etc. (Things are a lot cheaper in Malaysia despite the weak dollars!).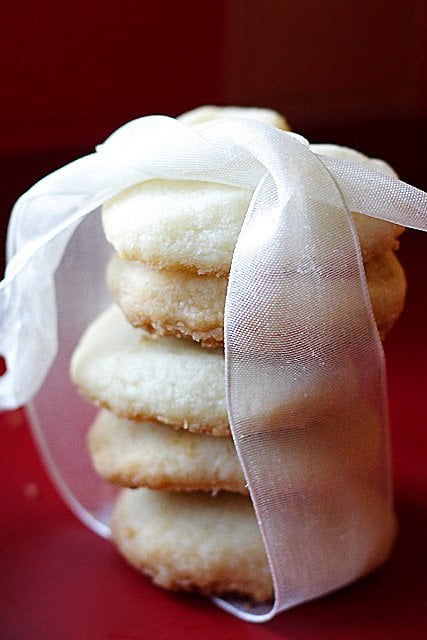 Last weekend, I unwrapped all my shiny new baking gear and put them to good use. I made some shortbread cookies.
I am always green with envy when I see blogs graced with adorable and beautiful cookie pictures such as this, this, and this–the ribbon, the composition of the pictures, and those little cookies that you just wanted to scratch from the monitor and pop them in your mouth–so I decided to dress up my blog with some eye-candy pictures, too…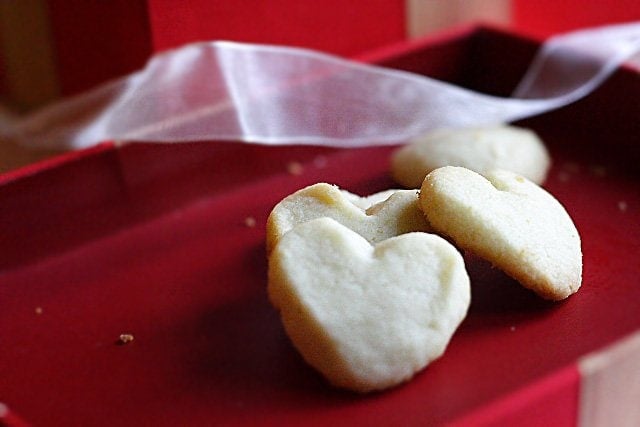 Not too shabby, huh?
My recipe is adapted from Joy of Cooking.
It's really simple to follow and almost fail-proof (that's always a big plus). I really like the shortbread cookies. They are simply delicious.
How Many Calories per Serving?
This recipe is only 317 calories per serving.
5 Secrets to 20 Min Dinners
Get tricks for quick & easy meals!
Yield: 4 people
Shortbread Cookies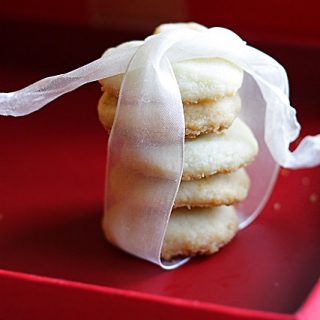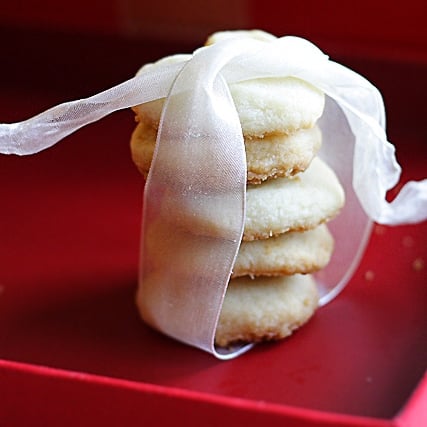 Shortbread Cookies - easy and amazing, buttery and crispy shortbread cookies that you should bake this holiday.
Ingredients
2 cups all-purpose flour
1/4 teaspoon salt
2 teaspoons vegetable shortening
1 cup unsalted butter, room temperature (2 sticks)
1/2 cup powdered, confectioners or icing sugar
1 teaspoon pure vanilla extract
Instructions
In a separate bowl whisk the flour with the salt. Set aside.
In the bowl of your electric mixer, cream the butter until smooth (about 1 minute). Add the sugar and vegetable shortening and beat until smooth (about 2 minutes). Beat in the vanilla extract. Gently stir in the flour mixture just until incorporated. latten the dough into a disk shape, wrap in plastic wrap, and chill the dough for at least an hour.
Preheat oven to 350°F (176°C) with the rack in the middle of the oven. Line two baking sheets with parchment paper. On a lightly floured surface roll out the dough to 1/4 inch thick. Cut into rounds or whatever shapes you wish using lightly floured cookie cutter. Place the cookies on the prepared baking sheet and place in the refrigerator for about 15 minutes. This will firm up the dough so the cookies will maintain their shape when baked.
Bake for 8 - 10 minutes, or until cookies are lightly brown. Cool on rack.
Nutrition Information
Yield
4
Serving Size
4 people
Amount Per Serving
Calories

317
Total Fat

49g
Saturated Fat

29g
Unsaturated Fat

0g
Cholesterol

122mg
Sodium

153mg
Carbohydrates

62g
Fiber

1g
Sugar

15g
Protein

6g