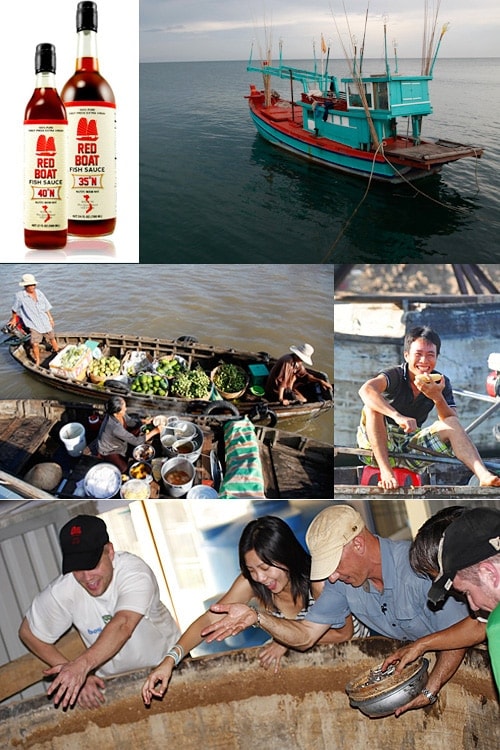 "Twenty years from now you will be more disappointed by the things you didn't do than by the ones you did do. So throw off the bowlines, sail away from the safe harbor. Catch the trade winds in your sails. Explore. Dream. Discover." – Mark Twain
Some trips are made of dreams, and when they do happen, the dreams transcend into enduring memories that one will forever cherish and treasure. I am a true believer of that.
I was very lucky to be enlisted in a dream trip several weeks ago (May 27th – June 1st) with Red Boat Fish Sauce on an odyssey to Vietnam, a country that evokes expansive glistening greenery, pristine coastline, picturesque landscape, tranquil valleys of rural villages, friendly people, and exquisite cuisine.
My companions were my dear friend Chef Robert Danhi, culinary educator and scientist of Southeast Asian Flavors, the uber talented and quirky Chef Lon Symensma, the gentleman Chef Jeff Stoneking of ChoLon Modern Asian Bistro and Gather in Denver, and our generous and honorable host Cuong Pham, owner of Red Boat Fish Sauce. The journey was one of cultural immersion, and more importantly, we set out for our final destination Phu Quoc island on a mission: to learn more about fish sauce, which is the building block of flavor used in the cuisines of Southeast Asia, especially in Vietnam and Thailand. The rationale is simple: Phu Quoc is known to produce the best fish sauce in the world and 75% of fish sauces sold in the United States are labeled with the words "Phu Quoc" on the bottle even though they are mostly made in Thailand. Essentially, there is no better way to learn, but with Red Boat Fish Sauce, the premium artisanal fish sauce in the market today.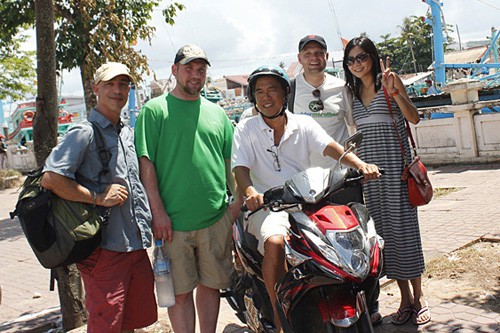 We arrived in Ho Chi Minh City on the morning of May 27th, and would spend six days in Vietnam, traveling from Ho Chi Minh City to Phu Quoc island in south of Vietnam. Along the way, our journey took us through the verdant Mekong Delta, before we embarked on a ferry to Phu Quoc island. We would eat, drink, and comb the streets of these places, immersing ourselves in the food, colors, smells, culture, and tradition of Vietnam.
After touching down in Ho Chi Minh City International Airport, Cuong, with his hired mini-van, immediately chauffeured us to a famed restaurant serving hearty bowls of steaming pho, one of the most iconic Vietnamese dishes. Despite being jetlagged and exhausted from the long-haul transpacific flight, I chowed down and thoroughly enjoyed the beef noodle soup. It was delicious!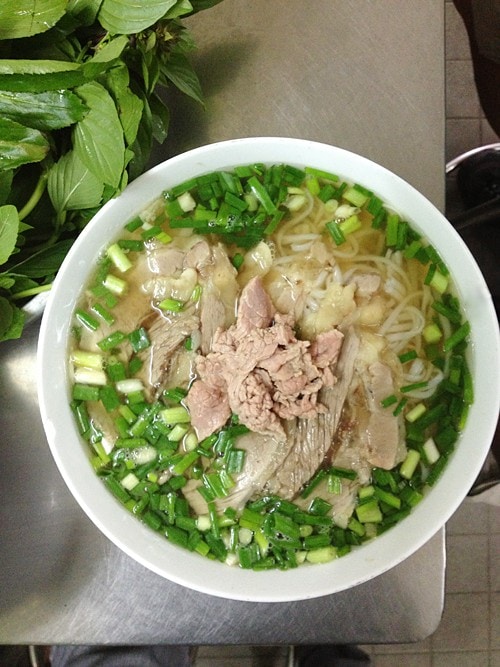 After checking into the hotel and a brief freshen-up, the crew were ready and eager to explore. The first stop was Cho Lon Market, the biggest market in Saigon.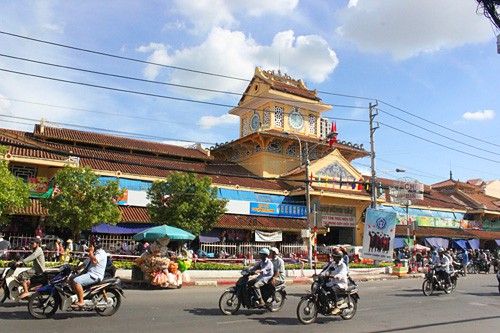 We sampled an amazing bowl of crab noodle soup or Banh Canh Cua, complete with coagulated duck blood, crab, fried pork rinds, and pork.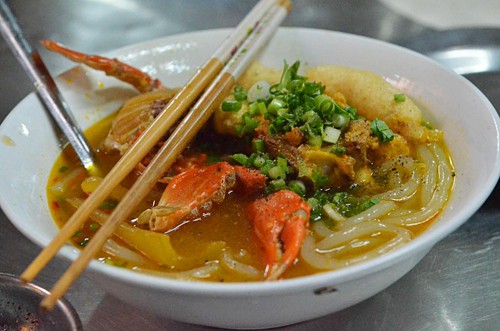 There are countless stalls selling everything from dried mushrooms, cassia barks, beans, rice to dried Chinese sausages. Cho Lon market is a great place to see the daily life of the Vietnamese people.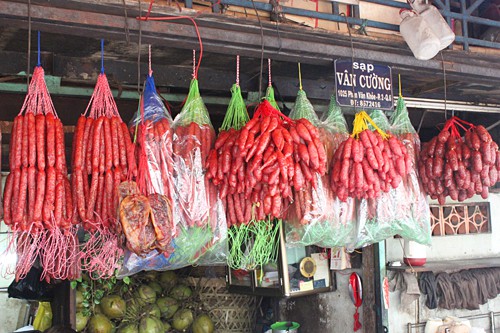 We all had a huge appetite and the next stop was Banh Xeo, or Vietnamese crepes filled with pork, shrimp, and bean sprouts. This crepe was crispy, with a nice aroma of coconut milk, and absolutely delectable.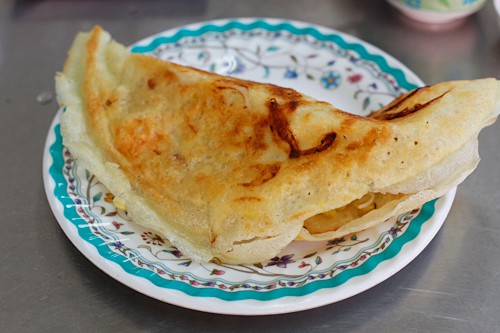 Curious to find out how the "real" Cha Gio (fried Vietnamese spring rolls) tastes in Vietnam, we also had these hot-off-the-frying-wok Cha Gio. The filling was shredded daikon, carrot, and pork.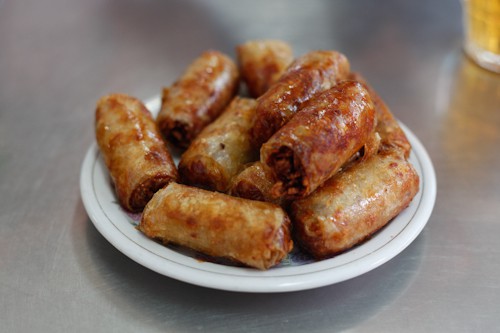 For dinner, Cuong took us to a Vietnamese restaurant serving traditional fares. We had pork stew, lemongrass chicken, banana blossom salad, and cat fish sour soup.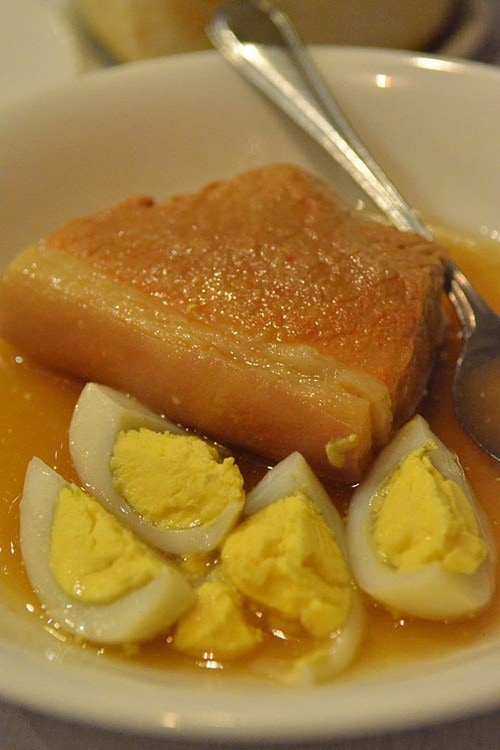 When you had a group of chefs and a food blogger, dinner wouldn't stop until we had yet another round of food. We headed to an excellent restaurant for crab noodles and fried soft shell crab. We were so stuffed and decided to call it a night, for our stomachs' sake.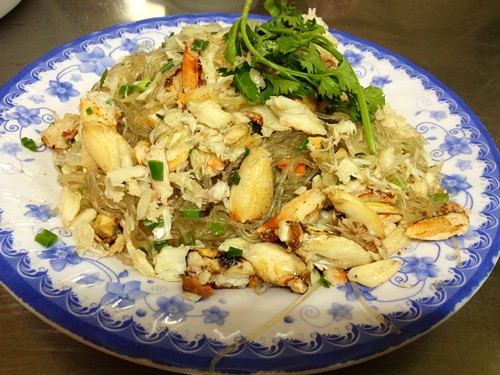 The next morning, we started the day early and headed to Cho Ben Thanh market, a large marketplace in downtown Saigon for breakfast. After that, we all piled into the van and headed south to the Mekong River Delta on a pilgrimage to the Cai Rang floating market. No trip to Vietnam is complete without trying its Banh Mi sandwiches, so we stopped for a snack. This Banh Mi was particularly savory with roasted pork belly.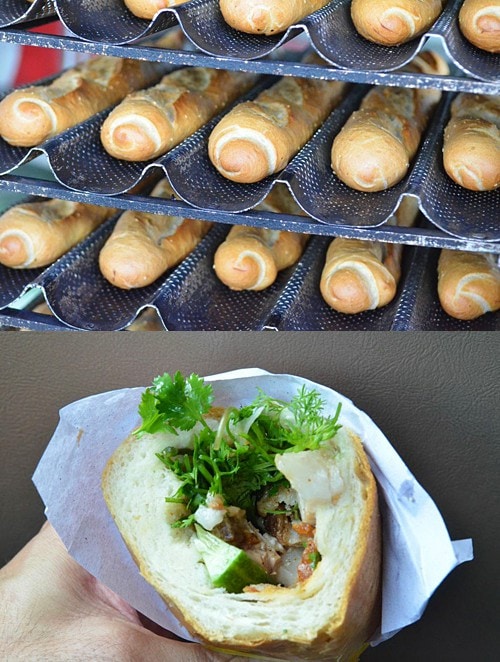 During the journey, we stumbled upon large oxen wading in murky river water and endless jade-green rice paddy fields that dotted the roadsides. For lunch, Cuong took us to try the famous Hu Tieu. Seated next to a river, we sampled an utterly mouthwatering dry rice noodle dish and a gigantic fried dough ball.
Our fun adventure at the Mekong Delta started at the My Tho pier, where we were transported via a timber motorboat for the island/canal tour. During the boat ride, we passed by many enchanting fisherman's piers and stilt houses along the riverbank. We stopped by at one of the islands and there, the guys had fun with a giant python while sampling local honey and candied ginger.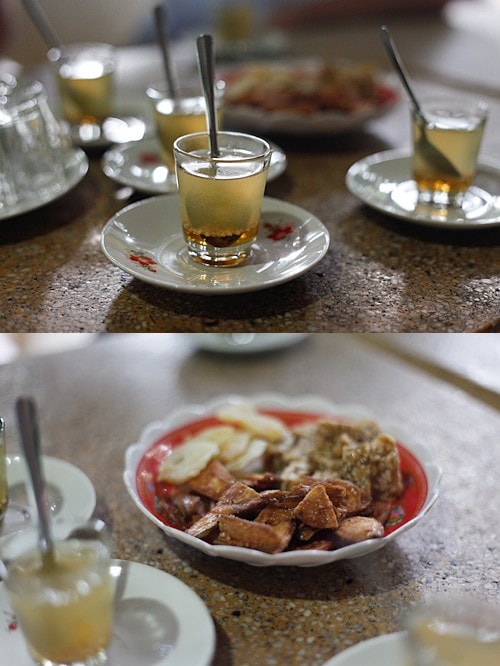 After that, we walked towards the other end of the island and got on these small row boats through the canals, soaking in the fresh air and pristine landscape around and experienced firsthand the rustic local villagers' daily life. We then stopped by a coconut candy workshop.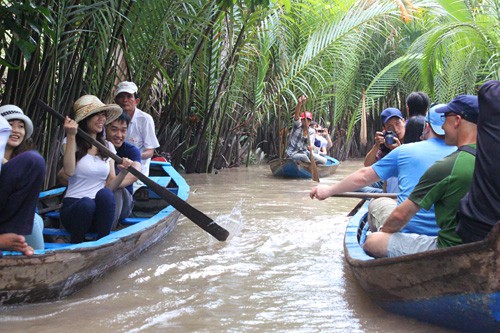 Once onshore, we continued our journey to Can Tho, the gateway to the Mekong Delta floating market. We arrived in Can Tho at night. After a brief hotel check-in, we regrouped for a seafood dinner. We had live octopus in a coconut water hotpot, grilled snakehead fish, and grilled river prawn. We didn't want to go overboard with seafood as there was abundant seafood beckoning at Phu Quoc island.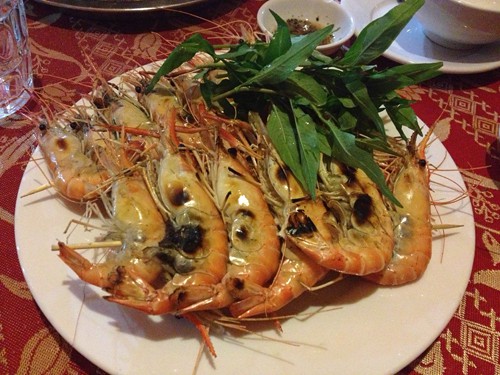 The next morning, we started our day at dawn to the floating market. To sum it up, this is probably one of the highlights of the entire trip. From the pier at Can Tho, Cai Rang floating market is a brief 20-minute boat ride away. Our boat cruised along the Mekong waterway while the breeze gently caressed our cheeks, with the early sun rays peeking through from the horizon.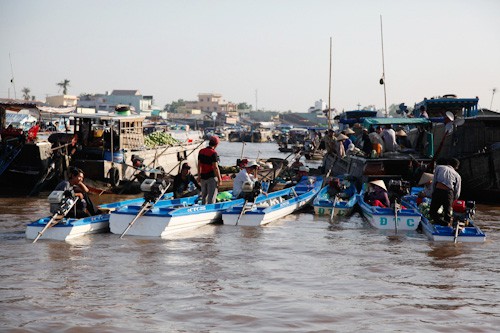 Cai Rang floating market is one of the three largest floating markets in Vietnam where local vendors commune, in their boats, trading fresh fruits and produce sourced from and grown in the surrounding region. Every boat sports a long upright pole at its bow on which samples of the goods for sale are hung on. There are boats selling drinks (aka mobile mini bar per our tour guide), gas station in the middle of the river, and smaller wooden boats with vendors selling breakfast such as noodles.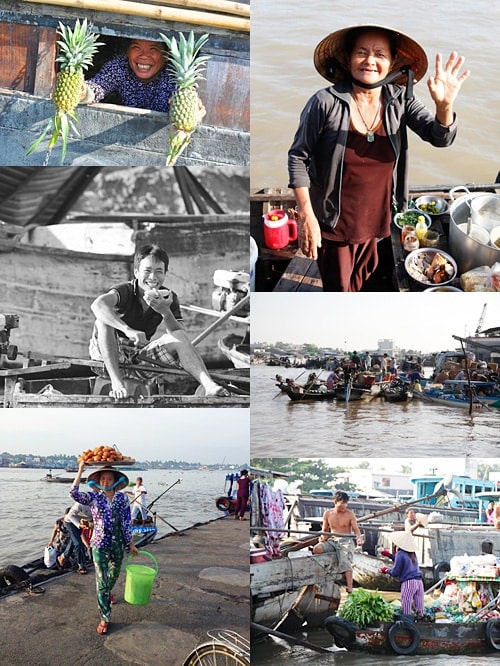 The floating market was lively, vibrant, and buzzing with activities. We had our breakfast noodle on the boat.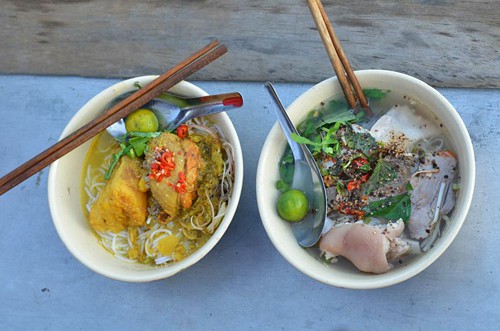 Cai Rang floating market at the Mekong Delta was a tremendously humbling experience as I witnessed the simple lifestyle of these boat denizens. It was mesmerizing!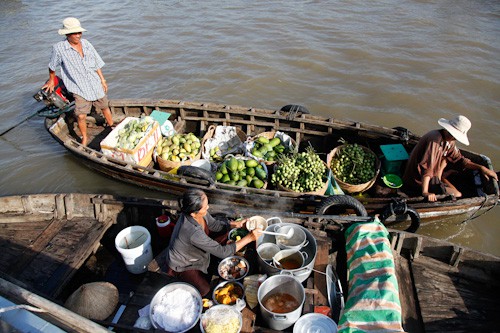 The crew flashed the biggest smile on our face being in the floating market. We were so happy!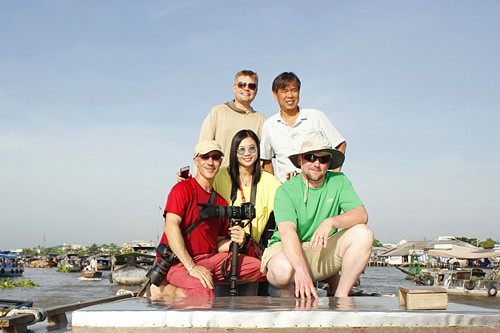 We continued our journey to Ha Tien for the ferry to Phu Quoc island. After a 2-hour boat ride, we finally arrived at our final destination.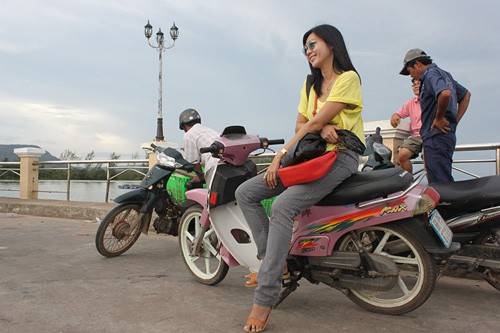 Phu Quoc island is every bit as I have imagined. It is still a sleepy island with very moderate development, completely laid back, and screams tropical island paradise. This is the final leg of our journey, the home of Red Boat Fish Sauce, where local black anchovies caught off the coast of the island are used in the fish sauce. Our hotel is right on the main hotel strip, a 15-minute walking distance to the town area and the vibrant nightly street market.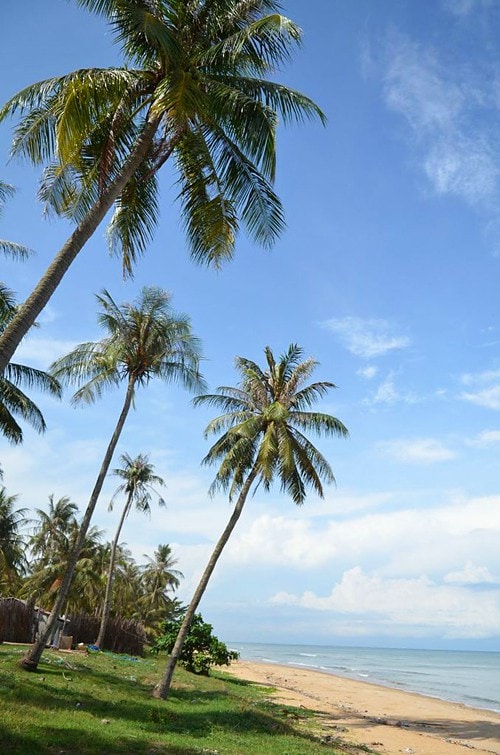 We celebrated our arrival to Phu Quoc with the glorious seafood at the night market. We had an amazing seafood feast of various shell fish, grilled prawn, scallop, and squid. It was heavenly.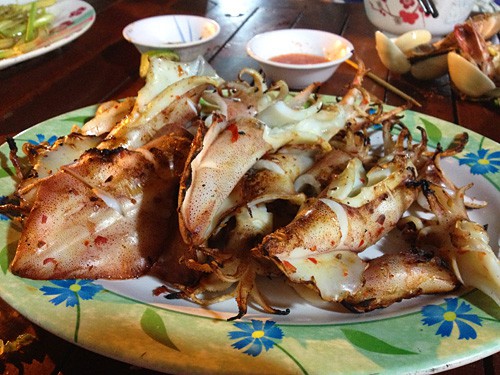 The next two days, we searched around the island for good food made with the prized local fish sauce. The guys got the motorbikes and I tagged along for some joyrides around the island.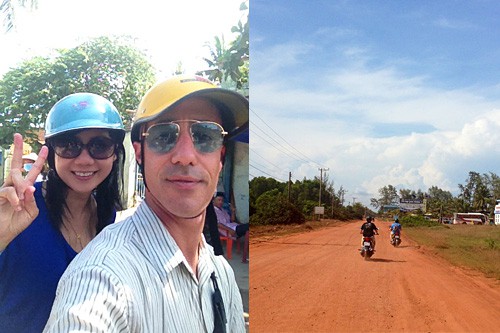 The guys also went on a fishing trip which I skipped. They had a ton of fun.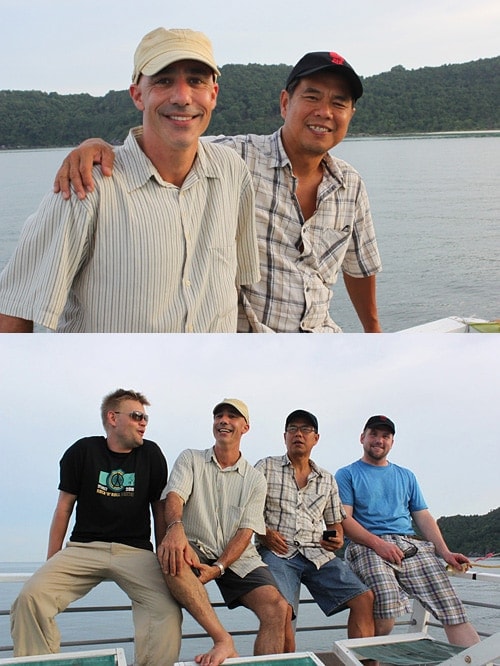 The last full day in Phu Quoc, we started our day shopping at the local market. We were going to have a beach cookout and dinner where everyone would cook for our host Cuong and his friends.
Everyone bought bags of ingredients and we couldn't wait for the beach cookout that night.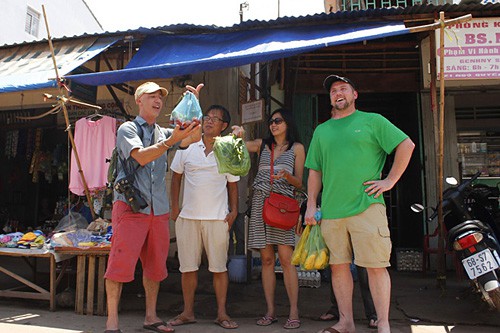 After the market, at long last, we visited Red Boat Fish Sauce factory, the ultimate reason we all came to Vietnam. The factory is spotless clean, and built right by the river to facilitate the shipping of the fish sauce to Ho Chi Minh City for bottling. The factory appears more like a winery than a fish sauce factory.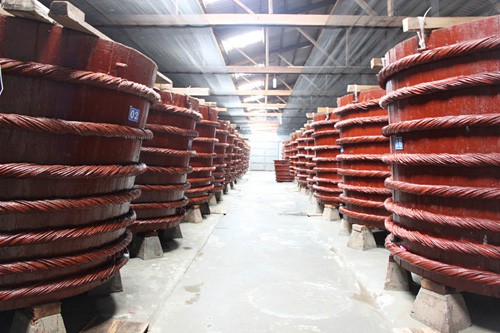 Cuong explained the artisanal process of the fish sauce making. The small migratory anchovies are in abundant supply around the waters of Phu Quoc island; the highest quality fish and the traditional year-long fermentation methods resulting in fish sauce sought after by the world's cooks and chefs alike.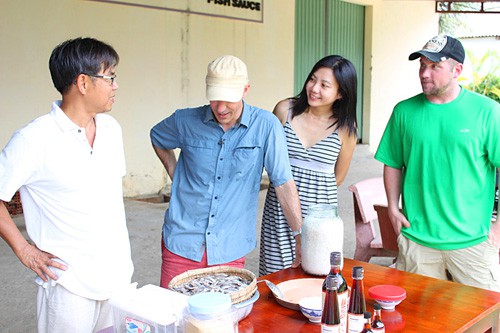 These are fresh black anchovies caught by the local fishermen and are salted immediately on the boat. The salting process draws out the blood and impurities of the anchovies. As soon as the fishermen are back on the island, the anchovies are transported to the factory for fermentation. They are dunked into the giant wooden barrels for one year. No additives are used. After one year, the fish sauce is ready for bottling.
This is the first press (or extra virgin/first draining) of the Red Boat Fish Sauce, with a beautiful and clear deep, amber, and almost golden color. We tasted the fish sauce right off the barrel. It was an umami bomb with the cleanest of taste: rich, savory, salty, and just a hint of sweetness. There is absolutely no foul smell or flavor found in other cheaper brands. It is practically the juice and essence of the anchovies, purest to its core. In Vietnam, the quality of fish sauce is measured by the nitrogen content per one liter of the product. It signifies how much of the naturally fermented fish has actually become part of the fish sauce –the higher the degree, expressed in °N, the higher quality the fish sauce is.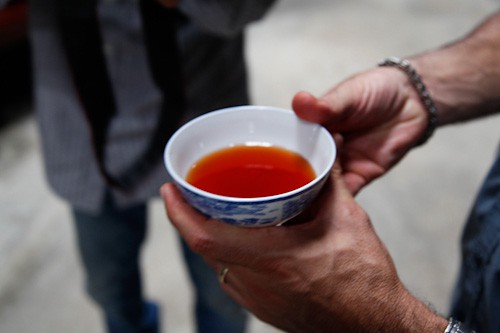 While most fish sauce marks 25°N, Red Boat's 40°N and 50°N are precisely fish sauce gold. Put simply, Red Boat Fish Sauce is the highest grade fish sauce available in the market today. If you are a professional chef or serious home cook, you would be crazy to not discover Red Boat Fish Sauce.
We are going to have our own fish sauce cuvee to mark our trip to Phu Quoc. And here was the "ceremony" where everyone threw the black anchovies into our barrel. Our cuvee will be ready in about one year, which is around May 31, 2014. How cool is that?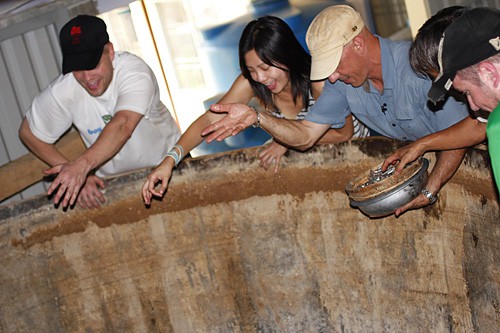 Back to the hotel, we were ready for the beach cookout and dinner. Chef Robert Danhi made this gorgeous looking fish sauce chicken stew.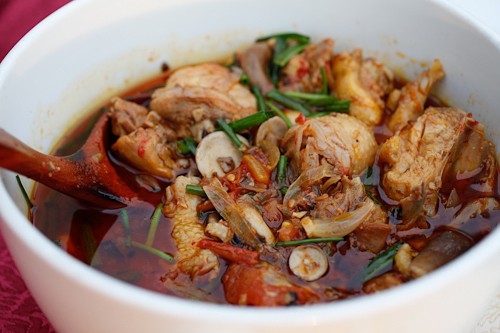 I made tamarind prawn, flavored with Red Boat Fish Sauce.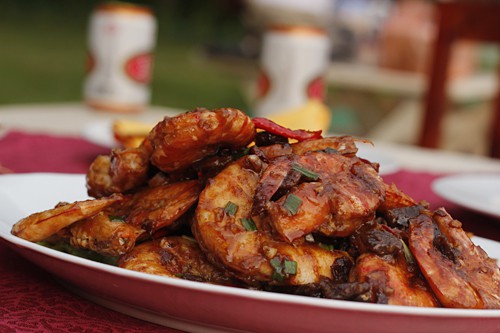 Chef Jeff and his calamari and mango salad.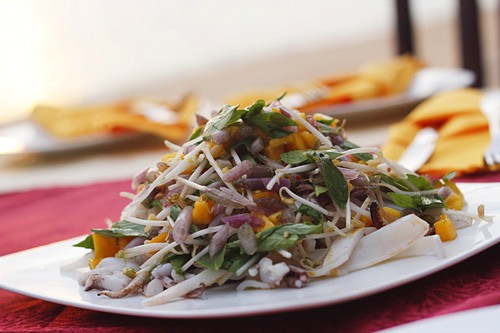 Chef Lon was cooking his clams.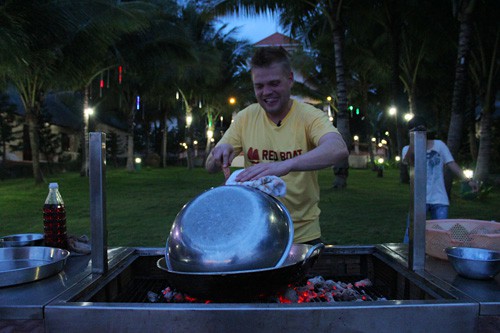 Chef Lon and I also made this spicy Chinese fermented tofu "腐乳" morning glory or ong choy.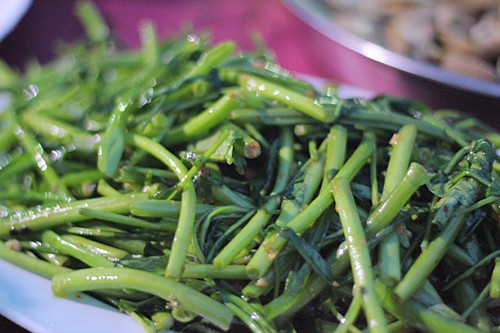 The backdrop of the dinner, we watched the sunset while enjoying the dinner and having great conversations. The dinner marked the end of our trip as everyone was leaving the next morning.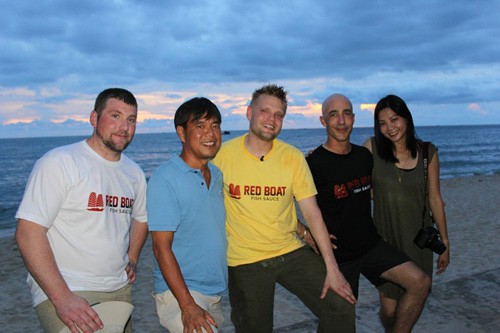 Like all journeys, Red Boat Odyssey had to come to an end, but an auspicious one that opens up to more exciting adventures of the same kind, only at different destinations. After leaving Vietnam, the crew had already cooked up a plan to reunite at ChoLon Modern Asian Bistro in Denver, with a special Red Boat themed dinner prepared by none other but the three chefs and one home cook/food blogger, who just completed the journey, and are now bustling with ideas and inspirations to tease and to feast the palates with their new dishes inspired by the trip. Isn't this exciting? And it would be more exciting if we have you to share the excitement and experience along our journey. I'll keep you posted on our next Odyssey. Stay with me.
Chefs' Quotes about Red Boat Fish Sauce:
"Red Boat fish sauce has taken quality to a new level by offering chefs a superior ingredient that elevates even the simplest dish. Its depth and purity are evident when you see the care that goes into each bottle. I am honored to have experienced the Red Boat process and will never work with another fish sauce again."

Lon Symensma, Executive Chef/Owner, ChoLon Modern Asian Bistro and Gather, Denver
"A big thanks to Red Boat Fish Sauce and Cuong Pham for taking the time to enlighten me on this amazing product. I have used fish sauce for years throughout my career knowing nothing more than it was a fishy, salty and funky ingredient. I now have a renewed appreciation for fish sauce in general; especially the time, attention and passion that Cuong puts into every step of the process at Red Boat."
Jeff Stoneking, Sous Chef, ChoLon Modern Asian Bistro and Gather, Denver
Pho:
Pho Tau Bay
433-435 Ly Thai To, District 10
Ho Chi Minh City, Vietnam
Banh Xeo:
Banh Xeo 46A
46A D Dinh Cong Trang
Ho Chi Minh City, Vietnam
Traditional Vietnamese Food:
Hoang Yen
148 Hai Ba Trung Street, Dist1,
Ho Chi Minh City, Vietnam
Crab Noodles and Seafood:
Quan 94
94 Dinh Tien Hoang, DaKoa Ward, Dist. 1,
Ho Chi Minh City, Vietnam
Hu Tieu (Dry Rice Noodles):
Hu Tieu My Tho
Nga ba Trung Luong
My Tho, Vietnam
Seafood:
Dinh Cau nigh market
Phu Quoc island, Vietnam
*This article is written by Bee Yinn Low, with inputs from Robert Danhi, and contributions from Lon Symensma and Jeff Stoneking. Photography by Bee Yinn Low, Robert Danhi, and B.0.7 Studio of Vietnam. Our trips were proudly sponsored by Red Boat Fish Sauce.