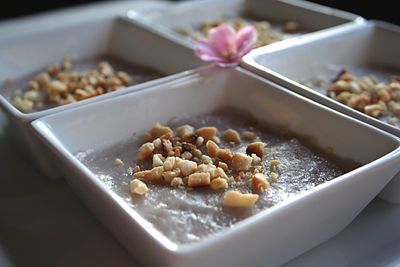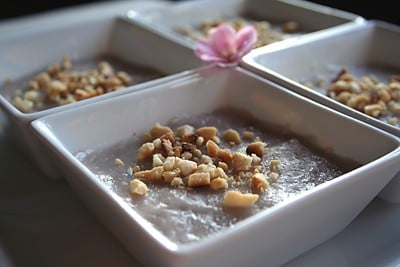 I made some taro dessert (Or Nee / 芋泥) tonight.
This Teochew style dessert is easy to make and tastes sweet, creamy, and very good…
In Malaysia, Or Nee / 芋泥 is usually served plain. Sometimes, it's topped with fried shallots while others come with gingko nuts.
I topped mine with some ground peanuts (for both aesthetic and flavor purposes).
If you don't like ground peanuts, you can use cashew nuts instead…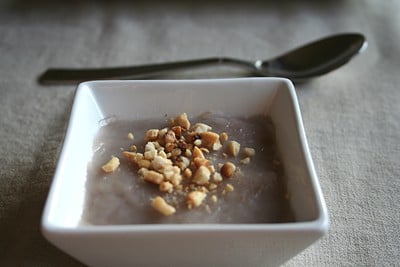 If you would like to get a creamier, richer, and melt-in-your-mouth texture, then by all means, you should use lard instead of cooking oil.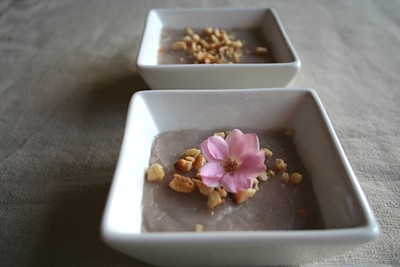 Spring is finally here, so go to your garden and pluck off a flower or two and garnish your taro pudding.
Now, just sit back and enjoy this pleasing dessert.
Enjoy!
Note: Taro is also called Yam.
How Many Calories Per Serving?
This recipe is only 354 calories per serving.
5 Secrets to 20 Min Dinners
Get tricks for quick & easy meals!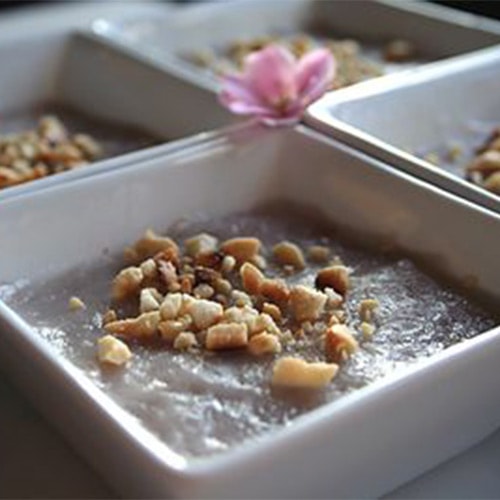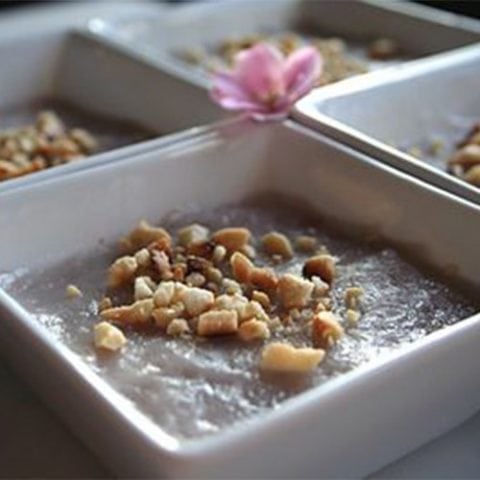 Or Nee Recipe (芋泥): This Teochew style dessert is easy to make and tastes sweet, creamy, and very good…
Ingredients
1 lb. (400 g) taro, cut into small pieces
1/4 cup cooking oil or lard
4 tablespoons sugar
4 tablespoons ground peanut, for garnishing purposes, spot the difference
Instructions
Bring a small pot of water to boil and add the taro pieces and boil for 10 minutes or until the taro pieces are thoroughly cooked. Drain the water and set aside the taro and let cool.
Use a masher or a big spoon to mash the taro until they are completely well-mashed. Heat up a wok and pour in the cooking oil. Add in the mashed taro and continue to stir until the oil and taro are blended. Keep the heat low and continue to stir for 10 minutes until the taro paste becomes gooey and smooth. Add the sugar and stir for another couple of minutes. Dish up and garnish with ground peanut. Serve warm.
Nutrition Information
Yield
4
Serving Size
4 people
Amount Per Serving
Calories

354
Total Fat

19g
Saturated Fat

1g
Unsaturated Fat

0g
Sodium

14mg
Carbohydrates

43g
Fiber

5g
Sugar

12g
Protein

4g