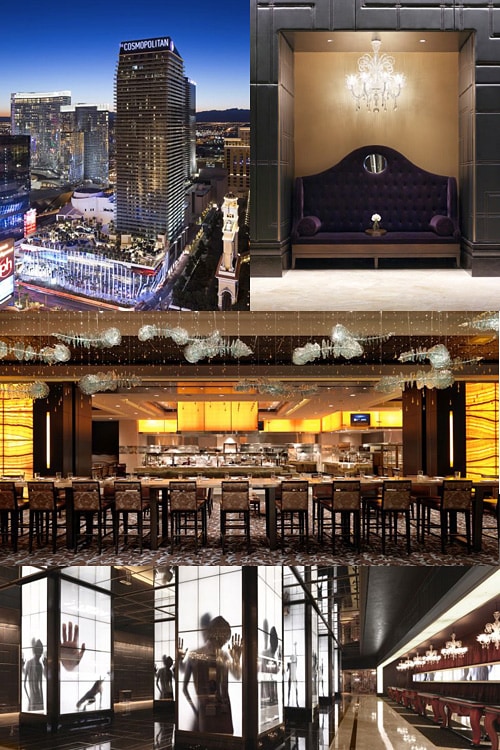 If you're looking for a boutique luxury resort in Las Vegas, especially one located right on the Las Vegas Boulevard a.k.a. "The Strip", look no further than The Cosmopolitan of Las Vegas. Strategically emerged in between Las Vegas City Center and The Bellagio, this $3.9 billion hotel is the newest luxury resort Casino in Las Vegas, and to me, probably the most stylish, fashionable, and happening hotel in Sin City now.
I've never been a big fan of Las Vegas, to be honest. What others consider as dazzling, fun, and eye-opening, I think of Vegas as superficially shallow, boring, or fake. The man-made wonders of miniature New York, Paris, Rome and Venice are too Disney-like for me. The all mighty golden lion statue at MGM and the giant Sphinx of old Egypt are mere "sights or attractions" where bus loads of tourists stop by to take pictures. I've never taken a liking to all these mega hotels, their all-you-can-eat buffets, and the theme-park like amenities. I wish that there are more hotels and resorts which have a more unique character instead of cookie-cutter Las Vegas themed resorts.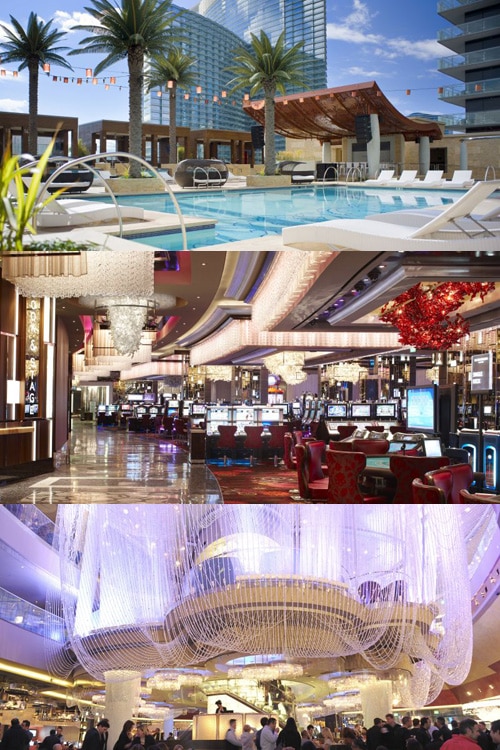 The thing I like most about The Cosmopolitan of Las Vegas is that it almost doesn't fit the bill to be a hotel on the Strip. It has no theme, the tall glass building is generic-looking, there is no volcano eruption, fountain dance, or pirate show every 30 minutes. The ultra modern decor, the room and the vibe might well place it as a high-end boutique hotel one will find in Manhattan, Chicago, or downtown Los Angeles, even Tokyo, Shanghai, or Hong Kong, which is ultimately the reason why I adore it. Staying there doesn't remind me that I'm in Vegas, as long as I don't pass by the casino.
We stayed at the Fountain View Terrace Studio because of our 2-year old. He is presently obsessed with fountains, and for his second birthday, we promised him big fountain that dances. It didn't disappoint the little one. He had a blast watching the Bellagio Fountain show every night, high up from the 28th floor. And I absolutely didn't mind the show, it was liberating to say the least, to have a "private" viewing of the Bellagio Fountain show without elbow fighting for prime real estate down at the ground level where everyone communes. If not for the water show, the views at night—and even day time—from our balcony was simply spectacular.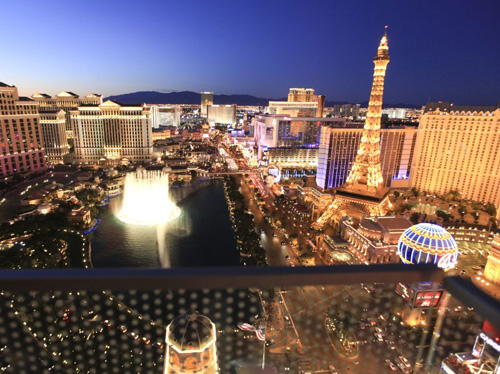 The studio is spacious and decked out with a kitchenette, a small sitting area, and a huge bathroom with bath tub looking outside. There is only one thing to complain about the room: WiFi service is not included. This turned out to be a blessing in disguise as I indulged in lounging about on the sofa, at the balcony, reading the many beautiful coffee table books on various artsy subjects.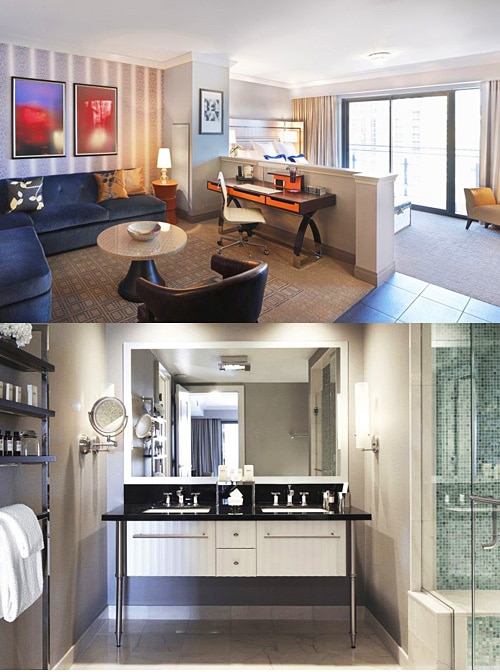 For the foodies out there, the roster of restaurants by celebrity chefs and rising culinary stars is sure to please. For the shopaholics, Crystals at the Las Vegas City Center is merely a five minute walk away from where high-end couture and luxury brands beckon. In less than one year since its opening, The Cosmopolitan of Las Vegas has quickly established itself as one of the trendier spots on The Strip. The modern design and cool-factor attract younger crowds, singles, trendsetters, and hipsters alike. Even though it's not the most kid-friendly, families might still find it rewarding, especially if they reserve a room with a view of the fountain.
The Cosmopolitan of Las Vegas
3708 Las Vegas Boulevard South
Las Vegas, NV 89158
(702) 698-7000
Website: http://www.cosmopolitanlasvegas.com