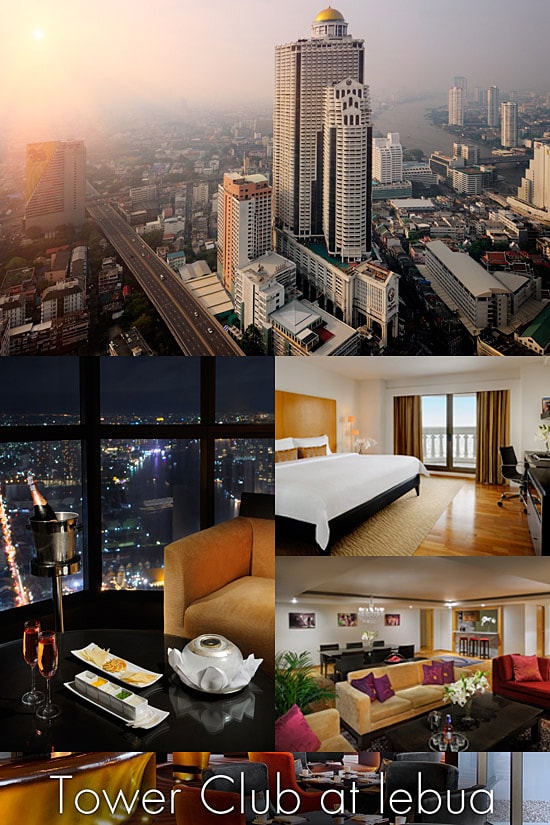 I have lost counts of how many times I have visited Bangkok, one of my favorite cities in Southeast Asia. There is just something about Bangkok—its world-famous hospitality, the "sanook" or fun spirit of its people, the amazing array of delicious Thai foods, and for a hotel buff like me, Bangkok is teeming with gorgeous, tasteful, and luxury hotels. I never tire of the City of Angels, every year I discover a new gem!
In early May, I embarked on a short trip to Bangkok, with a party of 4 people: my good friend A, my niece J, my son G and I. When I was looking for a hotel, I realized that we needed a hotel suite big enough to accomodate the four of us. Even though I have been to Bangkok numerous times, I have yet to lodge at a hotel close by the Chao Phraya River. The thought of a leisurely walk in the evening to the riverfront, cruising on a river boat on the Chao Phraya, basking in the gentle night breeze, and more importantly, a skybar with the most breathtaking view of the Bangkok skyline had my eyes set on only one hotel property—Tower Club at lebua, Bangkok. I contacted them for a media rate but to my ultimate surprise, the kind PR team at Tower Club at lebua offered to host our party of four. We were way over the moon!
Tower Club at lebua is Bangkok's finest 5 star executive all-suite & all-club hotel offering breathtaking views of Bangkok and the Chao Phraya River from balconies in each of its spacious suites. Each of Tower Club's 221 suites on the 51st to 59th floors come with Finesse mattresses, 330 thread count linen, down feather pillows, and all the amenities to ensure an unforgettable stay. At Tower Club Lounge on 52nd floor, guests are spoiled with a sumptuous atmosphere and unlimited privileges to ensure the best luxury stay in town.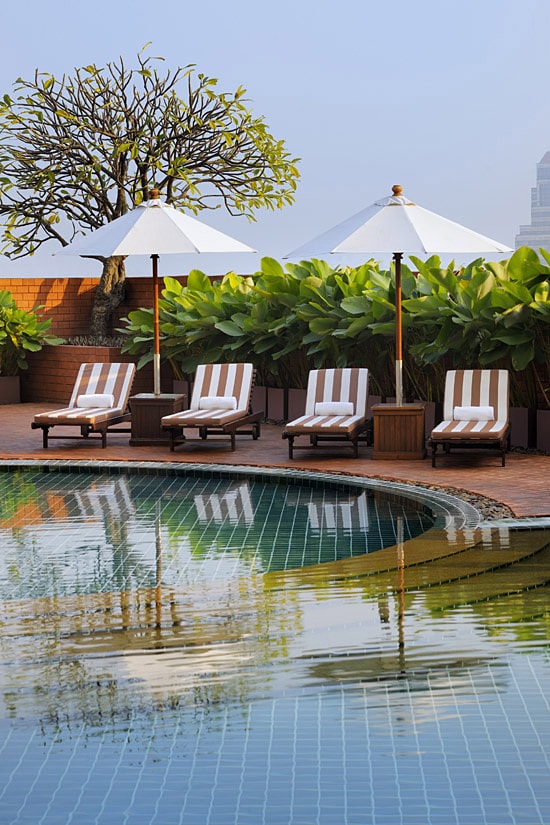 Exclusive privilege at Tower Club Lounge (6am – 6pm)
Free Continental breakfast buffet from 6am – 11am
Free light lunch buffet from 12pm – 3pm
Free afternoon high-tea from 3pm – 6pm
Free canapés, alcoholic and non alcoholic drinks served from 6am – 6pm
Complimentary wireless internet access in the lounge
All my plans of doing sightseeing and dining out were tarnished as soon as we checked in. With all the amenities, we felt like true VIPs. There were really no reasons to leave the hotel: we were covered on the meals, and the view, who would want to leave a suite that offers a spectacular vista right out of the suite's windows? We were completely overjoyed and blown away. And my 3-year old G was happy as a clam running around the spacious two-bedroom suite equipped with a nice seating area, big TV, a kitchenette, a huge master bedroom, a second bedroom, and more. Fun time he had playing hide-and-seek with his cousin J.
My friend and I had made plans to experience the nightlife in Bangkok, we didn't have to leave the hotel because the most happening and spectacular nightlife is basically an elevator ride away, on the 64th, at the world famous and the best skybar in all of Bangkok, Sirroco.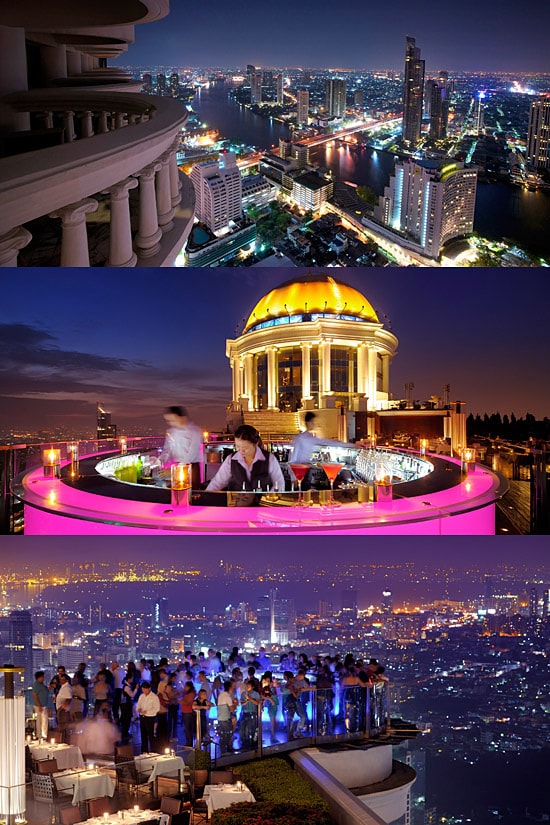 A and I went up to the 64th floor and we were completely flabbergasted by the sweeping views, artistically lit staircase, with the glistening city below and the soothing strains of the jazz band resonating through the warm breeze. And now I understand why year after year, Sirocco and the Skybar top numerous awards and recognition. Without a doubt, it is the most iconic skybar in all of Bangkok.
The next day, we spent most of our time at the hotel, having a leisure breakfast, hung out at the pool, and then had a light lunch at the lounge area. We paid our pilgrimage to the Erawan shrine and went shopping in the afternoon. We got back to the hotel just in time for another highlight during our stay at Tower Club at lebua, Bangkok, a sunset dinner at Breeze, Bangkok's highest open-air Asian restaurant.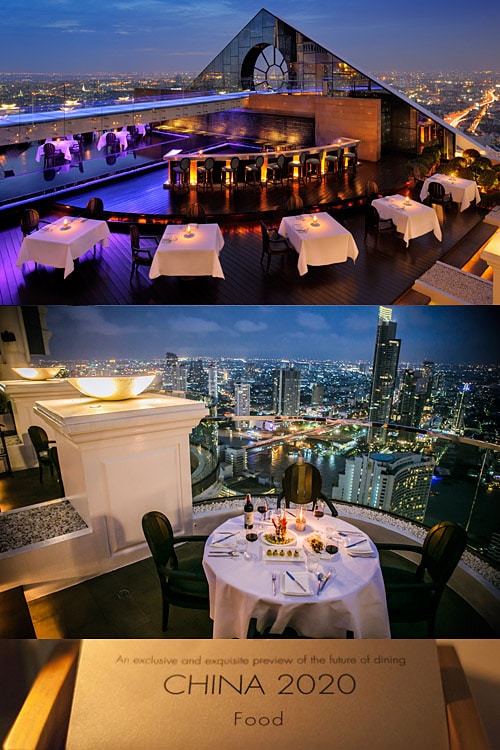 Breeze is a testament to the rising stature of Asian cuisine among connoisseurs, offering authentic yet impeccably innovative dishes from the award-winning chef in a stunning venue—the 25-meter neon-lit sky-bridge alone is a sight to behold. We chose to dine at the outdoor terrace, looking out to the cityscape and the Chao Phraya River, while the sun set and stained the horizon with glorious orange hue.
We sampled various concoctions of the chef, ranging from their new "China 2020" dishes to special dishes created just for us. Chef Sam's vision of modern Chinese and Asian cuisines was scrumptious, gorgeously presented, refined, and innovative. We savored dishes upon dishes of his signature creations such as charcoal grilled Chilean Sea Bass with Chinese chives, wok-fried Maine lobster with curry Leaves in Spicy Yellow Bean Sauce, wok-fried Andaman tiger prawns with okra and coconut in tamarind sauce, and also the "Seven Stars Around the Moon." We thoroughly enjoyed the food; the dinner at Breeze topped our entire experience there.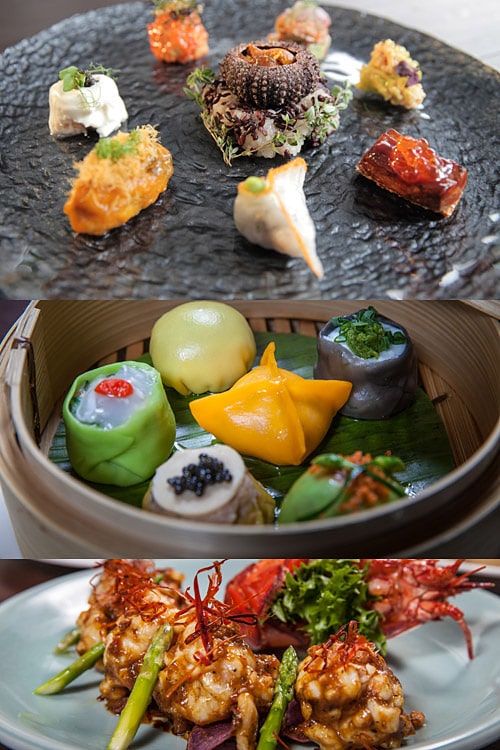 More than one month after our stay, the tastes of the dishes still lingered in my mouth. It's no wonder Breeze recently snagged the feature as one of the world's "Top 10 Most Cutting-Edge Restaurant 2014" by USA Today. The year prior, Breeze was named one of Thailand's Best Restaurants' by Thailand Tatler, Restaurant of the Year, HAPA Best 10 in Asia, Platinum Winner' and Most Authentic Asian Cuisine Restaurant, HAPA Best 10 in Asia Winner by the Hospitality Asia Platinum Awards.
Tower Club at lebua is a perfect hotel for family. The strategic location, the top-notch services, the views, and amenities guarantee that you and your family will have the most carefree and relaxing vacation. This is especially true for family traveling with small children. I really liked the serviced suite concept with ample spaces, big rooms, washer/dryer in the suite, big bathrooms, kitchenette and so much more. It does make life much easier and manageable, while you are away from home. The Skybar, the views, the amazing restaurants and foods are all icing on the cake to make your stay at Bangkok a memorable ones.
Do check out Tower Club at lebua the next time you are in Bangkok. Create wonderful memories that last a life time with your family, they are worth it.
Tower Club at lebua
1055/42 State Tower, Sliom Road, Bangkok 10500, Thailand
+66 2 624 9555
http://www.lebua.com/