Recipes & Cooking : Eggs
Chinese tea leaf eggs are eggs steeped in a tea-infused liquid. Tea leaf eggs are marbled in appearance and flavorful. Easy Chinese tea leaf eggs recipe.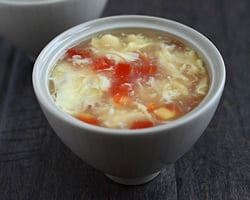 Egg drop soup recipe. This egg drop soup calls for 3 ingredients: eggs, tomatoes, and chicken broth and takes 10 minutes to make this egg drop soup.